Life at a startup moves fast. When you're a startup in a space as white hot as data, analytics and AI, the pace quickly reaches breakneck speeds. 
Here at ThoughtSpot, we're no stranger to explosive growth. You could even say it's part and parcel of our DNA, built into the very fabric of the company. 
But even by our standards, the last quarter has been one wild ride, with the entire company firing on all cylinders to fuel the mounting, almost rabid, demand for our search & AI-driven analytics platform. From introducing brand new products to hosting our first large scale event, there's a been so many exciting developments happening for ThoughtSpot and our customers it's hard to keep track of everything. 
In case you missed it, here are six major milestones we had. Did we mention these were in just the last quarter? 
Announced $120M in New Funding & Launched SpotIQ
We kicked the quarter off with a bang. Or, to be more specific, two bangs. First, we announced the second half of our Series C funding round closed for $60M, bringing the total Series C round to a whopping $120M. All of our fantastic existing investors, which include Lightspeed Venture Partners, Khosla Ventures, General Catalyst Partners, Geodesic Capital, and Capital One Growth Ventures, all participated in the round.
Why? In short: SpotIQ. With the AI market burgeoning (new Gartner research says more than half of CIOs plan to invest in AI in the next five years), we've been working diligently to bring the power of machine learning and artificial intelligence to the analytics space. Fueled by the new funding, our work culminated in SpotIQ, a new engine for AI-driven automated insights.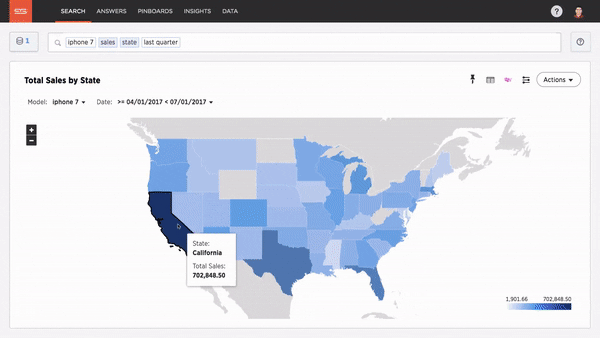 By combining sophisticated algorithms with enhancing machine learning techniques, all built atop our proprietary Relational Search Engine, SpotIQ reduces as many as 40,000 hours of analysts' work to a few seconds. Business users, already unshackled from IT-generated reports through our search technology, can now get answers to thousands of questions they care about, but didn't even know to ask, unlocking unprecedented insights with just a single click. 
If you haven't seen the magic in action yet, check out this short video or read our whitepaper. When it comes to SpotIQ, seeing is believing. 
The Engineering Accomplishments Don't End There
Bringing to market the first AI-driven analytics solution specifically architectured to make big data work at human scale would be enough for most startups - but not us! While our Seattle office has been cranking away building SpotIQ, the rest of the engineering team has been hard at work improving existing features while simultaneously building entirely new features to help our customers get even more value from ThoughtSpot. 
We launched all these new features, including the general availability of SpotIQ, with the release of ThoughtSpot 4.4. Not only does every customer now have access to SpotIQ, they can use the enhanced search capabilities, new chart and visualization types, regression lines, and query visualizer to dig even deeper into their data, extract more value, and ultimately, drive the bottom line. 
Bringing the Goodness to the Masses
With companies of all shapes and sizes hungry to access and analyze data, we knew we'd have a strong quarter on our hands, especially with the added firepower of ThoughtSpot 4.4 and SpotIQ. 
We just didn't know how big. 
In the last quarter, we signed a slew of new and exciting customers all shapes and sizes, from myriad industries, including healthcare, pharmaceuticals, telecommunications, retail, real estate, financial services, and manufacturing. Some of the great new logos joining the ThoughtSpot family include British Telecom, OpenTable, and ECommPay. 

Particularly exciting was the growth among the Fortune 500 and global 2000 organizations. Saddled with increasing demands on their data and BI teams, more than 35 of the Fortune 500 now rely on ThoughtSpot to empower even the least technical or sophisticated business user with the ability to analyze data directly. 
Talk Thought Leadership to Me
Here at ThoughtSpot, building products that help companies make the most of their data is only half our mission - we also want to be great partners to the analytics community at large. In a landscape undergoing as much disruption as analytics, just keeping up with the latest innovations, best practices, and use cases can be a daunting task. 
That's why we decided to host our inaugural Analytics ThoughtLeaders event, a half day conference in New York City specifically engineered to bring together data executives, analytics visionaries, and companies at the leading edge of data innovation. At the beautiful Conrad Hotel, we kicked off the event with an amazing lineup of speakers, including Former US Secretary of State Condoleezza Rice, legendary NY Giants Running Back Tiki Barber, and Nasdaq CIO Brad Peterson, among many others.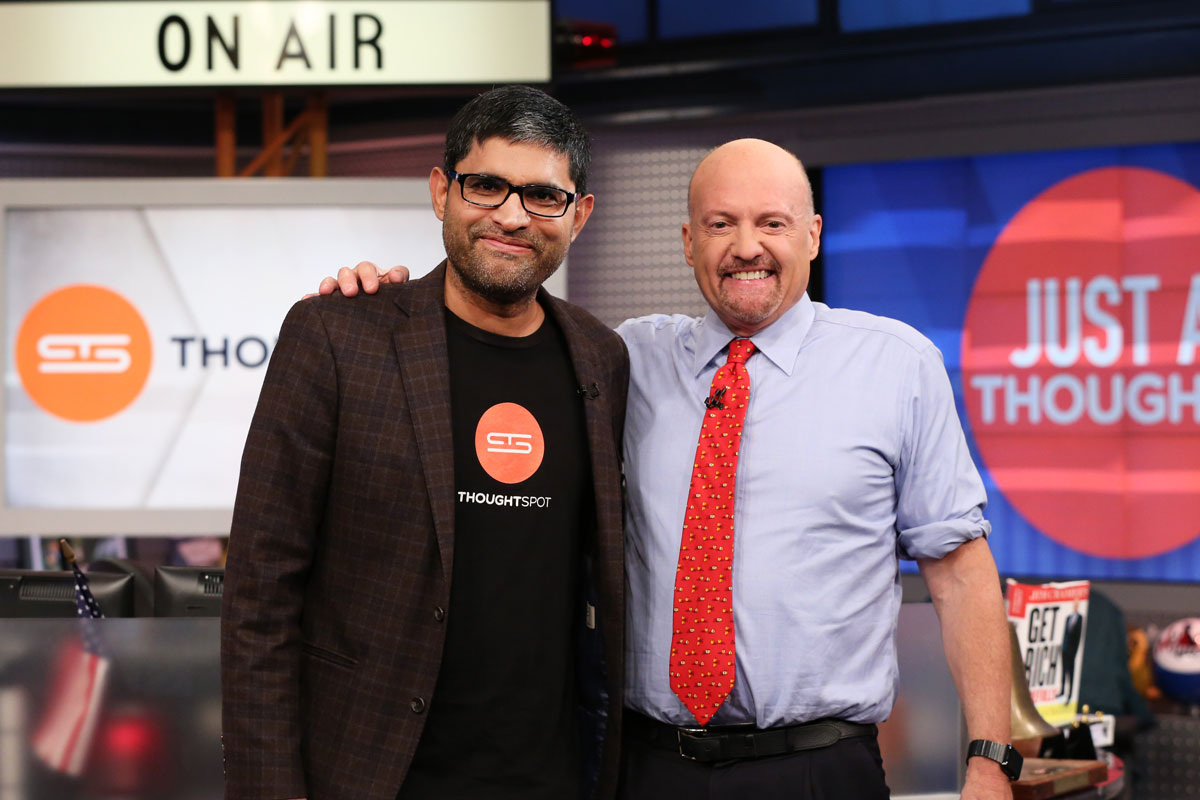 From discussing the ways data and diplomacy can be twin strategies to dominate your industry to the ways artificial intelligence is disrupting industries ranging from financial services to cancer research, the day was filled with compelling discussion and actionable insights relevant to every data leader.
If you missed the conference, make sure to read our recap, or sign up to get information on the next event in a city near you. 
Redefining the Big Data Narrative on Mad Money with Jim Cramer
Every company knows they need to be capturing every iota of data they can, and analyzing these ever growing data volumes to extract critical insights. Many companies are trying to use the same approaches - namely souped up data visualization - to sift through all this data.
ThoughtSpot CEO Ajeet Singh went "off the tape" with Mad Money's Jim Cramer to set the record straight. In his fiery segment, Ajeet painted a starkly different picture, explaining why artificial intelligence, not new visualization techniques, will be the ultimate key to unlocking big data's potential. The evidence? ThoughtSpot customers like De Beers and Chevron, who are already using search & AI-driven analytics to put the power of data in the hands of those who need it most - business users.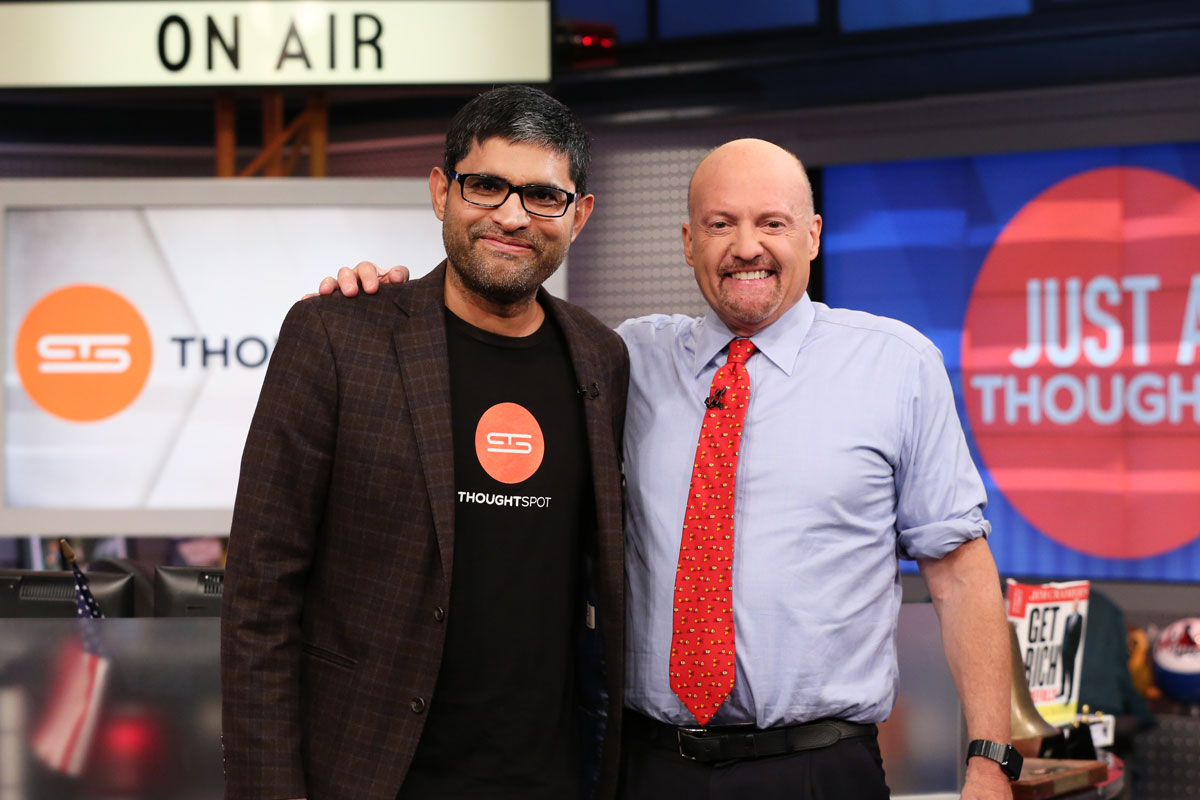 If you haven't seen the segment yet, you can watch the entire exchange here. 
Becoming a LinkedIn Top 50 Company: Startups & Disruptors
There's one common thread connecting all the other great achievements we experienced over the past three months: our team. 
From launching major product initiatives to partnering with exciting new customers, nothing we do at ThoughtSpot would be possible without the hard work, dedication, and selfless excellence of our world class team. 
That's why it was particularly exciting to be named a LinkedIn Top 50 Company: Startups & Disruptors. The distinguishment, based on metrics like interest in open positions, quality of existing employees, and much more, affirms just how fantastic our team of trailblazers, disruptors, and builders truly is.

If you're interested in joining us as we continue our meteoric growth, we'd love to hear from you. 
I'm always humbled to be part of such an incredible team, working on solving the biggest, most challenging technology problems in the world. This quarter, I was floored seeing all the hard work translate into amazing results for the business, our customers, and our employees. 
Can't wait to continue on this exciting journey.