Modern dashboards, as we call them Liveboards, are the key to understanding data, sharing real-time insights, and making data-driven decisions. This guide will help you answer the question what are data dashboards—including their use cases, key elements, and examples. By the end, you'll have the know-how you need to get the most out of your data investment. 
Table of contents:
Data dashboards are visual representations of real-time data that help business users make smarter, data-driven decisions. The interactive tool allows users to collect complex data from multiple sources and turn it into easy-to-digest data visualizations. They are the perfect vehicle for delivering KPIs and helping teams track the progress they've made to achieve a goal. 
Modern data dashboards vs reports
Ask any leader how they make decisions, and they'll tell you: It ultimately depends on the context. The same principle applies when we compare data dashboards with reports. The difference lies in what and how you use them.
Here's the breakdown:
Data dashboards offer an aggregated view of your KPIs that business users can easily understand and share. It is designed to boost user engagement through features like filter and drill-down, allowing you to move beyond the surface-level data visualization to answer the next question.
On the flip side, data reports provide a detailed view of the raw data and, at times the raw data itself in a non-aggregated manner. These come in handy when you want to not just see the sales data by the end of each day, but further broken down by sales person and/or product.
Now that we've understood what is a dashboard, let's explore how it can add value to your business:
1. Enabling data-driven decisions at every intersection
When you are making strategic decisions, you don't need a dashboard serving up yesterday's stale insights. You need a solution that delivers the right message at the right time with laser-focused precision. Modern dashboards like ThoughtSpot AI-Powered Analytics have built-in features that help you explore your data, perform ad-hoc analysis, and generate AI-enabled insights at every turn. 
These capabilities empower users to delve deeper into why things are happening and facilitate more nuanced and informed decision-making. With easy-to-understandable visualizations and a user-friendly interface, business users across departments can utilize valuable insights instead of getting lost in data translations. 
2. Competitive advantage
With rising customer expectations, businesses today have to up their game—but that's easier said than done, especially if you don't know where to start. For years, businesses have been focused on improving customer experience based on intuition and experience, but the technology didn't allow them to keep up with growing data demands. 
Thanks to live dashboards, you can now rely on facts and develop a razor focus on resolving customer pain points. In fact, according to a McKinsey study, growth champions who combine the power of data analytics with technology can enjoy above-market earnings between 15-25%.
By empowering everyone to slice and dice into data and understand nuanced customer behaviors, you can identify patterns and friction areas. With this newfound knowledge, you can implement strategies that boost satisfaction. Moreover, by monitoring business trends in real-time, you can respond to market changes quickly, creating a competitive edge. 
3. Resource planning
In a McKinsey survey, more than 60% of leaders say their IT initiatives for effective supply chain planning took more time and money than expected or didn't reap the desired results. By setting up a customizable live dashboard that offers real-time updates about end-to-end supply chain performance, businesses can make educated decisions on allocating their resources efficiently. 
The instantaneous access to real-time insights allows leaders to monitor current conditions, anticipate demand forecasting, and identify improvement areas for a better ROI. For instance, consider Northmill. By capturing actionable insights in their Liveboard and leveraging those insights to efficiently allocate resources and solve customer problems, Northmill was able to increase their conversion rate by 35%. 
'We want to add new sources and data feeds, plus be able to look at our B2B business in closer detail. Those are the two main areas where we will next focus our time and resources in order to become smarter by building smarter models to dig even deeper into our data.'
Building a dashboard from scratch used to be a lengthy process. Today, that's changed dramatically. As dashboard usage increases and capabilities evolve, business users can easily customize the features and layouts according to their needs. 
Below, we have listed some steps that answer your question: how to create a data dashboard. But always remember—there are no set rules. Build your dashboard based on the end consumer and your business needs.  
Step 1: Be clear about your goals
If you don't have a well-defined goal and a target persona, your data is as good as your next guess. To derive the utmost value from your data dashboards, you should be clear about what you are trying to achieve and who will benefit from it. For instance, if you want your sales team to hit their goals, you can create a sales dashboard that allows them to monitor their current performance and dig deeper to find improvement opportunities. 
Step 2: Refine your data
Getting your data out of the cloud data warehouse silo and into the hands of business users is a good first step to becoming a data-driven organization. However, implementing data governance, ETL process, and data modeling plays a critical role in ensuring your data's tangible impact. Before feeding data into your dashboard, you should ensure it is clean, accurate, consistent, current, and relevant. 
Step 3: Choose the right BI tool
With so many BI tools in the market, it can feel overwhelming to choose an analytic stack. Here, you should prioritize a stack that has robust integration capabilities, offers scalable performance, and offers ease of use. 
Step 4: Design your dashboard
After commissioning dashboards for 20 years, I believe the most effective ones prioritize extracting insights over flashy visual design. Your goal must be to make your dashboards as intuitive as possible. For that, you can use interactive data visualizations, apply bright colors for contrast, or add filters, dropdowns, and clickable elements. 
Step 5: Give context
Traditional wisdom says that telling stories is more impactful than sharing data facts. That's because stories create a more memorable and engaging experience for the audience, regardless of their domain expertise or technical sophistication. You can add context to your visualizations by writing summaries, adding labels and notes, and weaving in other information that offers the audience a broader narrative. 
Step 6: Try out different templates and features
Part of understanding the functionality of a data dashboard means getting up close with unique features of your BI tool. Whilst you are focused on the data itself, do not ignore leveraging capabilities of your analytics platforms such as augmented analytics, faster collaboration, and seamless connectivity with other workplace tools. It's on you to help users identify the most efficient workflow for their reporting needs. This optimization saves time and empowers everyone to generate and share reports promptly.
💡 Read more about how to create a BI dashboard that actually adds value.
Now that you understand what a dashboard is and how to create one, let's look at the top elements of a well-designed dashboard:
Simple and fresh UI: Complex layouts and too many KPIs can distract you from finding out what actually matters. By keeping things clean and simple, you can avoid cluttering and enjoy communicating vital information quickly. 

Mobile responsiveness: In an interconnected world, people need data on the go. Mobile responsiveness allows users to access dashboards from anywhere, at any time, providing the flexibility to monitor data while traveling, in meetings, or away from their desks.

Access control: Cyberattacks are a serious threat to organizations. One way to control this is by using sophisticated access control and security measures to ensure that sensitive data is in the hands of trusted people.

Easy sharing and feedback: Data sharing should be an organization-wide practice, but not every dashboard software offers the same level of sharability. When choosing a BI platform, look for a solution that has easy sharing and feedback features to empower everyone to make data-driven decisions. 

Seamless integration: To get a better view of your end-to-end business, your BI platform should pull in data from multiple systems. By combining data from different sources, your BI platform will create a unified view of your KPIs, enabling a deeper understanding of trends and patterns.

Alerts and notifications: One of the best features of modern dashboards is how they allow you to set alerts and monitor KPIs more effectively. For instance, creating an alert for your inventories will instantly notify you when they are running low. This will help you quickly react and brainstorm an alternative solution to save time and cost.  
Legacy dashboards vs Liveboards
Organizations using legacy dashboards end up being data-rich, insights-poor, which holds them back from innovating and growing. Modern platforms like ThoughtSpot offer highly interactive and dynamic visualizations, serving real-time insights at the right time and place to empower everyone to make data-driven decisions. 
Here are a few ways Liveboards create instant value for business users:
Different dashboards serve unique purposes and audiences. Below, we have highlighted different types of dashboards that can help you start building your own. 
1. Operational dashboards
Operational dashboards help leaders keep a pulse on day-to-day business activities. They are typically generated weekly or monthly, but best-in-breed solutions offer real-time operational insights every time a user opens them. By analyzing and tracking the current business reality, managers can minimize risks, identify improvement areas, and optimize processes so that businesses can gain a competitive edge.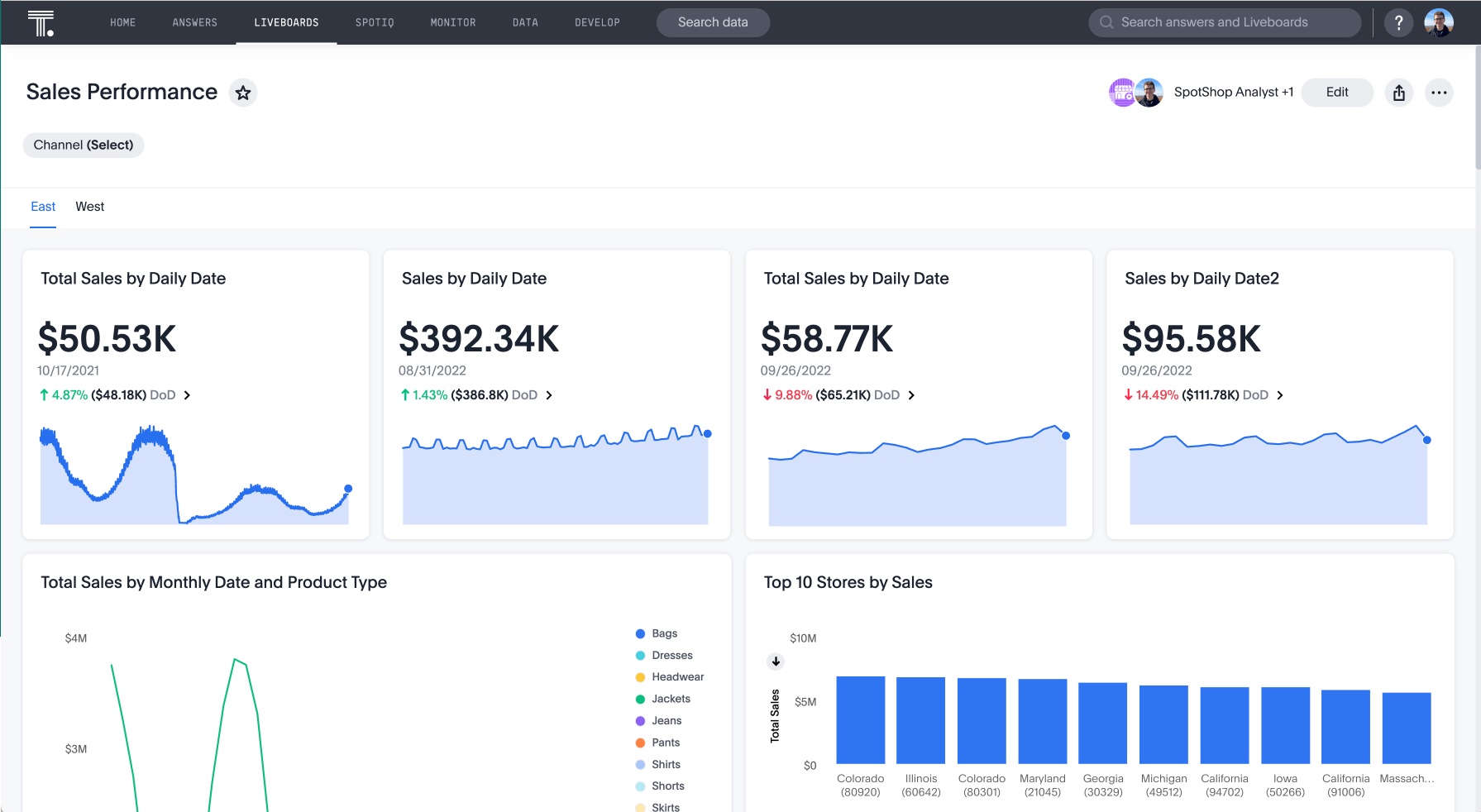 2. Analytical dashboards
Unlike operational dashboards that focus on offering a narrower perspective, analytical dashboards dive deeper, providing an in-depth view of complex datasets and allowing users to examine trends, analyze patterns, and gain meaningful insights. These dashboards are specifically designed for data exploration and analysis.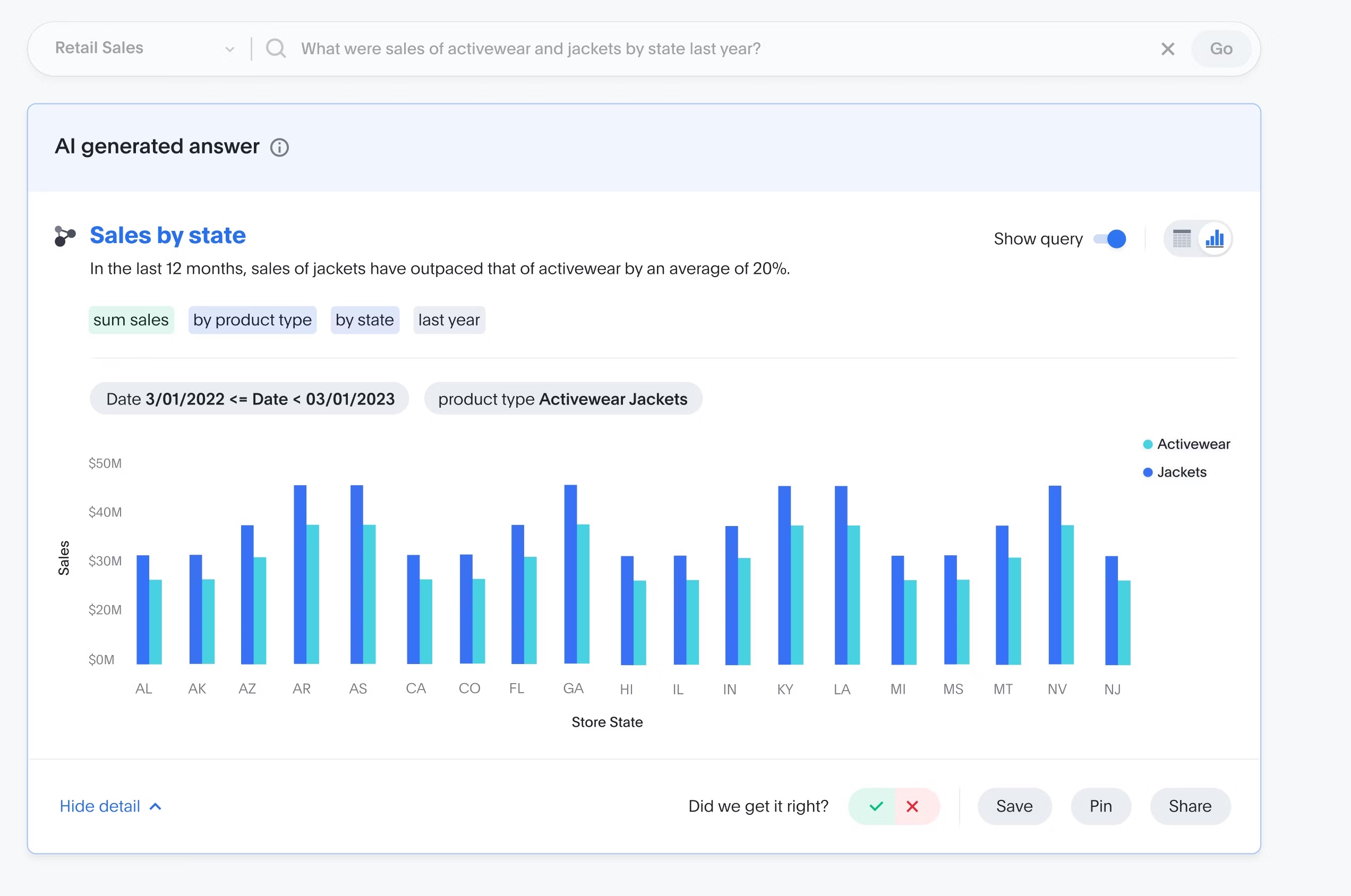 3. Tactical dashboards
Tactical dashboards focus on specific projects or initiatives. Unlike operational dashboards, which provide a high-level view of the organization's day-to-day operations, tactical dashboards offer detailed insights into a project's success. 
For instance, tactical dashboards are critical for software development teams as they can monitor code changes, deployment frequency, and user engagement metrics in real time—saving the team time and money. 
4. Customer dashboards
Delivering a world-class customer experience starts by understanding their behaviors and motivations and creating engaging touchpoints using customer analytics. Customer dashboards offer leaders actionable insights into how users interact with your products and services, identify friction areas, and reveal patterns. 
5. Financial dashboards
Managing finances can be tricky. Sure, tracking revenue and expenses is a no-brainer, but understanding your financial health requires considering other factors too. Financial dashboards give users a wealth of insights by monitoring critical finance KPIs, offering a clear picture of anomalies, and clueing users about possible remedial action.  
6. Supply chain dashboard
A supply chain dashboard allows leaders to monitor the performance of the company's supply chain operations. Leveraging insights from supply chain KPIs can help leaders make informed decisions about optimizing their procurement process, managing supplier relationships, and minimizing logistic disruptions.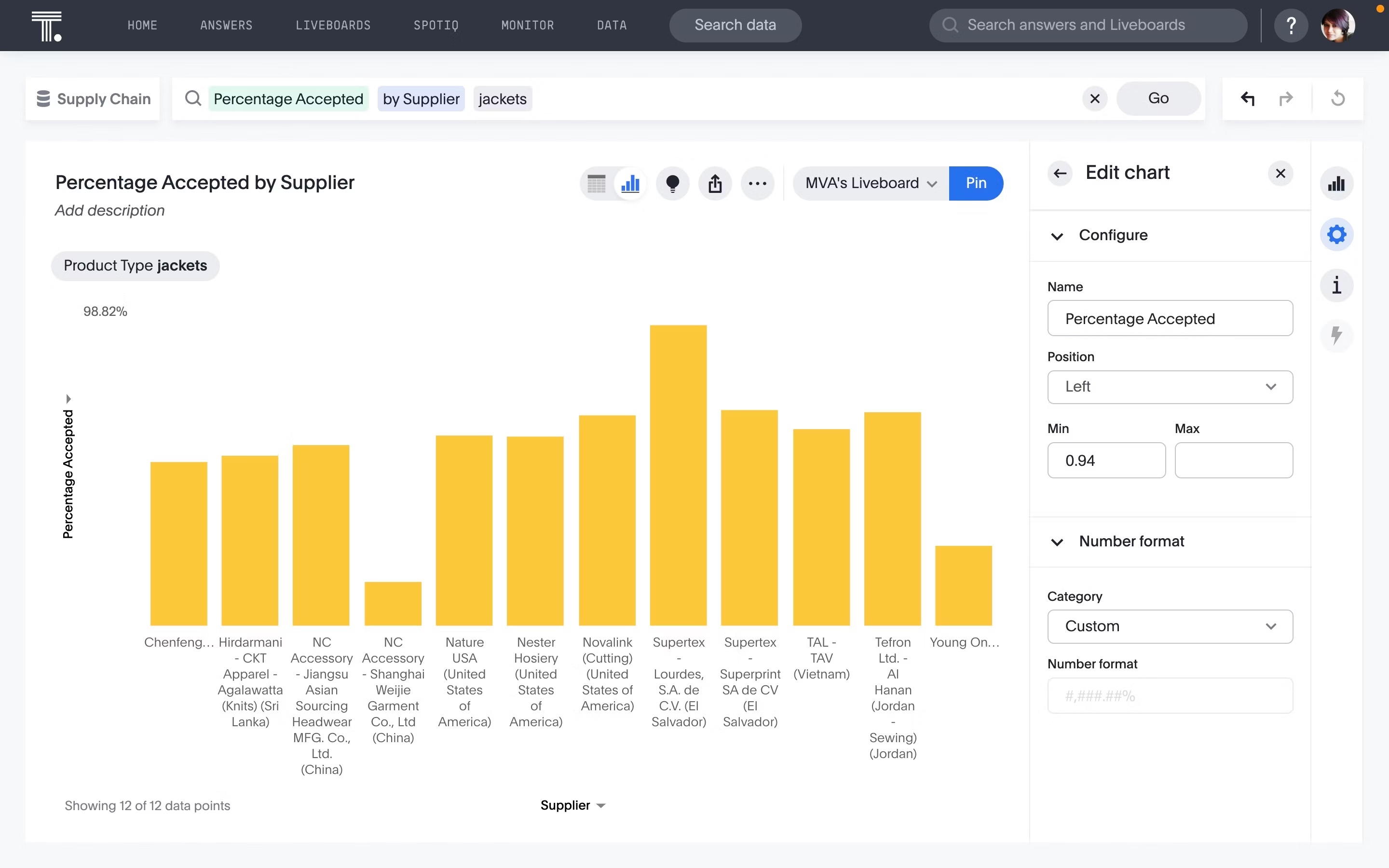 Convey your data story powerfully with modern dashboards
Successful businesses know that presenting insights clearly and effectively can empower teams. At ThoughtSpot, we believe everyone should have the power to make data-driven decisions—that's why we focus on enabling all users to create interactive data visualizations quickly and share them promptly. Our Liveboards help teams unlock trusted, real-time insights that enable smart, fast business decisions.
A real-world example of this is Fabuwood. By upgrading 50 manual reports to interactive Liveboards, their management team was able to proactively address potential issues, accurately forecast SKUs, validate metrics, and gain better visibility into Fabuwood's profitability.
'Before, people would make decisions and then use data to back it up. Today, with ThoughtSpot, people are relying on data to make decisions because they actually have access to the data. Trust and access play a huge role here.'  
See how ThoughtSpot can help you get the most out of your company's data. Start your 30-day free trial today!