At ThoughtSpot, we believe making data accessible to every knowledge worker requires human-centered technology—an analytics experience that bridges the "language" barrier between technology and people. AI is the perfect compliment to search because it empowers organizations to analyze, understand, and act on data. 
In order to achieve this vision, we knew we'd need to work with some of the best, most innovative technology companies across the modern data stack—companies that put their users first, deliver excellence at every turn, and think differently about how technology can drive business outcomes. Since our initial partnership announcement back in 2018, we've continued to foster a relationship with Google to deliver the best capabilities to our mutual customers. And as generative AI takes the world by storm, we're ready to help our customers take full advantage.
That's why we're thrilled to partner with Google to bring exciting new Google Cloud generative AI capabilities to your analytics initiatives. As Google Cloud expands the availability of several models, we're excited to announce new generative AI-powered features coming to ThoughtSpot users—including a new "AI Explain" feature in ThoughtSpot for Sheets and new conversational AI capabilities in the ThoughtSpot platform.
ThoughtSpot's AI Advancements
ThoughtSpot's semantic and syntactic search experience has long allowed users to search their data using domain specific language, otherwise known as search keywords. This year, the announcement of ThoughtSpot Sage marked a major milestone on our journey—providing self-service, AI-Powered Analytics. By pairing generative AI with our patented search platform, getting insights from your data is as easy as talking to a friend or colleague, all without sacrificing the security, governance, and accuracy businesses rely on. 
The core of our generative AI philosophy comes down to what we call the four C's: 
Choice of language models and ML models

Customization of models to support domain, company, and function-specific taxonomy

Control through the ability to log, audit, and control AI use within ThoughtSpot

Clarity in the process through transparency and human-in-the-loop ML
We've eliminated the AI black box by building transparency into the search experience—you know when you're consuming an AI-generated insight, and you can review the SQL happening behind the scenes to ensure the data adds up. Plus, with human-in-the-loop machine learning, the more you use it, the smarter the AI gets.
To supercharge this AI-powered search experience, we've made a number of strategic moves to ensure data teams have the necessary tools to deliver these capabilities with confidence. For example, we recently announced our acquisition of Mode—a flexible, code-first approach for data teams. Additionally, we expanded our partnership with Google, including being hosted on Google Cloud and integrating with Looker. This Looker integration enables customers to model, transform, and define metrics in their data using Looker Modeler. Now, both data and business teams have the tools they need to deliver tangible benefits to your entire organization faster than ever. 
Since then, we've made significant progress, both in our AI capabilities and our presence across the Google ecosystem. Our SaaS platform on Google Cloud is now GA, with customers like Ovo already taking advantage to maximize the value of their data in Google Cloud. By bringing this to Google Cloud Marketplace, you can use your existing cloud credits—making it easier than ever to buy and deploy ThoughtSpot on Google Cloud. 
But this is only the beginning.  
Introducing ThoughtSpot with Google Cloud AI
If you're building an AI-powered search experience for data analytics, there is no better partner than the company that is synonymous with search. Google Cloud's continued investment in AI, as evidenced by today's announcement, offers the perfect opportunity to innovate together as our mutual customers look towards the future.
But this industry is moving fast. We knew if we want to achieve our mission of helping enterprise businesses use AI across their entire workflows—including business intelligence—we'd need ThoughtSpot search to work closely with Google Cloud to achieve this vision. 
With so many capabilities packed into Google Cloud's generative AI offerings, there are many different applications that can help you unlock the full potential of your data. Our teams are hard at work to help you make the most of these capabilities. We're going through Google Cloud generative AI certifications and using Google Cloud's models, like PaLM 2, and tooling to tune our own product with a singular goal: bringing AI-Powered Analytics to every organization. 
An open and secure approach to AI-powered search
Going back to our 4C's framework, choice of models and data security are top of mind for businesses exploring generative AI. We've chosen to expand our work with Google Cloud on generative AI because of their fast-growing capabilities as well as their open approach and focus on data security and privacy.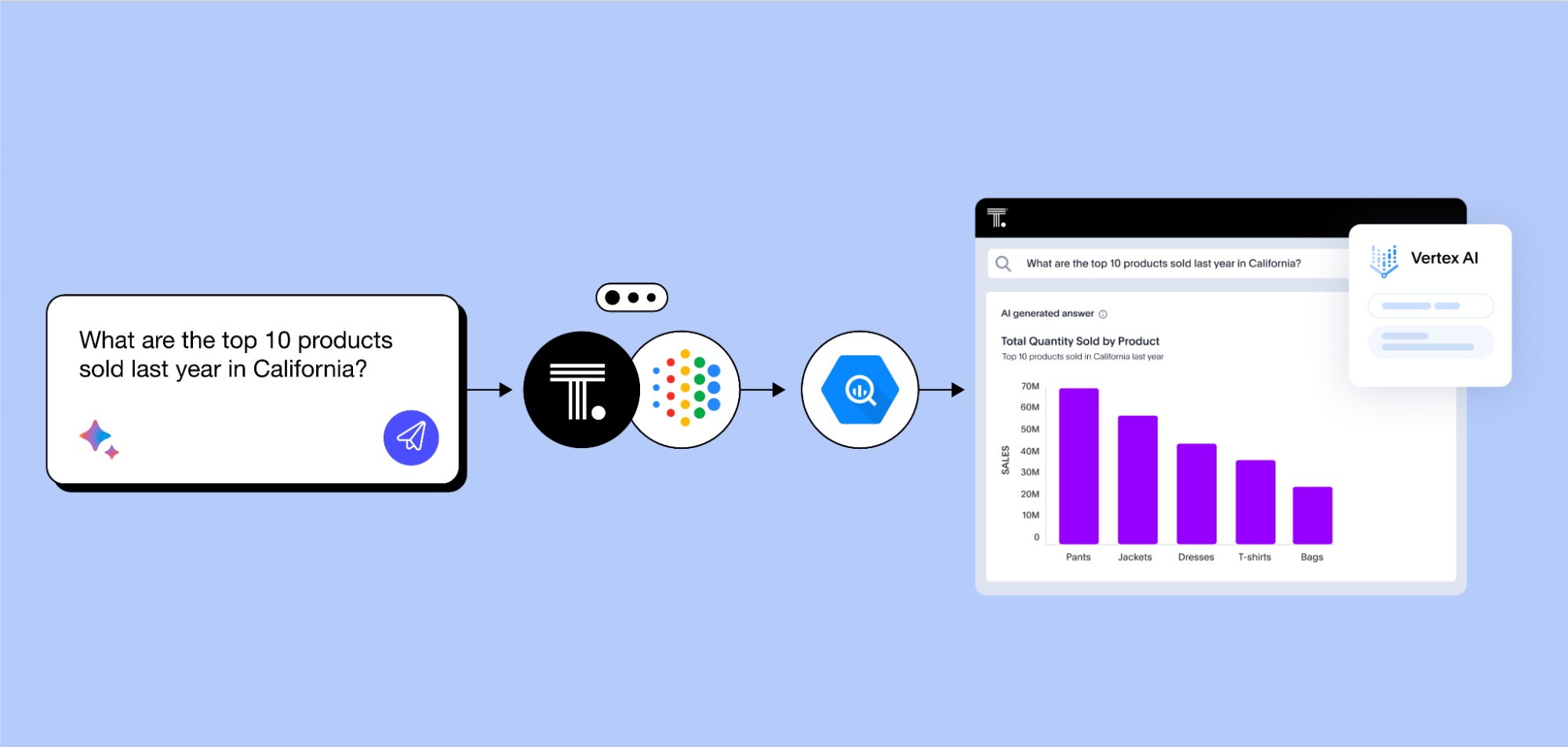 We've always had an open approach to building our platform, including with Sage. While we started with public LLMs, we know choice is incredibly important. Google Cloud's robust API framework ensures that customers have choice in how they deploy generative AI. With Google Cloud's Model Garden and the open source FLAN-T5 model, ThoughtSpot is excited about the ability to build specific industry, function, and company optimized models to power natural language search for analytics. 
Importantly, Google Cloud's ability to keep customers' data completely protected, secure, and private is differentiated in the industry, and ensures customers can apply helpful generative AI capabilities, and customize models using their own data, securely.
ThoughtSpot is actively leveraging Google Cloud's Vertex AI due to its differentiated capabilities around privacy and security, which ensure that customers can train and customize models using their own data with confidence that their data is completely protected, secure, and private. Google Cloud's approach allows for fine-tuned parameters as well as datasets used for fine-tuning to remain within your virtual private cloud, providing a high level of security and privacy. 
By building with PaLM 2, we can help decipher the intent around your question, even if the question doesn't directly correlate with the keywords in your data model, helping you rapidly speed up time to insight without hours of technical training. And because ThoughtSpot is built to deliver enterprise-grade security at massive data volumes without sacrificing performance or usability, you can trust that your data remains just that—yours. 
AI accessibility in Workspace and Sheets
We've also added Google Cloud generative AI to ThoughtSpot for Sheets—a free Google Sheets add-on that allows any user to analyze and visualize their data. In doing so, we're helping make some of the most powerful AI analytics capabilities available to everyone. And because we have a deep integration with Connected Sheets, your AI can leverage ThoughtSpot semantic models that sit right on top of Google BigQuery.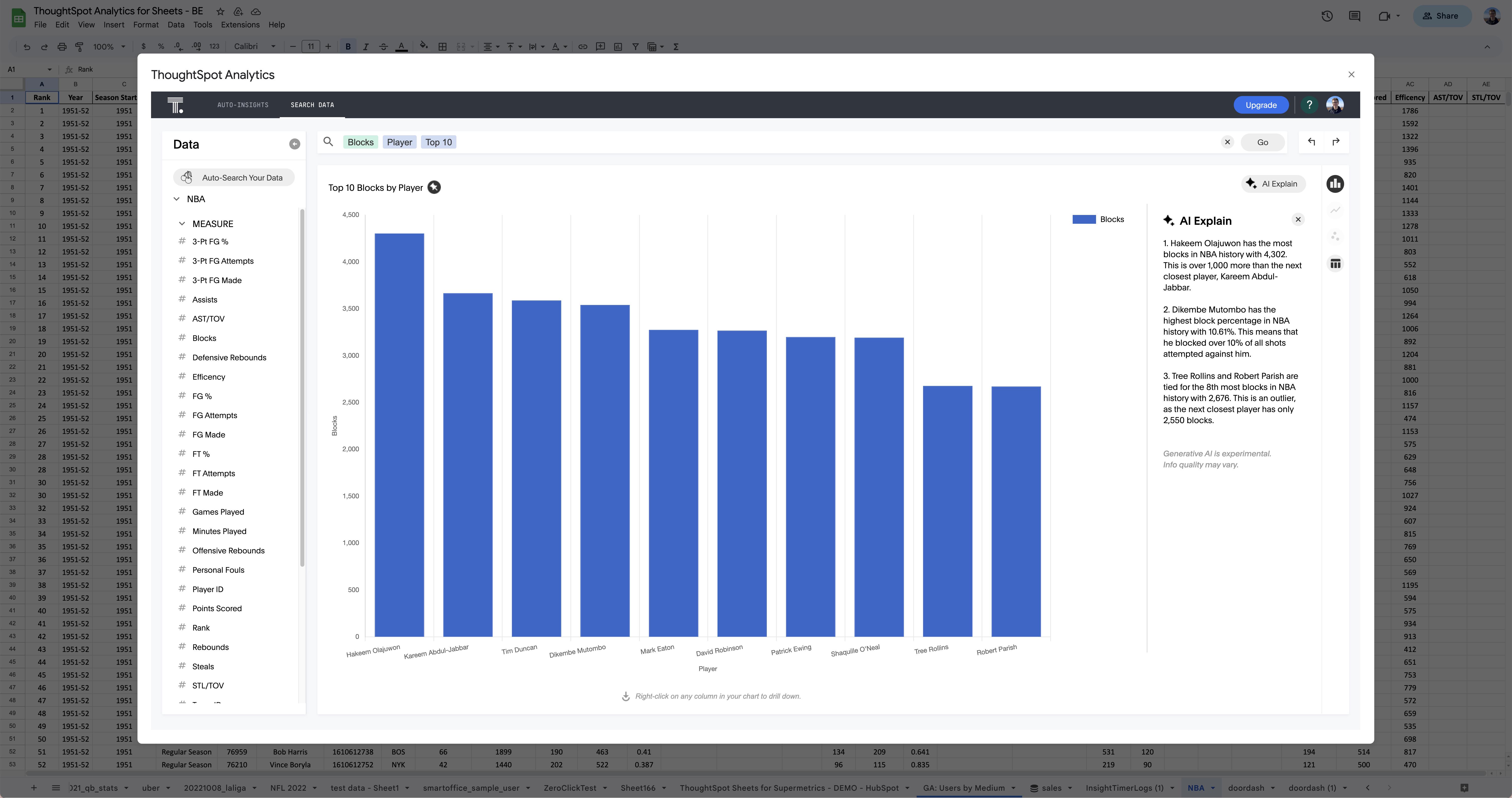 This feature is live—try it for yourself.
Through our growing partnership with Google Cloud, we're excited to announce several new capabilities, powered by Google Cloud generative AI.
Google Cloud generative AI experiences coming soon to ThoughtSpot
AI-powered explanations
Instead of having to interpret data visualizations, users leveraging ThoughtSpot Sage with Google Cloud will be able to find AI-generated explanations and summaries of their answers. This feature helps to bridge data literacy gaps, empowering any user to extract value from their data regardless of their technical ability. 
Conversational AI
Working with Google Cloud's PaLM 2 for Chat model, we're developing Conversational AI—a feature that Infuses context into your search. By remembering what came before, Conversational AI improves outcomes as you go. This chain of logic paired with our endless drill down gives you an instant-messenger-like experience for your data. Conversations can both be free flowing while remaining in context, giving users the full control to express their business needs with the proper guardrails in place. 
ML-enabled predictive forecasting
While we've been excited about the ability to use AI to deliver search for your enterprise data, we know that's not the only AI capability you need. Customers want to ask not only what happened, but why it happened, what will happen next, and what can I do about it. 
That's why I'm particularly excited about the work we're doing with Google AI ML to expand your forecasting and predictive analytics abilities—something we call BYOM (Bring Your Own Model). You can build powerful ML models with Google's Generative AI Studio, and then quickly deploy these to business users via KPI and interactive visualizations in ThoughtSpot. Because Google AI makes it easy to use these modeling capabilities in your virtual private cloud, you have full control on how you build, tune, and deploy AI. And because this is also available on mobile devices, users can tap into this power whenever and wherever they need them. 
Already building for the next chapter in AI
While today marks an exciting milestone for the data community, we know that you and your business will require more from tech partners like Google and ThoughtSpot if you want to unleash the true potential of AI. We are committed to building deep, meaningful integrations like the ones listed above to give you the edge you need to thrive. 
Try ThoughtSpot for free
In the meantime, you can learn how to leverage ThoughtSpot AI-Powered Analytics for the Google Cloud Ecosystem, and sign up for a free trial today.