In order to run a successful business, you need to know:
Where you are in relation to your goals

How long it will take you to get to the finish line

How decisions might impact downstream events. 
It's fair to say that these questions are the bare minimum, yet many teams aren't able to find these answers. Essentially, their top decision makers are flying blind. This idea is represented in Forbes' 2023 Annual Data And Analytics Global Leadership Survey, which found that only 59.5% of surveyed leaders are driving business innovation with data.
Without a single source of truth and the ability to find the answers that you need, decision makers are left relying on gut feelings that can lead organizations down the wrong path. But your business doesn't have to work in the dark. 
Modern business intelligence (BI) shines a light on past and current performance, calling attention to bottlenecks and unearthing risks while highlighting opportunities to delight customers, innovate products and services, and boost revenue growth. But what exactly is business intelligence, and how does it work?
What is business intelligence?
Business intelligence (BI) is the use of technology to analyze and transform data into actionable insights. An organization's data comes from various internal and external sources—increasingly this includes both proprietary and third party sources. The sheer volume of this exponentially growing data makes it difficult to interpret, causing businesses to struggle to uncover patterns, trends, or insights within their data. But with the help of BI tools, organizations get a holistic picture of their performance一for the company, departments, internal teams, and individual initiatives.
Business intelligence software also presents data in more digestible formats like charts, heatmaps, trendlines, and status reports. These data visualizations highlight real-time inefficiencies and opportunities.
Business intelligence examples
Business intelligence can be tough to conceptualize in the abstract, so let's take a look at how it's used day-to-day.
Business intelligence and marketing
Marketing teams often leverage business intelligence to understand how campaigns are performing. For example, let's say your marketing team is launching a weekly newsletter.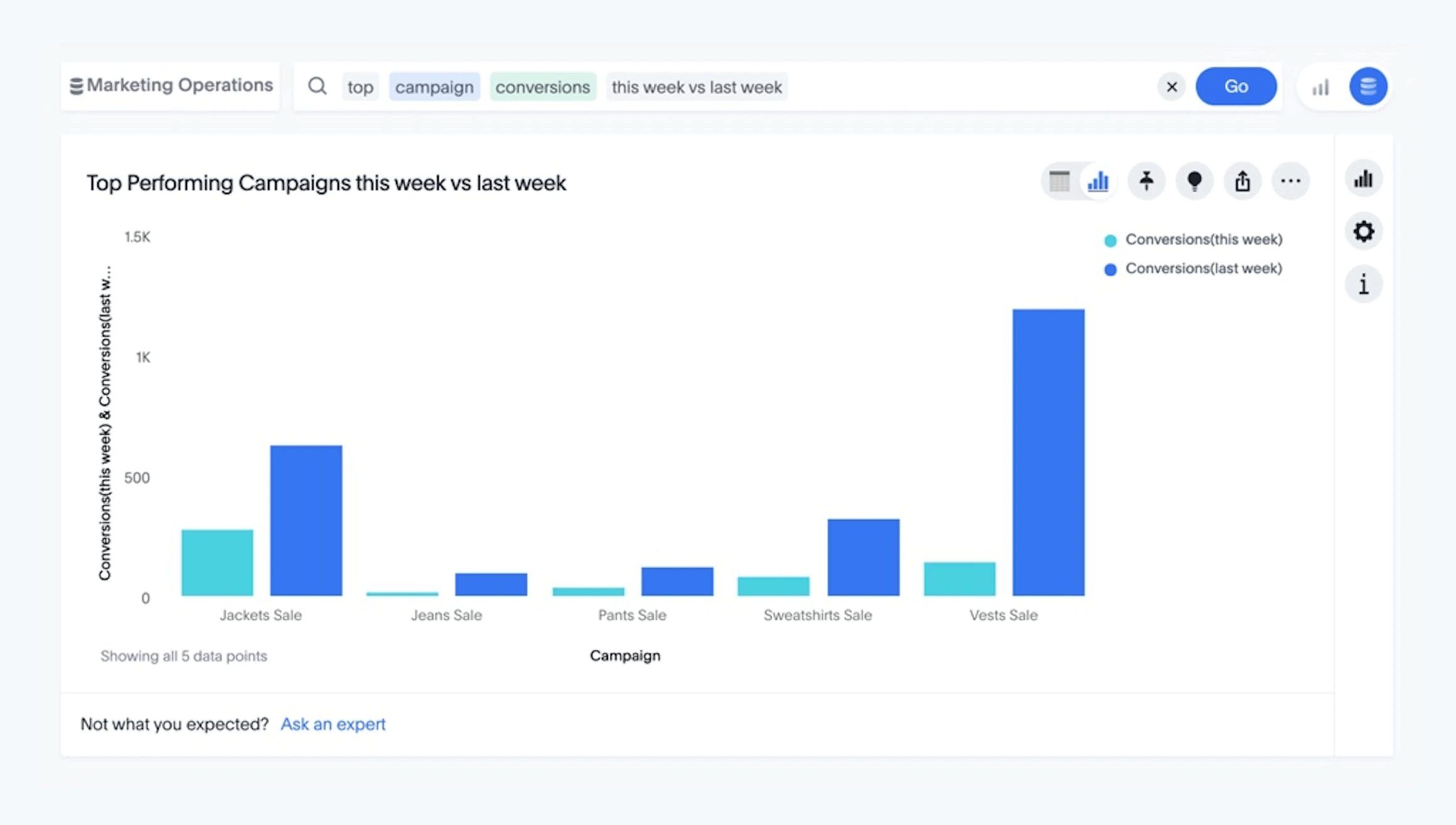 Before the first newsletter goes out, they'll set goals for open, response, click, bounce, and unsubscribe rates. Business intelligence allows your marketing team to track these metrics in real time and experiment with different strategies to improve their KPIs week over week. They can also use these metrics in coordination with other sales data to calculate the ROI of their efforts.
Business intelligence and sales
Sales teams use business intelligence, too. It gives sales leadership insight into the number of deals in the pipeline, number of booked meetings, time spent in each opportunity stage, conversion rates, and more.
BI tools can also help sales managers compare KPIs to other quarters, enabling them to double down on areas where they're over-performing, or course correct if their numbers aren't looking trending positively midway through a quarter.
Sales managers might also use BI to understand which swim lanes offer the highest close rate and which market segment is generating the most profit. BI also plays an important role when making sales projections for the overall organization. Needless to say, if you work in sales, BI is a critical component to your success.
Business intelligence and operations
However, BI isn't just for go-to-market teams. Operations teams use business intelligence to oversee how efficiently (or not-so-efficiently) processes run.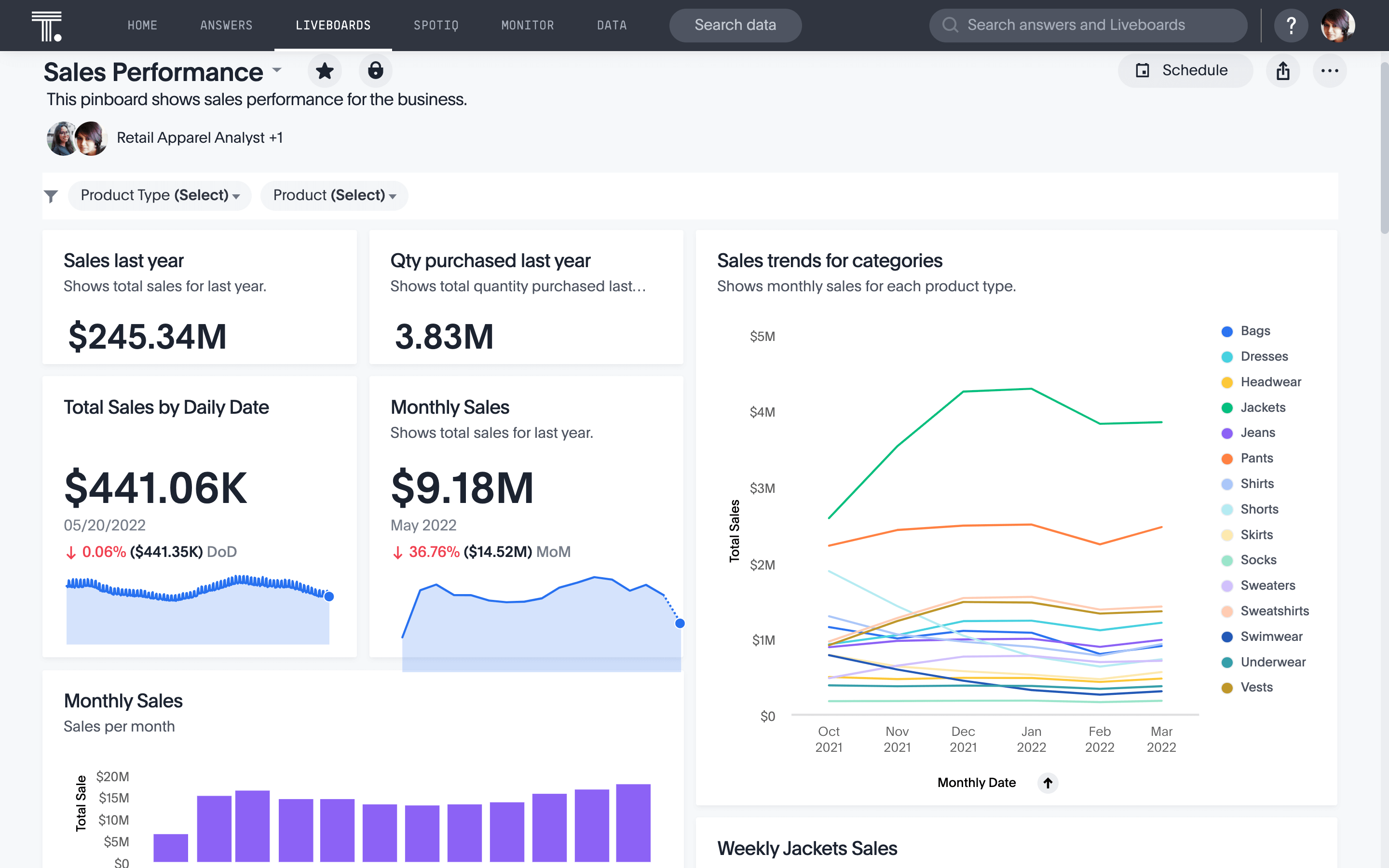 They might use BI tools to forecast demand and then closely track cycle time, incident response time, and downtime rates to ensure they meet production deadlines. If any of these metrics look off during the project, they can investigate and make adjustments before it's too late.
Of course, if you've ever worked in operations, you know a majority of the job is about managing data. BI tools can simplify these lengthy data-gathering processes, so you spend less time hunting for data, and more time optimizing operations.
Learn more about other useful business intelligence examples
Business intelligence vs business analytics
People often use business intelligence and data analytics interchangeably. Here's the break down: 
Data analytics is the process of preparing large quantities of data for analysis (e.g.data mining, data cleaning, data transformation, data governance) and is typically performed by a data analyst. 

Business intelligence communicates what is happening now and what happened in the past so business users can make data-driven decisions in the moment.

Business analytics is the process of applying BI in a business context to understand how decisions are impacting your organization. Business analysts or analytics engineers typically perform this work in partnership with domain experts to deliver data-driven solutions for specific business challenges.
Benefits of business intelligence
As you might expect, there are many benefits to using business intelligence. At its core, business intelligence empowers companies to:
Improve the quality of products and services

Optimize business processes

Increase organizational insights and opportunities

Boost operational efficiency

Drive stronger business strategies

Increase customer satisfaction

Make informed business decisions

Identify industry and market trends
Why is self-service BI better than traditional BI?
Self-service BI allows business users to access data and find insights themselves, reducing workload on analysts teams and empowering every user to make data-driven decisions. When the Harvard Business Review surveyed leaders about the benefits of equipping frontline workers with business intelligence, they found that:
41% reported significant increases customer engagement and satisfaction

36% reported significant increases employee engagement and satisfaction

32% reported significant increases in the quality of products and services 

28% reported significant increases in productivity and efficiency

26% reported significant increases in innovation

22% reported significant increases in top-line growth
Business intelligence industry use cases
Business intelligence is the underlying foundation of a solid data analytics strategy, no matter what industry your company serves. Let's look at a few industry examples.
BI in Finance
For example, in financial organizations, BI can supply immediate answers regarding deposits, transactions, and loan data. With further data analysis, these insights can contribute to personalized customer experiences, upsell opportunities, and operations improvements.
We do have an enormous amount of data…you could almost think of it as a burden, but it really isn't. The magic behind that is stitching all the data together…pulling in your customer behavior, where you've been, and at that moment you're calling in, being able to synthesis all of those events to predict why you are calling and be ready with information to help you solve your problem

 American Express CDO Pascale Hutz
BI in healthcare
When it comes to BI in healthcare, it's vital that everyone is empowered to make data-driven decisions in order to improve patient care. This includes pharmaceutical reps, hospital managers, scientists and researchers, and even the patient themselves.
Healthcare and the clinical development is driven by science and data. That's how we get insights. That's how we derive information.

Victoria Gamerman, PhD, Global Head of Data Governance and Insights at Boehringer Ingelheim
BI in retail
Using BI as a baseline can help retailers optimize inventory planning, create better products, and improve the customer experience. Here's how Sol Rashidi, Chief Analytics Officer at Estée Lauder explains it:
We're building the back-end ecosystem to hydrate and power all of the front-end applications and apps that we're building, that are meant to deliver data at your fingertips—so that the different business execs can make the business decisions in a quick, fast way….'here, I have an app. Let me show you how we're doing globally.
Business intelligence strategy
Establishing a world-class business intelligence strategy doesn't happen overnight. You need the right mixture of technology, people, and processes to make it stick. Your BI solution needs to fulfill your specific use cases, your employees need to be data literate, and data-driven insights must be built into every decision. 
Although there's often a significant amount of change management and upskilling associated with a new business intelligence strategy, the long-term benefits far outweigh any initial obstacles.
Learn how to build a successful business intelligence strategy.
What to look for in a BI platform
It's important to find a best-in-class tool to support your BI strategy as not all BI tools are built the same. You should start by analyzing your needs and internal use cases. The key is finding a tool that will work for your organization.
Once you've established your organization's needs, here are 7 component to keep in mind as you evaluate a potential BI platform: 
Self-service experience
It's important that decision makers across the business have direct access to insights. What might be self-service for your business analyst may not be self-service for you C-Suite executives. Aim for a platform that is user-friendly, intuitive, and collaborative for everyone in your organization so that any user can create personalized, actionable insights at the point of impact. 
Compatibility
You'll want to ensure that your new BI tool is compatible with the other tools in your modern data stack. Your data should easily sync with your tool, allowing you to view and analyze your data in real time. Some BI tools struggle to do this at scale.
Scalability
Speaking of scale, it's vital to invest in a tool that is going to grow with your business. You don't want to spend time and energy setting up and exposing your users to one business intelligence tool only to outgrow it as your business and data needs change. Look for a tool that can handle large amounts of data without lagging and sacrificing the user experience. 
Governance and security
Your data is an invaluable asset. It's vital that you keep it in the right hands, while still making it accessible to those who need it. Look for a business intelligence tool that allows you to efficiently adhere to your organizational and compliance standards with secure and flexible access controls.
Ease of use
If you're a seasoned professional in any role, you've probably experienced a data tool that created more work than insights. This defeats the purpose of investing in business intelligence. If your tool isn't easy—dare we say fun—to use, your decision makers won't use it to their advantage. Old habits die hard—It's easy to go back to localized spreadsheets with outdated data, or worse, rely on your gut instinct to make decisions. 
Augmented analytics
Another key component to evaluate is how well your business intelligence tool surfaces relevant insights. By investing in an augmented analytics solution, your team will be able to uncover smarter insights automatically. Even if they aren't sure what they should be searching for.
Ability to operationalize
Your business intelligence solution should also be operational, meaning it should embed into your existing workflows and tools. If you can push key insights into Slack or email, your team is much more likely to act on them. 
The future of business intelligence
As more organizations realize the value of their data and lean into BI technology, it's important to choose a solution that's built for the future—a partner that will help you dominate the decade of data. That's where ThoughSpot can help. 
With our intuitive, search-based UI and pre-built SpotApps for your favorite business tools, ThoughtSpot's self-service Live Analytics capabilities seamlessly fit into every user's workflow. And with robust AI capabilities, our customers aren't just creating, consuming, and sharing insights一they're finding otherwise hidden trends and anomalies that have the potential to make or break their business. 
ThoughSpot empowers all business users to answer questions with data, discover business-critical insights, and accelerate action. See for yourself, sign up for a free trial of ThoughtSpot today.