During my analytics journey, I've often described the process of exploring data for insights using a fishing analogy.
The analogy implies that data analysts are like fishermen waiting patiently on the banks of a data river, hoping to catch a valuable insight as it swims past. Some fishermen are better than others. How well they use their bait and tackle determines the value of the insight—or for analogy sake: how big the fish is. 
Thankfully, with the advent of modern data analytics tools and techniques, the process of data discovery has become much more approachable to the average fisherman. Instead of waiting for the fish to bite, analysts now have a lens under the water— they can proactively ask questions of their data and surface insights that were previously hidden.
In 2023, AI and data discovery have become the words of the day. The market is predicted to grow to over $20 billion by 2030, and many have called data the new oil. It's a resource that so many businesses have in the reserves, and it has the power to completely revolutionize your organization's operations. However, most businesses are still fishing from the bank.
Analogies aside, what exactly is data discovery? And why is it so crucial for business success? 
What is data discovery? 
The short answer: Data discovery is the process of collecting and analyzing data to surface actionable insights. It lets you see what's really going on in your business and take the right steps forward. 
Here's the longer answer.  
Let's say you're the head of logistics for a major retail firm. You know you're overspending on your supply chain, but you don't know exactly why or where. The best thing you can do is gather all the relevant information—supplier performance data, delivery schedules, inventory statuses, personnel costs, shipping prices, warehouse efficiency numbers—and then look for patterns. 
Maybe you spot that three of your main suppliers are becoming steadily more expensive for a particular product category. Or, maybe you're paying more for delivery in a specific region due to a one hauler raising their rates. 
That process of gathering data and scanning for patterns in the details is known as data discovery. It's about figuring out what's really happening in your business by surfacing hidden insights at a granular level. 
Data discovery vs. traditional business intelligence (BI)
Traditional business intelligence derives insights through hands-on work by skilled data analysts. It tends to be labor-intensive and slow. It also requires a high level of data literacy. 
Modern data analytics, on the other hand, are self-serve, cloud-based, and powered by AI and machine learning. Today, the modern data stack allows you to easily connect and map your data sources—all within your data warehouse. This access to real-time data enables true data discovery through search, visualizations and advanced analytics. 
If you're using ThoughtSpot, you then have the ability to immediately analyze all of your data by searching with natural language that returns drillable, interactive data visualizations—providing the granularity needed for data discovery and finding actionable insights. Or, if you have a lot of data and aren't sure where to start your search, you can use AI-powered suggestions to help you ask role-specific questions and find the relevant insights that are hiding in your data.
Even if you have the visualization in front of you, most people still find it challenging to identify trends. This is a perfect use case for ThoughtSpot's AI-Powered Analytics—which spots patterns you might otherwise have missed. ThoughtSpot automatically surfaces anomalies and trends so you can understand exactly what's happening in your business and take action at the point of impact.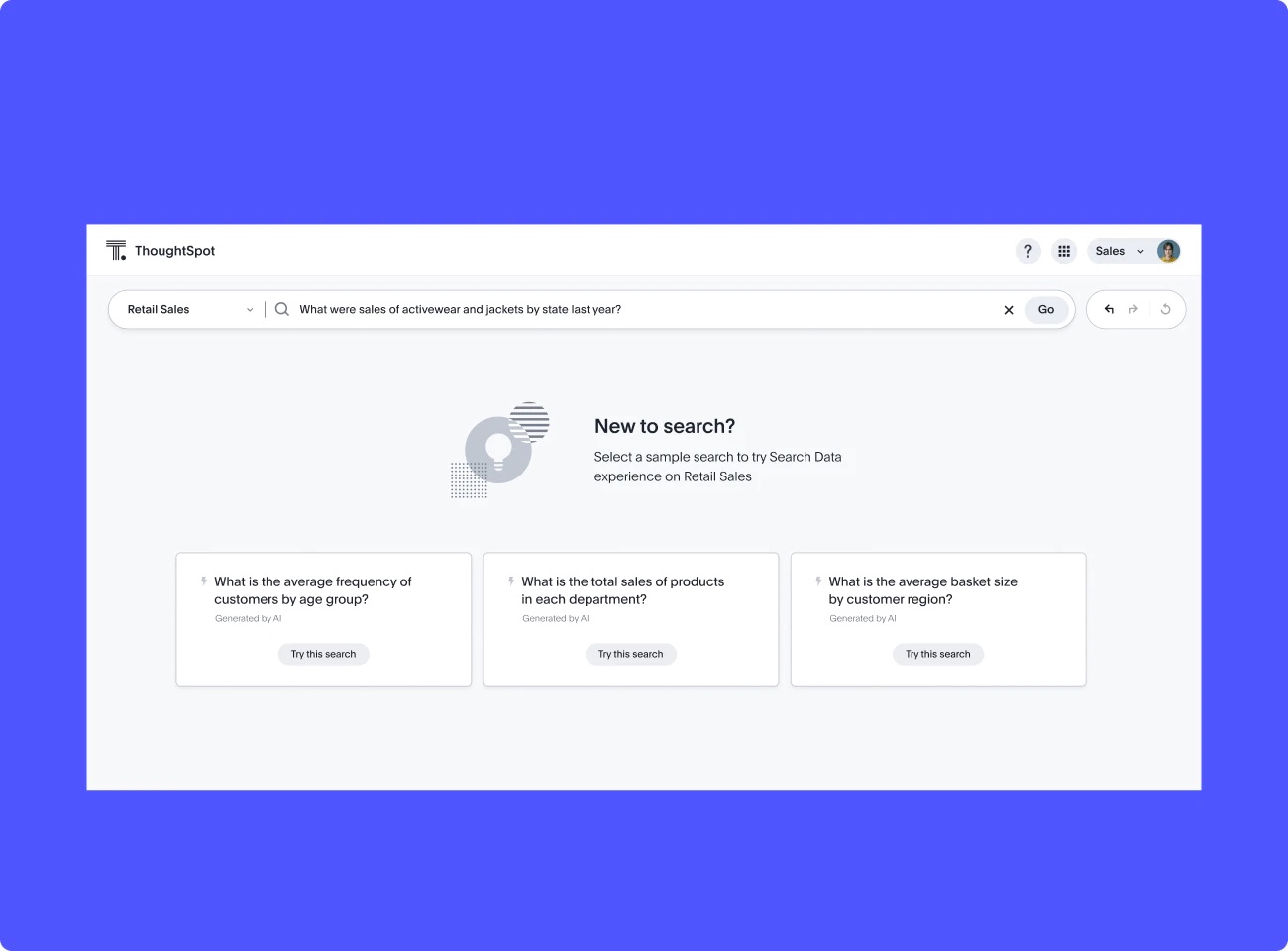 The data discovery process 
Data discovery is an iterative process. It starts with identifying the data that will help you answer real business questions, collecting and cleaning the data through ETL and ELT, and then using search, visualization tools, and augmented analytics to spot patterns and derive insights. 
Data preparation
Before diving into the data preparation, you should first identify the need behind the discovery process. Consider what kinds of data would be helpful and relevant for your questions. You may want to introduce third-party data to get a holistic picture. 
Then, you'll combine and integrate your multiple sources of data into your cloud data platform to ensure you're working from a single source of truth. With ThoughtSpot, accessing this single source of truth is as simple as connecting to your cloud data platform—no need for data movement or caching. 
Search and data visualizations
Uncovering insights in your data requires the use of search and data visualization. This is the process of asking questions and receiving responses represented with graphics, making it easy to spot patterns visually. Well-designed data visualizations let you communicate complex ideas—or uncover new ones by drilling down further into the data—quickly and easily. It's the whole "a picture is worth a thousand words" thing.
Advanced analytics 
Now comes the fun part. 
These days, advanced machine learning has taken much of the heavy lifting out of data discovery. AI-Powered Analytics harnesses the power of machine learning to automatically prepare and analyze your data—then spot trends, anomalies, and patterns. You can then share those findings with your team, and operationalize these insights by embedding them into your team's current workflow.
Why is data discovery important? 
Data is only useful if you can apply it in the business context and create value. Despite the growing complexity and volume of data, many of today's businesses remain data aware rather than data driven. Data discovery constitutes the difference between the two.  
Here are the main reasons modern, competitive businesses need data discovery: 
1. Make data accessible to everyone 
According to research by the Harvard Business Review, giving users self-service analytics is one of the most effective ways to improve a company's BI success, second only to improving data quality.
If you want to become a truly data-driven business, you need everyone to be able to understand, work with, and derive insights from your data. Don't stop short at your data analysts; include your business users, executives, and front-line workers. 
Case in point: Healthcare SaaS platform leader MD Audit. 
The team needed data at their fingertips to answer ad hoc questions without needing to call in a data analyst every time. MDAudit used ThoughtSpot Everywhere to create embedded data analytics tools that would surface insights for their customers when they needed them. By automating audit insights and helping customers identify revenue leakage, MDAudit's data discovery toolkit solved a major customer pain point. 
"If you're a healthcare compliance or a revenue integrity professional, data is not the first thing on your mind. You're not trained to be a data analyst. So we need to provide people with the right tools to do their job better."  
- Ritesh Ramesh, COO at MD Audit
The result? Double-digit growth for MDAudit and a growing user base of 500+ delighted end users who are surfacing their own data insights. 
2. Democratized data produces better insights 
When combined with the right business analytics tools, data discovery makes it easier for everyone in your organization to use data to make better business decisions. For example, online car rental marketplace CarTrawler knew that to thrive in the highly competitive travel environment, they'd need their business users to query their data easily without needing to learn SQL or require analyst support. 
They decided to integrate ThoughtSpot Cloud to supplement their existing BI tools—and relieve their overworked analysts. ThoughtSpot supported their team with data discovery and self-service analytics tools. 
The point of the exercise, explains Patrick Callinan, Director of Insights and Data Science at CarTrawler, is that people can "look at patterns, rather than just repeating the same analysis." 
By surfacing insights for them, their newly powered-up data stack gives them a major competitive edge.
"We were already better than our competitors in giving our partners and suppliers access to performance data. But what we can do now is do that for them in real-time on the phone, which we weren't able to do before; people can be on the phone with an airline, and as the contact asks another question, the information is immediately supplied to them." 
- Patrick Callinan, Director of Insights and Data Science at CarTrawler
3. Data discovery removes barriers to action 
One of the biggest advantages of data discovery is that it accelerates speed to insight. Instead of waiting for an analyst to prepare a report, modern companies are combining data discovery with the right tools to let you find your own insights. 
For Kelly Burdine, Head of Data Science and Analytics at healthcare SaaS platform Wellthy, keeping up with the pace of demand was a major challenge. Burdine's team of five manually generated every routine report and one-off request, and delivered a monthly report for each employer partner—a process that created a frustrating backlog. 
"It's really important to get data into the hands of people that need it to make decisions, but timing is key. It's not helpful to get the data one week later." 
- Kelly Burdine, Head of Data Science and Analytics at Wellthy
Today, thanks to the modern data stack, Wellthy has a streamlined process for data discovery, visualization, and analytics tools at hand. With ThoughtSpot, the Client Success team is finding it easy to make smarter decisions based on live data. Additionally, the data team has been able to 2X their velocity of output, so they can focus on more nuanced data problems instead of acting as report generators.
From data discovery to action—what to look for in a BI tool
When it comes to choosing a BI platform that streamlines the process from data discovery to data-driven decision making, here's what you should look for: 
Speed 
Timely insights are the whole point of data discovery. To mitigate risk and daily volatility, your business users need instant answers that they can act on now—not later. 
Accuracy
Unless the insights you're discovering are accurate, you'll not only make worse decisions—you'll also degrade trust in business analytics use cases altogether. This can be a real risk with data discovery tools. Without a transparent, documented process for surfacing insights, users may question the integrity of the insights. 
Usability 
BI tools must be easy for anyone to use so that users can actually interact with the data you've discovered. Look for tools that allow you to write queries in natural language, make search recommendations to help get you started, and create interactive visualizations. 
Flexibility 
You need to find tools that balance flexibility with governance. That means looking for analytics platforms that offer: 
Granular user access and controls

Scalability as your data volumes and usage grow

Enough flexibility that users can find answers to their unique questions  
Collaboration 
To get the full benefit from data discovery, you need to move seamlessly from the data to the visualization to the insight to the action. That means finding tools that support team collaboration, so you can quickly make collective decisions based on the data. 
Look for functions like: 
Interactive visualizations, so you can ask and answer data questions during meetings on the fly 

Reusable questions so everyone in the organization can easily find and reuse the answers to your most common questions.

Capacity to share visualizations over team collaboration tools like Google Drive and Slack

Connectivity with business-critical apps like Salesforce and Hubspot, so the insights find your business users where they spend their time 
Augmentation via AI-Powered Analytics
Visualizations are the realization of data discovery, but too many tools stop there. To really deserve to be part of your modern data stack, your BI tools need AI-Powered Analytics. This feature makes it easier for users with no real data analysis experience. It also means finding insights that you didn't even know to look for.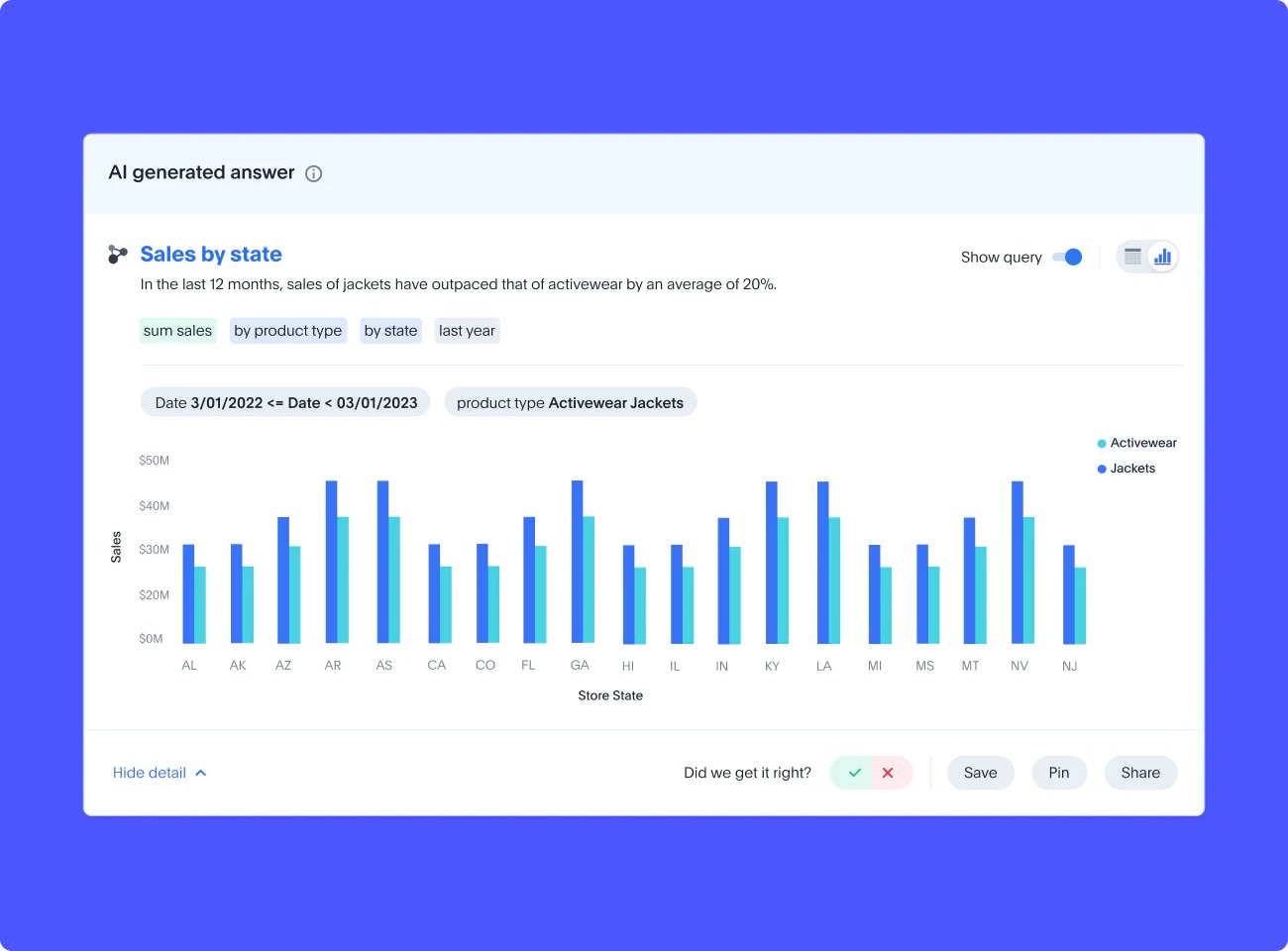 Discover the value hiding in your business data with ThoughtSpot
With ThoughtSpot, your users can find answers to their business questions at the speed of thought. And now, with our new GPT-enhanced, AI-powered search, you can search for insights the way you'd ask a colleague a question. You'll get trusted insights from the data that you can use to take immediate action. 
Sign up for your 30-day free trial of ThoughtSpot to discover how accessible data drives action.