How will the modern data analyst empower their team—and their company—to dominate the decade of data? This is a question today's industry-leading companies like Walmart, General Motors, Hulu, and Schneider Electric are asking. 
The answer? Self-service analytics.
What is self-service analytics?
Self-service analytics is a type of business intelligence that allows users to access and analyze data without relying on IT or BI specialists for support. This means less manual reporting work for your analytics department, freeing  up more time to invest in strategic initiatives. 
Self-service gives front-line business users access to data and fuels insights, so every business user can make data-driven decisions rather than relying on opinions or gut feelings. Given its advantages, self-service analytics is quickly becoming a must-have for businesses of all sizes. 
So what are these advantages, and what are some best practices to follow? Read on to find out.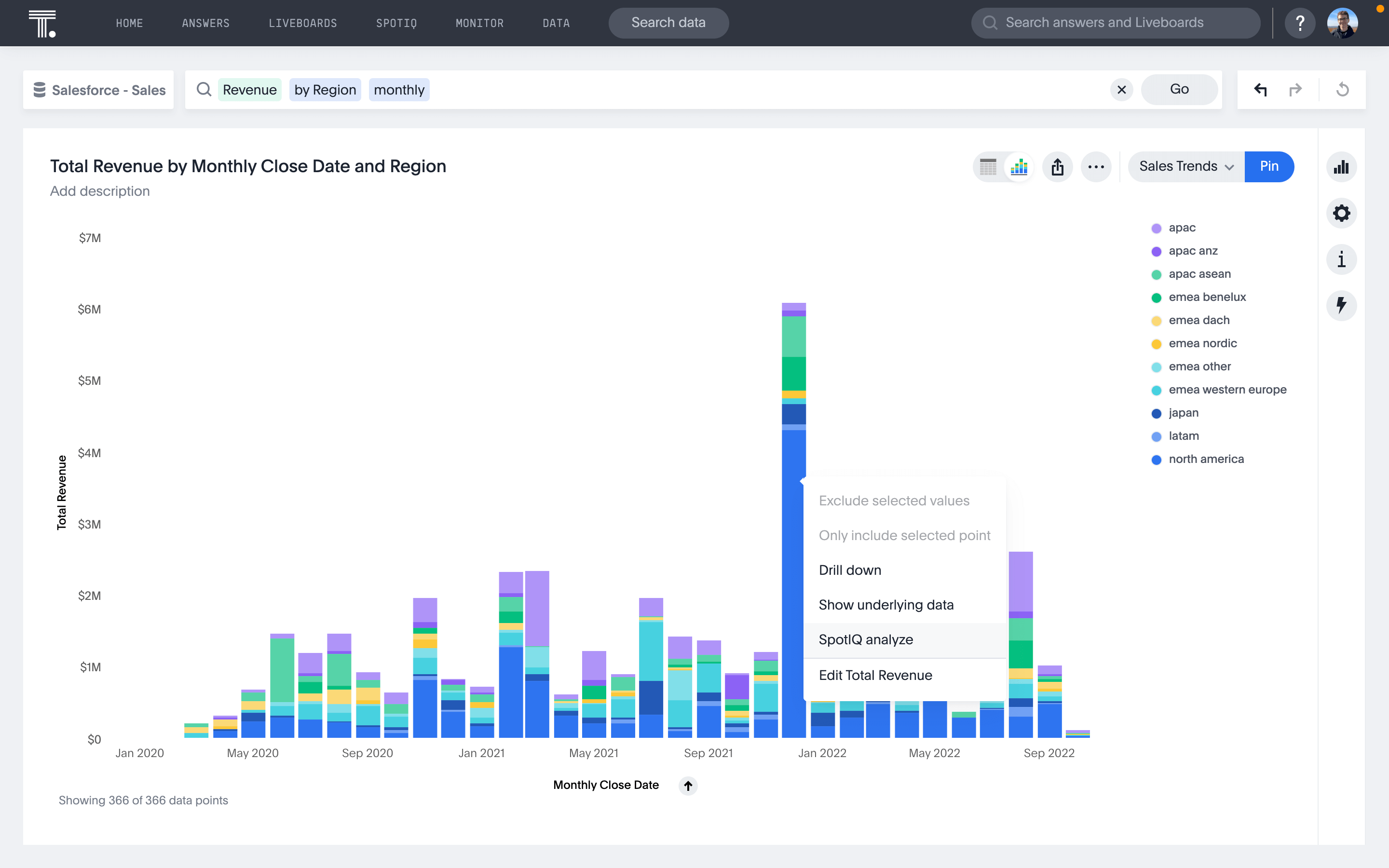 Augmented analytics with search and AI are key to enabling self-service analytics.
Advantages of self-service analytics 
There are many advantages to using self-service analytics, including:
Increased efficiency
Users can quickly and easily access data, deriving answers and creating reports without waiting for someone else to do it for them.
This is especially true for factory14, a European consumer goods company focused on increasing the profitability for brands sold on Amazon. They're brand management and operations teams were drowning in spreadsheets. These data silos were impacting their ability to keep up with product demand.
That's when they decided to implement a true self-service analytics solution. Here's how then Vice President of Analytics, Leon Tang, described the increased efficiency of self-service analytics:
"For someone like [the CBO] to just go into ThoughtSpot, type a few words into the search bar and pull the exact information he needs, just like that — is nothing short of amazing. Now people are using Excel a lot less. Instead, they're finding the exact data they need with ThoughtSpot."
factory14 has since undergone a successful acquisition, and Leon Tang has moved on to another opportunity as the Director of Data for Jobandtalent. However, the impact that self-service analytics had on their team is undeniable.
Improved accuracy
By allowing users to access data themselves, self-service analytics reduces the chance of errors that can occur when data is manually entered, downloaded to a machine, or processed. While this is true in every industry, the accuracy and reliability of data is extremely relevant in healthcare. 
For instance, consider Gilead Sciences, a research-based biopharmaceutical company. Here's what Murali Vridhachalam, Head of Enterprise Data and Analytics, had to say about how self-service analytics has helped to improve the impact of their insights:
"I noticed there were a lot of different teams working on siloed data and analytics. Now, we have a holistic approach of initiating data-driven [insights] at Gilead. It's not a cliche….For example, a lot of things were dependent on a single BI team to create reports. We are trying to disrupt that culture by enabling self-service analytics."
The democratization of data and rise of self-service analytics has the power to improve patient outcomes in healthcare.
Greater customization
With self-service analytics, users have greater control over their data and can create reports and dashboards that meet their specific needs.
Data Cloud leader, Snowflake, has seen first-hand the improved customization that self-service analytics can provide. That's because Snowflake doesn't just deliver best-in-class data products; it runs its entire business on data, too.
"As a company, we believe that measuring the right data drives good business outcomes. Being a data platform company, we have to live up to that promise,"
To support the growing demands of their highly successful business, Sunny knew he would either need to bring in additional resources or find a way to work smarter. That's when he turned to ThoughtSpot for self-service analytics. Customization was one of the driving factors behind that decision. 
"Pre-canned reports aren't enough. When you're living in that world, you're not taking advantage of all the possibilities your data can lead to."
See how self-service BI and customization have helped Snowflake decrease their IT backlog by 20%—read the full case study here.
Five self-service analytics best practices to follow
There are a few key best practices to keep in mind when it comes to self-service analytics:
1. Make sure data is easily accessible
The first step to launching self-service analytics is ensuring that all of your data is easily accessible to those who need it. This means having a central repository—like a cloud data warehouse—where data can be stored and accessed, ensuring that data is properly tagged and organized. 
2. Ensure a user-friendly interface
Another important aspect of self-service analytics is ensuring users have an intuitive and engaging interface to explore data. It should be easy to use and navigate, and provide the user with the ability to customize their experience.
3. Encourage collaboration
With so many users creating insights from data, it's important to encourage collaboration so people aren't reinventing the wheel. This means empowering business users to share reports and push insights to tools like Google Sheets, Microsoft Teams, Slack, and email so that insights can be circulated more widely.
4. Follow best practices for data governance
Self-service analytics relies on quality data, so it's important to follow best practices for data governance. This means ensuring that your data is well-managed and controlled. Without proper data governance, your self-service analytics efforts will be at risk.
5. Create feedback loops
Finally, it is important to iterate on self-service analytics programs continuously. This means intaking feedback and making changes and improvements on an ongoing basis so that the program can continue to meet users' needs. Additionally, it is important to track metrics so that progress can be monitored and issues can be addressed in real-time.
What to look for in a self-service analytics platform
When choosing a self-service analytics platform, there are a few things to keep in mind, such as:
Ease-of-use
A self-service analytics platform should be easy to use and allow users to access and analyze data quickly. It should have an intuitive interface that is easy to navigate. Ease-of-use is essential for users to access data without having to go through a lot of steps.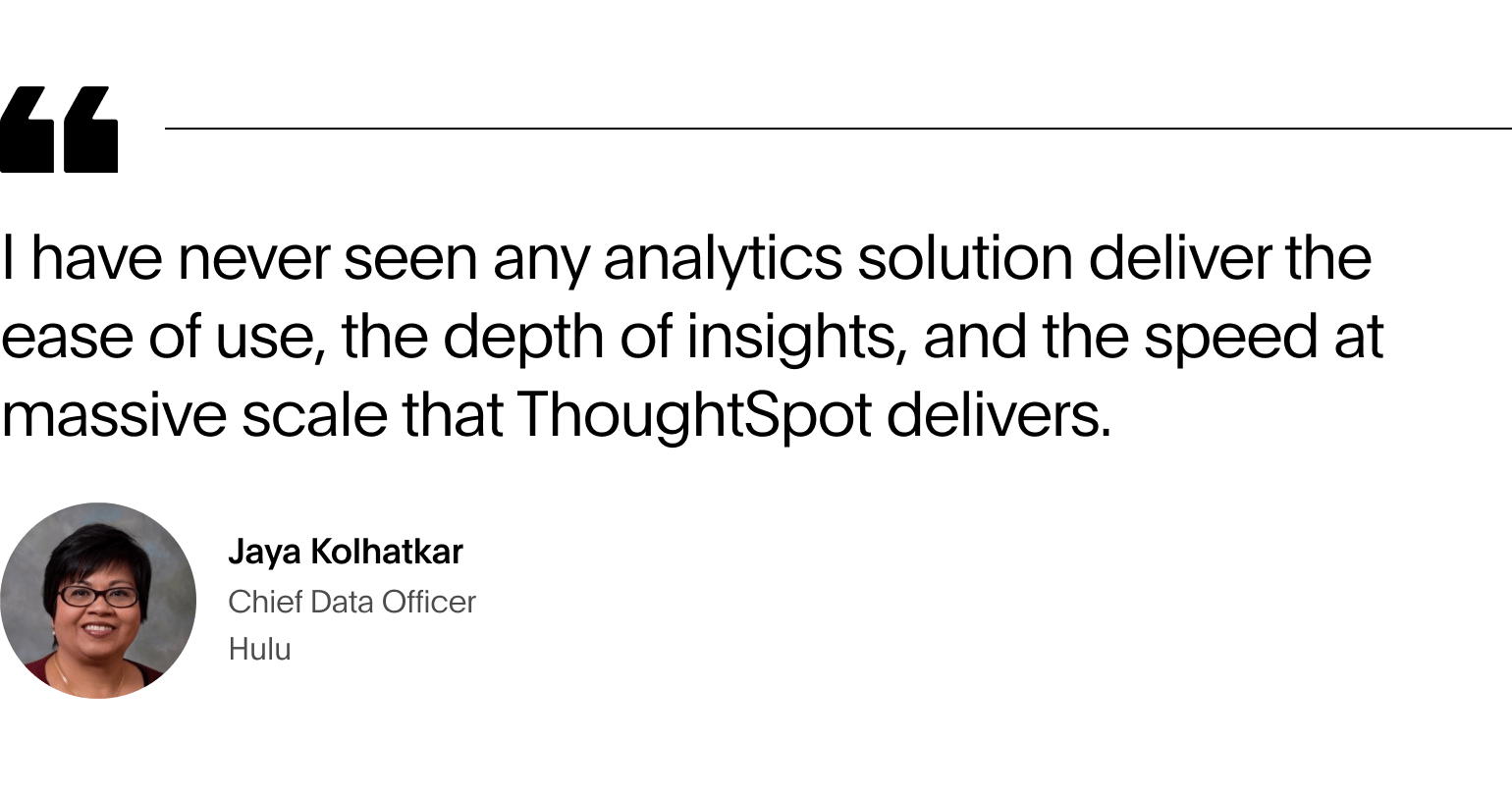 Scalability
As your business grows, it is important that your self-service analytics platform can scale with you. Platforms that lack scalability can quickly become obsolete, as they are unable to keep up with the changing needs of businesses as they grow.
Flexibility
A self-service analytics platform should be flexible enough for users to create highly customizable reports, without relying on IT or other departments for help. This level of flexibility is essential to making data-driven decisions quickly.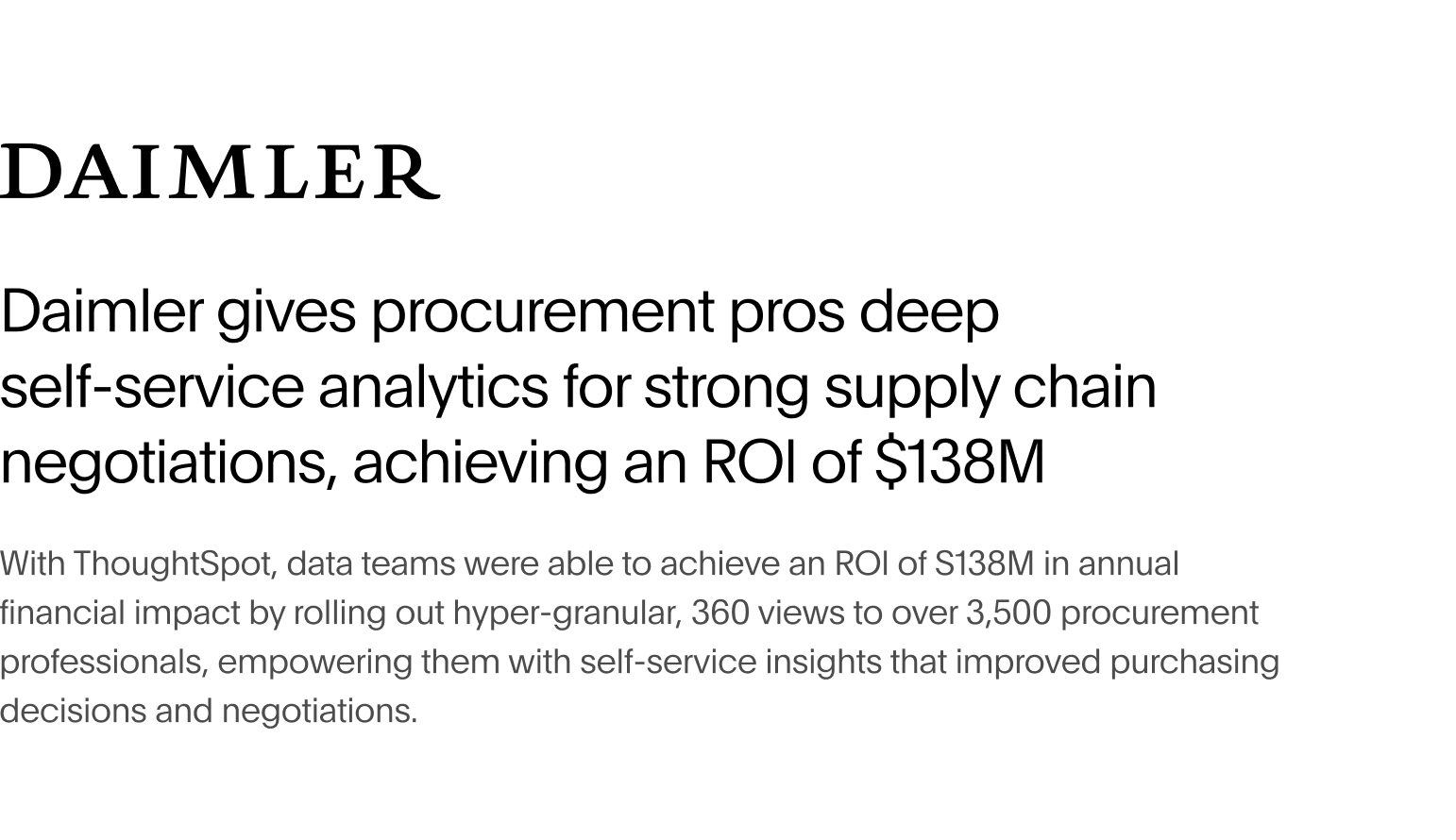 Security
Unauthorized access to data can spell disaster for any business. That's why it's essential for your self-service analytics platform to have robust security measures in place. At a minimum self-service analytics platforms should have SOC 2 Type II, ISO 27001, Privacy Shield Framework, and GDPR certifications in place. By ensuring that your platform meets these standards, you can help to protect your data and prevent unauthorized access.
Transform your business with self-service analytics
If you want to take your business to the next level, self-service analytics is a must. Being able to analyze data quickly and create personalized, actionable insights at the point of impact is what will separate you from competitors. 
ThoughtSpot provides powerful search and AI-driven self-service analytics tools that make it easy for you to find and create insights. Ready to get started? Start your free trial of ThoughtSpot today!