ThoughtSpot for your cloud analytics
ThoughtSpot's Modern Analytics Cloud empowers businesses to create personalized, actionable insights from all of your cloud data to inform decisions and drive smarter actions. Our powerful Live Analytics services include user-friendly capabilities that drive improved insights, such as:
Search
ThoughtSpot enables any user to search their cloud data to create and discover key insights with natural language query (NQL)in the same way they search using Google, without needing to know SQL or table relations. Even the most complex queries can be easily executed at scale, with personalized, granular-level insights that speed-up your team's time-to-action. And with automated, in-text coaching, ThoughtSpot makes it even easier to teach users how to search and analyze business data. And because users can view lineage and data catalog details, they can learn in-depth facts about how each query has been answered.
Connect
With ThoughtSpot, users can instantly connect to live cloud data sources like Snowflake and Databricks to query the data in their platform at the most granular level. With just a few clicks, teams can start searching their data across their existing cloud platform, find insights, and then sync those insights back to the cloud platform.
Auto analyze
Even if users don't know where to get started, cloud analytics can use AI to ask and answer questions they care about, but wouldn't necessarily know to ask. Businesses can get one-click AI-driven analysis to quickly understand anomalies, trends, and potential opportunities; all of which help to improve the bottom line.
Model
ThoughtSpot makes your data intuitive by empowering users to create governed, usable, and logical data models for Live Analytics. Teams can quickly get up-and-running with automated worksheet model creation and control. They can combine and filter data, add calculated metrics, collaborate and models, and easily ensure that the right people have access to the right data.
Operationalize
ThoughtSpot makes it easy for frontline teams to push insights back to business-critical apps (like Slack, Salesforce, and Hubspot), which can be used to trigger action in other applications. If your business has customer data in Hubspot, they can use ThoughtSpot to analyze the data and find insights into customers who, for example, like ordering pizza on Friday nights. They can then push that insight (i.e. that customer list) back into HubSpot to trigger an email that sends a 25%-off pizza coupon on Friday morning. This helps to streamline operations for a more informed, productive workforce.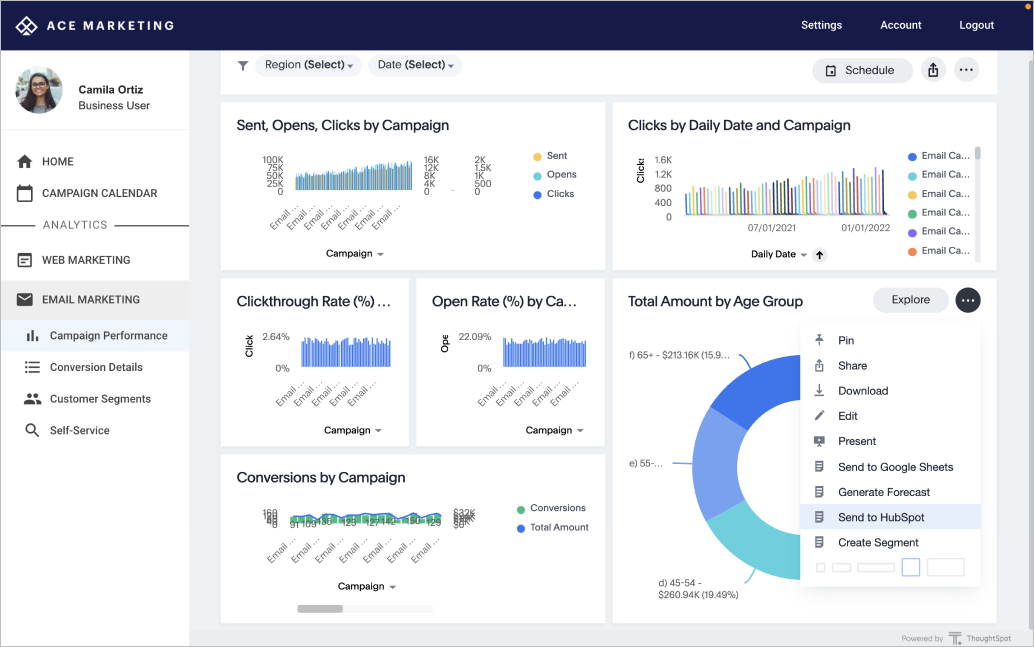 Embed
Backed by ThoughtSpot Everywhere, a developer-friendly, low-code platform with flexible APIs, users can quickly embed interactive analytics experiences into business apps. Instead of static dashboards, teams gain a live, modern, and engaging cloud analytics experience that encourages curiosity and exploration.
At the backbone of any successful modern organization is deep, data-driven insights that help them to enhance growth and boost collaboration. Cloud analytics solutions eliminate the costly, inefficient challenges associated with on-prem alternatives, and instead offer the robust technology needed to detect patterns, identify opportunities, and support better business decisions.
---