A recent ADP National Employment Report found that private sector employment increased by 324,000 jobs in July of 2023. Meanwhile, annual pay was up 6.2%. Digging deeper into this data, you can analyze pay insights year-over-year, by state, and even across age and gender.
These insights are all part of the growing field of people analytics. In this article, we'll discuss the vital role people analytics play for both our organizations and the market at large. We'll also talk about the process for creating and analyzing people analytics, share different tools you can use, and highlight a few pertinent examples. But before we get started, let's cover the basics.
What is people analytics?
People analytics allows you to assess your workforce through different lenses to identify trends and patterns. You can then use that analysis to proactively mitigate risks like employee turnover, prepare for organizational changes like a company acquisition, and forecast opportunities for your team and your business.
Five benefits of people analytics
No two employees are the same. We each bring our own lived experiences, cultural background, and belief systems with us when we step into our work roles. The more you as a people leader can understand about your employees and offer relevant support to your team, the more successful your business will be.
Let's look at a few of those benefits specifically:
1. Employee engagement
Looking to create a better culture in a new hybrid work environment? Analytics can measure employee engagement through various metrics (such as leadership sentiment, communication, innovation, and more), helping organizations identify factors that contribute to engagement or disengagement—and take appropriate actions.
2. Workforce planning
Workforce Planning is the process of analyzing, forecasting, and planning workforce supply and demand, assessing gaps, and determining target talent management interventions to ensure that an organization has the right people—with the right skills in the right places at the right time. By predicting future workforce needs based on historical data and market trends, organizations can proactively address talent shortages or surpluses.
3. Employee retention
Organizations can also proactively address retention challenges by analyzing factors that contribute to employee turnover.  This data can come from exit surveys, stay interviews, focus groups, and more. Depending on the insights you find, you may decide to implement targeted retention strategies, take measures to improve overall employee satisfaction, or assess employee benefits to gauge opportunities for improvement.
4. Diversity and inclusion
Using people analytics, companies can find vital insights on diversity and inclusion efforts and apply those insights in various ways. Perhaps you want to track representation, pinpoint areas of underrepresentation, or measure the effectiveness of your diversity initiatives. 
PS: We have a SpotApp for that. Learn more about ThoughtSpot's DEI tools.
5. Skills development
People analytics can also help you identify skills gaps within your workforce. These insights allow for targeted training and development programs, ensuring employees have the necessary skills to excel in their roles. It might also highlight areas where further talent acquisition is required.
These are just a few of the benefits of people analytics. But in order to achieve these tangible results, you first need to know how to collect, analyze, and enact these insights. 
What does people analytics involve?
While there are some specific steps and cautions when conducting people analytics, the processes largely follow that of any other kind of data analytics. If your business operates on a  modern data stack, the process probably involves the collection of data from sources, some type of extract, load, and transformation process, ingestion into the cloud data warehouse, and the ultimate analysis in the experience layer. 

Data analysis: 
Once your data is combined in a centralized location, cleaned, and ready for analysis, you can start to visualize your data through the form of charts and graphs. Perhaps there are HR metrics and KPIs you want to follow—you can set up alerts for those up as well. If you're using a self-service analytics platform like ThoughtSpot, you don't need to rely on the help of your data team.
In ThoughtSpot, you can analyze your people data using AI-powered, natural language search, interactive data visualizations, limitless drill down capabilities, and automated KPI monitoring. Best of all, you can share these insights across your team, so you're all on the same page as you build plans and make important decisions.
Change management:
Once you've found insights and trends, it's time to make a plan. Whether you're developing a survey, adding benefits, or developing skills training, it's important to analyze all ethical considerations as you develop your course of action. Once that's in place, you need to develop a sound communication plan to gain buy in and disseminate information about your plan. 
This is a phase often referred to as change management. Note that implementing people analytics might require changes in processes, mindsets, and behaviors. It's important that you provide training and support to employees and managers to ensure successful adoption.
Even more important is the job of continually analyzing your data and improving people practices. No more relying solely on isolated experience and gut instincts. You have a world full of data at your disposal, and it's your job as a people leader to make the most of it. 
There are a number of tools that can help you along this journey—let's look at a few below.
People analytics tools and software
HR Systems
The HR systems you're already using to onboard employees, manage benefits, and send payroll are a great data source for people analytics. As shown in the example above with ADP, there is a wealth of data already sitting in these systems—it's up to you to tap into them.
Employee engagement surveys
Tools like Culture Amp, Tiny Pulse, Survey Monkey, and even Google Forms are great ways to gather insights and feedback from employees. By conducting regular employee engagement surveys, you can gain more insights into a number of key metrics you may be interested in analyzing.
Data management systems
Whether you're still managing your people data in Excel and Google Sheets, or you have a cloud database, it's important to have a centralized location where you keep clean, secure, up-to-date employee data. 
BI and data analytics solutions
While you can perform data analysis in spreadsheets, these systems often aren't built for the scale and security of enterprise data. By using ThoughtSpot's AI-Powered Analytics, you empower your entire organization to interact with people data—spurring along necessary change management, creating a culture of transparency, and ensuring that every team member has access to the data they need to create a better, more conducive workplace environment.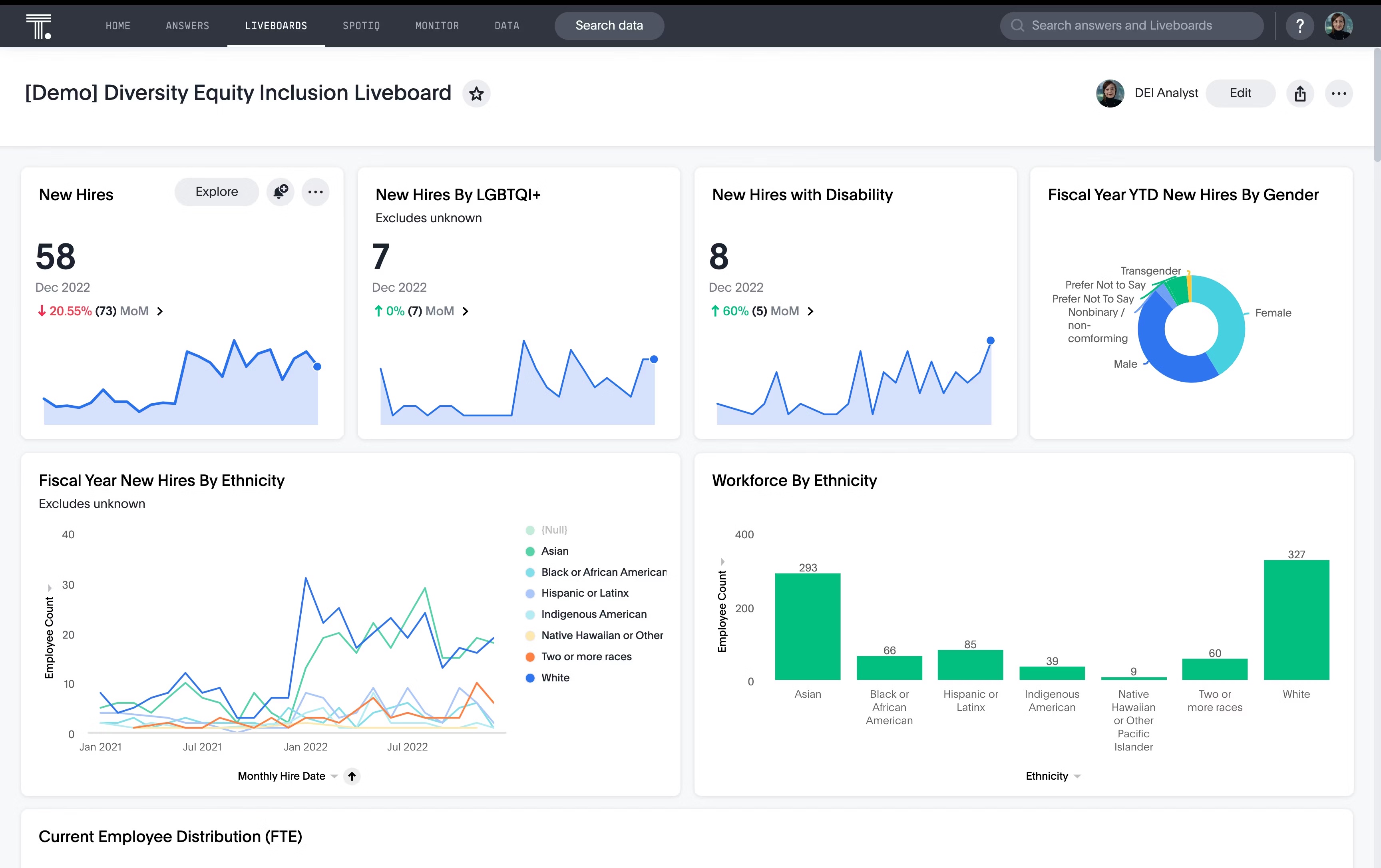 But you don't have to just take our word for it—check out these stories of people analytics in the workplace.
Examples of people analytics in action
Schneider Electric Drives digital transformation and data literacy in HR
When Alanna Roesler joined Schneider Electric, she knew she wanted to make an impact through people analytics. Using ThoughtSpot, she empowered teams to uncover real-time insights from data like, "what areas of the business are thriving with the diverse hiring practices" and evaluate further to boost these best practices across all of Schneider. 
Learning how to become a change agent in her own profession and company empowered her to move up the ranks in the organization—it also propelled Schneider Electric towards their goals of becoming an even more data driven company.
ADP decodes people analytics for the masses
Let's take a look back at ADP. In a recent episode of The Data Chief, Jack Berkowitz, ADP's CDO, shared how they are empowering with people analytics—giving them the tools they need to become more data-driven businesses. 
During the episode, Jack shared a story that really resonated with me. When analyzing national payroll data around military members and veterans, they found a significant pay gap. To address this, they created a set of planning tools that allow businesses to analyze the compensation disparities both internally and benchmark that data against national data. Since the launch, they've noticed a significant uptake in using the tool resulting in nearly $2 Billion in equity gap closures among their customers. The ability to analyze this data positively impacted hundreds of thousands of people.
🎧 You can listen to this episode of The Data Chief here.
How can you use people data to transform your workplace for the better?
Ready to join the ranks of these inspiring business leaders? You already have the data, you just need the right tools to do the job.
ThoughtSpot combines world-class data discovery features with AI analytics, so you can unearth the insights hiding in your workforce data and create value for your business. Schedule your 1:1 demo to find your first use case, or start a free trial to start your people analytics journey today.