Today, Gartner has positioned ThoughtSpot as a Visionary in the 2022 Magic Quadrant for Analytics and Business Intelligence Platforms, a recognition that we are so excited to continue living up to for our customers. 
Since declaring dashboards are dead we've caused quite the stir. For two decades, legacy BI technologies have had a chokehold on modern businesses and many of you have asked, if not dashboards then what? You know that how your business uses and brings data into every decision and every action has never been more important. And it's not a stretch to say that every business – regardless of size, vertical, or geo – is now a data business. In fact, data is your single greatest competitive differentiator; the key to building exceptional teams, products, and customer experiences. 
To make data readily accessible to every person, at every level of your organization, we've built a best-in-class solution that extends the value of the modern data stack and makes it easy for anyone, regardless of technical literacy, to create and act on personalized, actionable insights at the point of impact. It's an ambitious vision that few, if any, competitors can match. But if there was ever a time for organizations to ditch dashboards and adopt truly self-service Live Analytics, it would be now. 
Extending the value of the modern data stack
Over the last few years, the analytics ecosystem has undergone a massive shift. Companies have moved to the cloud at astonishing speed and accelerated the re-platforming of their data stack. With multi-million dollar investments in cloud data platforms like Snowflake, Databricks, Google BigQuery, and data tools like Starburst, Matillion, Dataiku, and more, the world's most innovative organizations have embraced ThoughtSpot to extend the power of their new data stack and make cloud data insights available at the speed of thought.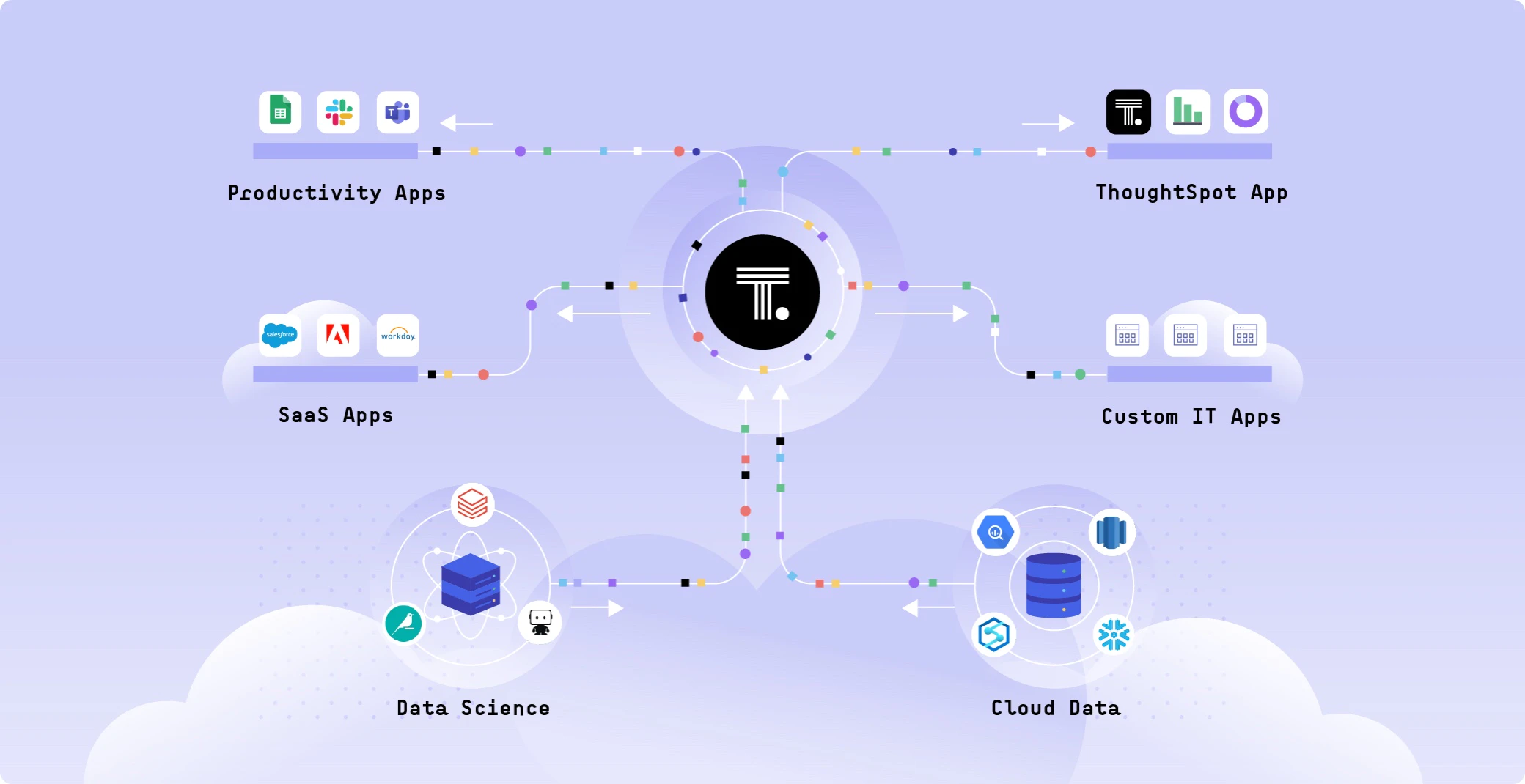 Take Anthem for example. Claims analytics are at the center of this insurance giant's business, but with only directional signals about the status of open and paid claims they lacked the granularity to improve claimant experiences and costs. With Live Analytics from ThoughtSpot running on all of their live cloud data, that changed. The number of overpaid claims decreased. Claim response time accelerated. And now every customer-facing business person is engaging with data and creating insights to make decisions with surgical precision.
Monetizing data and unlocking new revenue streams
In addition to modernizing their data stacks, more companies are also dreaming up new ways to monetize data and unlock new revenue streams with embedded analytics. In this endeavor, speed, cost, and quality are the three biggest factors to weigh. They must bring their data products to market faster than the competition, without overspending on building and maintenance costs, or sacrificing quality and functionality. Some businesses execute these projects internally, but increasing businesses large and small are turning to ThoughtSpot Everywhere, our developer-friendly platform that allows you to embed engaging analytics experiences into any product with just a few clicks.
The team at British online food delivery marketplace, Just Eat Takeaway, know this first-hand.  Powered by ThoughtSpot Everywhere, Just Eat Takeaway launched Just-Data, a self-service embedded analytics platform that elevates the conversation for sales teams and branded restaurant partners. Just-Data helps these restaurant partners understand, for example, which times of day are busiest so they can resource accordingly, and see how individual stores are performing. The popular service is now in use by 90 brands in 4 countries with over 600 monthly users. Harri, an HCM technology platform, is another prime example. Harri embedded ThoughtSpot Everywhere to power the Harri IQ platform, which gives hospitality professionals from chefs to executives fast and easy access to valuable data insights, so they can optimize processes like talent acquisition and workforce scheduling in a sector hit hard by the pandemic.
The rise of the analytics engineer
Finally, as data has exploded in the cloud and new data initiatives have taken center stage, the roles of data analysts, data engineers, and developers have started to converge. Today, a new kind of hybrid role is needed to manage complex data engineering and analytics work: the analytics engineer. Rather than spend all their time building reports and dashboards like their traditional analyst predecessors, this new class of data professionals are responsible for launching new analytics use cases across the business to maximize insights and efficiencies. 
With ThoughtSpot's new data workspace, pre-built SpotApp templates, and integrations with ELT partners, analytics engineers are empowered to streamline their work, boost their productivity, and deliver on new analytics projects that move their business forward.
Highest ability to execute, further completeness of vision
As you enter the defining decade of data, ask yourself: can my current business analytics software do any of this? Does it have the vision to meet my organization's needs both now and five or ten years down the line? If not, the 2022 Magic Quadrant for Analytics and BI Platforms has some excellent evaluation criteria to make the switch. See why ThoughtSpot continues to be recognized in the Magic Quadrant as a Visionary by getting your complimentary copy today.
Gartner [Magic Quadrant for Analytics and Business Intelligence Platforms], [Austin Kronz, Kurt Schlegel, Julian sun, David Pidsley, Anirudh Ganeshan], [22 March 2022]
Gartner does not endorse any vendor, product or service depicted in its research publications and does not advise technology users to select only those vendors with the highest ratings or other designation. Gartner research publications consist of the opinions of Gartner's research organization and should not be construed as statements of fact. Gartner disclaims all warranties, expressed or implied, with respect to this research, including any warranties of merchantability or fitness for a particular purpose.
GARTNER and Magic Quadrant are registered trademarks and service mark of Gartner, Inc. and/or its affiliates in the U.S. and internationally and are used herein with permission. All rights reserved.