It's no secret that business leaders are looking at their bottom lines with concern. In a survey of over 1,300 global leaders, 71% of CEOs predict that the economic downturn will impact their company earnings by up to 10 percent.
However, there is one insider tip business leaders might not know. Many of these businesses are sitting on a gold mine. When used strategically, your company's data can be a revenue-generating powerhouse. 
Just consider the results of a Product-Led Alliance (PLA) and ThoughtSpot survey:  
65% of data leaders named analytics as the most important part of a modern tech stack

57% said that embedded analytics directly resulted in revenue
In this article, we'll show you how to turn your data into dollars. 
Two keys to successful data monetization
Before you can start making money from your data, you need to have a solid data foundation and plan in place.
Step 1: Get your data ready for monetization
If you're still relying on legacy BI tools and static dashboards, you'll struggle to monetize your data. There's a reason why so many companies are sitting on billions of rows of data instead of using them to turn a profit. Most data is inaccessible to all but a team of overwhelmed and overworked data analysts. 
Two-thirds of executives aren't confident in their own ability to access or use data with their existing tools and resources.

Only 10% of executives believe their employees can effectively use data for decision-making.

Just 20% of companies have a plan to put data into the hands of front-line workers.
Making your data accessible should be a top priority for every business. By setting up a modern data stack, you'll make your data accessible, reusable, and ready to be integrated into a revenue-generating strategy. You'll also free up time for your analytics engineers and analysts to come up with innovative, profitable ideas for harnessing the power of your company's data.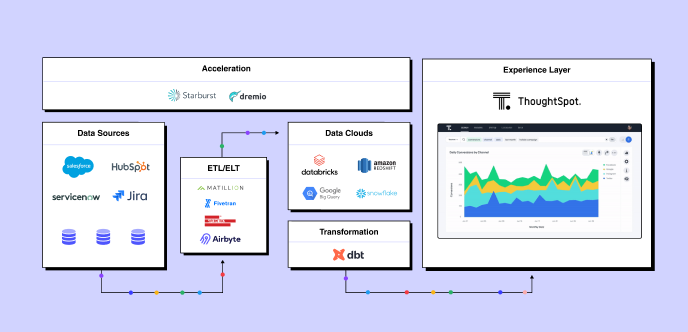 Learn how to implement a modern data stack with cloud analytics. 
Step 2: Create data user profiles 
Once you've whipped your data into shape, you need to think about the people who will be putting that data to use, both inside and outside your business. When thinking about monetizing data, consider these key data users: 
Business users
These professionals use real-time data to identify opportunities for growth and build money-making strategies. They need access to answers from the live data quickly to make informed business decisions at scale. 
Data analysts
Data analysts need to tell data stories, deliver insights from complex data sets, and solve major business problems. They need relief from spending hours on tedious, repetitive manual work on dashboards and reports. 
Frontline workers 
Self-service analytics gives customer-facing employees access to the rich, detailed data they need to make efficient decisions. When this data syncs within their natural workflow, it's easier to act on the information when they need it. 
Customers 
Putting data into the hands of your customers gives your business a competitive advantage—and that's before you start building data products that you can market and sell. Data should act to enhance or enrich their experience with your products. 
To begin the journey toward data monetization, you need to clearly understand the needs of each of these personas: 
How they use data

What tools they use day-to-day 

Where they work 

Their data pain points, wants, and needs 

Their level of data literacy 
Start by conducting user persona surveys, coupled with deep-dive qualitative interviews, to understand the needs and wants of each group.
Three opportunities for data monetization (with real-world examples) 
So, you've polished up your data stack and worked to understand the people who use your data. Now you're ready to build a revenue-generating data strategy. 
According to Wayne W. Eckerson, a thought leader in the business intelligence and analytics field, there are three ways that companies can monetize data: 
Using insights to optimize processes and reduce business costs 

Enriching existing products to retain current customers and preserve market share 

Creating new business lines, selling data products or services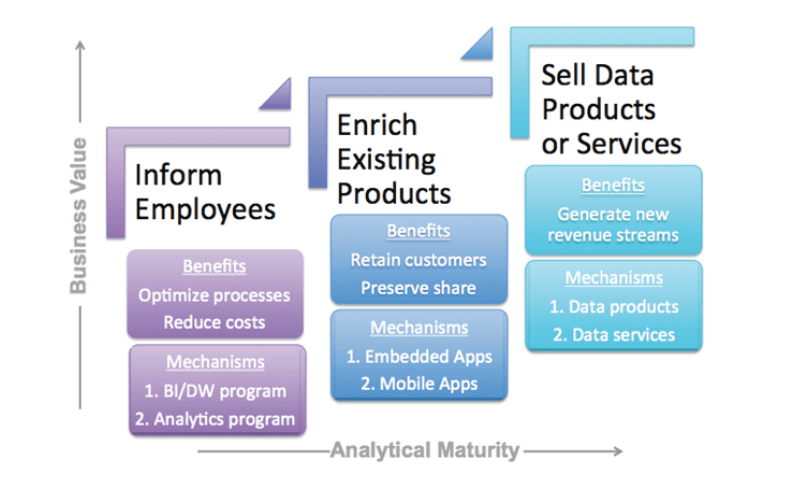 Read the Eckerson Group Data Monetization Report for a full breakdown. 
Here's what this looks like in real life: 
Optimize processes and business costs
Many companies call themselves data-driven when they're actually data-aware. Their data is only accessible to the experts, and the rest of the company has to rely on reporting and dashboards. 
To become a truly data-driven organization, you need self-service analytics. Instead of relying on IT or BI specialists for support, your front-line business users need to be able to access the data themselves. That way, they can use it to find insights and make better decisions. 
Use case: BI in finance
For example, Loan Market Group, Australia's biggest aggregator, embedded analytics into their CRM, empowering financial professionals to help their clients make smarter financial decisions. 
"The slick search-based interface makes it simple for our brokers to answer questions themselves in addition to the prepackaged Liveboards we are shipping with MyCRM. We knew we had found the key to dramatically accelerating our time to market for a seriously sticky and interactive version of the product."
How to set up self-service analytics
To establish self-service analytics, you'll need: 
Clean, accessible data in a central repository (such as a cloud data warehouse) 

A user-friendly interface that acts like a search engine, to easily find answers to business questions in the data with no expert knowledge 

Quick, customizable visualizations, to tell better stories with the data 

A strong security and data governance framework, to keep your data safe and organized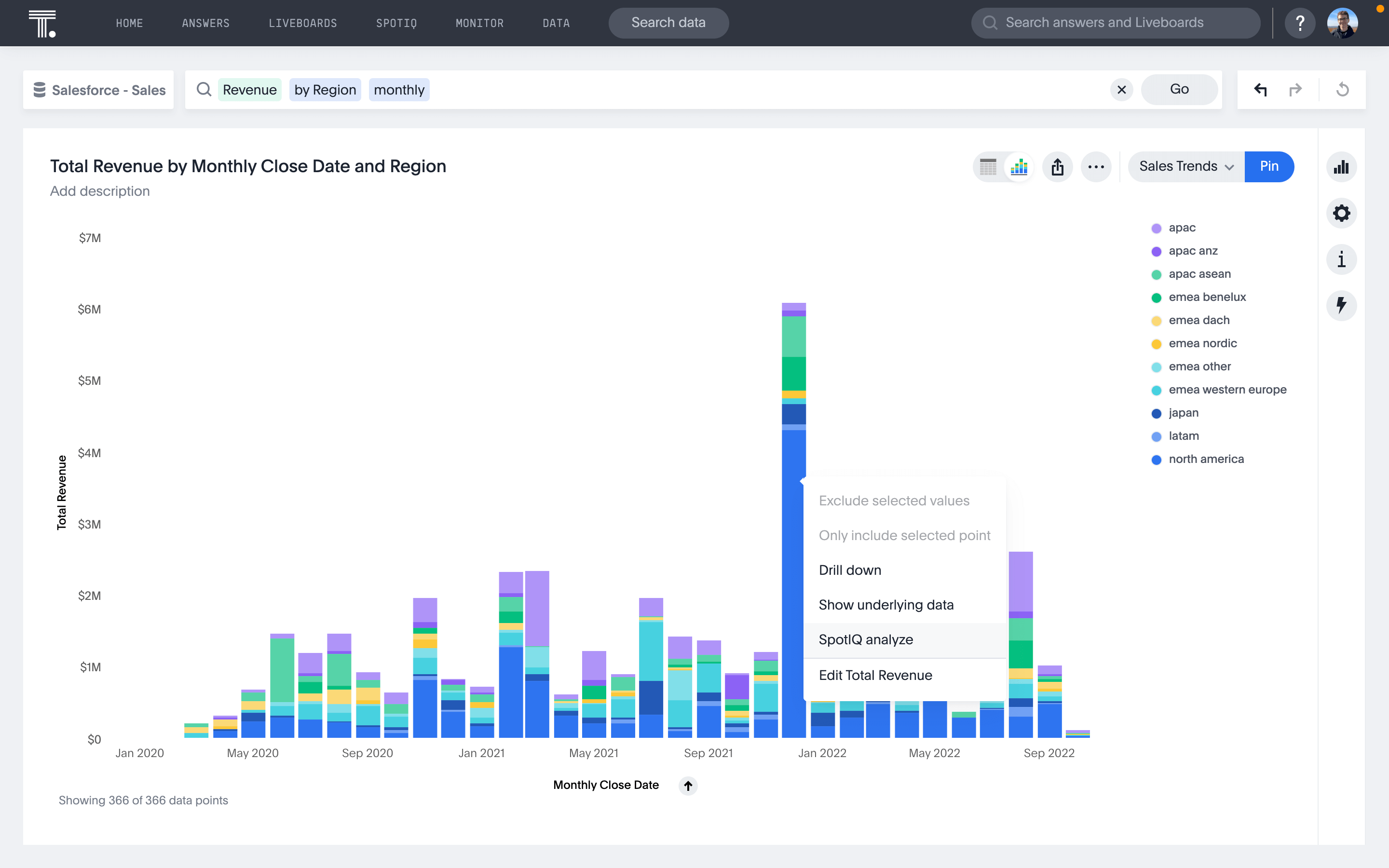 With self-service BI set up, your employees can optimize their use of resources, identify opportunities to save costs, and spot operational inefficiencies. For instance, if your marketing team has access to live self-service analytics, they can track real-time campaign performance data and ensure they're using their budget to secure the highest possible return. 
Enrich existing products
Once you've built a solid, data-driven culture internally, you're ready to monetize your data by enhancing the customer experience you offer. Today's customers expect to be able to interact with data inside digital products. A PDF document or a static report simply isn't going to cut it. 
To retain your market share and continue meeting customer demand, you'll need to embed analytics into your product offering, customer content, and overall user experience. 
Use case 1: BI in the food industry
Just Eat, a UK-based food delivery service, launched Just-Data back in 2019 to give their Key Account Managers the data they needed to excel. The self-service analytics tool was so successful, Just Eat decided to roll out the solution to their branded restaurant partners. For example, Just-Data helps these restaurant partners understand how individual stores are performing and which times of day are busiest so they can resource accordingly. The popular service is now in use by 90 brands in four countries. 
What made the self-service analytics app so popular? Kris Curtis, Just Eat's Senior Analytics Manager, puts the team's success down to their careful consideration of the different user personas for their data tools. 
Curtis calls this the 'Data Delivery Spectrum.' The data is tailored to each stakeholder's preferences and roles: 
Marketing people might need data in the form of email lists for campaigns 

Sales, on the other hand, might want to see data as trended orders, and view them in dashboards, pinboards, or on a mobile device. 
Curtis puts it simply—it's all about getting "the right data to the right people at the right time." 
Use case 2: BI in hospitality
Harri, a software company focused on empowering hospitality managers with data insights, uses embedded analytics to help users navigate the "source and hire" process of employee recruitment. By tailoring their interactive data experiences to meet the unique needs of their three main user personas, Harri created a tier-based approach to data monetization. 
"Having worked in embedded analytics for 10 years, the key to success is user adoption. The more you engage with your end consumers, and make applications compelling and easy to use, the greater the adoption - and the more we can monetize a product, because it becomes an essential part of our customers' whole ecosystem."
How to use data for customer engagement
Here are a few ways you could use data to strengthen your relationship with external customers: 
Transform static customer reports or PDFs into interactive data experiences using live analytics

Provide customizable dashboards through your customer portal or other digital channels 

Offer personalized recommendations that let customers optimize their product usage and maximize the ROI they get from your products 

Let customers interact with your data by viewing trends in the market
Discover more ways to improve customer experiences with embedded analytics.
Create new business lines for data products and services
You've built a strongly data-driven culture and enhanced your existing digital products and apps with self-service analytics. But you may still be leaving money on the table. There are several ways you can package and sell data as a new line of business: 
Data sets 
If you're generating a lot of data from transactions or interactions, you may be able to monetize that data (once appropriately anonymized and aggregated, of course). For instance, you could sell data that lets your customers track industry or consumer behaviors. 
Data analytics services 
If your business excels in data analytics, you may have opportunities to offer this as a consultancy service to existing or new customers. For instance, if you're selling data sets, you could also offer consulting services to help your customers understand and act on their data.
Data analytics solutions 
If you've created successful data apps for use by your employees or customers, you might want to consider opening them up for sale in new markets. 
Charging for data analytics functionality
Allow customers to access self-service data analytics, and charge a premium price for your data-enhanced products. 
Use case: BI in healthcare
Hayes Management Consulting is the group behind MDAudit, a leading healthcare technology platform. They realized they needed to develop an updated product so they could meet the changing needs of their customer base. They also knew they were sitting on a wealth of data that could be incredibly useful to their market, such as audit insights, revenue leakage data, and external payer audit insights. 
The result was a self-service analytics tool built with ThoughtSpot Everywhere's user-friendly, scalable AI-powered analytics technology. MDAudit's new Enterprise solution empowers customers to mine data and understand why claims were denied, thus detecting potential risks and protecting their revenue. Hayes has seen a 50% increase in user growth and 25% new logo growth in the past year alone. 
Are you putting your data to work? 
Too many companies are leaving their data lying dormant in the warehouse—or, at best, using it to create static dashboards and manual reports. But with the right data strategy and a modern data stack, your data can become a revenue-generating powerhouse.
Calculate the potential revenue generation and cost savings of embedding analytics into your app with our data monetization calculator.