Organizations know that if they want to thrive, delight customers, and beat the competition, they need to tap into the value of their data in new ways. 
That's driven the massive shift from storing data in traditional, on premises databases to getting data into the cloud. Bringing the same traditional business intelligence solutions that lived in the on premise era to today's cloud first world is a recipe for disaster. 
That's why organizations considered analytics leaders have not only embraced the cloud as the platform to house their data, but brought the most important data applications with them. Among these critical applications: cloud business intelligence. Cloud business intelligence is a modern approach to business intelligence, specifically designed to directly query cloud data platforms like Snowflake, Databricks, Google BigQuery, Microsoft Azure, and AWS Redshift. In doing so, these solutions are able to take advantage of the scale, speed, and interactivity only cloud ecosystems can deliver. 
Companies who have embraced cloud BI are already experiencing a range of benefits, from leveraging the power of external data sources, empowering frontline decision makers, and realizing the ROI of investments in cloud infrastructure services. Cloud business intelligence can help create a true data-driven organization by providing unparalleled access to insights quickly and easily. 
What is cloud business intelligence (BI)?
Cloud business intelligence (BI) is the process of connecting to cloud data, organizing this data into a data model, and analyzing this data to extract insights to ideally inform decision making. The most useful cloud business intelligence tools go a step further, allowing users to not only find insights, but use those insights to automatically drive actions. 
It often requires combining different sources of data, such as customer information, sales data, financial data, operational data and more, into one organized cloud platform, whether that's a cloud data warehouse or data lakehouse. This is essential if you want business users to be able to use data to understand and act on customer behaviors, identify trends, avoid unnecessary risk, and plan for the future.
Cloud business intelligence tools that are part of the modern data stack use a variety of methods to collect, organize, move, and transform data. Whether you're using ELT vs ETL, these tools need to connect to existing data sources such as databases or spreadsheets. This data is then processed with a variety of methods, including algorithms and statistical models. This data is then ready to be analyzed by cloud business intelligence to find insights. These insights can then be presented in a data visualization, like a bar chart or histogram, shared with other users, and inform decisions that drive business performance. 
Top four benefits of cloud business intelligence
By using the cloud businesses can gain insight into their operations and performance quickly. Here are the four key benefits of cloud BI:
1. Increased data visibility 
Organizations have historically struggled with siloed data, where information from different systems remains isolated. By moving data to the cloud, these barriers are busted, creating a far more holistic view of the business. Effective cloud BI solutions integrate directly with cloud data platforms, enabling organizations to interrogate this data in its entirety. This increased visibility helps businesses get a true 360 degree view of their business. 
2. Improved collaboration
With the rise of remote, hybrid, and global teams that dominate today's market, collaboration has never been more essential to success. With cloud BI, teams can collaborate more effectively by sharing data insights in real-time. Team members can access the same data set, allowing for more accurate analysis and making it easier to spot opportunities.
3. Faster time to insight to action
Time is money, and organizations waiting on insights to make decisions are leaving value on the table. That all changes with cloud BI solutions, particularly when part of a self service BI strategy. Instead of waiting to get a new dashboard built, they can ask and answer their own questions quickly, and more importantly, act on these insights. 
4. Reduced costs
Getting started with any form of business analytics, particularly business intelligence, can be daunting because of the cost, time, and resources required. With cloud based BI, businesses save on costs associated with setting up expensive IT infrastructure and software. With the right self service business intelligence tool, it also frees up expensive data teams, like analytics and data engineers, from the unending work of updating and fixing dashboards, giving them the bandwidth to take on more strategic and complex data initiatives. 
See why dashboards are dead and what companies like Disney, Verizon, and Snowflake are using instead. 
Common cloud business intelligence use cases
By combining the best of the cloud with modern BI, businesses are able to maximize their data initiatives. They can analyze data from various sources quickly and accurately, find rich, meaningful insights, and then most importantly, take action on those insights. There are numerous use cases for cloud-based BI, but the following six are among the most important:
Reporting
You can't always expect users to know when to analyze data or create a report. With cloud-based BI solutions, you don't have to. Instead, you can enable automated analytics and self service reporting. This streamlines the process for sharing information with teams, creates an expectation for data and insights (essential for building data literacy), and ensures business stakeholders have information and insights at regular intervals.
Operational Efficiency
Businesses live and die on margins. Cloud based BI can dramatically improve operational efficiencies and  help businesses reduce costs by providing domain experts with access to real-time insights into operations. This lets them understand where there are avenues to reduce costs, capitalize on opportunities, and ultimately improve performance.
Customer Insights
Companies that delight their customers lead their field. Doing so, however, requires a deep understanding of these customers. With cloud-based BI, businesses have access to data that represents all the touchpoints a customer has with an organization. This, in turn, makes it possible to tailor decisions that improve customer satisfaction and loyalty, build effective marketing campaigns, and deliver bespoke, personalized experiences. 
Predictive Analytics
Knowing what's happening in your business is powerful, but with cloud-based BI solutions, businesses can incorporate predictive analytics to go beyond today and understand future trends and potential opportunities. This often requires bringing machine learning and predictive models into a cloud business intelligence platform. The best of these platforms treat these models like any other data source, enabling business users to tap into the value of data science at scale.  
Data Visualization
Cloud-based BI solutions provide users with powerful visualization tools that elucidate insights quickly and make them communicable to other stakeholders, view data in various formats, and identify patterns or trends that can be further explored. The most valuable of these tools provide interactive data visualization, businesses can relentlessly, endlessly drill into their data, answering not only the first question, but the inevitable second, third, and fourth question.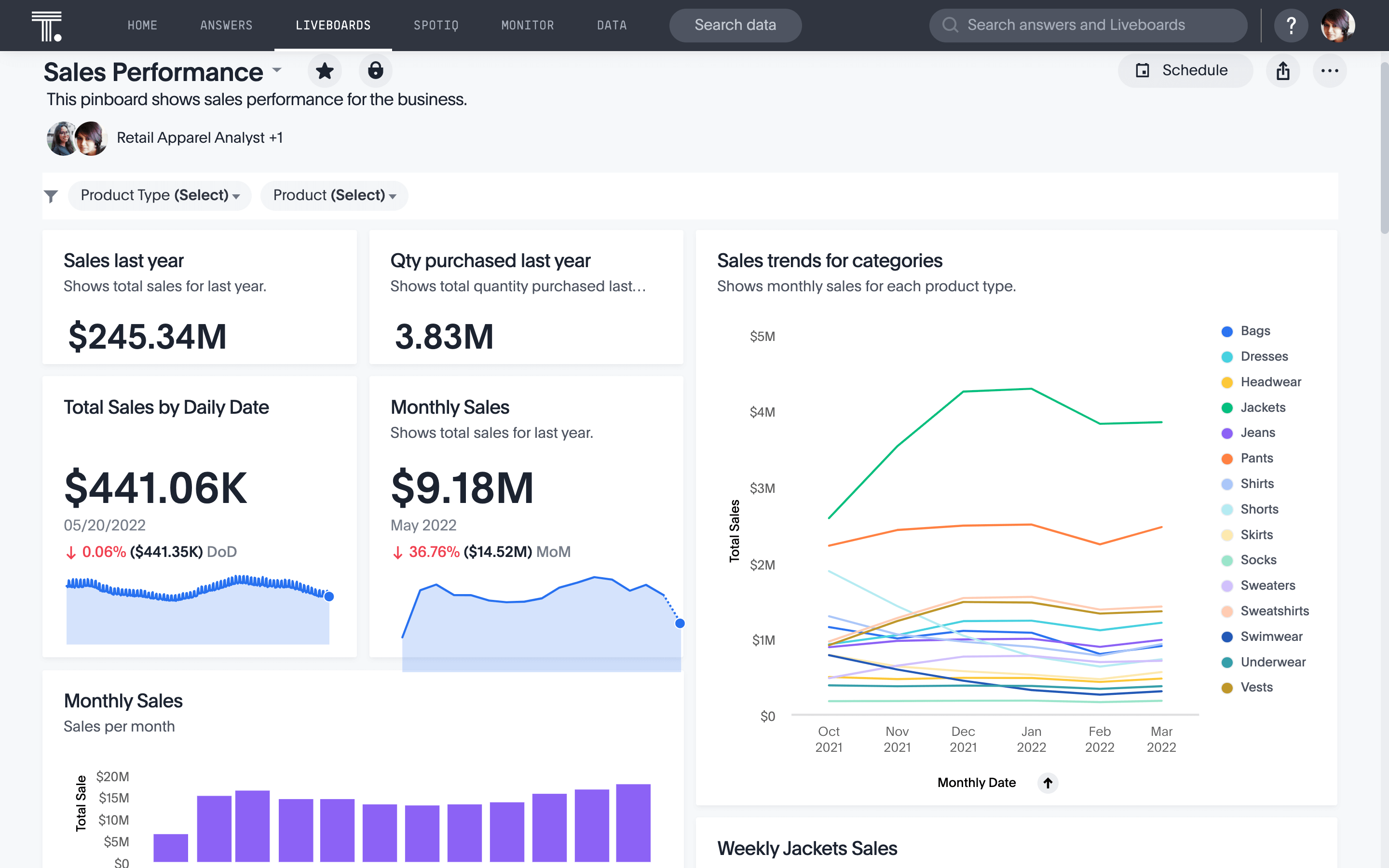 Augmented Analytics
For some organizations, cloud based BI opens up an entirely new opportunity to capitalize on augmented analytics. These include capabilities like natural language search and natural language query that make it possible for users of all skill levels to reap the rewards of data.
Analyze your data in a whole new way
Cloud business intelligence is a new way to access and analyze your data that can provide many benefits for businesses of all sizes. If you're looking for a way to improve your decision-making process, give ThoughtSpot a try. With our free trial, you'll be able to see how easy it is to use cloud BI in your own organization. Sign up today and see how thoughtSpot can help you make better decisions for your business.