Businesses are collecting more data than ever before, but simply collecting data for the sake of data is meaningless. Turning that data into insights, and those insights into actions, is essential for businesses that want to outperform competitors and delight customers. 
That's why so many organizations have moved their data to the cloud as they look to reap the benefits of the modern data stack. The cloud has also become the de facto choice for business intelligence solutions, thanks in part to companies like Snowflake. Snowflake is a powerful cloud data platform that has gained popularity among businesses of all sizes. To truly tap into the value of data in Snowflake, organizations need to examine their business intelligence strategies and processes. And that starts with their tools.
But what should you look for when choosing a BI tool for Snowflake?
When considering a business intelligence tool for Snowflake, there are ten key features to look in your evaluation process:
1. Handles large volumes of data efficiently 
This is crucial for businesses as data continues to grow in size and complexity, with no signs of slowing down. One of the best parts of Snowflake is the platform's ability to handle data at truly massive scale. A good Snowflake BI tool will be able to analyze these large data sets quickly and easily, without sacrificing performance.
2. Conducts analysis in Snowflake without any data movement
Your data in Snowflake is a powerful tool to help you be more nimble, flexible, and agile as an organization. Your Snowflake tool should not require you to cache, copy, or move any data. Instead, consider tools that query the Snowflake Data Cloud so your insights are always as current and up to date as your data. 
3. Takes advantage of multiple data sources easily 
Even as you embrace the cloud with Snowflake, there's a good chance you'll have data on other platforms. One of the benefits of Snowflake is the ability to bring these different data sources together in the data cloud. A good business intelligence tool should be able to take advantage of all this data live, in the cloud, regardless of where it originated. This will help you break data silos, giving  you a far more complete picture of your business, products, and customers, which in turn will help you make better decisions
4. Delivers self-service analytics with speed
Speed and performance from BI is becoming a requirement for companies that want to outperform peers, shorten innovation cycles, and differentiate on customer experience. Business users require data to make decisions on all these initiatives quickly and effectively.  A good Snowflake BI tool will be able to support self-service analytics so anyone in your organization can get the insights they need when they need them.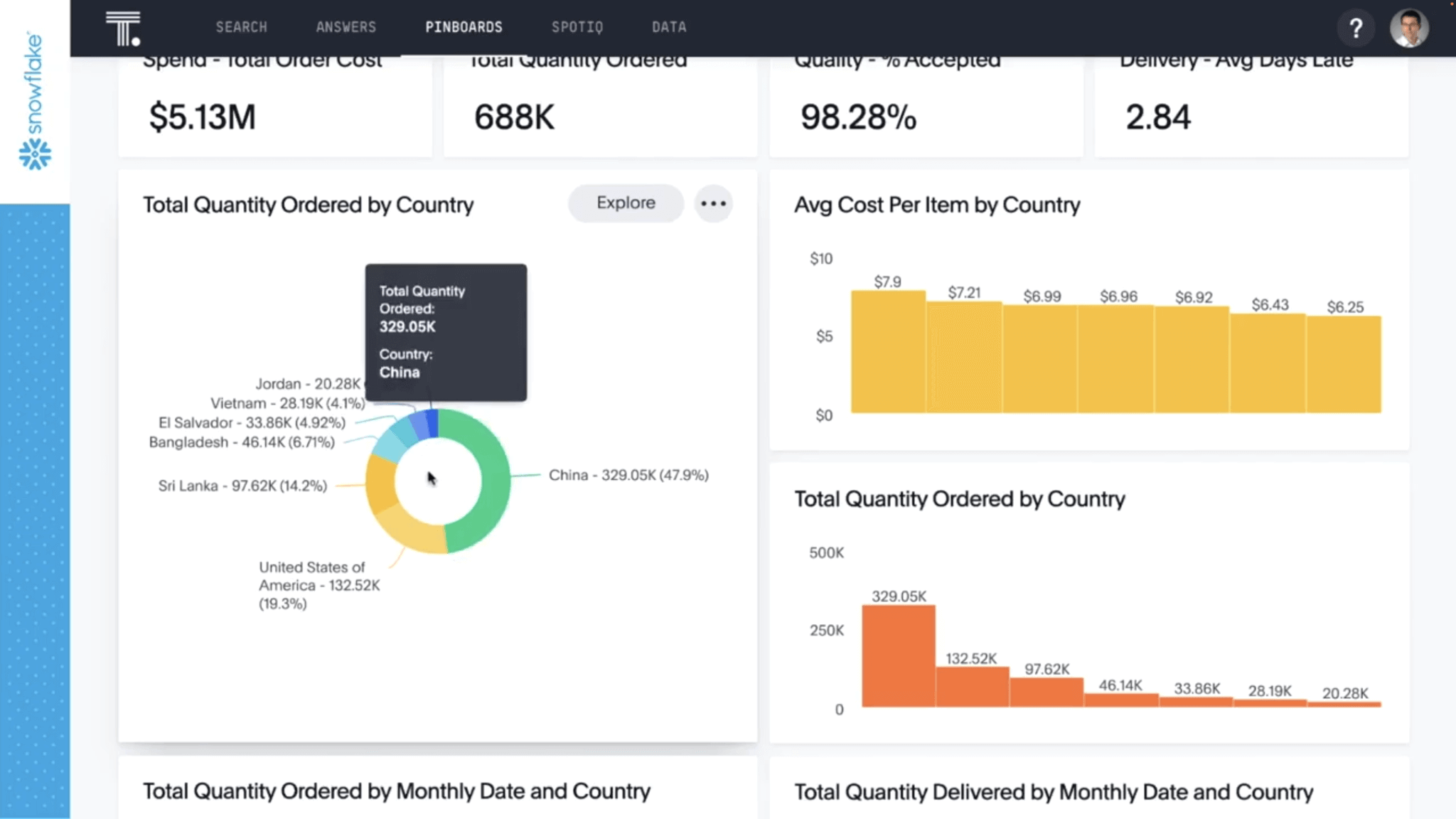 5. Syncs insights with other applications 
Insights for the sake of insights are useless. They are only valuable if they can be acted upon. Often that means seamlessly bringing insights from data in Snowflake into other applications and products. A good Snowflake BI tool will be able to provide insights that are actionable so that you can make changes that will have a positive impact on your business. A great Snowflake BI tool will take this further, enabling you to sync insights between applications and your cloud data warehouse with reverse ETL.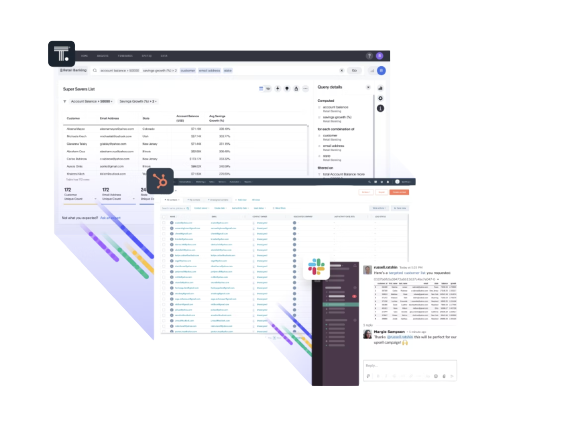 6. Scales seamlessly with growth 
As your business grows, your data needs will grow with it. This is especially true if you're successful in creating a data-driven culture, where more and more parts of your organization expect data as part of decision making processes. A good Snowflake BI tool will take advantage of Snowflake's elasticity, have instant provisioning, on-demand performance, and pricing based on usage to make sure you're getting the best performance for your dollar.
7. Offers consumption based pricing
A good Snowflake BI tool should be cost-effective so that you can get the most bang for your buck. Snowflake has also pioneered consumption based pricing, meaning you are only paying for what is actually consumed. Your Snowflake BI tool should do the same. You should also consider whether the tool gives you the ability to pay for what you use, as you use it, instead of archaic user license based models.
8. Makes accessing data simple
A BI tool that can only be used by data professionals is going to leave the potential of data in Snowflake on the cutting room floor. Instead, your Snowflake BI tool should be easy to use so that anyone in your organization can get the insights they need without having to invest in extensive training.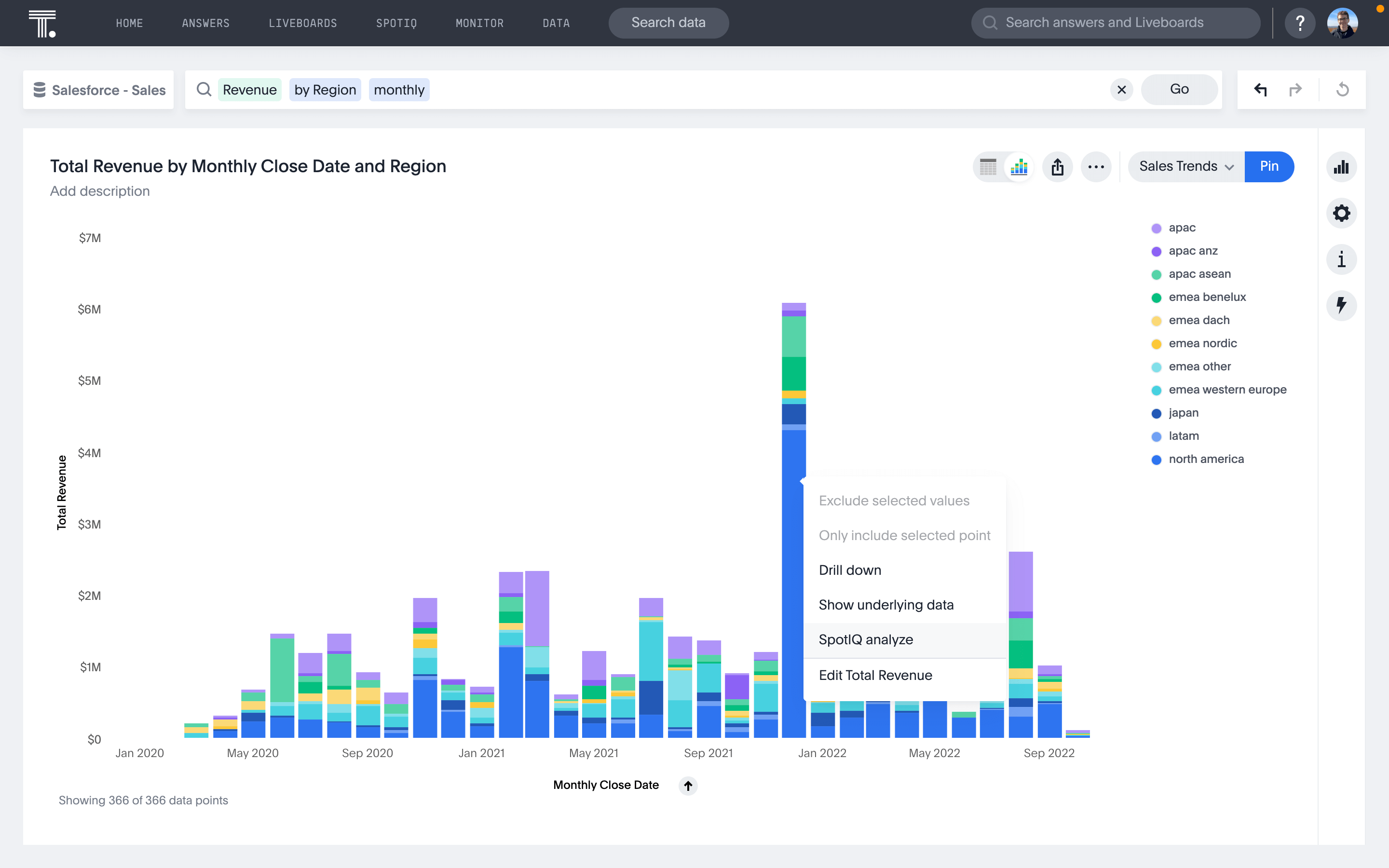 9. Extends value with a vibrant community
The best BI tools for Snowflake solve real business problems. Having a robust, vibrant community where people contribute learnings, best practices, and success hacks is essential to tapping into the true value of data. Look for technology companies who emphasize leveraging the collective community to partner and solve problems, instead of selling software. 
10. Provides exceptional customer support 
Having a robust support system in place so that you can get help when you need it is crucial to have success with any BI tool. This includes online documentation, live chat support, and phone support.
Want to use a tool that checks all these boxes?
If you're looking for a Snowflake BI tool that ticks all of these boxes, check out why companies like T-Mobile, Unilever, and Capital One are using ThoughtSpot by signing up for a free trial. ThoughtSpot is designed to handle large data sets efficiently, connect to multiple data sources easily, and provide Live Analytics so you can make quick decisions based on accurate information. Plus, our user-friendly interface makes it easy for anyone to get started with automated data discovery, and our customer support team is always available to help if you need any assistance. So what are you waiting for? Sign up for a free trial of ThoughtSpot today!