Do you often feel like your business is stuck in a data reporting rut? Constantly running the same mundane reports, tweaking colors and filters, adding new columns - and for what? Business users still struggle to get insights. Data teams remain overburdened. And the full potential of your data remains untapped. 
Sound familiar? If so, you're not alone. Many businesses struggle with trying to make data-driven decisions, especially for day to day decisions by employees on the frontlines. That's where self-service reporting comes in, why it's become one of many data analytics trends. Self-service reporting is revolutionizing the way organizations use their data, find insights, then share those insights with others. In doing so, they are empowering staff at all levels to securely and reliably generate their own tailored reports - without having to learn SQL. Keep reading to explore what exactly self-service reporting is, advantages of using it, best practices, and more.
What is self-service reporting?
Self-service reporting is a type of business intelligence that allows everyday users to access and analyze data without relying on IT or other technical resources. It empowers non-technical users to answer their own data questions, find insights, create data visualizations, and turn that all into customized reports that meet their specific needs. 
Unlike traditional reporting, which can take days to deliver insights, self service reporting dramatically reduces the time and energy required to produce a report. In  today's business environment, the ability to provide real-time insights is nonnegotiable. By having up-to-date information at their fingertips, companies can make more informed decisions, avoid unnecessary risk, and be better equipped to tackle various challenges. Additionally, organizations can reduce operational costs by eliminating the need for manual data entry and analysis, while freeing up data teams from being report factories to tackle more strategic, impactful work like building data pipelines and implementing a modern data stack.
The most valuable self-service reporting tools connect live to data in your cloud data, whether that's a cloud data warehouse, data lakehouse, or something else entirely. In doing so, users not only answer their own questions; these answers are always as up to date as the data itself. 
Advantages of Self-Service Reporting
All of these advantages help create a powerful foundation for decision making.
Empowerment of business users
Self-service reporting provides business users with the power to access and analyze data quickly and easily, without deep technical skills or the need to call on IT. 
Faster access to data
With self-service reporting, users can analyze data in real time. This shortens the time between asking a question and making a decision, which can save organizations millions. 
Greater flexibility and customization
Users can customize their reports to meet specific needs, allowing them to gain a deeper understanding of their data.
Improved data accuracy
Self-service reporting helps reduce errors by eliminating the need for manual data entry and analysis. This helps ensure data reliability and builds trust between data, IT, and business teams.
Enhanced customer satisfaction
Organizations who have empowered frontline business users with self-service reporting are able to deliver custom, more bespoke experiences to customers at scale, and are seeing a nearly 90% increases in customer satisfaction
Increased revenue
At the end of the day, every investment in data has the same goal: driving the business. With self-service reporting, organizations are able to improve decisions across the company, resulting in more ROI and revenue.
See how companies are delivering 289% ROI with self-service reporting.
How to implement self-service reporting
Self-service reporting is an essential component of any analytics strategy. Knowing you need self-service reporting is only the first step; here's how you can make it a reality in your business.
Identifying the right tool for your organization
When looking for a self-service reporting tool, it is important to consider the needs of your organization. This includes determining how many users need access to reports and data, the skills of those users, the business challenges they are looking to solve, and what type of data sources you will use to solve those problems. Ideally, you should look for a tool that offers easy integration with other systems and data sources, ensures security compliance, while making it possible for every business user, not just data professionals, to create their own insights and reports.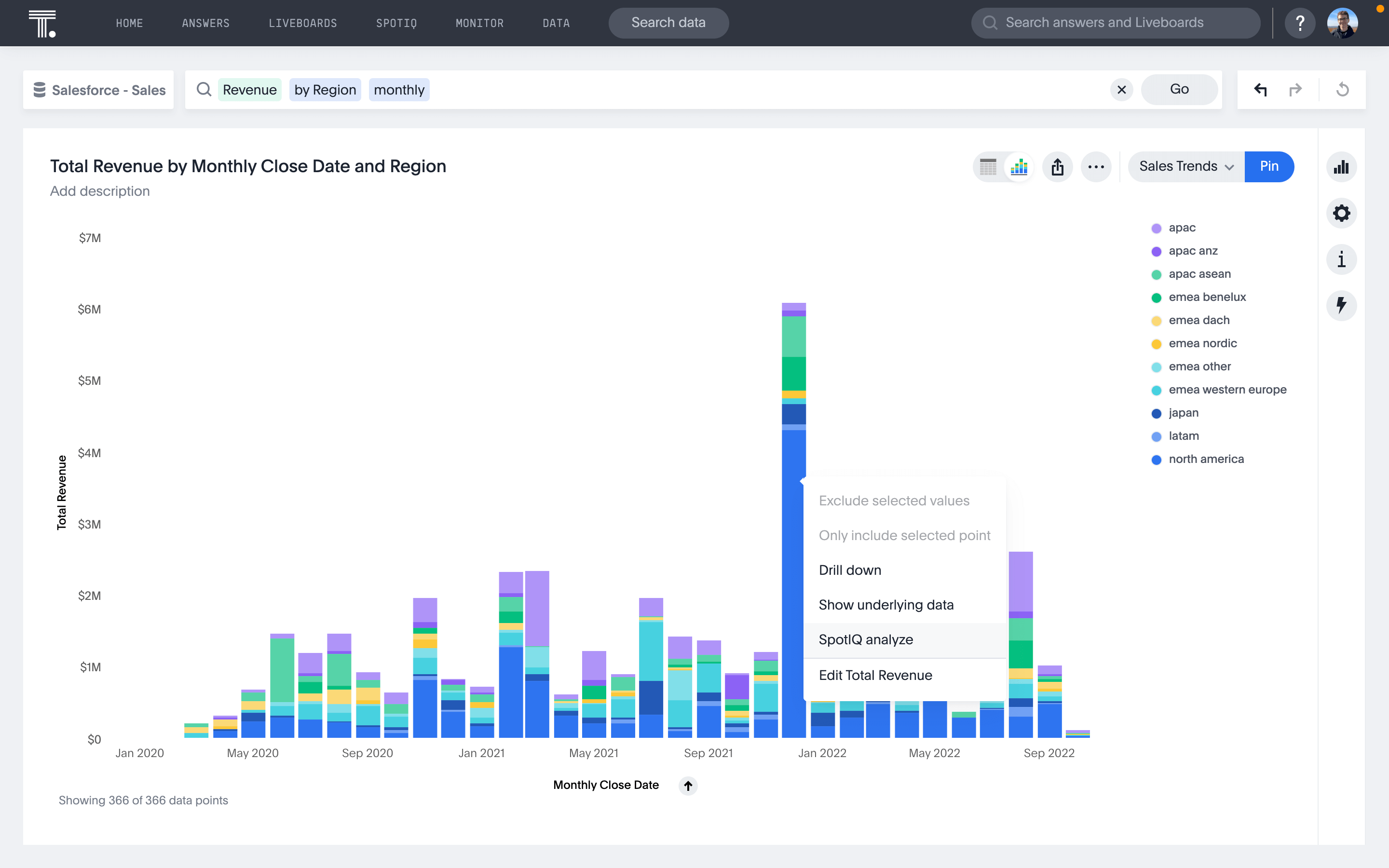 Training and support for business users
To ensure successful implementation of self-service reporting, it is important to provide business users with the necessary training and support. This includes providing instruction on how to use the tool, or ideally, selecting a tool intuitive enough for most users. It's also important they know what data  they can access. Using a data catalog can help. Additionally, you should pair implementation of self-service reporting tools with a data literacy program, so you business users can correctly and confidently create and act on these reports.
Data governance and security considerations
When implementing self-service reporting, it is important to ensure data governance and security. This includes ensuring that all data sources are secure and compliant with relevant regulations. Additionally, you should establish a user access policy to determine who has access to what data sources. Your tool should be able to configure this security by user to any granularity, down to the row level. Finally, you should implement measures to monitor activity in the system to detect any potential security threats.
Self-service reporting best practices
By following these best practices for self-service reporting, organizations can take advantage of the many benefits it has to offer.
Designing user-friendly report templates
Help users get started with easy-to-use report templates. These should be designed specifically for the use cases you're looking to address, including the data sources to be utilized. Additionally, they should include intuitive navigation and interactive data visualizations that make not only understanding the data simple, but let users go beyond a static report.
Creating a centralized data repository
A centralized data repository helps provide users with access to the most up-to-date information. This can be accomplished by connecting data sources from different departments, ensuring that all users are working with the same data set. Additionally, a centralized repository makes it easier to monitor and control who has access to what data. Most companies have adopted a cloud data platform to act as this repository.
Establishing a reporting governance model
To ensure that data is accurate and reliable, it is important to establish a reporting governance model. This includes defining roles and responsibilities for users, as well as setting standards and procedures for data entry and analysis.
Get the answers you need from your data
Self-service reporting empowers business users to get the answers they need on their own, unshackling data and IT teams from the endless requests for reports. With the right platform and some best practices in place, your organization can reap all the benefits of self service business intelligence. ThoughtSpot is the leading self service analytics platform and offers a free trial so you can see how easy it is for yourself. Sign up today and see how quickly you and your team can start getting insights from your data.