It's that time of the (fiscal) year. Companies far and wide have closed their books on another year, reflecting on what the last twelve months means for the next twelve months for their business. As we wrapped up our last year here at ThoughtSpot, we've done the same.
And boy, did we have a year.
At ThoughtSpot, we're no stranger to rapid growth. Quarter after quarter, we continue on a meteoric trajectory as we redefine the analytics market. But recently, things around here have been different. Our customers, partners, investors, and employees could all sense we've hit an inflection point in the company's growth.
We call it our hockey stick moment. So, how'd we get here?
The World's Largest Enterprises Turn to ThoughtSpot
Most new entrants to a market begin by targeting the SMB segment. The analytics market is no different. Players like Tableau, Qlik, and Microsoft all began by first selling desktop products, limited in scope and scale, to data analysts.
ThoughtSpot has taken dramatically different approach, by focusing on serving the world's largest enterprises from the start with an enterprise analytics platform. After all, these global conglomerates collectively make up a majority of the spend on analytics and business intelligence technology.
Over the last year, enterprises around the world, in every industry, adopted our search & AI-driven analytics at an astounding rate. In our fourth quarter alone, we grew revenue by 180%, driven by massive interest from enterprises looking to transform the way their organizations utilize analytics. In more than 80% of deals, customers invested six figures, while several customers invested seven figures, evidencing the strategic role ThoughtSpot plays in their analytics program.
Even more impressive than the revenue growth, however, is the quality of companies counted as our customers. Many of the world's largest enterprises are now ThoughtSpot customers, including one of the top five global companies by revenue in the retail, financial services, telecommunications, technology, and oil and gas industries. Brands like BT, OpenTable, ServiceNow, Haggar Clothing, and ECommPay are leveraging our search & AI-driven analytics to empower non-technical roles in their organizations with data.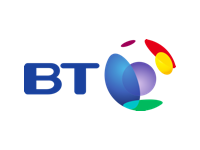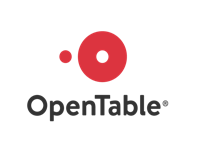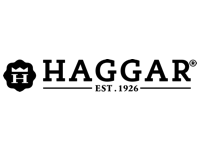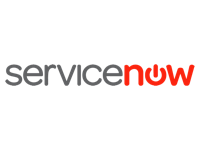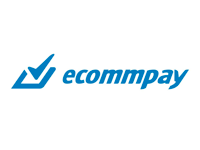 See who else is benefiting from search & AI-driven analytics.
Building a Platform Every Enterprise Can Love
So why are the world's largest organizations doubling down on ThoughtSpot? It all comes back building an analytics platform that solves the adoption and scale issues that have been plaguing business intelligence for decades. 
Global enterprises are stuck between a rock and a hard place. As they generate more and more data, their existing solutions simply cannot keep up with the data complexity or scale; simultaneously, frontline employees, partners, and customers demand faster and simpler access to the data they need to do their jobs. They've got two options: hire troves of data analysts or provide a true self-service BI solution.
We've always believed search is the simplest, most effective way to democratize analytics across an enterprise. After all, it's the fastest, most ubiquitous way to extract information - and it requires no training to master. Do you remember those Google training courses? We don't either.
In the last twelve months, we've taken it to a whole new level, introducing a slew of new capabilities while improving our existing ones.
First, we launched our embedded analytics solution, allowing organizations to directly embed ThoughtSpot anywhere they want to increase access. Now, our customers are learning how to monetize data, creating new revenue streams, and impressing stakeholders at every turn with the ease by which data is available.
But to truly solve enterprises' challenges with data, we knew we needed to go even bigger. That's why we released ThoughtSpot 4.4 in October of 2017. Rife with new features such as a new search UX, query visualizer, and enhanced scalability, ThoughtSpot 4.4 brought a whole new level of flexibility, transparency, and the ability to handle complex data models at scale into the product.
What has most piqued the interest of global enterprises, however, is SpotIQ. By leveraging AI, machine learning, and our underlying search technology, SpotIQ provides a whole new way to do self service reporting that allows people to search their data, which allows anyone to get automated insights out of their data with the click of a button. It automatically generates thousands of relevant insights to questions business people care about, but would not have known to ask based on your history, preferences, and those of similar users.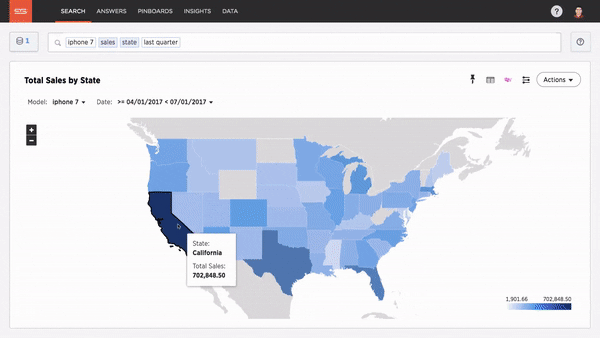 Learn more about what our next generation business intelligence platform can do for your business here. 
Becoming a Visionary in the Era of Advanced Analytics
We started ThoughtSpot on the thesis that the analytics world was ready for a revolution. And this year, Gartner outlined a new era of advanced analytics, fueled by technologies like machine learning, natural language processing, and natural language query generation going mainstream. This change played out in the market defining Gartner Magic Quadrant for Analytics and Business Intelligence platforms.
And guess who they recognized as the newest Visionary vendor?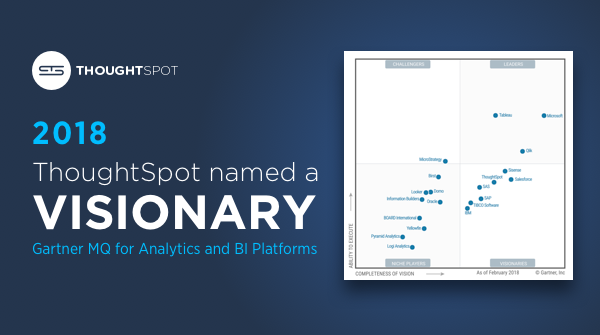 In only our second year on the quadrant, we made the biggest move of any vendor and moved into the Visionary quadrant. Read this great blog from Andrew Yeung, who digs into how we reached this milestone, or get a copy of the report here. 
Going All-in Across the Globe
While our product and engineering teams have been constantly expanding our platform's capabilities, we have been focused on growing abroad to bring search & AI-driven analytics to enterprises around the globe.
To make this possible, we opened several new international offices in the last twelve months. We launched a new engineering center in Bangalore, India, where we're investing $10M to bring search-driven analytics to the cloud, quickly followed up by a new artificial intelligence focused engineering center in Seattle. As if that wasn't enough, we've also expanded into APAC with our first office opening in Japan. Key to our success in these regions was adapting our product for specific languages; in that vein, we added Japanese and German localizations in the past year, with additional support for Simplified Chinese, French, Spanish, and Portuguese coming soon.
Successfully growing globally like this is only possible because of the amazing leaders we have helming each office and department. We made some exciting new executives hires on that front, including Martin Green as our General Manager of EMEA, Jarmo Rajala as Regional Director, Nordics and Baltics, Prince Kohli as SVP of Engineering, Anuj Gulati as Chief Customer Officer, Tracy Olson as VP of Sales Operations, and Puneet Mittal as VP of Strategy and Finance.
If you're interested in joining our growing global team, check out our open positions.
Raking in the Accolades
As if these results weren't reward enough for the hard work over the last twelve months, we received a host of amazing accolades from some of the industry's most respected players.
We were recognized as a 2017 Red Herring Top 100 North America winner, one of the tech industry's most prestigious awards, for the exceptional work done on our business intelligence platform. The awards weren't just for the product, however; we were also named the #1 Best Big Data Companies & CEOs to Work For by Forbes magazine.
Perhaps most exciting was being named one of LinkedIn's Top Companies list in the Startup & Disruptors category, a recognition evaluated on criteria like quality of our platform, the influence of our employees, and overall market interest in our company.
We're Just Getting Started
From our huge uptick in revenue to the widespread adoption by the world's leading enterprises, this year was truly monumental for ThoughtSpot.
With our amazing team, though, that's just the beginning. Keep watching to see what we do next!