The companies, products, and services that compose the modern data stack play an essential role in delivering the modern data experience—allowing businesses to collect, process, store, and analyze data at cloud speed and scale. We're excited to highlight the modern data stack partners that you can connect with at Beyond 2023.
Register now to join the virtual Beyond 2023 experience for free.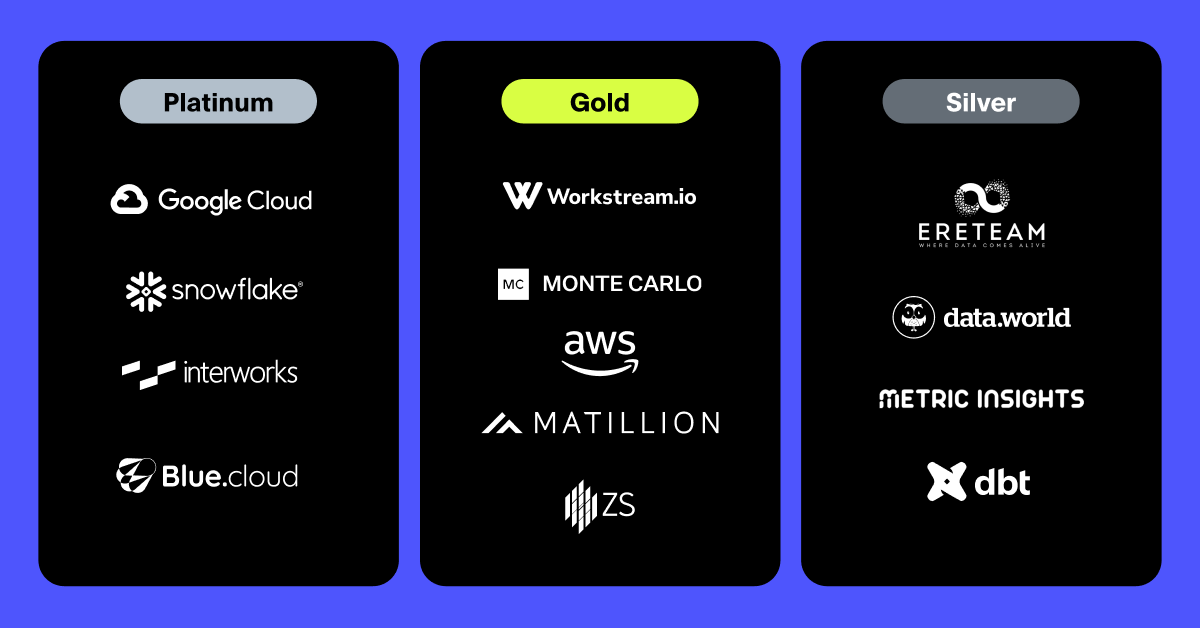 Google Cloud
Google Cloud and ThoughtSpot have joined forces to offer multi-cloud analytics and real-time database queries on Google BigQuery for cloud analytics. This partnership enables mutual customers, including CVS Health, Hilton, JustEat, CNA Insurance, Endeavor Group, Modern Restaurant Concepts, and Carsales.com, to leverage modern analytics and deliver reliable data insights that users can explore intuitively and intelligently on a large scale. By using these capabilities, companies can monetize their data by creating new data products with embedded analytics. Customers can build their entire data stack with Google without leaving the Google Cloud ecosystem, meaning they can extract more value from their cloud and data investments.
The partnership has several capabilities, such as ThoughtSpot's SaaS offering built directly on Google Cloud. Customers can run ThoughtSpot directly on their data in Google BigQuery, and ThoughtSpot's SaaS offering will be available in the coming months. Customers can also use Looker Modeler to model, transform, and define metrics in their data, giving them confidence and trust to empower their teams at scale. In addition, ThoughtSpot for Google Sheets integration with Google Cloud and Google Connected Sheets allows individuals to use Google Sheets for data analysis. They can use ThoughtSpot Sheets Analytics, including leveraging large language models, on data directly in Google BigQuery and Looker to create and consume AI-generated insights.
ThoughtSpot SaaS will soon be available in the Google Cloud Marketplace and Google Workspace Marketplace. Customers can use their committed spend on Google Marketplace to purchase ThoughtSpot, providing organizations with multiple ways to experience, purchase, and deploy the combined power of ThoughtSpot, Looker, BigQuery, and Google Cloud with ease.
This partnership is an opportunity for customers to maximize their investments in their modern data stack, drive adoption with their team enabling data driven decisions, and become a leader in the data and analytics space. If you want to learn more, catch: 
Bruno Aziza, Head of Data & Analytics at Google Cloud, in the day one keynote 

The Google Cloud breakout session to learn how Just Eat is Serving up insights in the Google Cloud Ecosystem
Snowflake
Snowflake enables every organization to mobilize their data with Snowflake's Data Cloud. Customers use the Data Cloud to unite siloed data, discover and securely share data, and execute diverse analytic workloads. Wherever data or users live, Snowflake delivers a single data experience that spans multiple clouds and geographies. 
The partnership between Snowflake and ThoughtSpot is underpinned by a strong focus on bringing more people into the data economy. Organizations around the globe have rapidly adopted the Data Cloud in combination with search and AI-Powered Analytics to move beyond traditional static dashboards and improve how they leverage data to make business decisions. With Snowflake and ThoughtSpot, companies are able to empower every employee with granular insights that create bespoke, personalized experiences that enable them to take action to improve their operations.
Joint customers benefit from:
Accelerated product innovation. ThoughtSpot's search and AI-Powered Analytics platform will continue to integrate and leverage the latest Snowflake capabilities to enable joint customers to further democratize the use of data and unlock meaningful business insights.

Increased ROI from cloud migrations. With ThoughtSpot and Snowflake, companies can quickly get their data into the cloud, identify and move analytics use cases into production, and scale these to any employee in their business. 

Continued joint go to market. ThoughtSpot and Snowflake will work together to help companies experience the combination of their solutions through jointly held virtual events, workshops.
Interested in learning more about how you can unlock the value of your data? Catch:
Chris Childs, Director of Product at Snowflake in the day one keynote

Our breakout session to learn How Elevance Health built a high ROI modern data stack with Snowflake and ThoughtSpot.
Start your 30-day free Snowflake trial today, and get $400 worth of free usage. 
InterWorks
With 26 years of IT and data consulting experience, InterWorks has navigated each new development in BI. They were there when Big Data went big. They were there when BI 2.0 transformed data via visual analytics. In the past few years, they've witnessed platform proliferation, where every platform aims to be the "one to rule them all."
What's the state of BI today? For many, maintaining a data stack is a complex affair requiring highly specialized skills. The promise of self-service insights is stymied by issues of access and adoption, with shadow IT filling that void. The result is sparse insights and lots of overhead. 
So, what's the way forward? Organizations like Wellthy are saving hundreds of thousands by streamlining success with a concept that InterWorks calls the "modern data stack." 
The real beauty of the modern data stack is that you can substitute in what you want if something else fits better. The end goal isn't to add more but to ensure every tool has a specific purpose, leading to more clarity and discernible value.
The value InterWorks brings is in accelerating that progress. Whether you're focused on ThoughtSpot or looking for holistic guidance, they can bring together the right people and tech to build a modern data stack that works for everyone. Ready to learn more? Tune in to: 
Ben Young, Regional Director of Americas East in the day one keynote.

Our Data for Everyone session with Chick-fil-A.
Try a free demo of Curator by InterWorks—a unified analytics hub.
BlueCloud
The ecosystem and data community play a vital role in the success of solutions like ThoughtSpot, and strategic partners like BlueCloud are essential in making this happen.
 It's up to us to help pave the way for businesses to digitally transform and make the most of their data so that ThoughtSpot can provide long-term, positive impact to the business. Our focus is on bringing together the best elements of the entire data stack with a tangible business outcome leading all initiatives. This approach has led to the successful implementation of ThoughtSpot across a wide array of customers, large and small.
BlueCloud can help you achieve your transformation goals and deliver value while facing economic uncertainty, competing priorities, and the very real challenges of user adoption. We have a long history of working with data, business, and technology leaders to drive value through the modernization of the overall tech stack.
We believe that the shift from dashboards to search-based insights requires a different perspective and a shift in the way we think about analytics and user behavior. One of the primary ways partners like BlueCloud help our customers is by ensuring that their data is ready for use with ThoughtSpot. This includes aligning with specific partners, such as ThoughtSpot and Snowflake, to scale and deliver a solution that incorporates the elements needed to support change and adoption.
User behavior and change management are critical areas that need to be considered. At BlueCloud, we have extensive experience in guiding users through this process successfully, which shows through the expanded adoption and overall return provided to our customers.
In conclusion, planning for a complete solution that incorporates the paradigm shift needed to keep pace with the value of data is vital. Hear more from BlueCloud CRO, Bill Tenant in the day one keynote. 
Workstream.io
Workstream.io, the data knowledge company, is excited to be a Gold Sponsor of ThoughtSpot's Beyond User Conference. You won't want to miss Why data rocks, but knowledge rules featuring Nick Freund, Founder and CEO of Workstream.io, and Jeff Weiner, Sr Director of Analytics and Insights at Collegis Education. 
Attendees will learn how innovative teams like Collegis Education are using Workstream.io and ThoughtSpot to democratize data and facilitate end user adoption of critical data assets and technologies.
Register now to confirm your slot and get access to the free pilot of Workstream.io! 
Don't miss out on the opportunity to learn from data leaders and industry experts at ThoughtSpot's Beyond User Conference. Join Workstream.io and others at this exciting event to gain insights and strategies to make the most out of your data.
Monte Carlo
Monte Carlo Data's end-to-end data observability capabilities complement ThoughtSpot's AI-Powered Analytics and search platform to ensure data reliability, reduce downtime, and increase efficiency. Working together, the two companies can provide a more comprehensive and powerful solution for organizations looking to dominate the decade of data.
Monte Carlo is thrilled to join Beyond 2023 as Gold Sponsors. Be sure to tune in to our breakout session Tenable's Data Platform: Building for Reliability at Petabyte Scale. Vincent Gilcreest, Senior Director of Engineering, Data & Analytics at cybersecurity software provider Tenable, will discuss how Monte Carlo Data's end-to-end data observability has helped them achieve faster data product development and analytics insights.
Matillion
Matillion and ThoughtSpot have teamed up to create an integrated data stack for self-service analytics. The Matillion ETL platform can integrate with any Cloud Data Platform architecture, while ThoughtSpot offers an intuitive search-driven analytics interface. This collaboration delivers a straightforward, complete solution for real-time data access, preparation, and insights generation.
As gold sponsors, Matillion invites you to their breakout session, Self-service analytics with Matillion, Databricks, and ThoughtSpot, at Beyond this year. Join Shawn Johnson, Principal Solution Architect at Matillion, and Thor List, Director of Field Engineering at Databricks as they discuss the increasing need for modern data stacks that support self-service analytics as business-critical data increasingly lives in the cloud.
ZS 
ZS, a global management consulting and technology firm, is teaming up with ThoughtSpot as a Gold Sponsor for the Beyond 2023 user conference. ZS is known for delivering impact across a full spectrum of offerings, and they're committed to helping clients drive impact through data, AI, and analytics by partnering with ThoughtSpot.
During the conference, attendees will have the opportunity to hear ZS experts share their insights at their session, Exponentially scale your analytics services impact with design thinking that drives adoption. Learn how to innovate more reliably by applying design thinking methods to data driven platforms, processes, and applications.
Meet the modern data stack at Beyond 2023
Additional event sponsor include AWS, Ereteam, data.world, Metric Insights, dbt Labs, GDM Innovation Labs, and Slalom. 
It's not too late to register for Beyond 2023—a virtual, 2-day event packed with data leaders from the modern data stack and a number of other industries. Join us on May 9-10 to meet the people behind these brands and learn what it means to deliver the modern data experience.