Last month, ThoughtSpot kicked off its second virtual hackathon with the Fall edition of Codex. 
Despite being remote, the purpose of Codex remained the same: nurturing the culture of innovation and collaboration in the company, while energizing teams across all our office locations. Over 4 days, 150 participants from 28 teams and 4 geographies got together to present their ideas across three themes:
Foundational: Ensuring quality and security in everything we do

Auto-Magic: Leverage AI to deliver an automated, self-service experience for business users and analysts 

ThoughtSpot Everywhere: Help organizations make the most of their data by bringing analytics directly to products and services 
Good hackathons require focus, dedication, and passion, and that's even more critical in a remote setting. During the Fall edition of Codex, ThoughtSpotters were given the opportunity to work on a project of their choice (within the confines of the three themes mentioned above) for three full days. On the fourth day, everyone presents their work to the rest of the organization, and we vote on our favorites. 
While 2020 has been a year like no other, and we've had to adapt quickly to the new normal, Codex was a reminder of the encouragement, support, and excitement that happens when we come together to innovate and dream big.  As the second virtual hackathon, we've been able to put the learnings from the first Codex to practice to make this an even more effective experience for everyone involved. 
I had the opportunity to catch up with the winning team - Inception, to hear about their idea and experience.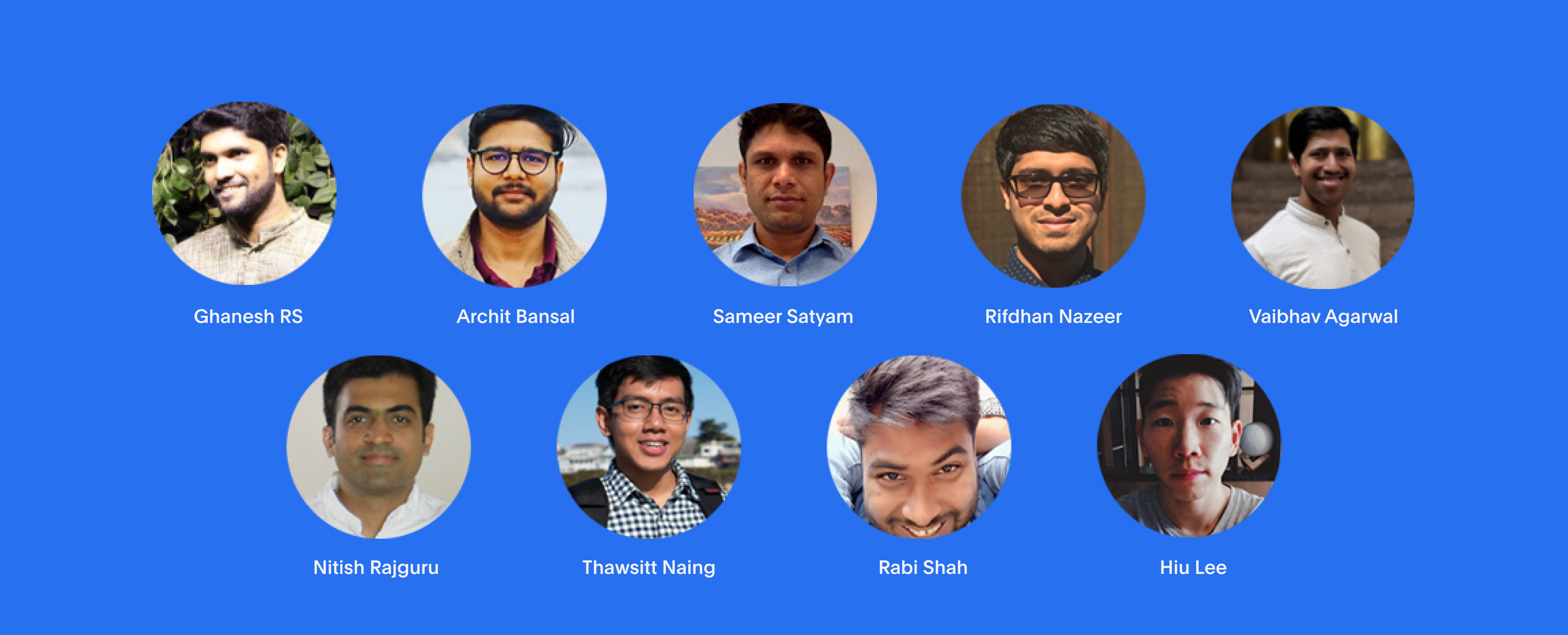 Congratulations on winning Codex 2020! Tell us a bit about the team and the winning idea that you presented at Fall Codex2020?
Thank you. It's been absolutely exciting and encouraging to be named the winner. The team was recruited mostly by Archit Bansal, who pitched the initial idea to the rest of the team and got us interested in the project. We had a team of product, backend, frontend, and design engineers across the US and India. 
The idea was to allow analysts to have an isolated place to try making changes to objects in the cluster (worksheets, pinboards, etc.), without risking breaking anything in production. Our idea was to add a new "Dev Mode" and a concept of Drafts, which together provide the isolated environment which analysts needed.
What were some of the challenges that you faced as a team remotely? Were there any surprises along the way?
Working remotely is something we have been slowly getting accustomed to. Given that our team is roughly a 50/50 split between the US and India offices, we had the time zone difference to deal with as well. Also, the fact that it was right before #BeyondDigital20 meant some folks had to juggle between other added responsibilities. 
That being said, I think it has been less of a challenge in this project than perhaps many of us imagined. Being spread across the US and India allowed us to keep working on things "around the clock", since India folks could pick up where US folks left off and vice-versa. It was a challenge but we made it work!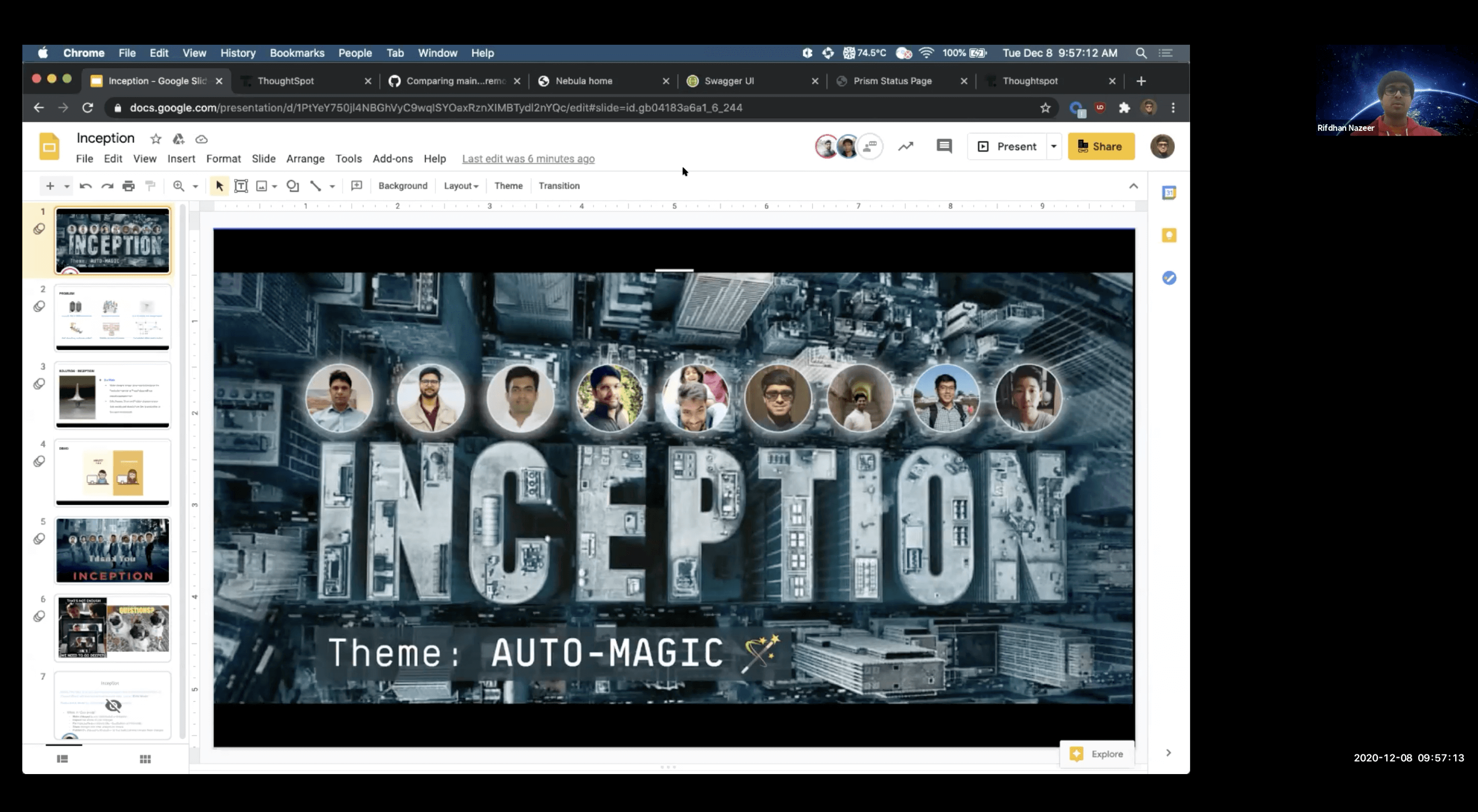 This is the second virtual hackathon in 2020 by ThoughtSpot. How does this Fall edition of Codex2020 compare to the first virtual hackathon that took place earlier this year? What were some of the learnings from the first one that helped this time around?
At this Fall edition of Codex2020 we had some more experience with working remotely and collaborating more closely across time zones. So, that helped us improve productivity this time around. Also we learned from the earlier Hackathon that presentation matters and so does driving voter turnout. 
So, what's next from here?
We're excited to see the productionization of the project! We know it would be an incredibly useful feature for many customers. We've also received some encouraging feedback from other teams and leaders, and are looking forward to seeing this in action in ThoughtSpot.
----------------------------------------------------------------------<br><br>Some of the features described here will soon be a part of the ThoughtSpot platform. If you want to learn more about new features as we release them, or best practices for your team, subscribe to our blog to keep up with the latest from the ThoughtSpot team.