We just wrapped up our annual hackathon - #Codex2020 and we're excited with all the amazing ideas that were showcased! Our annual hackathon always leaves us inspired and energized to bring new innovations to market that help our customers unlock more value from their data. 
This year was a first for us, however. For the first-time ever in the history of ThoughtSpot, Codex was done entirely remotely. As the world was locked down due to the COVID-19 pandemic, Spotters across each of our global locations, from Bangalore to Australia to Seattle to Sunnyvale, came together virtually for this year's hackathon.
With many of our customers experiencing a similarly distributed workforce, the focus this year was SaaS. And the expectations were higher than ever before. Even with these challenges and pressure, the results and solutions that came out of the Codex 2020 were nothing short of exceptional. An event that began on the 8th of April, 2020 with 31 teams spread across five different locations came to a close on the 20th of April, 2020 as we declared the top 3 winning ideas.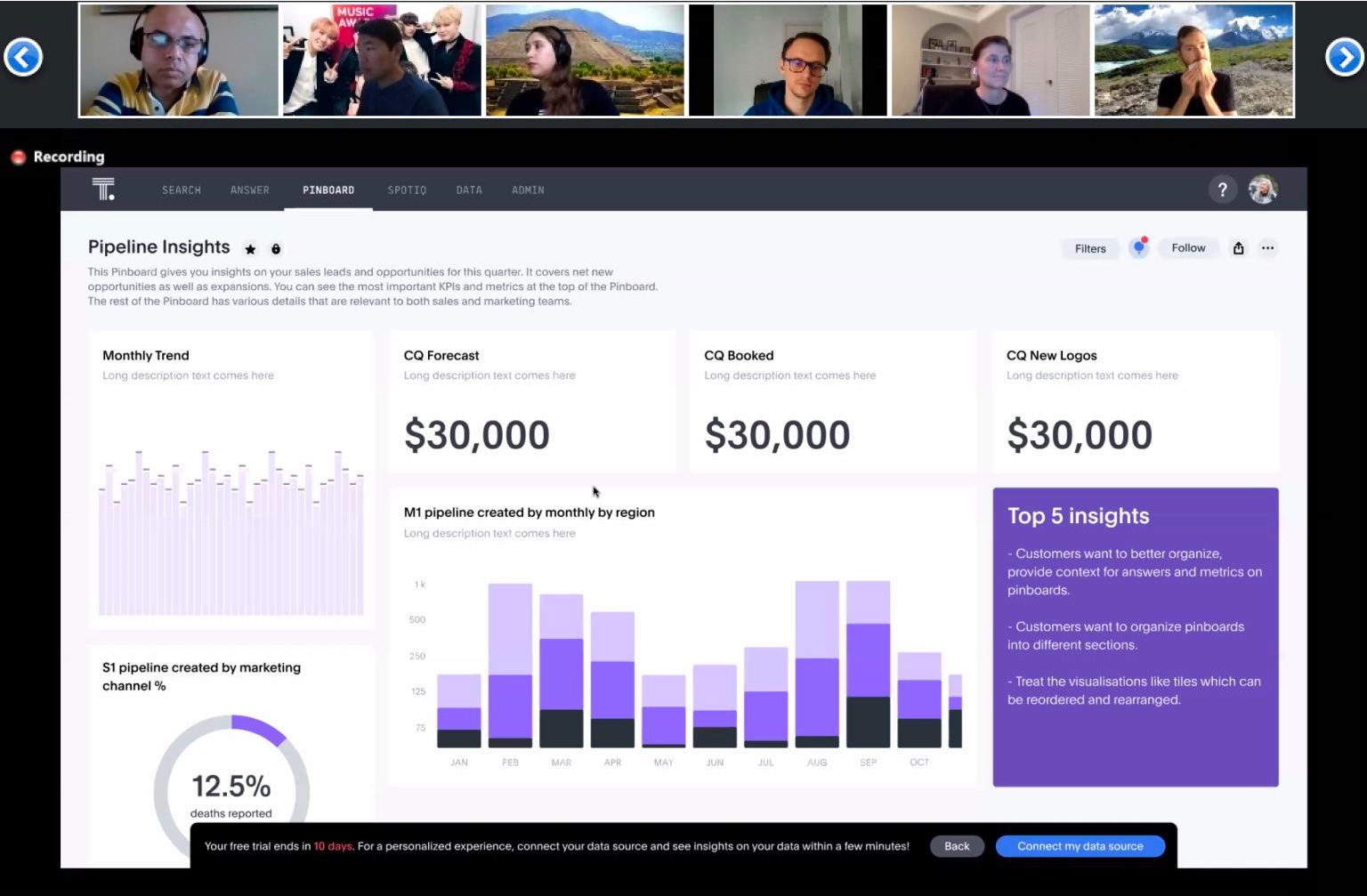 We caught up with winning teams LevelUp, Spotty and TS Code to hear all about their experiences working through this remote hackathon.
Congratulations on winning Codex 2020! Tell us a bit about the team and the winning idea that you presented at Codex2020?
"The TS Code team included 10 Spotters from different backgrounds such as web development, backend development, and mobile development. Our idea was around building a programmatic way of creating and editing Answers, Pinboards, and Worksheets in ThoughtSpot. This was complemented with an integrated IDE experience with useful features like live preview and contextual help."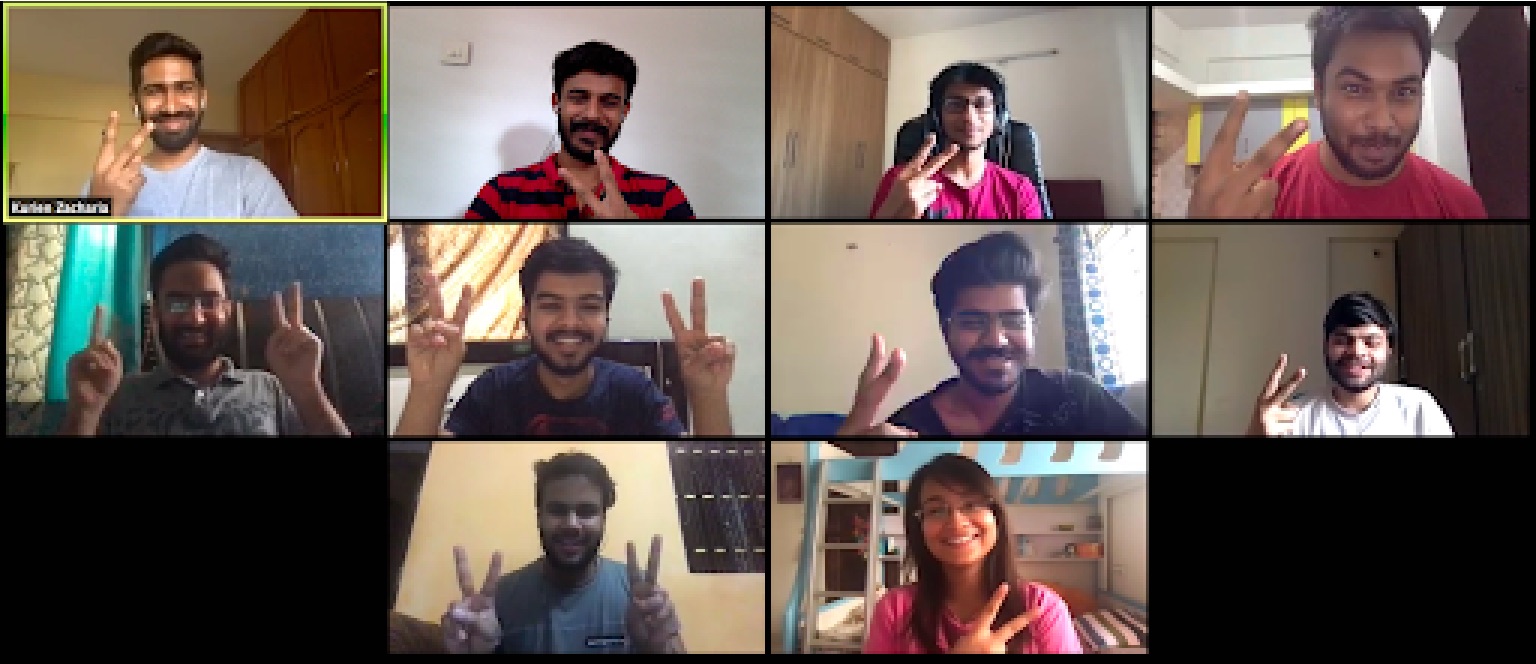 Team TS Code: Kurien Zacharia, Dayashankara Reddy, Sachin Neravath, Rabi Shah, Sourav Jha, Mahesh Tolani, Rishant Jain, Shikhar Bhargava and Sanskriti Jain
At second place, we had Team Spotty that built a chatbot which helps reduce human touch points and enables better utilization of our people resources. "We had folks working remotely from three different time zones to build a chatbot that will simplify the creation of product bugs and enable efficient collaboration with ThoughtSpot-Support."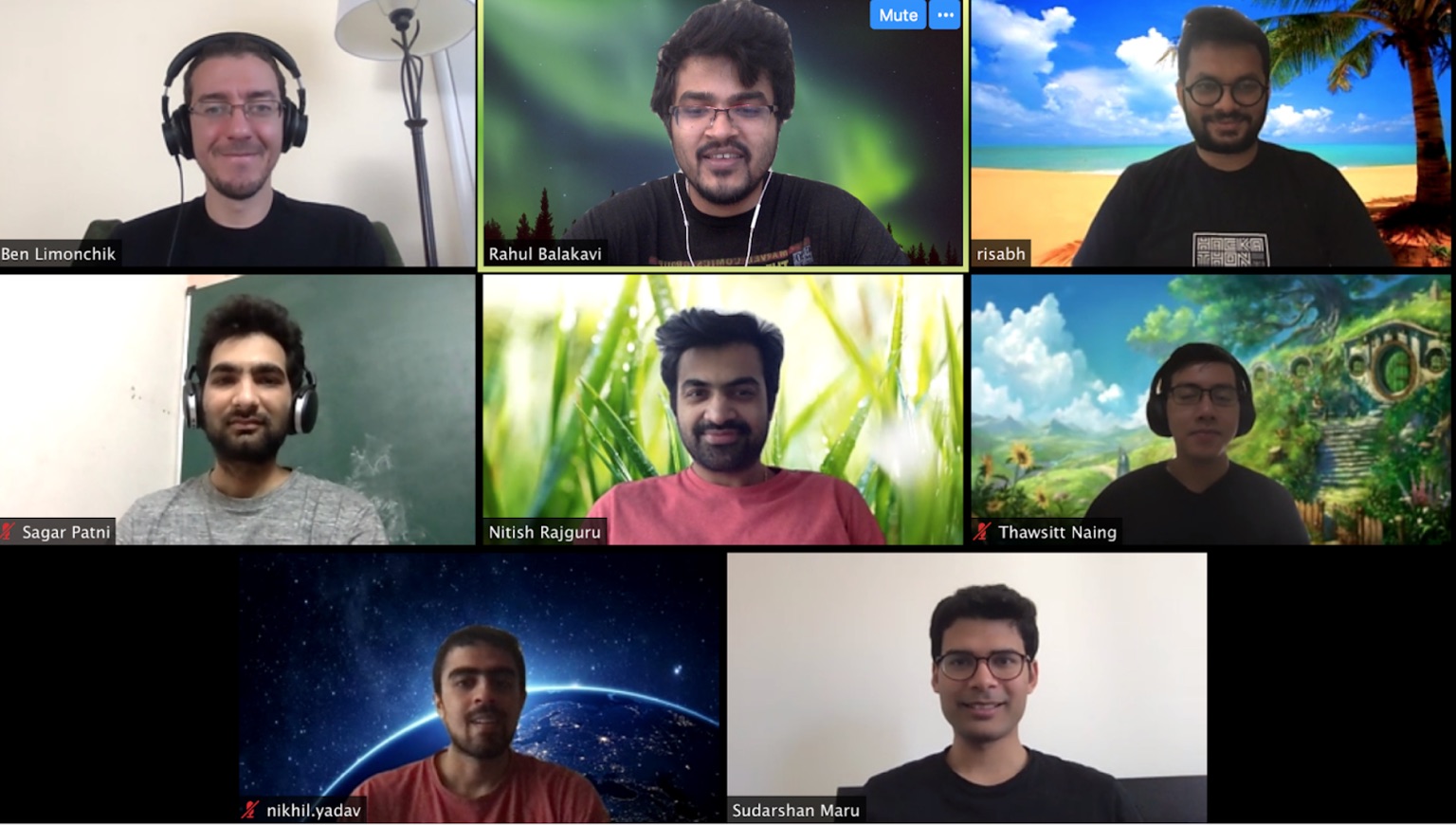 Team Spotty: Ben Limonchik, Rahul Balakavi, Risabh Baheti, Sagar Patni, Nitish Rajguru, Thawsitt Naing, Nikhil Yadarv and Sudarshan Maru
The LevelUp team leveraged gamification techniques to build an intuitive, integrated learning system. "This platform promotes self-motivated learning and incentivizes users through skill-based badging. Not only will this system create more 'in-house experts' but also act as a foundation for upcoming projects such as Feed, Commenting, Sharing, Social Proofing, and many more. The idea was a combined effort that came from people across the Engineering, Product, Documentation, Data Analytics and UX Design teams."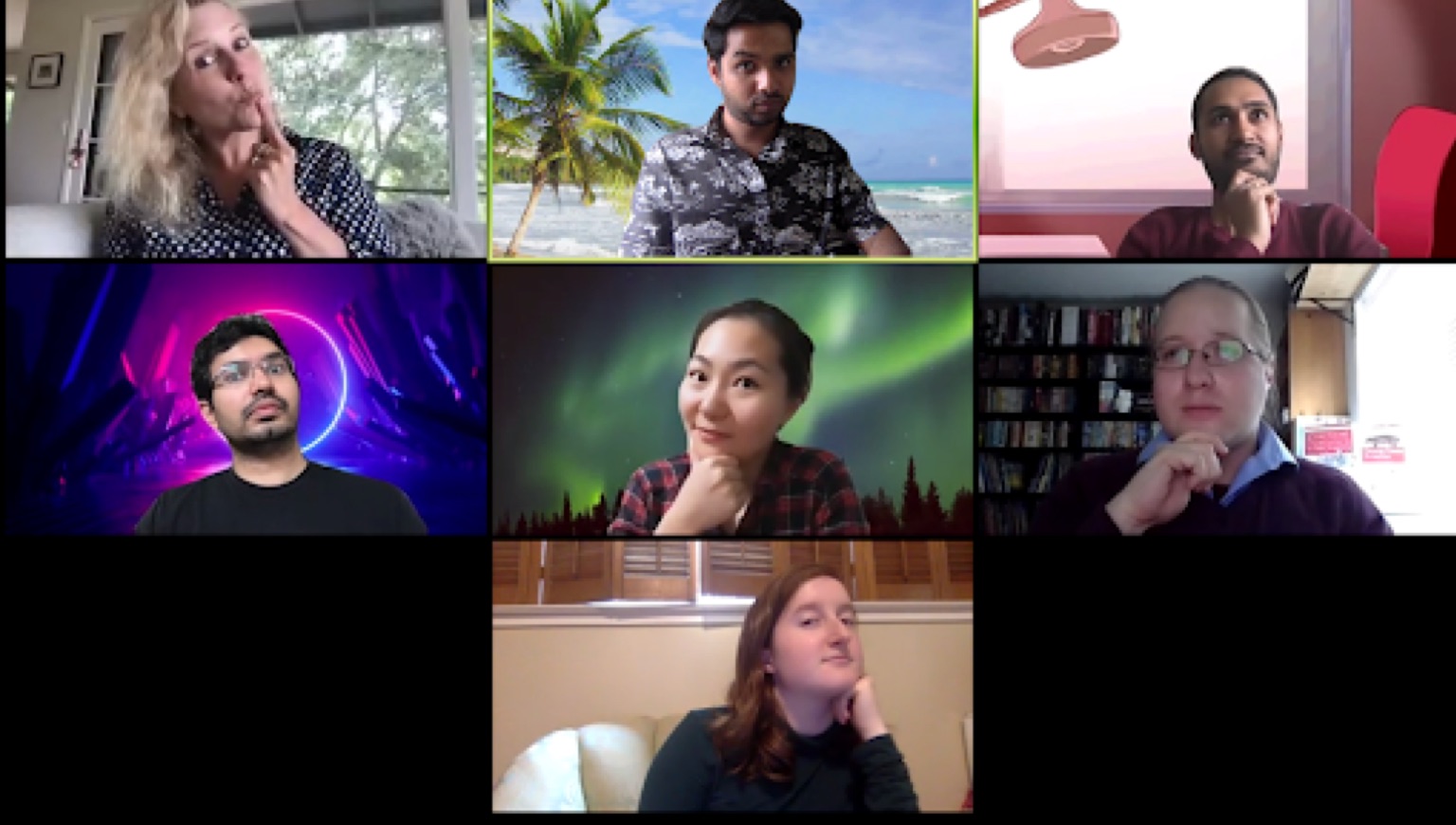 Team LevelUp: Ambu S, Shannon P, Aaron H, Tushar M, Teresa K, Samrat A and Wei Z
What were some of the challenges that you faced as a team remotely? Were there any surprises along the way?
We know that remote collaboration can be difficult. Channeling thoughts and ideas from team members over Zoom presents challenges - but not insurmountable ones. 
Here's how the LevelUp team made it work. "Everyone walks in with a different vision and perspective. Visual cues like mocks and screens made things fall in place, though we really did miss using whiteboards, especially at the beginning. However, when it was time to execute, we split into groups and worked on separate tasks that we'd agreed on beforehand. We had regular check-ins to make sure we were aligned and headed in the right direction."
It also created a different form of collaboration and responsibility for the team. "One of things that we were able to do well, was to plan properly and break down the idea into multiple independent pieces, which can then be worked on by one or two people. Everyone was responsible for some of these pieces. We spent a good amount of time in the beginning planning backwards from the demo to the features that we should work on vs features that are good to have." 
There were even some benefits. TS Code said, "Normally hackathons are done with the team in a room, working closely together. With everyone working remotely, we had to get on Zoom meetings and do screen sharing every couple of hours, and manage our energy levels. On the bright side, we got to know each other on a more personal level, that we could otherwise have." 
The Spotty team also experienced some benefits. "Usual hackathons are filled with sleepless nights, since they are a 2-3 day event. Spreading the hackathon across a full week helped plan the development process better. It almost seemed like we were a v-team doing feature development."
How does Codex2020 compare with other hackathons you've participated in? What makes it different?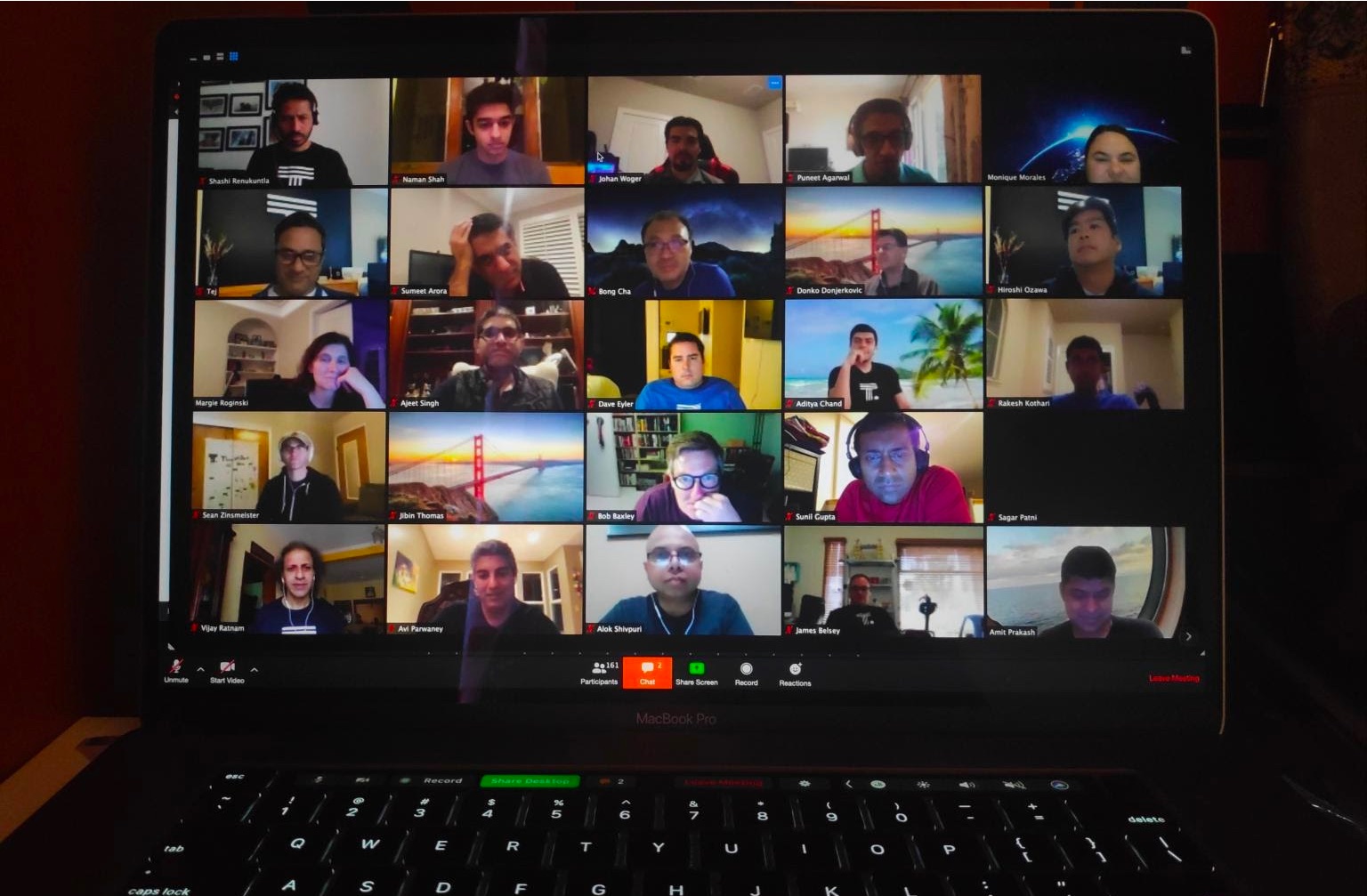 Codex2020 Show-and-tell in progress. A look at the demos presented by the teams
According to team LevelUp, "Codex 2020 was more mission-oriented. We as a company wanted to venture out into unchartered waters. The hackathon itself was very different because it was remote: from pitching ideas to the final presentation, everything occurred on a screen. Codex usually has a format of working tirelessly for 48+ hours and ending it all with a party. Covid-19 has obviously had an impact on that, but this year's Hackathon was certainly enjoyable. ThoughtSpot organized virtual socials and even provided vouchers for us to celebrate together." 
"Having a SaaS specific hackathon ensured that participants had a clear goal in mind. This resulted in experimentation on various fronts, which further clarified the road-map for ThoughtSpot SaaS delivery," added team Spotty.
So, what's next from here?
Team TS Code: "We are waiting for this lockdown to end, so that we can meet each other in person and maybe go out for a party to celebrate our win! On a more serious note, we are in discussions on how we can take our idea to production and get it in the hands of our users."
Team Spotty: "Based on the feedback and reactions from our hackathon demo, it was clear that ThoughtSpot has quite a few use cases that can benefit from having a chatbot inside the product. I would want to see us define a MVP (minimum viable product) for the chatbot and deliver it to customers and iterate based on their feedback."
Team LevelUp: "LevelUp may be incorporated into the product at some point. There will surely be changes in the way we productize it as a company, but it will be thrilling to see an idea come to life that could one day become a feature of ThoughtSpot."