I'm calling it now. The next battleground for analytics adoption among business users will be the productivity suite. Let's unpack that statement by considering these two examples: 
You finally get your data visualization just how you want it for your presentation. Now, you take a screenshot and copy-paste it into your slide deck.

You pull your dashboard data into Google Sheets so you can perform ad-hoc analysis and collaborate with various stakeholders who don't have dashboard access.
Traditional BI has always forced you down a one-way street for answers—drop what you are doing, login to the BI tool, and pray to the data deities that you can find the answer you're looking for. Anyone who has ever needed to explain a business story with data knows that your BI solution is just one of the many required utilities. 
But now, live data and generative AI have arrived. These forces fundamentally change how we work—when, where, and how you interact with your data. That's why we're excited to partner with Google Workspace, whose business solutions are known for letting users work how they want to work. 
Introducing ThoughtSpot for the Connected Google Workspace, powered by Google BigQuery
Today, we're excited to officially release three integrated plugins for Google Workspace:
ThoughtSpot Connected Sheets
ThoughtSpot for Connected Sheets works by syncing directly with the semantic data models built on top of your Google BigQuery instance. This connection allows you to work and collaborate natively with governed data, preventing the "multiple sources of truth" conundrum that plagues the enterprise. 
Connected Sheets streamlines your process of data exploration and collaboration. No more hunting for the most recent data, manually importing soon-to-be-outdated data, or spending countless hours on a single ad-hoc query. You can simply start exploring fresh, trusted data in Google Sheets.
The app is free for all ThoughtSpot Cloud and Free Trial customers. Here's how to get started:
Connect your ThoughtSpot account

Select the data model

Build a query
Connected Sheets integrates ThoughtSpot's powerful Query Builder directly into Sheets. So, you can use natural language query (NLQ) and our consumer-grade UX to natively search live, governed BigQuery data directly in Google Sheets. You can also leverage our ThoughtSpot Analytics for Sheets plugin to uncover more insights using generative AI.
ThoughtSpot Analytics for Sheets
Last month, we unveiled the newest version of ThoughtSpot for Sheets, our free spreadsheet analytics plugin for Google Workplace.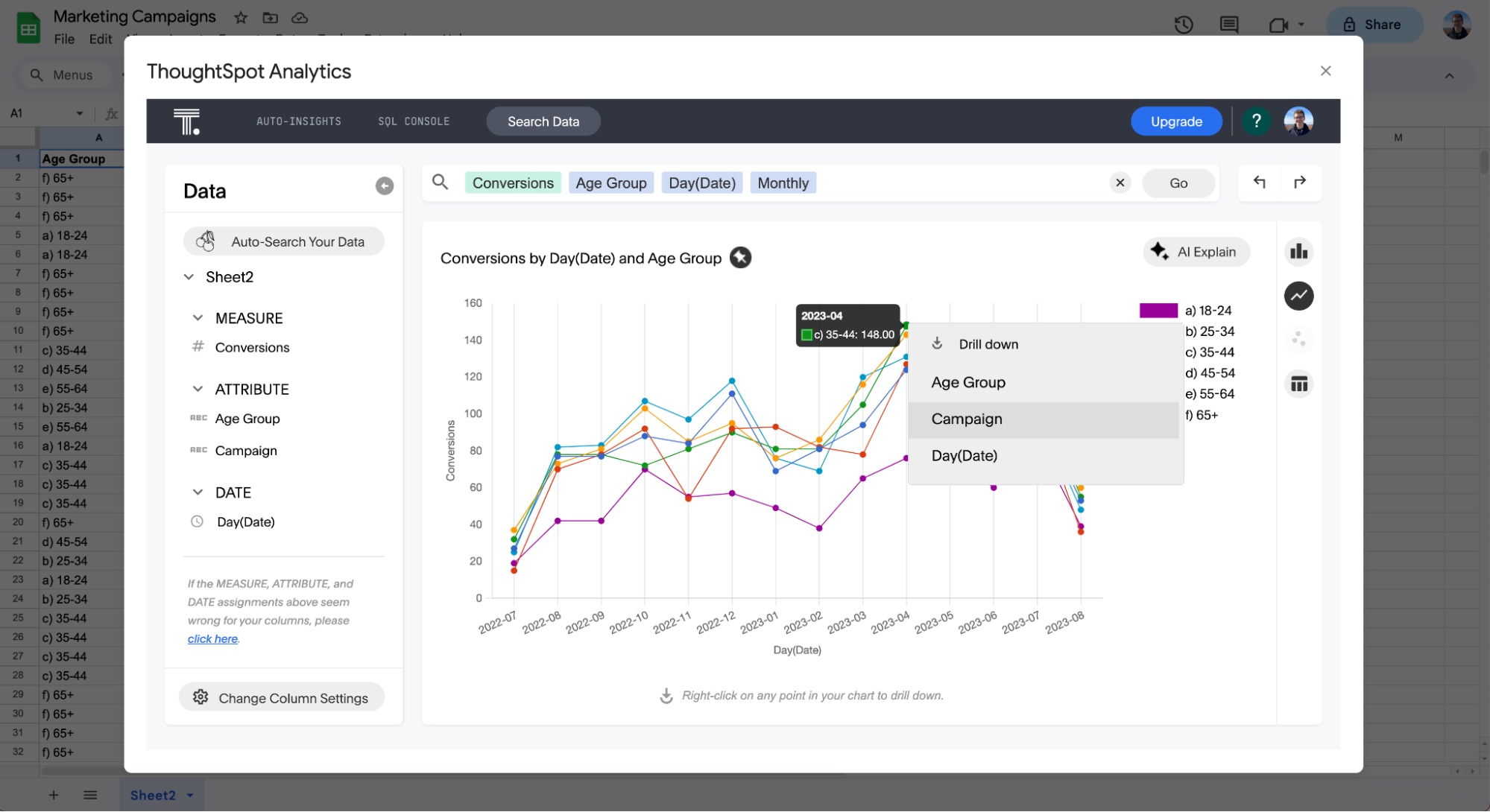 This plugin does not require a ThoughtSpot login and is free for every Google Sheets user that wants to uncover insights in their spreadsheet data using Generative AI. ThoughtSpot Analytics for Sheets is a lightweight data profiler that lets you quickly understand and visualize key insights on top of your Sheets data. Already, thousands of users have installed ThoughtSpot's Sheets plugin and are adding it to their everyday workflows—and you can join them.
PS: Here's more on how to get started with ThoughtSpot for Sheets.
It's been incredible to see some of the use cases leveraging the Sheets plugin in tandem with ThoughtSpot Cloud on BigQuery. These tools are empowering users to find faster insights—and they're doing it their way. This, I believe, is a core tenant to increasing analytics adoption.
Best of all, ThoughtSpot for Sheets is integrated with Google AI's LLM—giving you access to generative AI at the click of a button. AI Explain is a feature we lovingly dubbed "Google Translate for analytics," because it takes any chart you are viewing in Sheets and automatically delivers the top three data story summaries. In doing so, we're bridging data knowledge gaps and helping users find new excitement around data exploration—a second core tenant of increasing analytics adoption.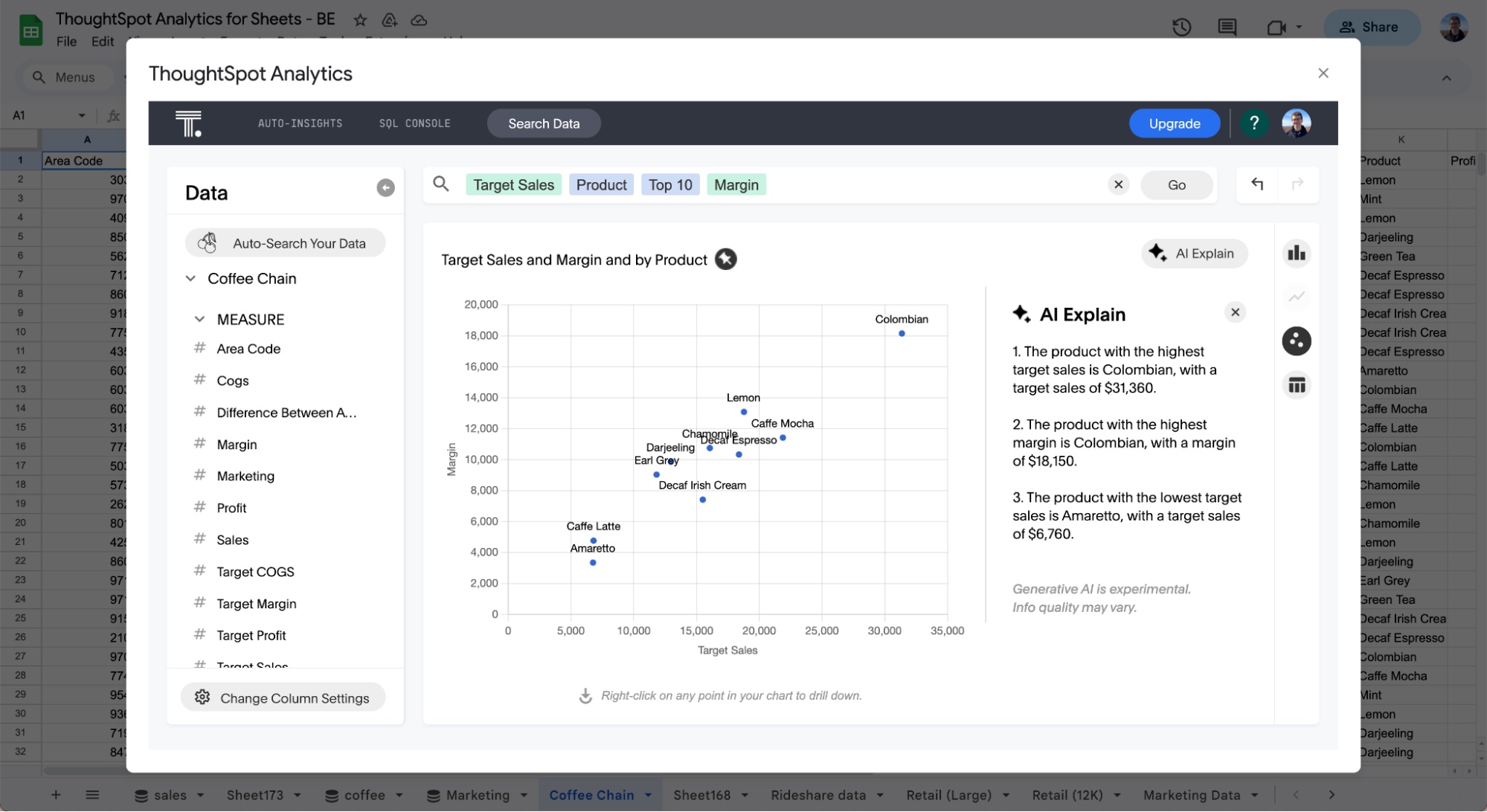 You can use the analytics plugin in tandem with our Connected Sheets plugin or integrated with BigQuery connected sheets. Get started by installing the free ThoughtSpot for Google Sheets plugin today.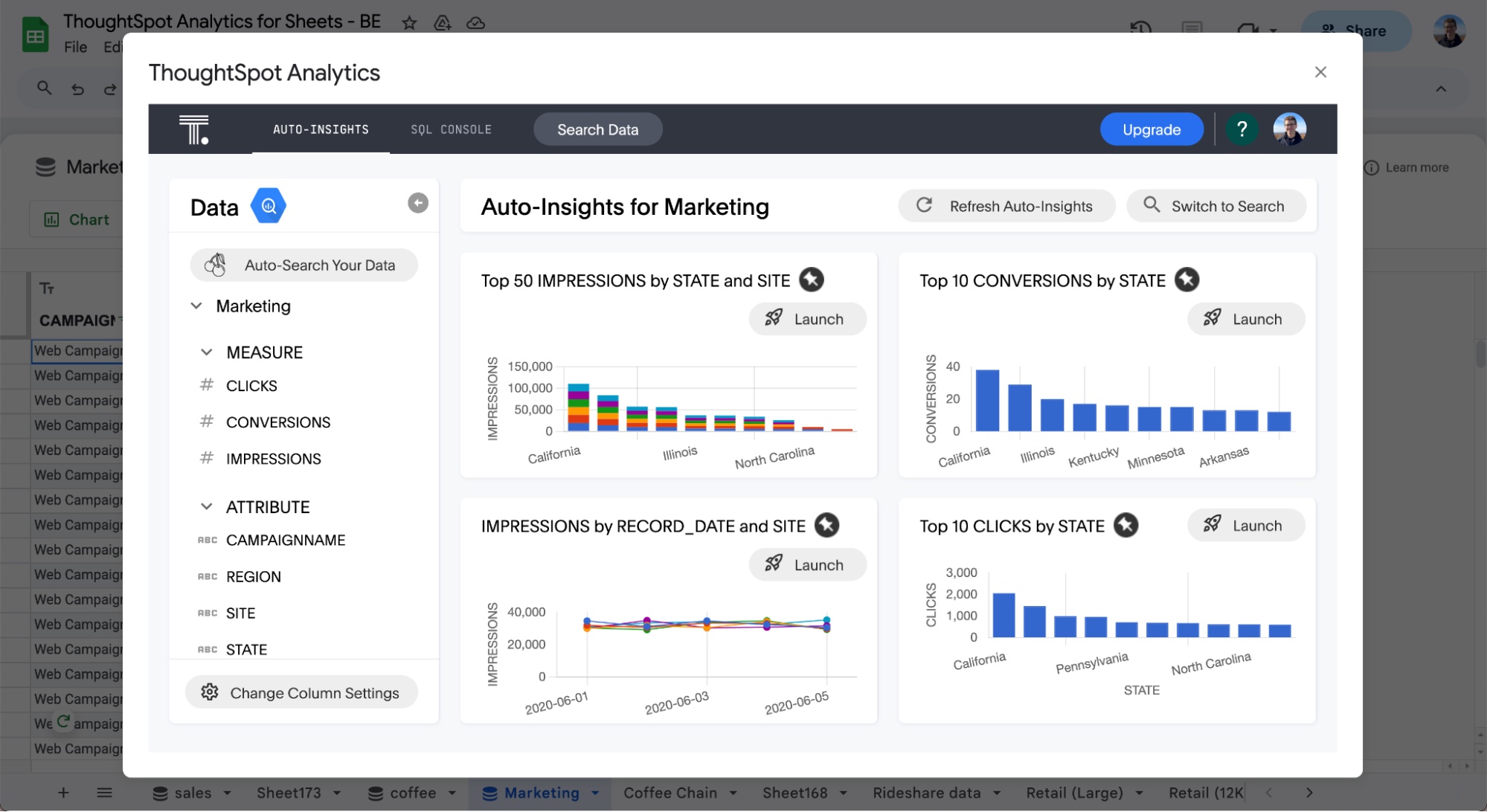 ThoughtSpot Connected Slides
ThoughtSpot Connected Slides allows you to bring live data from BigQuery directly into Google Slides and refresh the entire presentation or individual slides with a single click. This functionality is free for any ThoughtSpot and Free Trial user. 
When it comes to telling data stories—whether it's your upcoming QBR, a pending board meeting, or weekly standup—chances are, you're creating the same content on the same stale metrics again and again. This leaves you with a graveyard of cloned slide decks donning out-dated charts and data visualizations.
Now, you don't have to create the same deck over and over again. Just create once, and then click the refresh button to instantly fetch and update your slides with the latest data from BigQuery. That's the power of ThoughtSpot Connected Slides.
To get started, simply install the extension from the Google Workspace Marketplace, connect your ThoughtSpot account, and then you have access to all of the created content for your user. Now, you can browse through all your ThoughtSpot content and build out your presentation in Google Slides using live data from your Google BigQuery instance. 
Once you find the chart or visualization you want to add to your presentation, use Google Slides native content and editing features to ensure your story looks just right.Then, there's nothing left to do but tell your data story.
Get started by installing ThoughtSpot Connected Slides today.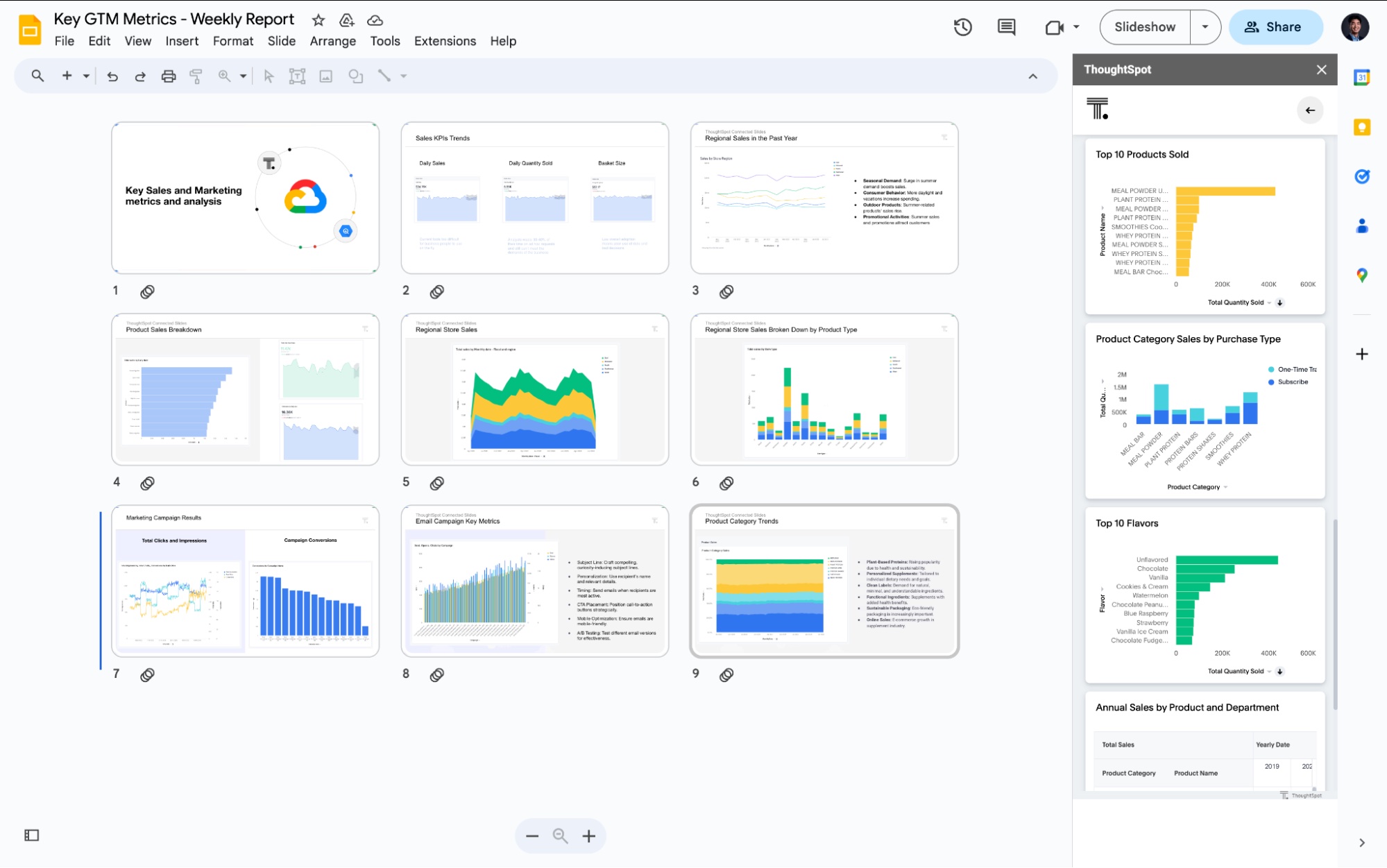 Unlock the AI-Powered Analytics in Connected Google Workspace
At ThoughtSpot, we believe where insights flow, actions go. By partnering with Google Cloud and Google Workspace, we're helping users bridge the often-interrupted stream between insight and action so you can start infusing data into your day-to-day workflows to create positive outcomes in your workplace. 
Access all of the workspace solutions on Google Marketplace using the links below:  
And this is just the beginning. I invite you to learn more about how ThoughtSpot and Google are co-innovating to lead the charge on AI Analytics. And if you want to get the most out of your BigQuery and Google Cloud Data investments, start a ThoughtSpot 30-day free trial today.