To our entire partner ecosystem, I want to personally thank each of you for your incredible contributions over the past year. Our partners play a vital role in driving ThoughtSpot's mission of becoming a more fact-driven world. Together, we help organizations leverage AI and natural language search to discover insights and make data-driven decisions for their businesses. 
We selected this year's Partners Award winners based on a variety of factors including our supported growth, continued enablement, and completed certifications. This isn't simply a measure of transactions—we wanted to understand how the partners contribute throughout the entire customer lifecycle by measuring their impact on our mutual customers' continued success. Thankfully, we had a ThoughtSpot Liveboard to help us monitor this data.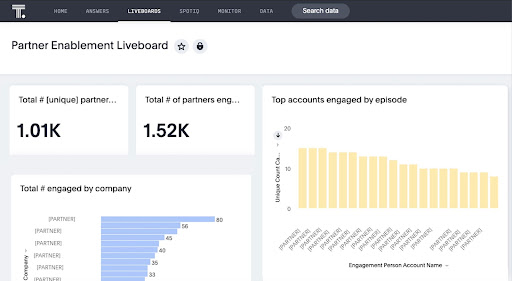 The Partner Enablement Liveboard has been anonymized for the purpose of this article. 
The recipients of the FY23 Partner Awards played a pivotal role in enabling organizations to adopt forward-looking analytics practices—ultimately yielding quantifiably positive results for our shared customers. 
We take great pride in recognizing and celebrating the exceptional achievements of these outstanding partners. You can learn more about their work with us by following the links below.
Regional partner winners 
Technology partner awards 
Vertical focus award for strong innovation 
On behalf of the entire ThoughtSpot organization, we thank all of our valued partners for your contributions to our mutual customers. And we can't wait to see what this next year has in store.
Find a full list of our partners here, and contact us for more information on how you can get involved.