Here at ThoughtSpot, we love startups. As a high-growth organization ourselves, the cycle of rapid prototyping, customer feedback, and feature iteration is still very much part of our driving force—we celebrate the startup spirit. That's why we are excited to announce our brand new program, ThoughtSpot for Startups.
ThoughtSpot for Startups empowers growing companies to build a user experience your customers will love, backed by the support you need to achieve hyper-growth. As part of the program, eligible organizations will gain exclusive pricing discounts on ThoughtSpot Everywhere for one year, giving you the space you need to iterate and explore new growth channels with minimal financial risk. You'll also gain support from a growing community of fellow startups working to build their business on data.
With ThoughtSpot Everywhere for Startups, you can:
Embed data and analytics into your products
Whether you're building an internal- or external-facing product or web-based application, embedded analytics gives users the personalized experiences they want. You have the power to transform customer service, increase customer loyalty, and fuel user engagement.
Consider 6ix, a startup looking to unlock social mobility on a global scale by embedding analytics into their investor platform. Their self-service insights provide users a competitive advantage to get deals done and unlock shareholder value, and creates a better experience for 6ix's customer base.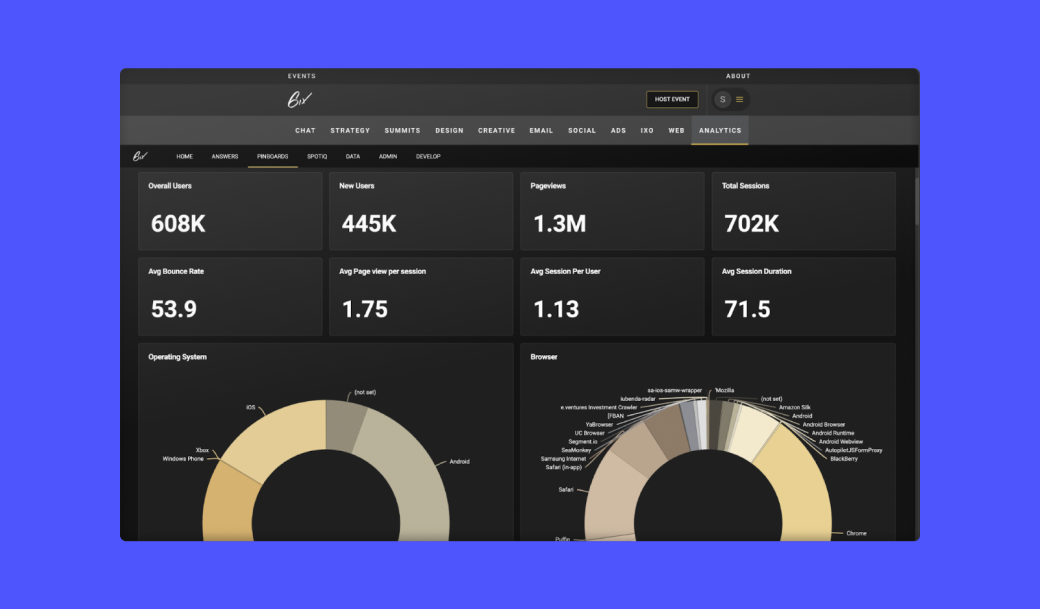 Harness the best of the modern data stack 
Build an interoperable modern data stack with a best-of-breed analytics front end to unlock insights at cloud scale. With embedded analytics from ThoughtSpot, your users can securely access real-time data and insights from your cloud data platform without ever needing to leave your application.
This seamless experience doesn't stop with your users—it also applies to the load on your data and analytics engineers. ThoughtSpot inherits table relationships directly from Snowflake, Databricks, Google BigQuery or your other favorite cloud data platforms, empowering teams to work smarter, focusing innovation instead of repetition. Our direct integration with dbt Cloud and dbt Core makes it possible for users to search directly on top of dbt models, so that your teams can model data once, and then empower anyone to ask and answer their own data questions.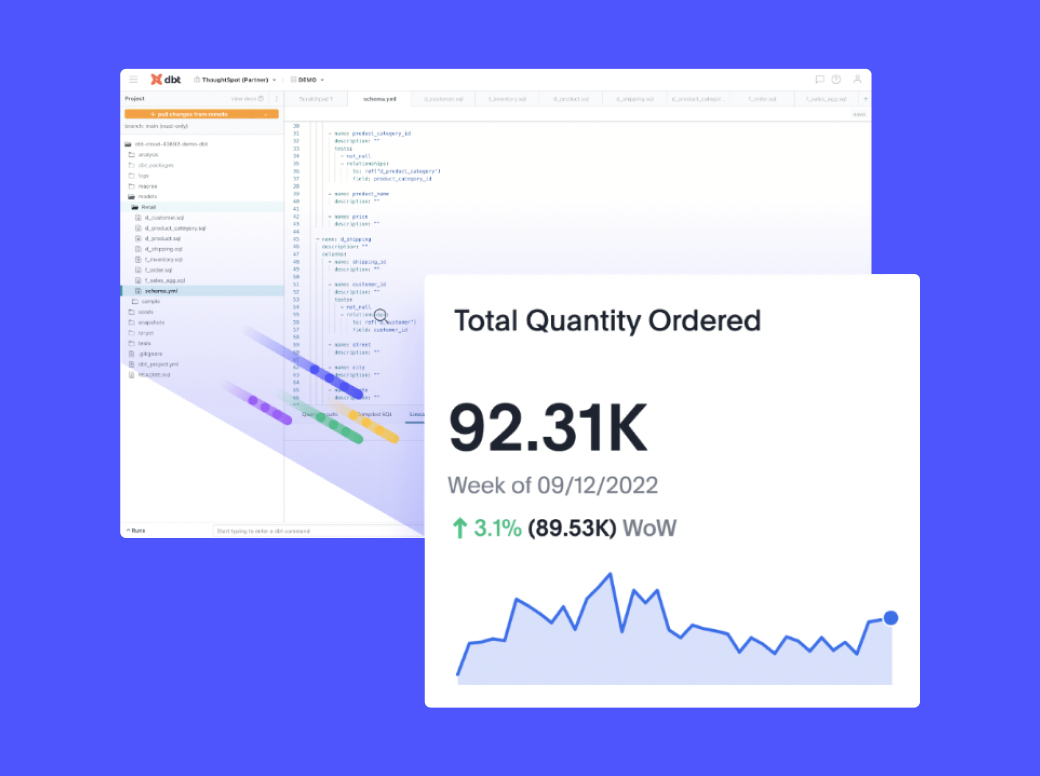 Get to market fast 
In today's competitive market, time is your most finite resource. Our embedded analytics solution helps you maximize developer productivity with flexible APIs and an interactive low-code developer playground. Don't just take our world for it.
Consider MDaudit, a SaaS platform that partners with leading healthcare organizations to help them mitigate risk and increase productivity. ThoughtSpot Everywhere's strong analytics and API integration capabilities have enabled MDaudit to go-to market 10X faster, compared to if the company had built an in-house solution. This has translated to double-digit growth for MDaudit.
Drive user adoption 
Deliver cutting-edge, self-service analytics experiences that keep users coming back for more. In a recent survey conducted with the Product-Led Alliance (PLA), 61% of respondents reported that embedded analytics had a direct impact on engagement. Meanwhile, almost half (49%) reported a direct impact on retention.  
That's the case for Just Eat who embedded analytics within their food delivery app to help restaurant partners understand metrics around their business and staffing needs.  These insights provide immense value to restaurant owners, making Just Eat an invaluable partner simply by serving up the data and insights they were already collecting.
Monetize your insights
You're already financing the collection and storage of your business data—shouldn't you find a way to make that data work for you? Embedding Live Analytics helps you monetize your data and drive new revenue streams. According to the same PLA report, 57% of businesses confirmed that embedded analytics had a direct impact on their revenue.
Nue is a great example. On their mission to reinvent the world of RevOps, they needed to deliver a platform that provides end-to-end visibility on all things revenue. By embedding analytics into their offering, they empower users to to slice and dice their data at any attribute. Their embedded analytics functionality is a major value driver in their conversations with advisors and investors. 
Channel support from a startup community
We know that exponential growth requires more than just an amazing product—you also need the right support to thrive. Members of our startup program gain access to dedicated learning sessions and marketing support—view our upcoming events here. Our community space for startups also grants you facetime with the innovative leaders at the forefront of building businesses on data.
Find a full list of member benefits.
Join the ThoughtSpot for Startups program
If you're a Series B startup or above with under 100 employees, we invite you to learn more about the program and sign up today.