/The old way of using data is dead.
You've heard this before; from analyst reports, from our competitors, and heck, even from us. Our industry has rung this bell a lot over the past year, and not for nothing. Our new cloud-powered world is not a continuation, or even an evolution, of what's come before. It's a revolution, hallmarked by unprecedented scale, speed, consumption, and sharing. But the revolution is also two-fold. BI as we know it is dead. The ease and speed at which you can capture and store data in the cloud must be equally matched by the ease and speed at which you can uncover insights and drive action. 
We know this. Our friends at Snowflake know this. And today we're pleased to announce Snowflake Ventures, the strategic venture arm of Snowflake, has invested in ThoughtSpot to help us bring the analytics revolution to even more customers.
Making it rain (or should we say snow?)
Today's investment reflects the success of our continued partnership with Snowflake, our commitment to creating value for shared customers, and our promise to democratize data for all. This promise, based on our mission to create a more fact-driven world, isn't just lip service. 
It's a key differentiator for us both in the Snowflake partner landscape and the analytics market at large. We think about analytics differently. We meet users where they are so they can create insights from data, enrich those insights with their own knowledge, and take action faster and easier than ever before. 
Consider the ease with which you can type a question into Google and find the answer. No one taught you how to do that, and you certainly didn't attend a multi-day workshop. It's intuitive. 
The same goes for ThoughtSpot. We built our business intelligence platform with search at its core so that anyone, at any level of your business, can analyze cloud data using simple, natural language searches. It's sophisticated, enterprise-grade self-service analytics as easy-to-use as your favorite consumer app. Add the scale, power, and flexibility of Snowflake's cloud data platform to the mix and it's a completely unparallelled cloud analytics experience.

Thoughtspot and Snowflake are better together
When you combine ThoughtSpot's visionary search and AI-driven BI platform with Snowflake's cloud data platform, you're empowering every employee to solve real business problems with real-time analytics. Together, we offer shared customers:
Integrated features to help you unlock meaningful business insights

Accelerated return on your cloud data investment 

A lock-step trial and buying experience, complete with a growing library of educational resources to inspire new business uses cases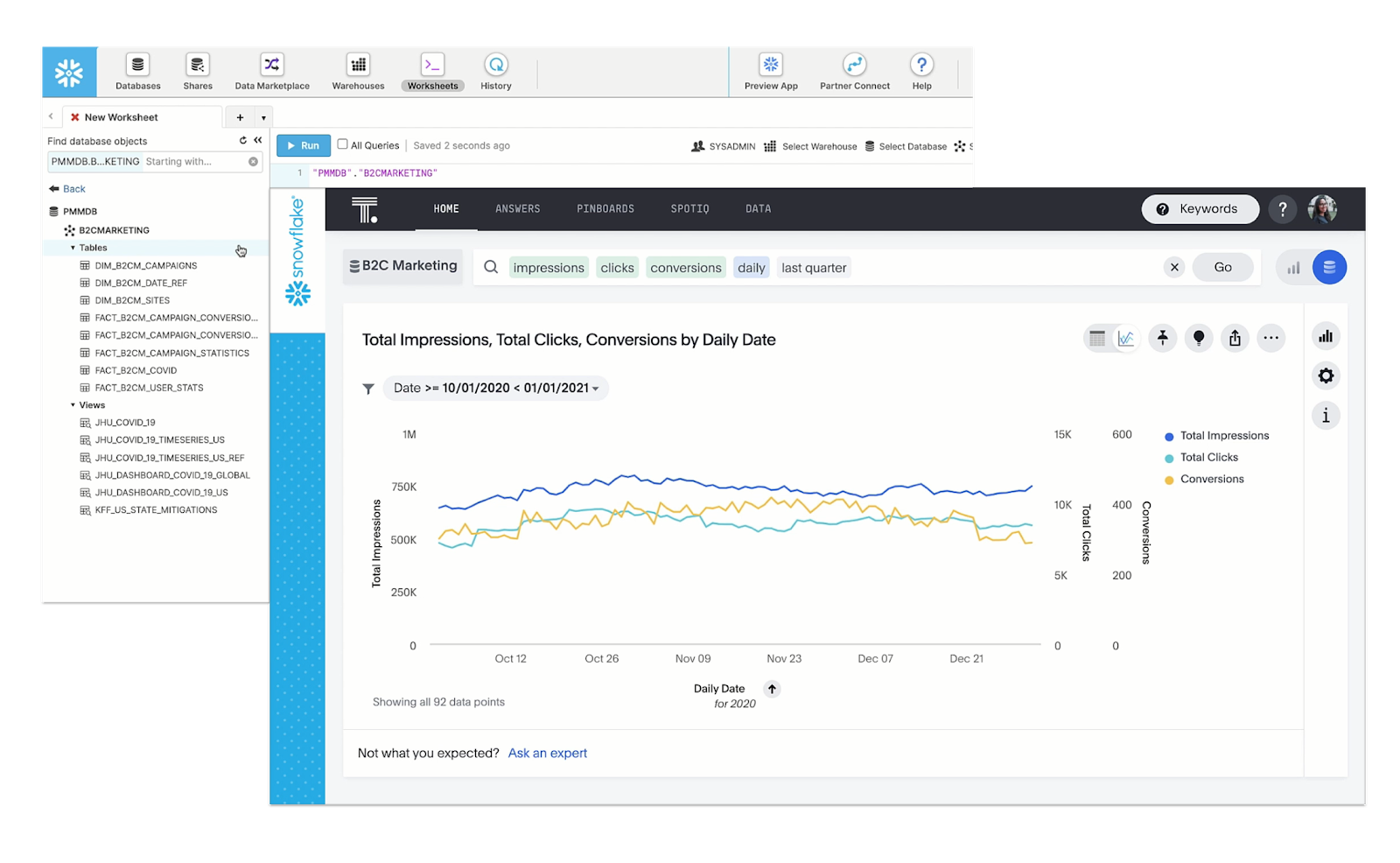 All of this is to say, Snowflake and ThoughtSpot really are better together. And if you're ready to unleash the value of your cloud data across your business, there's never been a better time to try ThoughtSpot. 
Start a free trial today to see for yourself why businesses like Hulu, Capital One, and Nationwide Building Society get more from Snowflake with ThoughtSpot.