I've been lucky enough to be at the center of the analytics industry for the past 7 years, but my exposure to the industry started much earlier. As a native of Vancouver, I had a front row seat to watch the growth of the first generation of Business Intelligence companies.
Crystal Decisions was based in Vancouver and was fun to watch. They competed fiercely with Business Objects, commonly known as "BO". I remember the Crystal Decisions marketing team had a field day with this abbreviation, distributing bars of soap to employees and at conferences with a label that read, "Let's wash the BO away." They even went so far as to put up a billboard in San Jose near the Business Objects office with the same flattering tagline.
In 2003, Business Objects acquired Crystal for $820M.
At the time, IT owned the BI stack completely. The BI team rolled into IT. All of the data integration required operational ETL tools like Informatica before you could even load the data into complex semantic layers and databases. If a business user wanted a report created, it could take months.
In 2007, consolidation happened in earnest, with Cognos being acquired by IBM for $4.9B, Business Objects by SAP for $6.8B, and Hyperion by Oracle for $3.3B.
This is the way the Gartner Magic Quadrant for Business Intelligence Platforms looked that year.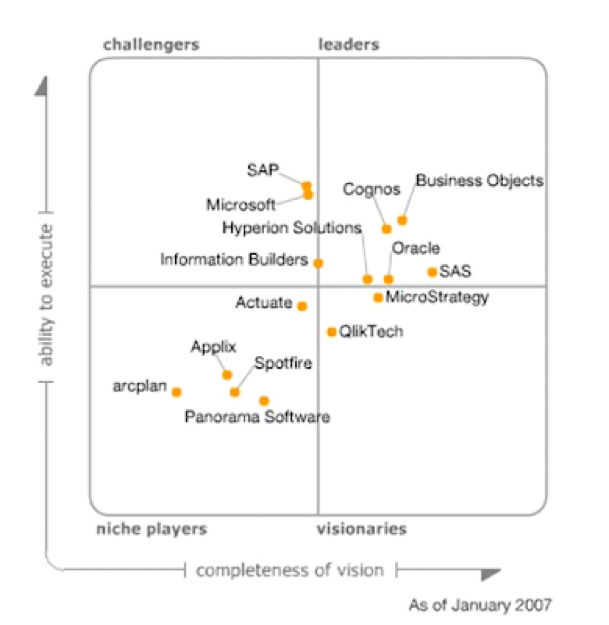 Then, 2008 marked the dawn of visual analytics, and the second generation of Business Intelligence and Analytics was born. QlikTech had entered the US market in 2004 and started to see real traction. Tableau stormed onto the scene shortly after, and brought visual analysis to more people than ever through its self-service approach.

When we moved from Paris to the west coast in 2013, I joined a company called Alteryx to lead Business Development, largely around their partner efforts and international expansion. They were based in Orange County, but had an office in the Bay Area. I checked out the 2013 Magic Quadrant for BI Platforms (below) and Alteryx had a cozy position in the niche quadrant.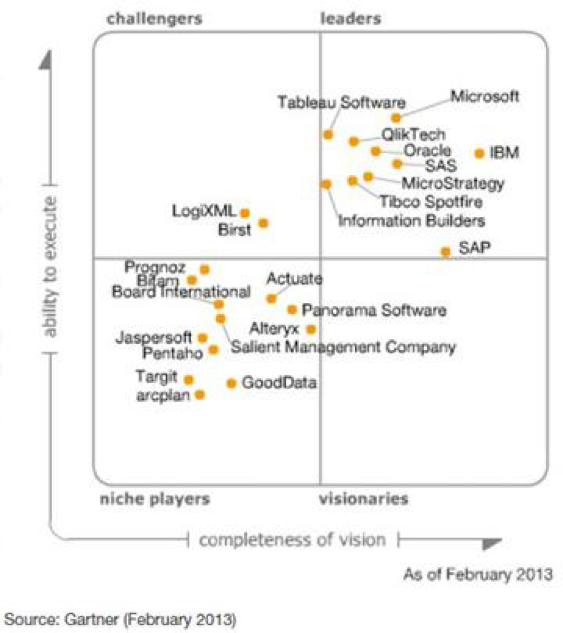 But I had a few former colleagues there who were bullish on the direction and I took the plunge. My first day at Alteryx was July 25th, 2013.
OK are we there yet? Isn't this a blog about Seann joining ThoughtSpot? Hold on, I'm getting to that.

So Day 1, I was invited to two meetings in Seattle. The first was with Tableau, with whom Alteryx had just kicked off a new partnership. The second was with Amazon Web Services.
Let's start with the AWS Redshift team. Redshift had only been released in February, but by our meeting in July, they already had 1000 customers. And they were adding 100 more per week. Redshift's speed and ease of use were gaining real traction in self-service analytics.
Then, we went to a literal marathon of meetings with Tableau. Tableau had gone public two months earlier and was growing at ~100% YoY.
These meetings were not only enlightening, but pivotal for Alteryx as we shifted to a self-service model and defined the self-service data prep market.
Over the next 24 months, Alteryx, Tableau, and Redshift cemented themselves as the core platforms in the self service analytics stack.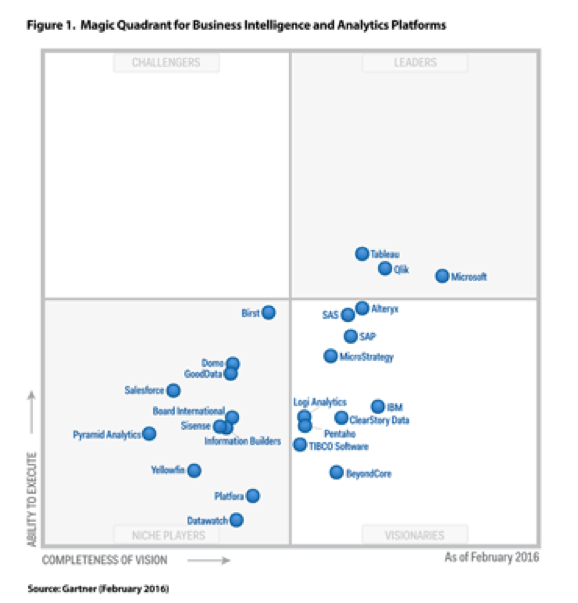 In 2017, I left Alteryx after 4+ years and a successful IPO to join Boston-based DataRobot, who were defining the Enterprise Machine Learning and AI space. By that time, the self-service analytics stack had gone mainstream.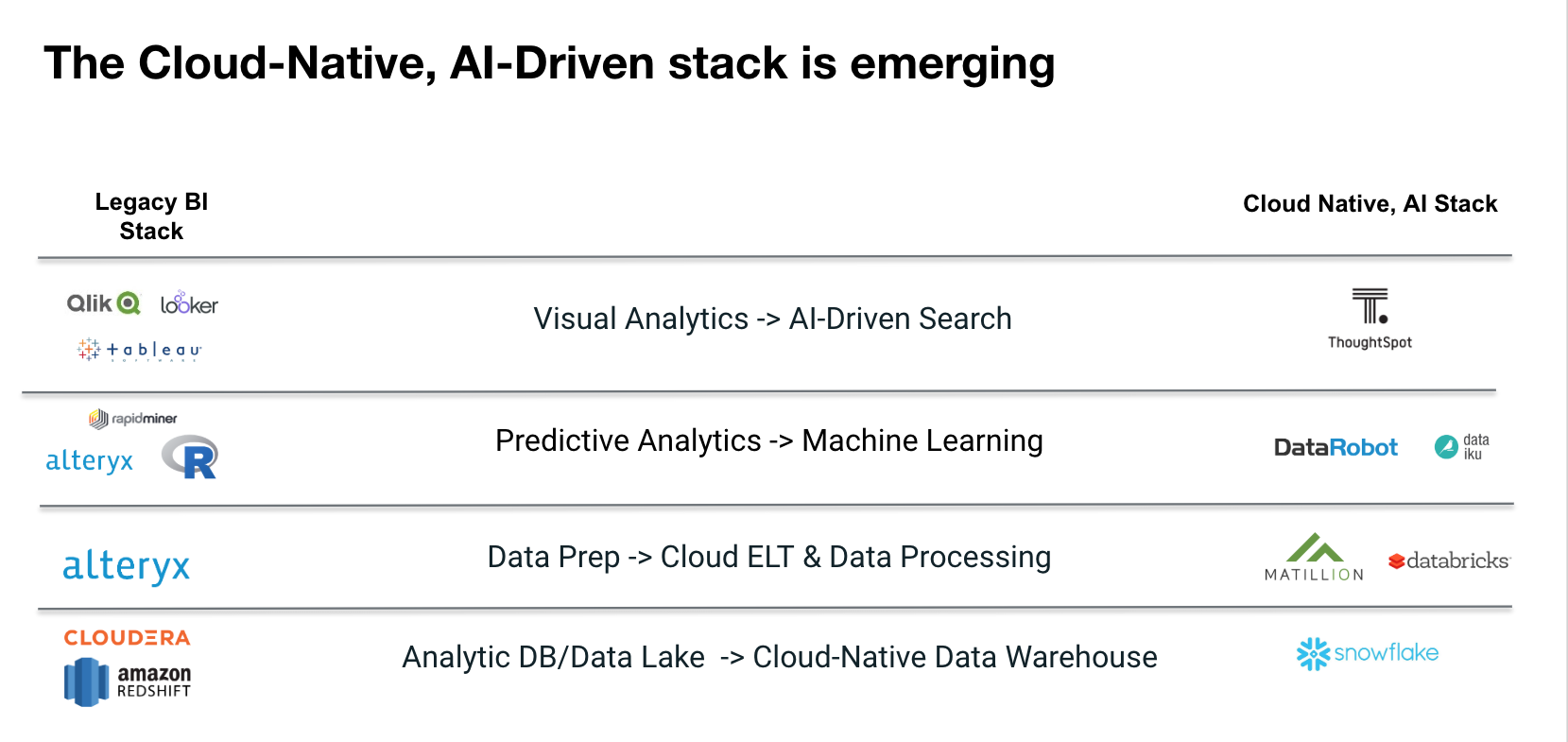 But then something interesting happened. Qlik went private and consolidation was once again the name of the game in analytics. Then, in 2019 over the course of a weekend, this consolidation intensified. Looker was acquired by Google on a Friday, while Salesforce announced it was acquiring Tableau the following week.
I've been watching ThoughtSpot since 2014 and loved the company's vision to make the world a more fact-driven place by democratizing analytics and making it accessible to anyone through search and AI. As the rest of the analytics market from the second generation consolidated, however, I saw history beginning to repeat itself.<br>A new analytics stack was about to emerge. And I wanted to be part of it. This is underscored by the partnership with Snowflake
It was clear to me this new stack would have four characteristics, and ThoughtSpot had them all.
Cloud Native. As the rest of the world marches to the cloud, and reaps substantial benefits along the way, the analytics stack needed to do the same. ThoughtSpot was purpose built for this world. Furthermore, as the GM of Embrace, I could help ThoughtSpot become even more valuable for customers shifting to the cloud. I'm particularly excited about the partnership with Snowflake and the major Cloud partners (AWS, Microsoft and Google)

Scalable. We're living in a world where more and more data is created every second. The modern self-service analytics stack will be able to not only handle this scale, but continue to provide instant access to granular insights without sacrificing performance or security.

AI-Centric. Similarly, there's too much data for any individual to comb through on their own. The new stack will leverage AI to help us find insights that would otherwise stay hidden in data, alerting us to changes as they happen, and helping us predict what's coming next. SpotIQ, ThoughtSpot's AI engine, makes that possible today.

Truly Democratized. Last, and arguably the most important, the new stack must democratize analytics for everyone, not just technical data talent. With 1B+ knowledge workers in the world today, we need tools to bridge the gap between humans and data, not more humans.
While I'm sad to leave all the incredible people at DataRobot, I'll continue to be an advisor. There's work to be done across the industry, but for now, I'm ready to help build the new stack that will set the standard here at ThoughtSpot.