The perfect example of a product built around user engagement is my smartwatch. When I'm not wearing it, I feel like something's missing. When I am wearing it, it keeps me constantly engaged by sending helpful nudges throughout my day like when it's a good time to stand up or how to optimize my sleep.
The product is literally helping me lead a better life through a successful user engagement strategy. 
What is a user engagement strategy?
User engagement is about value. The goal is to ensure every user interaction with your product is invaluable. You then become an essential part of that user's life or workflow. Essentially, a user engagement strategy is all about perfecting the art of creating value for the user at every turn, and serving up that value in an effortless way. 
Why is user engagement important? 
We've come to expect this from technology. We buy an app or a smart device assuming it'll enhance the way we live. We expect to be engaged. 
But B2B software has trailed behind in the way of user engagement. Traditional enterprise software has focused primarily on functionality and features. This way of thinking neglects a fundamental truth about B2B software: your customer is a business, sure—but your end user is a consumer. 
Those end consumers are the ones deriving value from your products. They're the ones you need to engage, delight, and hook. Therefore, we're all in the B2C business in the end—it's just that some of us are actually "B2B2C."
So, how can you ensure you're giving your users what they need? How can you create a compelling user engagement strategy? Forget "cloud-first," "mobile-first," or even "AI-first." You need to start with UX. Let's dive into four steps to developing a user engagement strategy that will keep your users coming back for more. 
4 steps to developing a powerful user engagement strategy 
1. Define your user personas and understand their needs
Too many companies neglect the different groups of users their products have by focusing solely on the main use case. Most products actually have two or three types of users—all with different needs and priorities.  
Consider a SaaS product for sales—like a CRM. Personas for this product would include: 
Sales representatives

Managers and other leadership roles

Technical administrators
There may be subsidiary personas, like marketing and finance, that would also utilize these tools. But for the sake of this example, let's focus on these main three. Once the personas are identified, you need to understand their needs.
Your sales rep wants an easy tool that streamlines workflows and integrates with their day-to-day processes. Your managers want analytics so they can track sales targets and what drives success. Your technical admin will want an easy-to-configure and easy-to-implement system with ample supporting documentation. Once you have a general understanding of who your users are and how they will be using your product, it's time to dive deeper into their workflows.
2. Understand your users' workflow 
Once you've defined your user groups and articulated their needs and priorities, you'll need to consider how they're going to interact with your products:  
What actions do they take when they sit down to use your product? 

What job are they trying to do? 

What workflows exist between where they are and the end destination? 
Then the next question is: How can you shorten that workflow so that your product offers them maximum value with minimum effort on their part? The more closely your products align with users' workflow, and seamlessly integrate with their current processes, the more engaging and effective your product becomes.  
The goal is to deliver maximum value with minimal user input. To go back to my smartwatch analogy, my watch tells me my heart rate is higher than normal without requiring me to enable or configure that feature. That intuitive nature heavily influences my desire to engage with the product. 
3. Monitor and iterate 
Once you've tailored an engagement strategy for each user persona, it's time to implement your plans and track your results. Using this data, you can optimize and iterate your process to double down on what's working and drop what isn't. Here are some examples of the most relevant KPIs and metrics you should consider monitoring: 
Number of active users over a set period—monthly, weekly, daily

Number of returning active users month over month—this will help determine the "stickiness" of your product

Feature usage 

Time spent using your product per user 

Support ticket volume 

Social and community feedback—what is the market saying about you?

And finally, renewals and expansions
4. Develop a re-engagement strategy
No user engagement strategy is complete without a re-engagement strategy to pull people back into your product once they've left. Remind yourself of the value the user is getting from your product—and then work out how you can automate the delivery of that value to them. 
With my smartwatch, the value I'm getting is that it helps me build healthier habits. And it brings me back in by sending me these helpful little nudges all day. I'm never annoyed by these notifications. Instead, I feel grateful—even cared for. They keep bringing me back to my watch and the accompanying app to look at my data and build more value over time. 
Extra tips for leveling up your user engagement strategy
Perhaps you already have a solid user engagement strategy and want to look for opportunities to create even more value. These are my bonus tips for going the extra mile to engage your users. 
Add embedded analytics 
When you look at what drives user engagement with digital products, it almost always comes down to the analytics. 
For instance, think about an app built for the stock market. You go into the app because it tells you the stock price, but it also tells you how much the price went up. When you click on the details of a stock, you get all kinds of additional analytics—the volume of transactions today, what happened after hours, the latest news, and the context around the data. That's the content that keeps you revisiting the app every day. 
If you want to build a sticky B2B product, you need embedded analytics. With AI-Powered Analytics solutions like ThoughtSpot, product teams make it easy for your users to find answers to questions they're interested in—so they keep coming back for more. That's why more than 50% of surveyed businesses embed analytics into their product. And of those, over a third report positive impacts on retention and engagement.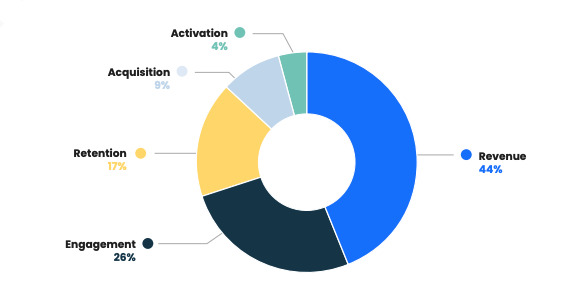 Read more about how to embed analytics with ThoughtSpot Everywhere, so your users can ask any question about their data whenever they want. 
Optimize your push notifications 
Nudging users to re-engage with your products is a subtle art. You have to ensure they're getting the right personalized messages, at the right time, in the right place. 
Here's the secret: keep the quality and relevance of your notifications high. If you send too many notifications or useless information, your users will start ignoring them. You want to build intelligence into your product so that it minimizes noise and focuses on the signal. 
One way to do that is by making notifications customizable. For instance, with ThoughtSpot users can set up automated notifications about anomalies and changes in the data. If a particular metric or KPI is critical to a user, they'll get an automated alert when there is an unusual change.
Crucially, ThoughtSpot also offers an explanation as to why this metric changed so the user can take action. Users like receiving these notifications because we're helping them do their job better. 
Build in gamification 
We don't always think of using gamification in the B2B product space—but it can be a compelling engagement strategy. Researchers at the University of Zaragoza found that gamification increases user engagement by satisfying our needs for: 
Competence—that feeling that we're doing something well 

Autonomy—the ability to make choices on our own 

Relatedness—experiencing connections with others 
These needs are as present in the workplace as anywhere else. And you can leverage these psychological drivers to drive user engagement through gamification. 
For instance, ThoughtSpot has a built-in leaderboard. This allows our customers to see their most active data users in real time. We even use this feature internally to shout out the users applying data in day-to-day decision making.  
Capitalize on the social effect
Harnessing social interactions also helps drive user engagement. If you build community tools into your B2B digital apps and products, it's not just a question of your system nudging your users. They'll also nudge each other, creating a network effect.  
With ThoughtSpot, we do that by letting users see other user's frequent searches, tag each other to share insights, and even write descriptions on those insights so everyone is operating with the same information. We've also built an active community where users can share tips, find helpful resources, and showcase success stories. These tools all engage users through social connection. 
3 examples of successful user engagement strategies
1. Loan Market Group
Loan Market Group knew they wanted to gain greater market share with their flagship product, MyCRM. They also knew that the secret to growth is quickly scaling user adoption. And for that, they turned to embedded analytics. 
They knew developing an internal embedded solution would take time and resources, so they started their search for an embedded analytics platform that could quickly integrate with their existing product. Their search brought them to ThoughtSpot Everywhere. They immediately determined that the search-based analysis framework and AI-Powered Analytics would appeal to their non-technical broker audience.
"We knew we had found the key to dramatically accelerating our time to market for a seriously sticky and interactive version of the product."  - ​​Santiago Murisengo, Product Manager at ​​Loan Market Group
The result? In less than three months, Loan Market Group had a new product version that triggered a projected 14x increase in their monthly active users. 
2. Accern
Accern offers a no-code AI environment that helps data teams generate insights by tapping into unstructured data. But their user engagement and adoption rates showed that customers were looking for a more customized experience.  
ThoughtSpot Everywhere was the solution. ThoughtSpot Modeling Language (TML) provided scriptable deployments and the re-use of Liveboard worksheets, allowing Accern to deliver personalized customer experiences at scale. 
Accern projects a 20x increase in customer adoption within 12 months. They've also realized they can monetize this self-service experience as a premium subscription, opening up a whole new revenue stream. 
3. Chick-fil-A 
For Chick-fil-A, the challenge was with internal data users rather than customers. Their Enterprise Analytics team wanted to get data into the hands of end users at the speed of business and reduce the daily number of ad hoc reporting requests they were handling.  
"ThoughtSpot makes it easy to connect to data where it sits, freeing up data analysts to focus on adding value, not data prep." -Callie Cobbs, the Senior Lead Analyst of Enterprise Analytics at Chick-fil-A
Today, Chick-fil-A's team of analysts knows they can send their non-technical business users to ThoughtSpot to find their own answers. ThoughtSpot is helping over 20,000 users search data and uncover insights to adapt quickly to business changes. How's that for user engagement? 
Accelerate your journey to user engagement with ThoughtSpot Everywhere 
What do all these success stories have in common? They engage users with interactive analytics experiences that make data discovery accessible to anyone. But creating a sticky and engaging app is already quite the journey without also building in analytics capabilities. So, if you're deciding between building or buying analytics tools, it's almost certainly going to be more efficient and cost-effective to buy. 
And, if you're choosing which analytics tool to buy and embed in your app, we'd recommend ThoughtSpot Everywhere. Here's why: 
We made it incredibly easy. We build the code for you to embed and then offer you the support you need to succeed. It's one less thing for you to worry about. 

We built our entire product around this idea of B2B2C. Our philosophy is to empower users with AI-Powered Analytics and limitless drill-down functionality. 

We're the only analytics product that offers natural-language search. This makes analytics incredibly empowering and engaging for users.
Want to see how embedded analytics can improve user engagement? Set up a free trial today, or try it out in the ThoughtSpot Everywhere playground.