This article was written by Kelly Burdine, the Director of Data Science at Wellthy. Keep reading to learn more about her team's empathetic and strategic approach to building customer loyalty with data and AI-Powered Analytics.
---
"You guys have provided a level of support to me that I did not think possible in reality in this day and age. You are able to get information that I can't get and make things happen that I can't make happen. You are able to get the ball rolling where it's set in concrete ... But what matters most is you care. You truly care about my problems and my success." — Laura, Wellthy member
That's one of the amazing testimonials we've received at Wellthy, and it underscores for me what it means to be a customer-centric company. One of the highest compliments any customer can give a business is to say "you care about me" — and that's the bar Wellthy sets each and every day to deliver the most value to the people we serve.
Here's what customer loyalty looks like to us at Wellthy and the data-driven tactics we rely on to keep our customers coming back for more. 
What does a loyal customer look like at Wellthy?
Customer loyalty is all about building strong relationships with customers, boosting their willingness to purchase or use your product repeatedly. 
That's the cookie-cutter definition of customer loyalty, and I use it loosely because I believe that customer loyalty—and the strategies that drive it—should vary by company. No two companies serve the exact same customers. So, why should customer loyalty have a blanket definition? 
At Wellthy, we look at customer loyalty from two angles because our customers (we call them members) vary drastically. They fall into one of two buckets: family caregivers  and employers.  
Family caregivers: Our platform connects families with a dedicated Care Coordinator to help tackle the logistical and administrative tasks of caring for their loved ones. 

Employers: Wellthy, as a benefit, increases employee productivity and retention and reduces time away from work. It gives employees the support they need to care for themselves and their families.
Because our members use Wellthy in distinct ways, their loyalty rests on different factors. A caregiver, for example, stays loyal to Wellthy if our platform reduces their stress and frees them up to spend more time enjoying their loved ones rather than managing their health. Meanwhile, companies continue offering benefits like Wellthy as long as it increases employee productivity and retention and reduces the number of care-related absences. A group from Harvard and Stanford confirmed this.
6 ways we build customer loyalty at Wellthy
As a data science leader at Wellthy, it's my job to bring data to life in ways that improve the lives of our team and members. Here are six ways my team and I do that (and how you can, too).  
1. Put the right tools and platforms in place
Data plays a starring role in how we build customer loyalty, and at the heart of that is our warehouse that centralizes data from several sources. Here are a few of those data sources we take into account: 
Backend platform: Care projects created, Care Team activities, and Care Team interactions

CRM (HubSpot): Webinar attendance, email clicks, content consumption, and form fills

Net Promoter Score (NPS): A measurement of how likely a member is to recommend Wellthy to their peers.

Snowplow: Event tracking on our website and product that helps us identify friction throughout the customer journey.  
These data points and dbt models flow into ThoughtSpot to help us visualize and filter down data, drill into specific searches, and pin charts to custom Liveboards.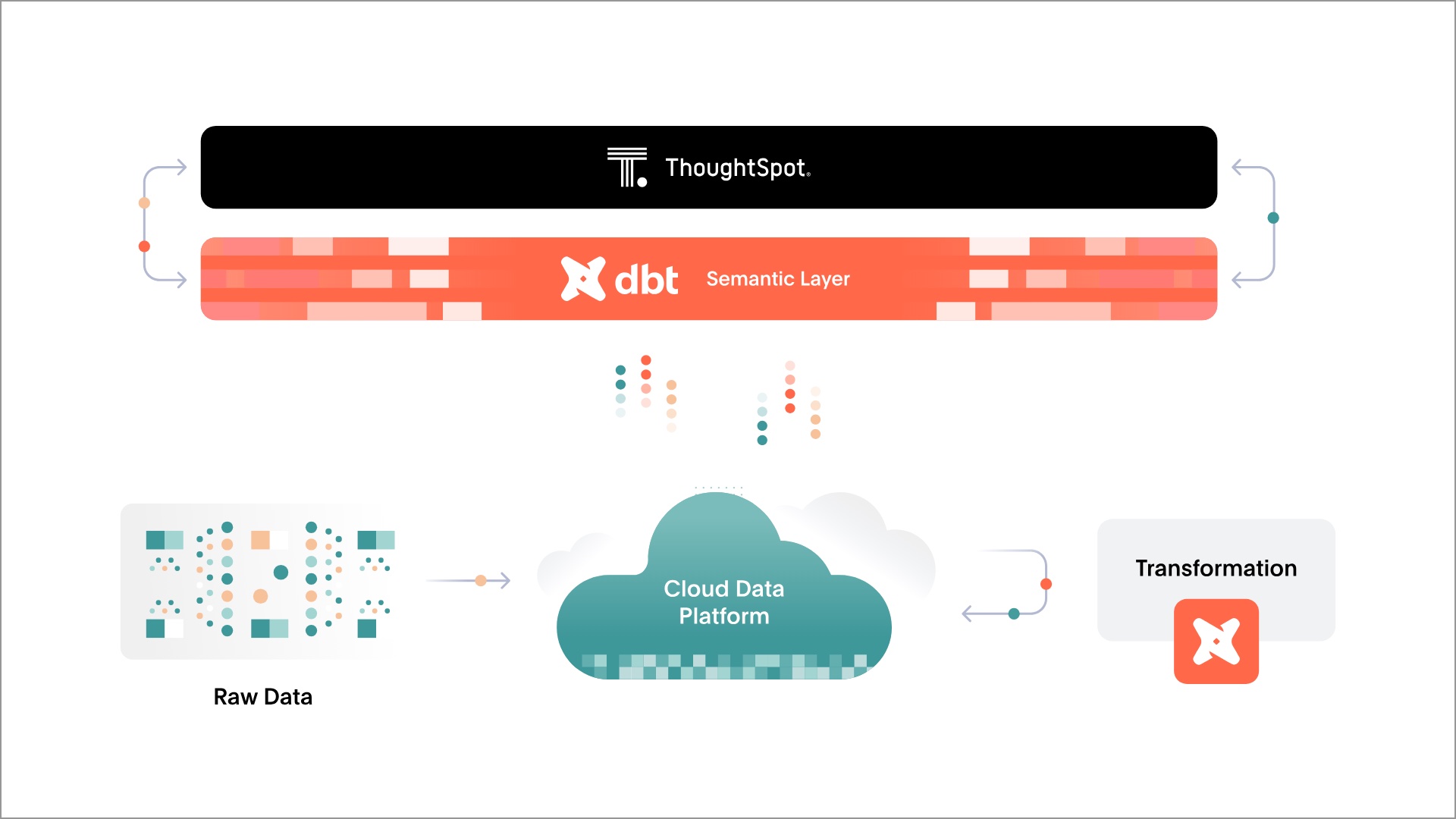 Our team then uses these insights to improve employer-partner value, better support our team, drive operational success, and so much more. 
Note: Before we used ThoughtSpot, our business intelligence tool required Python and SQL input. That meant my team had to manually generate every report and ad-hoc query, which left them with no time to analyze data, deliver insights to decision makers, and undertake bigger data initiatives.
Watch this segment from my talk at Beyond 2023 to learn how we are capitalizing on the Modern Data Stack with ThoughtSpot.
2. Segment our customers based on their specific needs
Families and employers both use Wellthy. We have parents caring for children, veterans, families navigating the end of life and loss of a loved one, employees taking care of their own mental health, and members supporting loved ones with health concerns like diabetes, dementia, and depression. These are among many other ways Wellthy supports family caregivers with care needs across all phases of life.
Because of the variety, Wellthy members use our platform for different reasons, have diverse expectations of our Care Team, and define success in their own ways. Maintaining relationships and loyalty means understanding each member's unique goals, behaviors, and expectations. To do this, we segment our members, tailor their experiences, and provide personalized support and services to keep them loving Wellthy. 
For example, when someone's creating a care project for the first time, our algorithm considers the data they enter to automatically match them with a Care Coordinator who can best support their caregiving needs. We also create custom landing pages for members with relevant videos and examples of ways we have helped other caregivers. It's a way for us to show our customers they aren't alone and Wellthy is here to support them. 
3. Let the voice of the customer guide our decisions
The simplest answer, explanation, or solution is usually the right one—and that's also true for customer loyalty. This is why one of the most reliable customer analytics metrics we use to drive loyalty comes directly from our members: the net promoter score (NPS).  
For the most part, NPS and related comments are positive—Wellthy's NPS hovers around 80, which we're incredibly proud of—but even the less-than-great feedback offers valuable insight into our members' mindset. We make Wellthy better by understanding what works, what doesn't, and how to improve our platform and services. 
We don't just collect NPS data, though. We go a step further by anonymizing it and dropping it into a Slack channel. Not only does this centralize the scores, but it also brings the customer's voice to Wellthy's frontline staff. 
Everyone can talk to the customer—metaphorically, of course—because the data isn't hidden behind a curtain that's controlled by a drawstring only available to the C-suite. Instead, it's available through real-time Liveboards and directly through our team's workflow tools. Our Care Team gets regular, direct feedback. Our Client Success team shows tangible value to their clients. Our Sales team highlights wins with their prospects. The list goes on.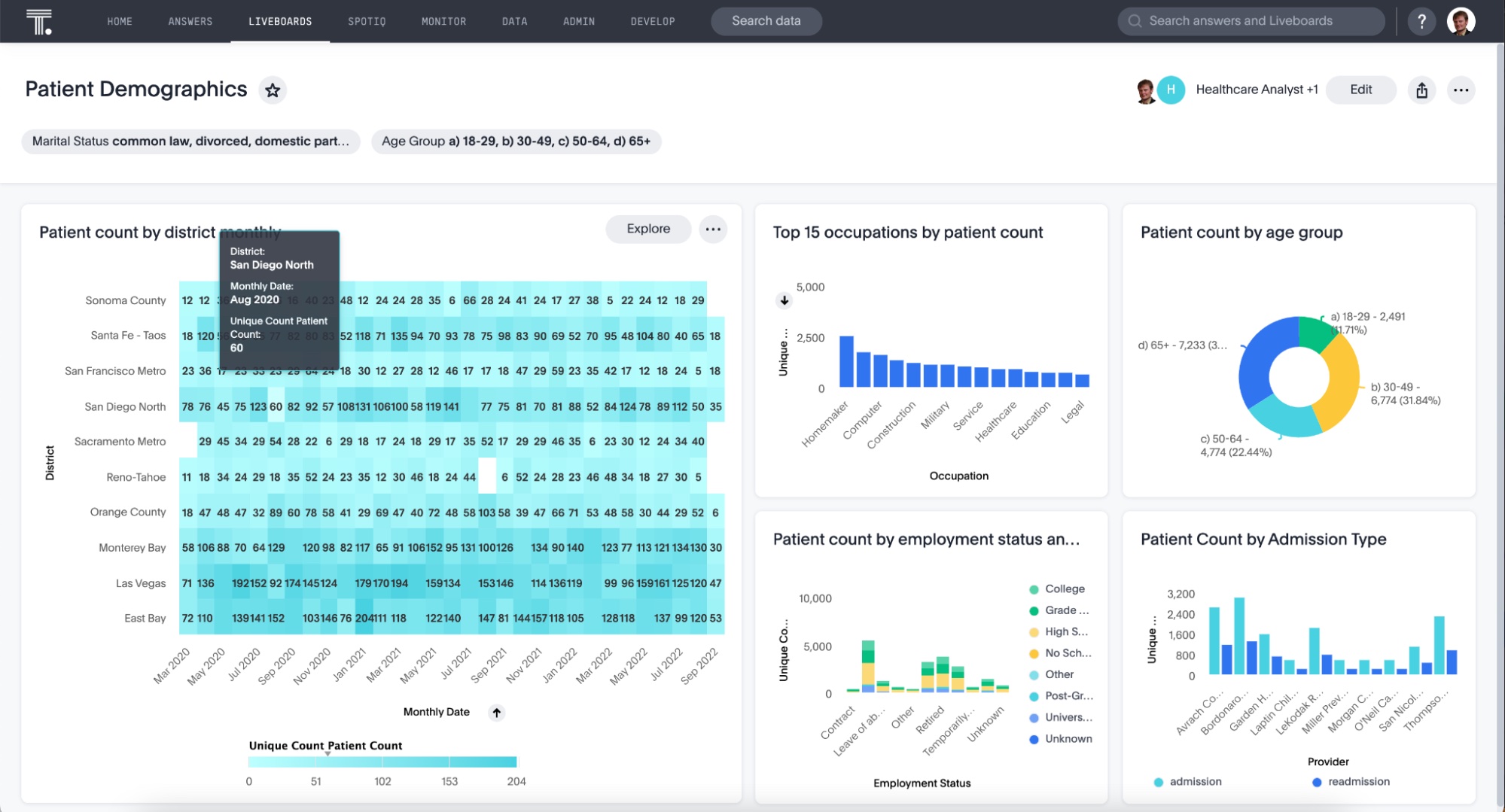 This is a sample healthcare Liveboard. See how you can use data to influence better care outcomes.
Remember: One of the best ways to improve customer loyalty is to get your entire company as close to the customer as possible, empowering them to make decisions from their collective voice.
4. Collaborate internally with multiple teams
Creating loyal customers is a team effort, so we rely heavily on collaboration between our teams, despite being a remote-first company. The Data Team, for example, is entirely remote, with multiple members working in different time zones. 
This means we all rely on async collaboration via Slack, Loom, Google Docs, and ThoughtSpot. With ThoughtSpot, anyone at Wellthy—on the Data Team or otherwise—can explore and access data without jumping through any hoops. They don't have to wait for a monthly business review to see how they're tracking against their metrics or ask a data team member to slice the data by a different attribute. They can explore their hypotheses and drill down into the data on their own. They get instant access to the customer analytics data and insights they need to provide the best member experience. 
We also have an internal committee called Collab Member Engagement, which includes internal stakeholders from Marketing, Data, Sales, and Product. I speak for the Data Team and come to the bi-weekly meeting with insights we can use to drive customer loyalty. 
5. Build a caring and empathetic community
One of the biggest challenges we hear from our members, especially at the beginning of their caregiving journey, is that the weight of the world—and the health of their loved ones—is squarely on their shoulders. Said another way, they feel alone. That sentiment is overwhelmingly clear from the number of members who ask to talk to a Care Coordinator when creating their first care project.
Could they create their first care project on their own? Of course. But many members are overwhelmed and struggling with the next steps. By hopping on a call with our team, we connect on a human level and make sure they get started on the right foot. 
We tackle that feeling of isolation with the Wellthy Community, a peer support network that lets members connect with other caregivers online, ask questions, and get answers from people with shared experiences.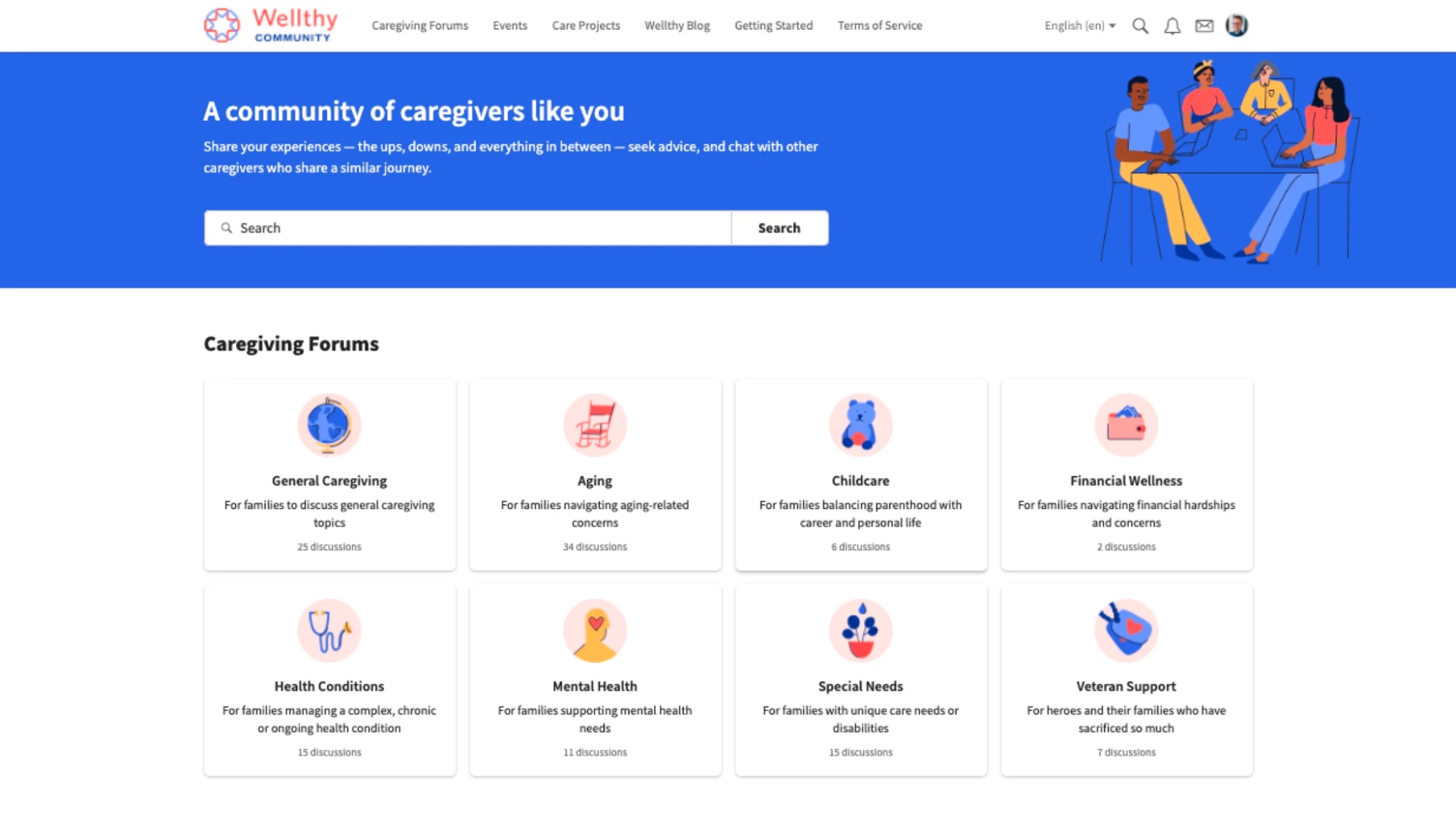 At the same time, our Care Team monitors the community and steps in when more tailored advice and support are necessary. Not only does this help our members feel less alone, but it gives our team a chance to strengthen their relationship—and that human connection makes all the difference in an otherwise mostly digital world. 
6. Create passive and active engagement experiences
Human connection is at the heart of Wellthy and one of our biggest differentiators. That's why many of the steps we take to keep our members happy involve direct interaction with someone from our team. Think: calls about insurance, hospital recommendations, and advice specific to their care project. 
These active engagements are the backbone of our approach to customer loyalty, but we know that's not the only street our members want to go down. Some want passive engagement experiences, too, like our community and care planning. Even if we pause a project when someone doesn't need us at a given time, we still reach out in a few months to see how they're doing. 
By combining these passive and active engagement experiences, we give our members the opportunity to engage with us in the way that works best for them while still supporting them on their individual caregiving journey. 
What's next for Wellthy?
Customer loyalty is a long-term play that starts well before a family or employer partners with us to tackle caregiving needs. The strategies and tactics above are firmly ingrained in Wellthy's DNA and have played a pivotal role in building the company into what it is today. 
But we're not resting on our laurels—we are always looking for ways to deliver more value to our members. Our new Teen Support initiative, which provides one-on-one, personalized support to families caring for teenagers, is the perfect example. 
So what's next for Wellthy? We see so much potential and possibility in being able to help families with care needs—and we know that caregiving is going to touch the lives of millions and millions of people in the coming years. I guarantee this: as the need for care support continues to grow, everything we do will be in our members' best interest because making a difference in their lives and helping them focus on love over healthcare logistics is what matters most to us.
Ready to see how AI-Powered Analytics can drive customer loyalty for you like it has for Wellthy? Schedule your one-on-one demo today.