Something one of our customer's executives said last week stuck with me for days. He said: "People are asking questions about our business that have never been asked in the last 25 years." He then amazed me with his positivity and spirit of curiosity by viewing this as an opportunity, rather than a burden. He wondered: "Why haven't these questions been asked before?" "What answers will we find?" "Which areas of our business will we be able to accelerate in this time?"  "What areas of wastefulness or unproductivity will we be able to change?"  
Many in our industry will have seen the joke on LinkedIn and Twitter that Covid-19 is the single greatest accelerator of Digital Transformation. During my conversation with our customer, I realised the underlying truth in this. Leaders have a genuine opportunity to make bolder, faster and more sweeping changes than ever before to positively impact their team's and organization's futures.  
Big initiatives like workforce planning, working capital management, inventory optimization, supply chain resilience and others are being viewed under very different lenses than they were just one month ago. For the customer I was speaking with, and many others, Covid-19 has made supply chain resilience a particularly hot topic. There's a lot of specialist jargon to explain supply chain resilience but it's essentially a product of culture, visibility and buffers.
The Right Culture is Critical
Culture provides the foundation for supply chain resilience just like it does for any aspect of a data-driven business. The strongest companies nurture fact-driven, transparent business practices. Resilient leaders don't avoid, but square up to the potential impact of market changes, competitive threats and crises - and encourage their people to do the same. They provide staff with clear guidance on changing business KPIs, which others may be timid to share, encouraging them to use data and apply business knowledge to prepare for different scenarios and put the front-line managers in position to truly impact the business
On a side note, my belief in ThoughtSpot has only grown during this time. We're very fortunate to have a transparent culture and data fluent leaders who share metrics from sales, marketing, product and others across the organization allowing for analysis on the front-line. Going beyond this, our CTO Amit Prakash, built an application to analyze COVID-19 and help us and others make informed decisions, and we're bringing together critical datasets like John Hopkins University's COVID dataset, social distancing effectiveness data, and demographic data to help our customers make informed decisions.
Time is of the Essence
In an economic landscape as uncertain and unprecedented as the one we find ourselves in, it's critical businesses give themselves time. Businesses can arm their supply chains with time in two ways: reducing the time it takes to understand what's going on across their supply chain, and giving themselves more options by buffering critical decisions. 
By their very nature, supply chains are made up of multiple parts. Suppliers, vendors, shipping and logistics providers, production, and distribution are all involved. With so many players, even small disruptions can snowball to create massive impact. In recent years, these chains have become much more digitized. This is a good first step, but real resilience can only be achieved if this data is made available to everyone involved in the chain to quickly understand what's going on and course correct where needed. Everyone from inventory managers to supply chain specialists must be able to get a clear picture if they want to be able to pivot quickly as the world around us continues to change.  
Visibility alone isn't enough. In the supply chain, a good defense is often the best offense. Organisations with the most resilient supply chains don't just have the ability to analyze their data and quickly make decisions. They also have buffers in place to give them the needed time to make these decisions. Taking cash for example. Instead of having to make tough decisions that may hurt them in the long term, businesses that have a reserve of cash give themselves more options. This working capital buffer gives them time to make better decisions that benefit their customers, suppliers, and vendors in the long term, such as offering free delivery during COVID, even if that means dipping into their cash reserves in the short term. 
Putting it into Practice
One of the classic problems manufacturers grapple with is the disconnect that can exist between supply chain operations and sales and marketing. Sales and marketing rarely have visibility of supply chain information - like how many items are in stock, by location, in a comprehensible - actionable format. By the same token, manufacturing people are often unable to see and plan for the demand shaping activities, such as product promotions, that marketing has in the pipeline.
To demonstrate the power of supply chain visibility, let's drill into a real-life example we prepared for a ThoughtSpot customer, a large global manufacturer of consumer goods. We used ThoughtSpot's search-driven supply chain analytics to get information on daily sales over 45 days of the company's SKUs (stock-keeping units) in areas where COVID-19 cases were highest, using data from John Hopkins University.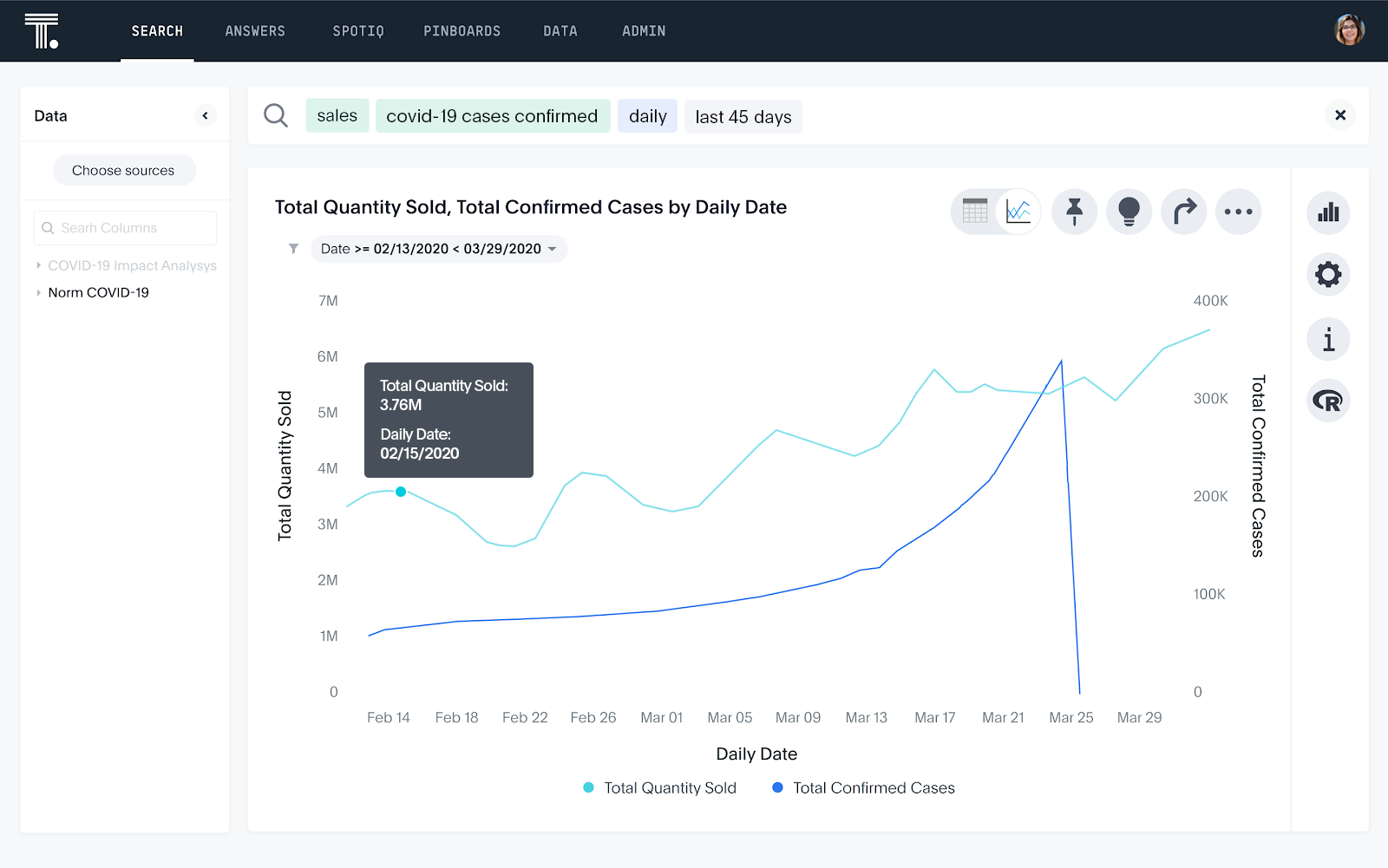 Now exploring the data further, we decided to drill into the data for New York, which has been hit hardest in the US by COVID-19. We specifically wanted to find out how infection rates in the state were impacting demand. The result is a pretty erratic demand pattern, which we attributed to the effects of social distancing measures and stockpiling.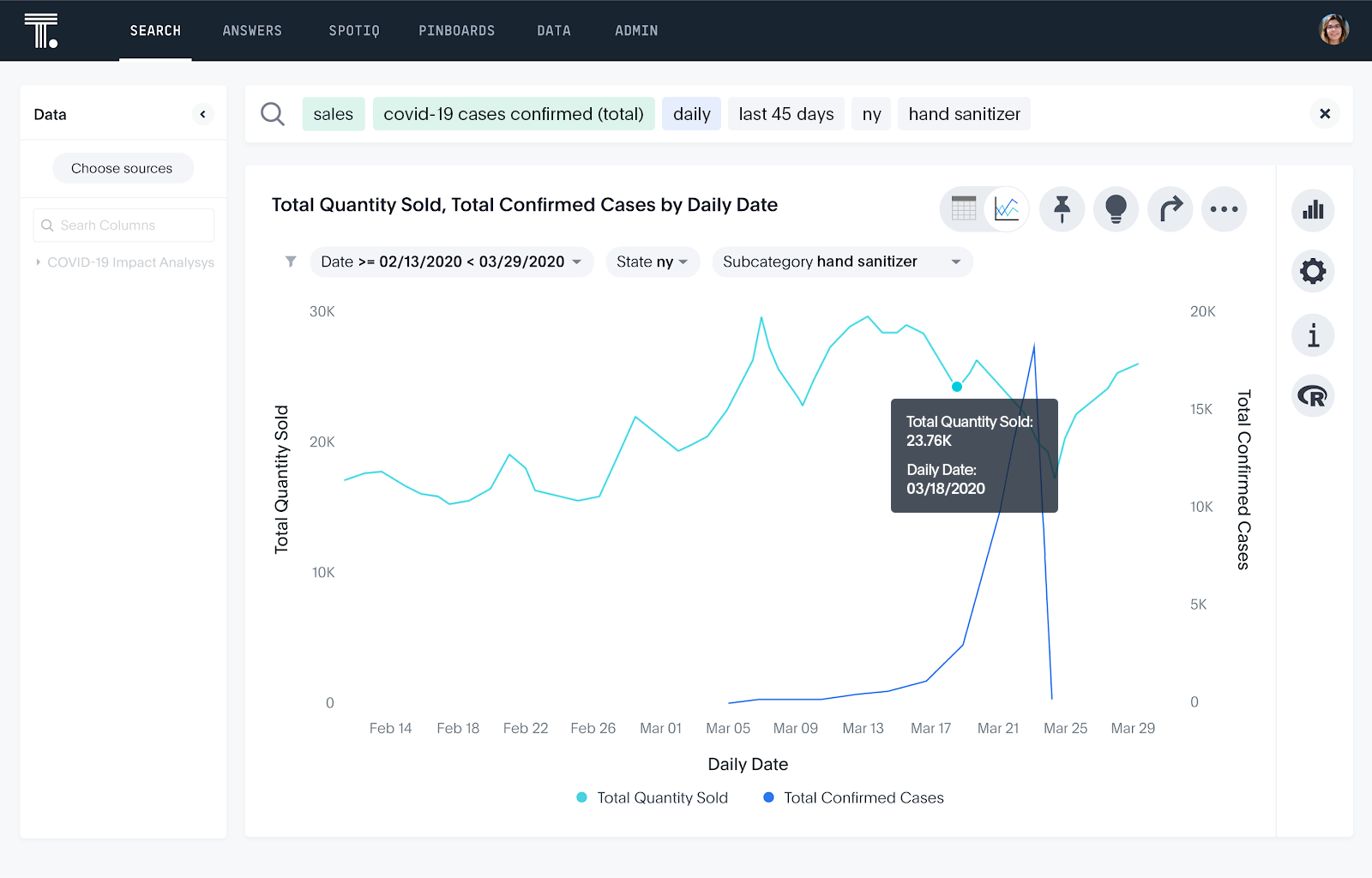 This ability to see how a product-level SKU is selling in a given location is really important. Aggregate sales figures are interesting at the board level, but not useful enough for calculating optimal replenishment levels for regional distribution centres.
The next thing we did was identify the manufacturer's most popular items in the areas heavily impacted by COVID-19. First we searched for where the most new COVID-19 cases were, by US state.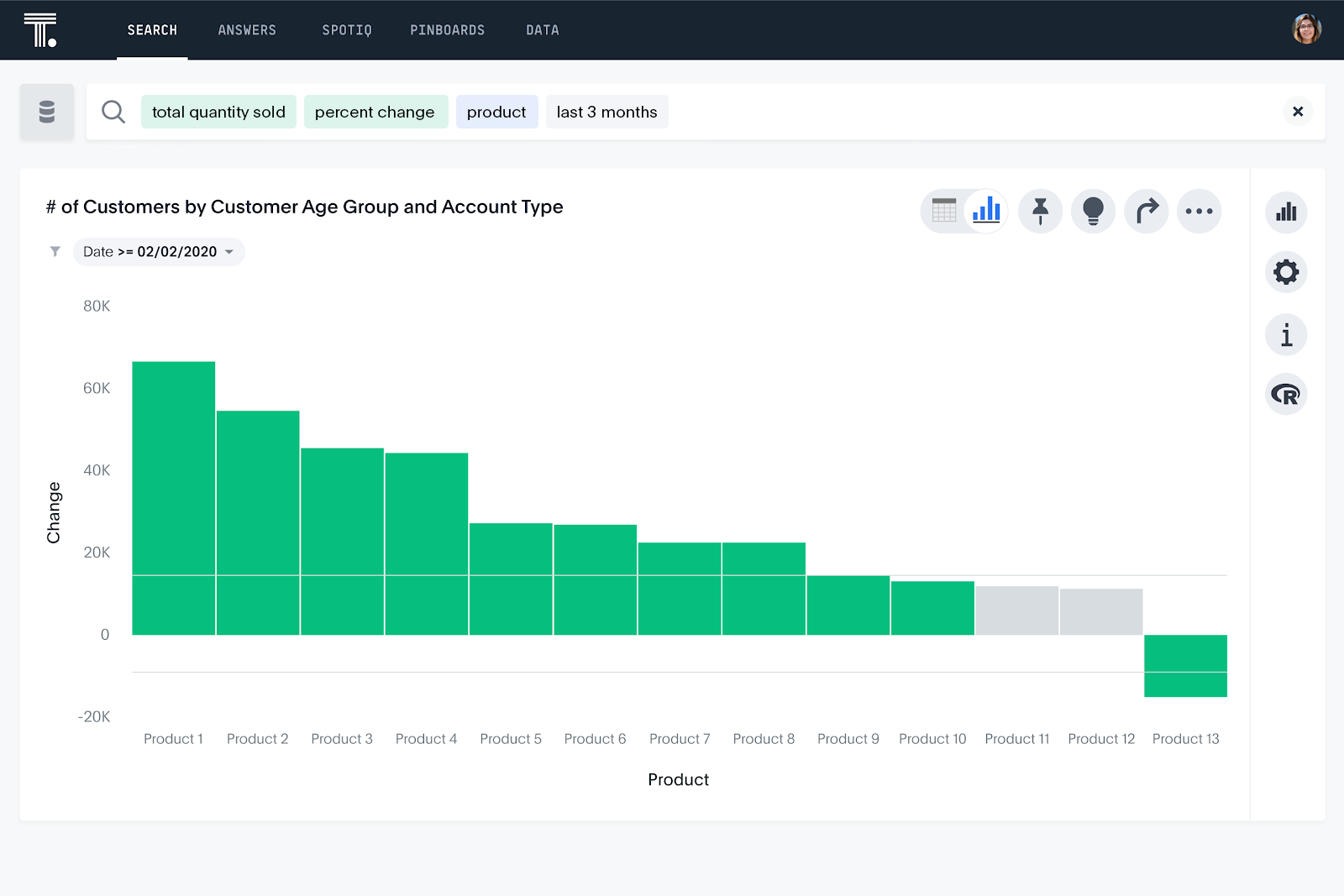 After the relevant states appeared on the map, we copied and pasted them into ThoughtSpot's search engine to help develop a more reliable sales forecast and discover the sales trends in those states.
Again, the ability to look at granular, in this case daily level, is extremely powerful. Aggregate sales data over say a month would not provide detailed enough information to enable the manufacturer to replenish popular items at the right levels in the right locations. 
It's reasonable to expect similar customer behaviour patterns when COVID-19 reaches other states. Therefore, this manufacturer will be geared up to meet demand for these same items when this happens.
Preparing for the rebound 
Another very important thing for companies to plan for is what happens when the COVID-19 ends. In the same way demand spiked for certain products in New York, this manufacturer will surely see a resurgence in demand for items that are associated with socializing but what will those products be? Equally, demand for other popular items are likely to shift as people who stockpiled use up their stores. 
Again, by allowing individual stakeholders to analyze data from countries on the rebound from COVID-19, supply chains can prepare more reliably to service future demand for some items and avoid building up excess, costly inventory of others. 
Summary of critical success factors:
A business person with no special technical skills was able to ask complex data questions using natural language in a familiar search interface. Fast, reliable answers provided the visibility to make sound decisions.

ThoughtSpot enabled that person to drill down into item-location detail by day. This is critical as aggregate data is not sufficient to support accurate replenishment planning, especially during a crisis, when demand patterns by item-location are highly volatile.

Instead of having to wait several days or even weeks for IT to extract data from different sources, build a cube and generate a report, answers are served up instantly so there's plenty of time to act.

The answers to the first question, the states where the most COVID-19 cases were reported, led the company to drill down into New York - the most affected state. The ability to explore data in this way, without being penalized by asking an additional question and looking for data specialists to build a new BI report is critical.
COVID-19 is forcing everyone to confront societal, business and personal changes on an unprecedented scale and I'm not remotely complacent about the challenge. However if there  is one positive thing that we can all gain from this experience, as shown in the use case above, it's ideally gaining a different lens on how to address our challenges.  Whether it's educating from home, organizing your team to work remotely, addressing new challenges to your industry, managing your supply chain solution, I believe all of these topics are ripe for disruption.   
As our CEO told us the other week, 'the playing field is officially levelled. There are no advantages anymore." I believe the teams that can change quickly, fail fast, reinvent themselves fearlessly all while being guided by facts and data across all facets of the decision making process will come up stronger.