Today, we are thrilled to announce the debut of AI-Driven Analytics and the launch of SpotIQ. Most of you may know ThoughtSpot as the world's first pure play search-driven analytics solution for the masses, and SpotIQ brings us one step closer to fulfilling our promise of making analytics completely effortless for non-technical business people. With SpotIQ, we see a huge opportunity to deliver automated insights, powered by the artificial intelligence in our next generation analytics platform, to help millions of business people make smarter decisions. Imagine an analytics platform that learns what matters most to teams based on user behavior, automatically uncovers hidden trends and patterns in the data, and then pushes those insights directly to people when it matters most. That's the ambitious goal that our team had set out to meet, and we are excited to announce SpotIQ today.
Search is just the beginning
At ThoughtSpot, we've built a platform that provides users with an analytics experience that is easy, precise, and fast. With the power of Relational Search, we've made the experience so easy that you only need to ask a question for the system to generate an answer, rather than wait days or weeks for an expert to build you a report or dashboard. With a natural language search experience, our search engine is smart enough to understand a user's question, transform it into a query, and calculate answers in real time as you type. It determines relevant relationships and perform aggregations, filtering, and other operations as the query is executed, so no cubes, summary tables, or predefined drill paths are needed. Built into our Relational Search engine is DataRank, a machine-learning algorithm, that ranks search suggestions as you type. It gets smarter with use as it understands the characteristics of your data, learns your profile, you and your team's usage patterns, and applies granular security rules to help guide you to the right answer with personalized search suggestions. With Relational Search, we make it effortless for non-technical business people to gain valuable insights from corporate data in seconds. There's no faster way to get access to information than search, if you know what question you are asking.
But what about the questions you didn't know to ask?
With data volumes continuing to increase exponentially and data becoming more complex, it is not practical for a human to ask all possible questions on the data, let alone know all questions to ask. Finding the most relevant answer on your data questions become a never-ending exercise of trying to find a needle buried deep in a haystack. In addition, as you follow your natural intuition to explore the data based on your own hypotheses, this often leads to biases in the types of answers that you receive.
Now imagine if an intelligent and powerful machine could access numerous data sets, generate 1000's of questions, analyze billions of data points, spot hidden trends and anomalies, and proactively push relevant and personalized insights to you, all in seconds - with a single click of a button. That is SpotIQ.
Get automated insights with a single click
Built on our next-generation AI-driven analytics platform, SpotIQ leverages ThoughtSpot's massively scalable high-performance computing backend, working with Relational Search hand-in-hand to curate deep and relevant insights for users that they may not have thought to look for on their own. With a single click, SpotIQ can automatically ask thousands of questions about billions of data points and bring back dozens of insights in seconds. It automatically generates a dashboard full of personalized insights, each accompanied by a smart narrative in natural language explaining what is meaningful in the data. It's akin to hiring a thousand analysts, knowing exactly what questions you want them to answer, and then waiting a week for them to come back with reports and dashboards and explain the results to you. Using the power of AI, SpotIQ accomplishes in a single click what could take 40,000 man hours.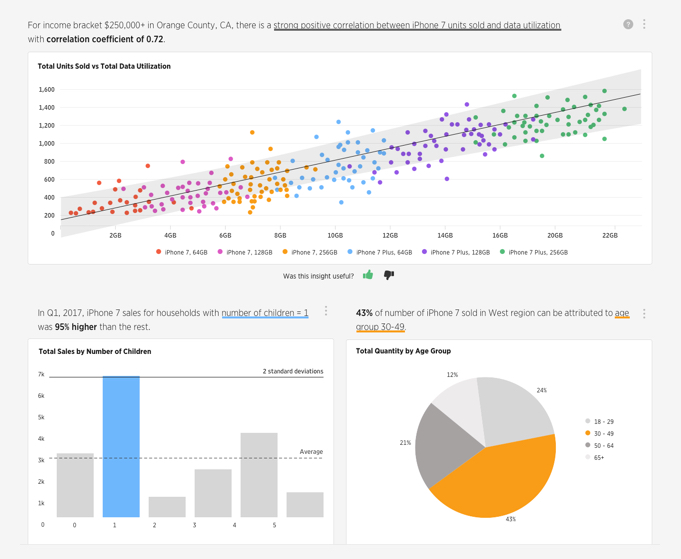 A growing set of sophisticated algorithms
There's a whole host of insights that can be uncovered with SpotIQ. You can auto-detect anomalies and outliers. Or identify relationships between measures that you didn't know about. Find upward or downward trends on noisy data. You can even analyze an entire data set or granularly explain differences between two data points.
SpotIQ executes dozens of built-in algorithms to uncover hidden trends and patterns on your data. To detect anomalies, SpotIQ calculates standard distribution measures for a given data set and uses z-scores to determine the number of standard deviations a data point is away from the mean. For leading/lagging indicators, cross correlations are used to find relationships between measures on shared time dimensions. Linear regressions are used to identify trends over time, and k-means clustering is used to segment data into logical groupings. Over time, SpotIQ's library of algorithms will continue to grow to address our customers' expanding set of use cases.
Insights get smarter with every search
Throughout the insight detection process, SpotIQ leverages usage-based ranking from the Relational Search engine to ensure that every insight is personalized for each user based on the patterns detected from their search history, profile, and data characteristics. As people search to analyze their data in ThoughtSpot, SpotIQ learns what's important and tunes its algorithms to provide the most relevant insights. In addition, SpotIQ uses supervised learning to understand what types of insights and algorithms a user likes. Each time an insight gets generated, a user can give a "thumbs-up" or a "thumbs-down" vote and SpotIQ factors this into subsequent analyses. Users can even tweak algorithm parameters and specify the data scope for analysis. Humans always remain in the loop, and as a result, the larger the human and data scale, the smarter the platform.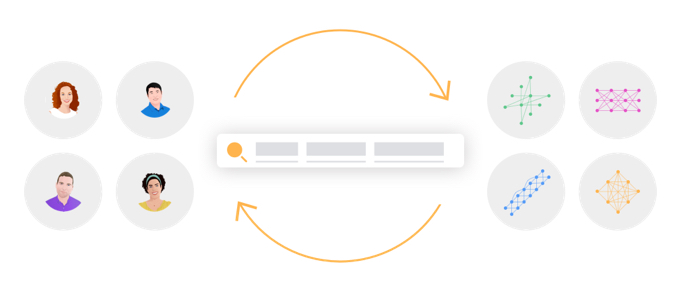 SpotIQ = Trust + Transparency
The concept of teaching the machine how to learn and building in trust as part of the process is paramount to how we've built SpotIQ. SpotIQ does not behave like a black box. Rather, with SpotIQ, you always get full visibility into what question was asked, which algorithm was used, how answers were calculated and why each insight is deemed relevant and important to the user. Combine that with a Relational Search engine that performs zero guesswork or interpretation into each query that is executed and you have trust-based, transparent interaction model where humans are at the center of every interaction.

Receive insights when you need them most
SpotIQ gives users the ability to subscribe to interesting insights or schedule insights to be delivered to you when you need them. Whether it's via an email or another messaging application like Slack, SpotIQ pushes insights pushed to you when it matters most, even while you are on the go.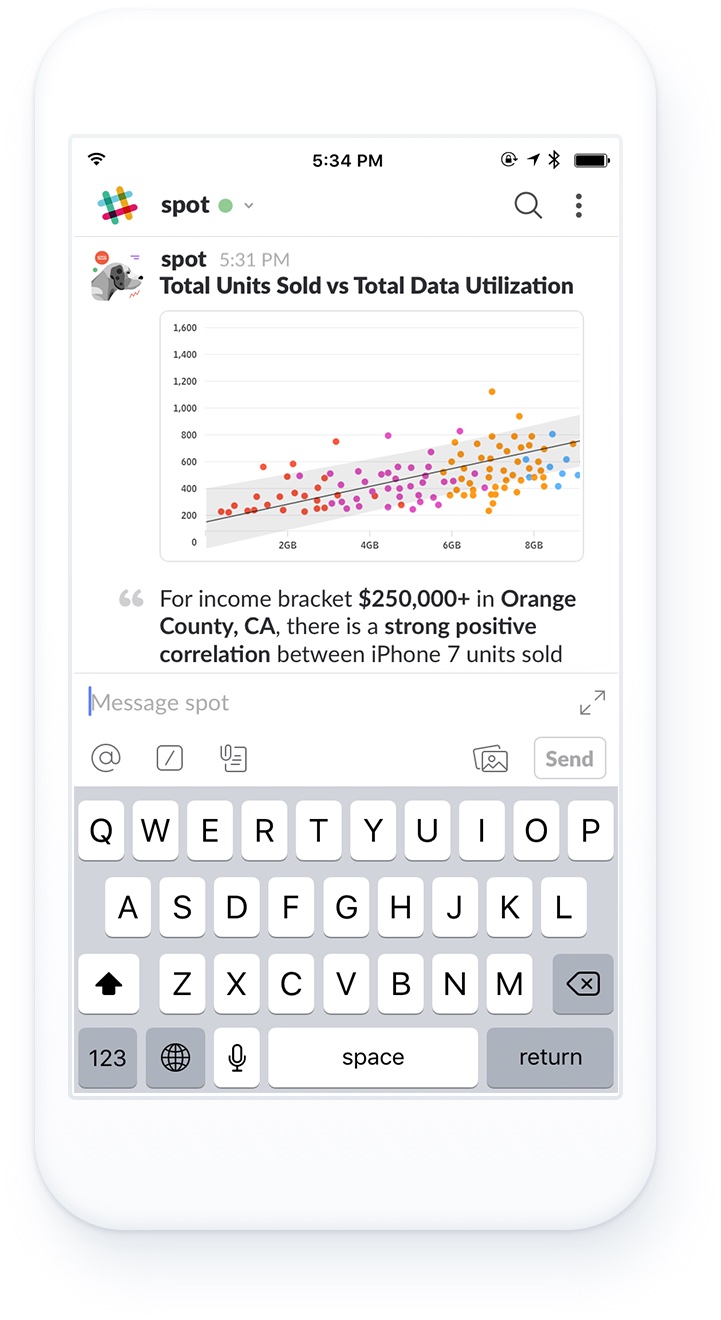 Every business person makes multiple data-driven decisions every day. Yet very few have all the information they need to be successful. They either lack the technical know-how to find insights themselves or don't have access to the analytics talent required to help them. Our vision at ThoughtSpot is to make analytics more accessible to non-technical business people who have been fed-up with the complexity of traditional analytics tools and their over-reliance to technical talent. With SpotIQ, you now have the power of 1000 analysts in your hand. Check it out today!