It's that time of year. The highly anticipated Gartner Magic Quadrant for Analytics and Business Intelligence Platforms was just released, and we're thrilled and humbled to announce that ThoughtSpot has been recognized as a "Visionary" in this year's report1. In just our second year on the quadrant, we're proud to have made the most significant leap forward of any company represented.
So what does it mean to be a "Visionary"? As the word suggests, visionaries are considered innovators and thought leaders in the market, recognized for their disruptive product vision and potential for growth. A vendor is placed along the x-axis for its Completeness of Vision, evaluated not only by the uniqueness of a company's product roadmap, but also by its market understanding and other strategic factors. Gartner views ease of use and complexity of data and analysis as the main drivers of new buying criteria for analytics platforms, and vendors with a strong emphasis and market understanding in those areas are placed further to the right in the quadrant. And we jumped up and way to the right.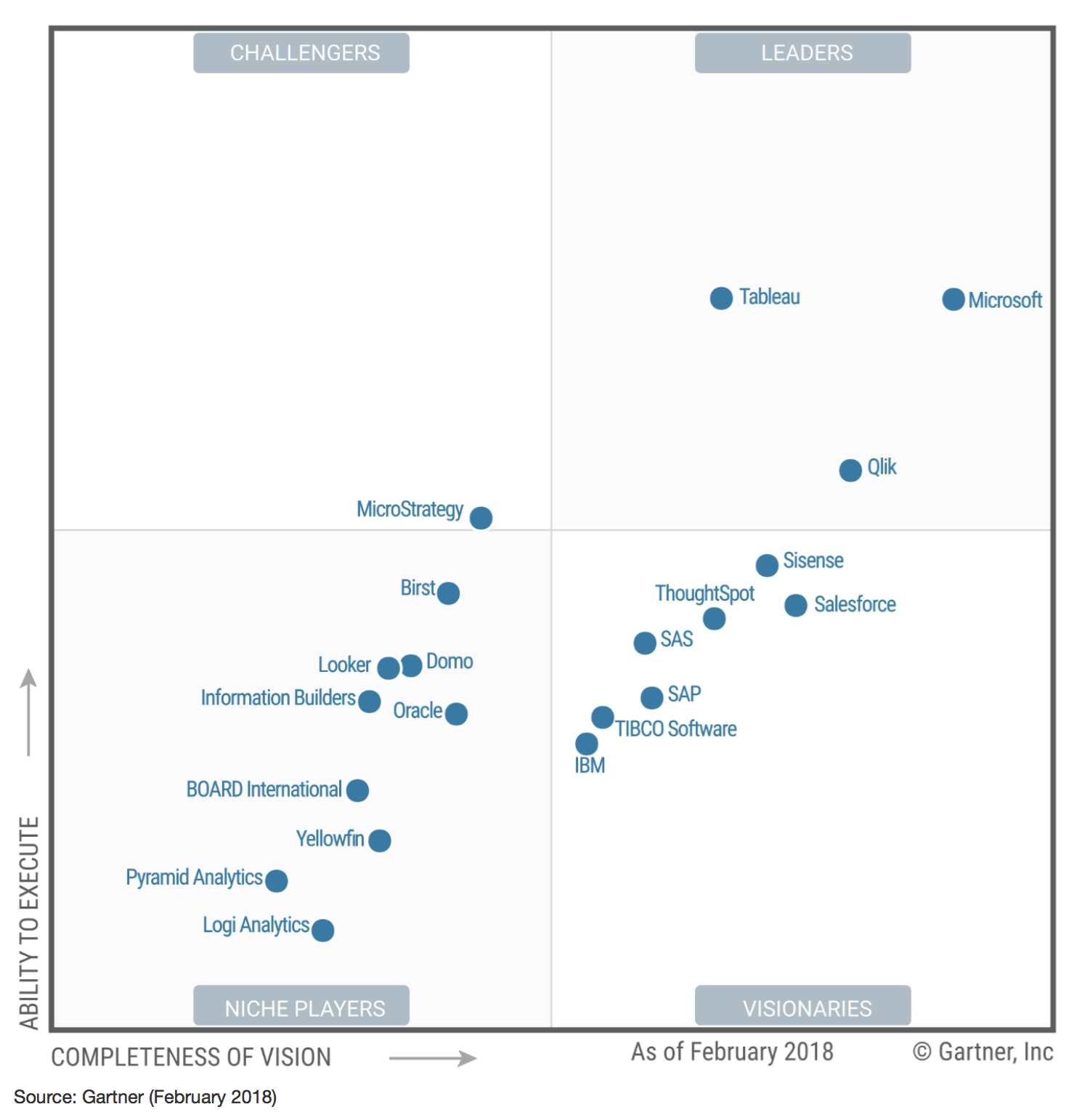 So Why The Big Move?
It boils down primarily to three things - we've built a next generation analytics platform that's simple, smart, and enterprise-class. Non-technical business people can use an easy search-driven experience to analyze all their company data in seconds and get smart, AI-driven automated insights in a single click with SpotIQ. With ThoughtSpot, enterprise companies vastly expand the reach of data-driven insights as anyone can easily analyze their own data, while liberating analytics and BI teams to work on the most strategic data projects facing their organizations.
Making Augmented Analytics a Reality with SpotIQ
According to Gartner, augmented analytics, which automates insight discovery through the use of AI and machine learning, is the next wave of disruption in data and analytics. In fact, they project that "by 2020, 50% of analytical queries will be generated via search, natural-language processing or voice, or will be automatically generated."2
We believe this validates ThoughtSpot's mission to deliver access to data and insights at "human scale". ThoughtSpot has pioneered an innovative search-driven experience that revolutionizes how enterprises operate by allowing non-technical people to access and analyze data. After all, the ability to find answers by simply asking your data questions in a search bar eliminates the massive analytics bottleneck that exists in organizations today. SpotIQ augments this search experience with automated insights that answer the questions you didn't know to ask. Insights are uncovered via ThoughtSpot's built-in machine learning algorithms that understand data characteristics, identify patterns and relationships, and detect anomalies. As people search to analyze their data in ThoughtSpot, SpotIQ learns what's important and tunes its algorithms to deliver an unrivaled level of automated insights that is unbiased, relevant, and actionable to every business person. The result - fast answers in a truly self-service manner, helping enterprises accelerate their transformation to an insights-driven business.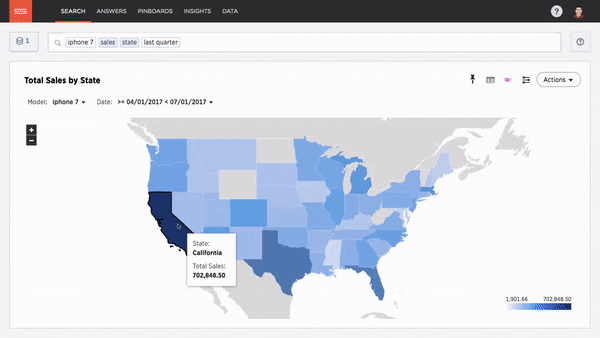 Meeting the Demands of Enterprise Scale and Data Complexity
The ability to perform complex calculations on massive amounts of data at extremely high speeds is crucial to the success of enterprise-scale analytics. Today's users expect an experience that's easy and fast, just like they would in the consumer world. However, making analytics accessible to everyone by providing a simple experience that can handle the user and data scale along with the complexities of the enterprise is not an easy problem to solve. Traditional analytics architectures simply cannot meet the performance and scale demands of the enterprise. It's why we built a new breed of analytics architecture from the ground up, specifically designed for speed at scale on billions of rows of data across multiple sources - all while delivering sub-second performance and enterprise governance. Its distributed, massively parallel, in-memory execution engine provides processing speeds orders of magnitude faster than traditional architectures.
We all know that data can be complex and messy. Unlike other solutions, ThoughtSpot also handles data model complexity with ease, automatically handling many-to-many relationships found in chasm traps and master-detail relationships found in fan traps. Complex queries are executed against any data model, generate an ordered set of subqueries to execute, and automatically determine the proper grouping and aggregation level to get you to a 100% accurate result.
This next generation analytics architecture delivers a radically different analytics experience that is lightning fast and scales to terabytes of in-memory data across multiple sources—all with fine-grained security and governance applied.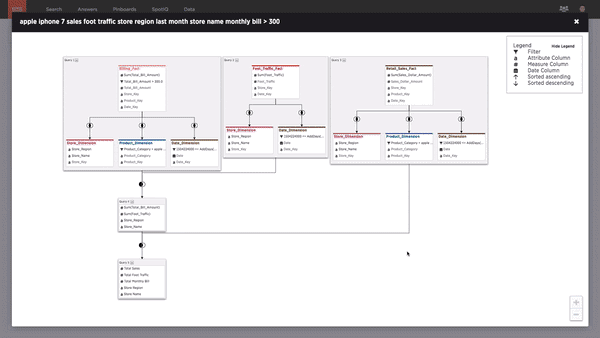 Explosive Growth and Customer Traction
2017 was a breakout year for ThoughtSpot during which we tripled our number of customers, closed a $120M Series C funding round, opened new offices around the globe, and deepened our executive bench. The most successful companies in the world use ThoughtSpot, including 12 of the Fortune 100. Enterprises such as Bed Bath & Beyond, British Telecom, Capital One, Chevron, and ServiceNow are all benefiting from faster data-driven decisions to crush their competition and achieve meteoric growth. With a fast growing customer base, we are especially proud of the high scores for support and operations that we received from our customers as part of the evaluation for the MQ. This is a testament to our organization's commitment to the collaborative partnership we have with our customers to help them be successful in achieving their strategic goals with ThoughtSpot.
And That's Not All. We've Got Great Things Coming in 2018
Being named a Visionary in only our second year on the Magic Quadrant is a huge accomplishment that wouldn't be possible without the hard work, dedication, and selfless excellence of our world class team of ThoughtSpotters.
We know today's disruptive innovation is tomorrow's table stakes in a market as dynamic as analytics, which is why we've got more cooking for 2018.
A lot more. Stay tuned! In the mean time, we invite you to read the full Magic Quadrant for Analytics and BI Platforms report.
Curious to learn more about Thoughtspot? Check out a 3-min demo video.
1,2Gartner, Inc., "Magic Quadrant for Analytics and Business Intelligence Platforms," by Cindi Howson, Rita L. Sallam, James Laurence Richardson, Joao Tapadinhas, Carlie J. Idoine, Alys Woodward, 26 February 2018.
Gartner does not endorse any vendor, product or service depicted in its research publications, and does not advise technology users to select only those vendors with the highest ratings. Gartner research publications consist of the opinions of Gartner's research organization and should not be construed as statements of fact. Gartner disclaims all warranties, expressed or implied, with respect to this research, including any warranties of merchantability or fitness for a particular purpose.