Release planning is more art than science. With each release, there is constant combat of choices among innovative features, customer requests, technical debt, and, of course, bug fixes.
At Thoughtspot, our company vision is to provide "Data Insights at Human Scale". This company vision requires ambitious product undertaking to deliver on the vision. Accordingly, our company vision aligns with our product vision:
"To be the fastest, most scalable, enterprise-grade smart BI platform, easily accessible to millions of business users."
Today, we are excited to announce the general availability of ThoughtSpot 4.4. Our vision quest for this release was to advance each key segment of the product vision. ThoughtSpot 4.4 is a humongous release on many different factors. In fact, ThoughtSpot 4.4 comes with not one, not two, but 50+ new enhancements.
Which addition shines brightest? Here are the top 5:
1 - SpotIQ: AI-driven Automated Insights
ThoughtSpot's Relational Search makes it super easy to ask the questions that you need to answer to run your business. With the drill anywhere capability, you can continue to build on insights as you think. But what about the questions that you might not know to ask? Nothing to worry about, you now have SpotIQ, - it's like having the power of 1000 analysts in your hands.
SpotIQ is a powerful system that uses machine learning algorithms to ask 1000s of questions to analyze billions of data points. SpotIQ surfaces hidden outliers, trends, and correlations in your business. With SpotIQ, you get curated dashboards that deliver actionable insights explained in natural language enabling you to make faster, smarter decisions. SpotIQ delivers all this with a single click!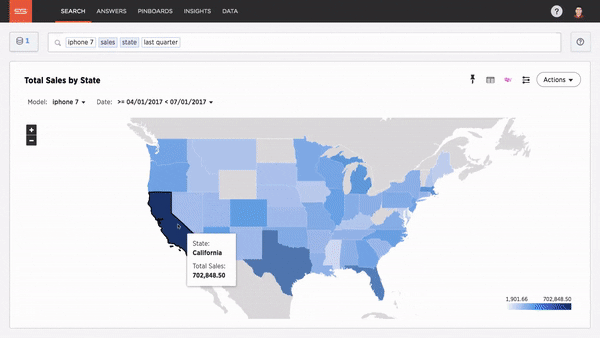 2-  New Search UX and better Visualizations
Search and visualizations are our bread and butter, both define ThoughtSpot's user experience. Guess what? We've made significant enhancements to both of them in 4.4.
We completely rebuilt our search bar. The interaction remains very similar to the version you know, but we've developed the experience to provide faster and clearer feedback. And, the feedback is context relevant while you type. For example, there are informative icons with each suggestion so that you know if it relates to an attribute, measure, date, or filter.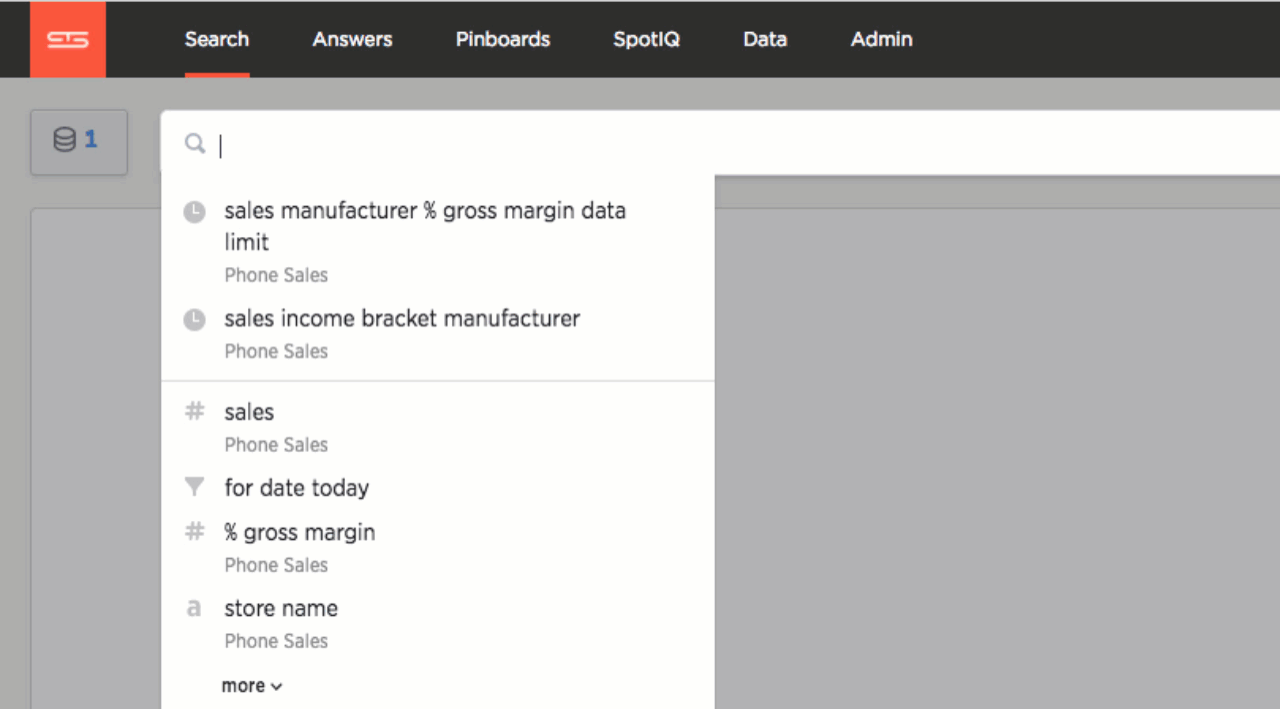 And to further supplement the search experience, ThoughtSpot 4.4 also comes with a Query Visualizer to provide full transparency to what's happening under the covers for any given search result.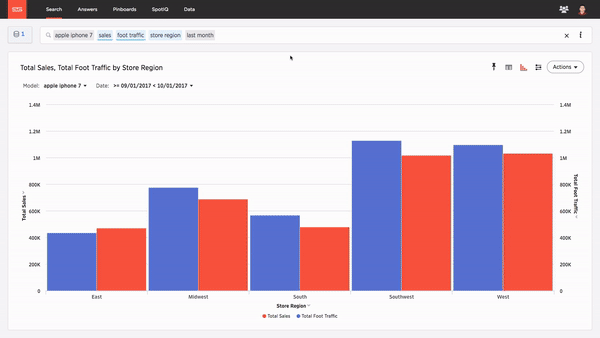 For data visualizations, we've introduced a new color palette and color picker. You can use these to pick from an improved, vibrant basic palette or easily enter your own custom color. The palette heuristics bands color by chroma (brightness) rather than by hue (actual shade or pigment). Banding helps the eye to compare the relative differences and recognize which one is which.  This release also introduces two new charts, Sankey and Radar, along with trend lines to broaden your analytical options.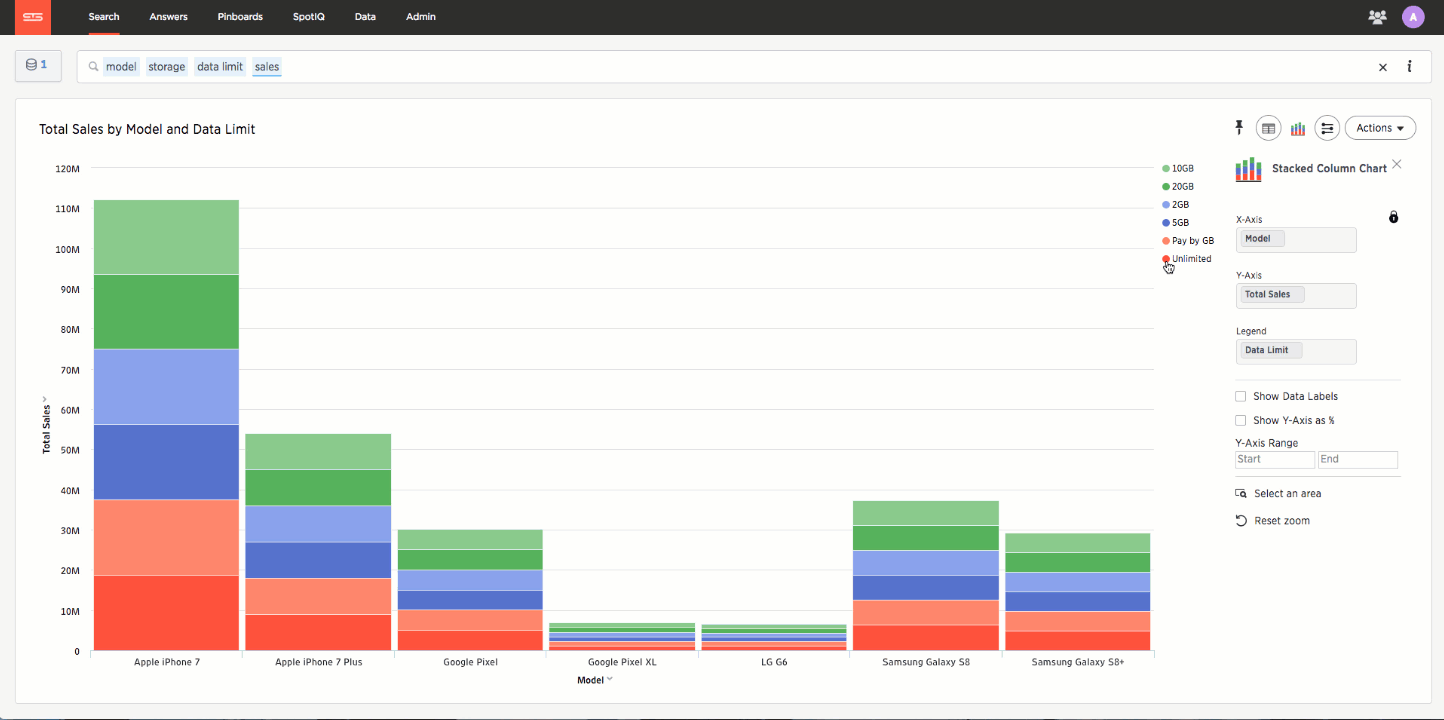 3 - Smarter Performance, Scalability and Query Generation
Very often enterprises have difficulty handling analyses that cut across multiple business areas. These are standard in business analyses, even so, a lot of BI tools require writing a lot of custom code to support them. As a result, it's almost impossible to do any ad-hoc analysis with this cross-business-area use case. But what makes cross-business-area analysis difficult? The core problem is the handling of modeling data schema constructs.
ThoughtSpot already handles the age-old chasm trap relational database modeling construct. Now with 4.4, we have extended this chasm-trap support (filters, formulas, drill down etc.) to other complex schemas like fan trap, nested chasm traps, bridge, implicit chasm traps, chain of chasm traps. Mind blown?! If you want a deeper dive, read a great blog post from our VP of Product Management, Vijay Ganesan.

With a never-ending quest to improve performance, we pushed the limits further in 4.4. We introduced a method to predict the queries likely to be issued in the near future. ThoughtSpot is now able to compute the results of these predicted queries ahead of time so that you get the answers in merely a few milliseconds. We also introduced a large, disk-based result cache for ThoughtSpot's in-memory database, so that we can provide an even more interactive experience to you.
4 - Administration Capabilities - Upgrades, CentOS and Privileges
The software running on ThoughtSpot's distributed microservice architecture smartly handles updates all by itself. In 4.4, we've made the process even more reliable by adding a mechanism for pre-upgrade checks. Along with that, we can achieve fault tolerance, quick recovery, and uptime during the upgrade by failure isolation. All this without you having to over-provision any hardware.
Another major undertaking in 4.4 was a migration from Ubuntu to CentOS. For our customers, CentOS delivers better performance, scalability, availability, and manageability of security certifications for enterprise-scale deployments. Starting with 4.4, all our new deployments will be on CentOS. For existing customers, we have an in-place upgrade path from Ubuntu to CentOS. CentOS is available on all ThoughtSpot deployment platforms – TS Appliance, AWS, VMware, and HP.
Oh, and because more control is always better, 4.4 delivers finer-grained administrative control that lets you delegate the row-level security privilege to non-admin users. Additionally, with the new public APIs, you can set privileges for groups, change user passwords, and transfer ownership of objects.
5 - Self-learning
ThoughtSpot's Relational Search has always made it easy for users to get started. In 4.4, we thought, what if we made it even easier by providing an option for users to learn on their own with a self-guided experience? So, we built a learning mechanism into the product. This learning mechanism leverages an existing capability in the product called Search Replay. With Search Replay, users can pick any data visualization and "replay" step-by-step the search used to build it. See an example below.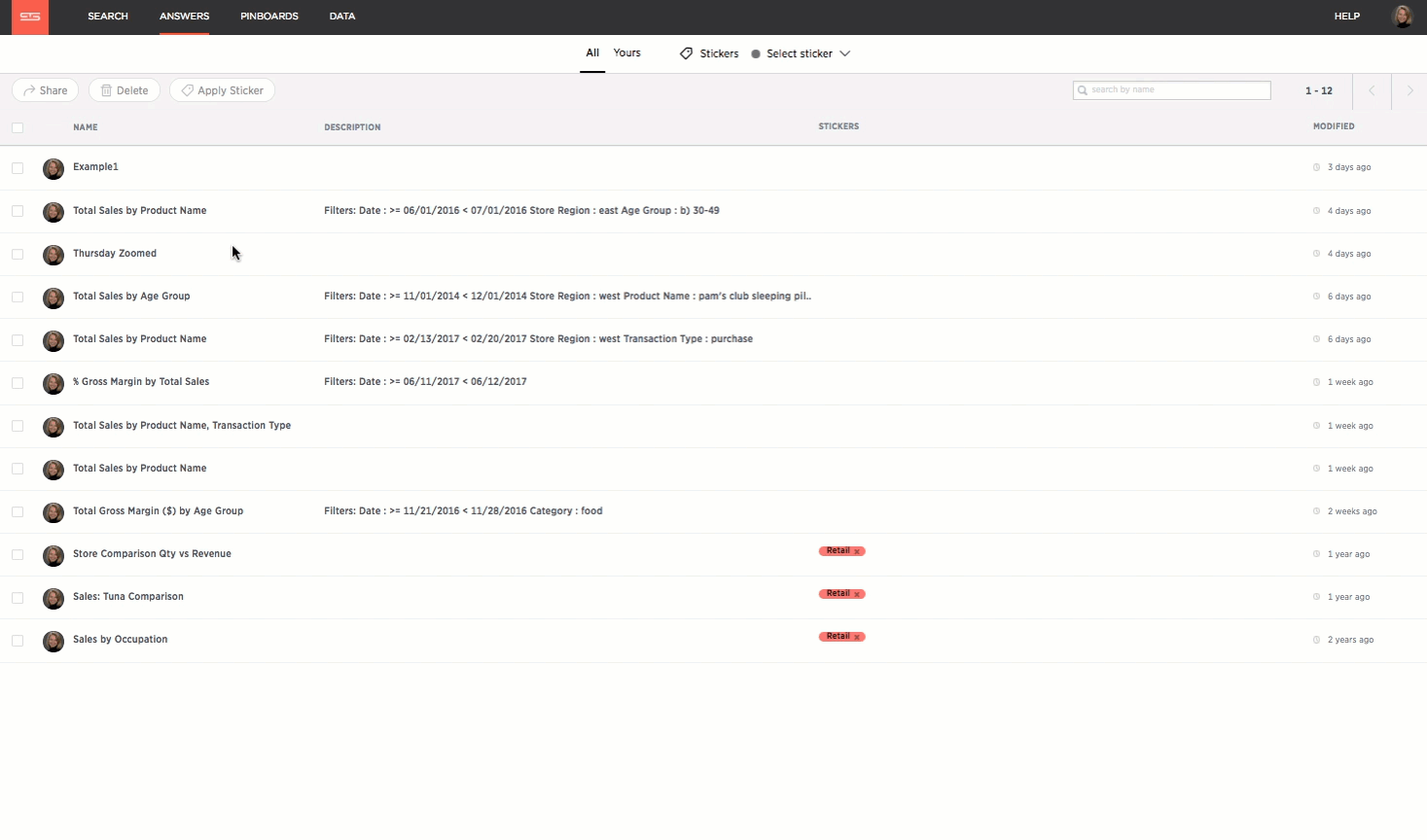 In 4.4, we added the ability for administrators to create a training board for the end users using this Search Replay functionality, by wrapping it into a new "Learn How To Use ThoughtSpot" pinboard. An administrator can create a few charts and pin them to Learn How To Use ThoughtSpot (included by default in 4.4) and have them show up under the Learn section. Users can then click on any chart to launch Search Replay. Replay significantly eliminates the burden of training development and helps disseminate "how-to" and best practices by end-users. Here is an example of what this would look like.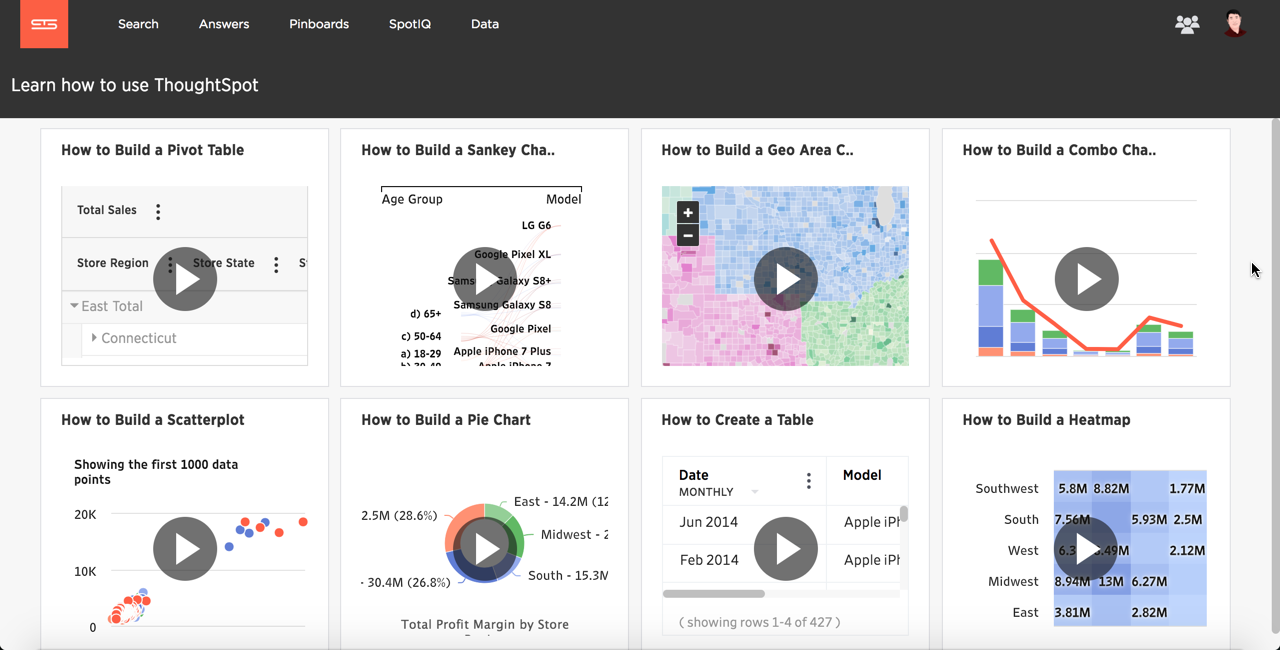 With so much goodness in store, we are super excited to release ThoughtSpot 4.4! Don't forget to share your personal favorites by leaving a comment below.