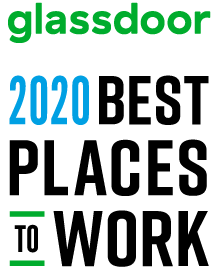 SUNNYVALE, Calif. — December 10, 2019 — ThoughtSpot has been honored with a Glassdoor Employees' Choice Award, recognizing the Best Places to Work in 2020 in the U.S. small and medium company category. The Employees' Choice Awards program, now in its 12th year, is based solely on the input of employees, who elect to provide feedback on their jobs, work environments and companies on Glassdoor, one of the world's largest job and recruiting sites. 
"At ThoughtSpot, investing in our team has always been a top priority and we achieve this by fostering a culture that promotes inclusiveness and makes all employees feel like their voice counts," said Sudheesh Nair, CEO of ThoughtSpot.  "We have long implemented practices and processes that are designed to give employees unique roles, granting them autonomy and responsibility to design their own paths and leave their own personal footprints on the business. Today's recognition from Glassdoor is a testament to ThoughtSpot employees' dedication to building an inclusive and resilient culture, and it's no secret that our happy employees have contributed to the company's explosive growth in the past year."
"This year marks the shift to a culture-first decade in the workplace, and Glassdoor's Employees' Choice Awards winners are employers that are prioritizing culture, mission and employees at the heart of everything they do. By doing so, their employees have spoken and are recognizing them truly as the Best Places to Work in 2020,"  said Christian Sutherland-Wong, Glassdoor president, chief operating officer and incoming chief executive officer. "In addition to putting culture and mission at the core of how they operate, this year's winners stand out for promoting transparency with employees, offering career growth opportunities and providing work driven by impact and purpose. Congratulations go to all of the exceptional employers this year who stand out in the eyes of their employees."
On Glassdoor, current and former employees voluntarily and anonymously share insights and opinions about their work environments by sharing a company review, designed to capture a genuine and authentic inside look at what a specific job may be like at a particular company. When sharing a company review on Glassdoor, employees are asked to rate their satisfaction with the company overall, and key workplace factors like career opportunities, compensation and benefits, culture and values, senior management and work/life balance. In addition, employees are asked to describe the best reasons to work at their companies as well as any downsides.
Glassdoor's Best Places to Work were determined using company reviews shared by U.S.-based employees between October 23, 2018 and October 21, 2019. To be considered for the U.S. small and medium company category, a company must have had fewer than 1,000 employees and have received at least 30 ratings across each of the eight workplace attributes from U.S.-based employees during the period of eligibility. The final list is compiled using Glassdoor's proprietary algorithm, led by its Economic Research Team, and takes into account quantity, quality and consistency of reviews. 
For the complete list of the Glassdoor Best Places to Work winners in 2020, please visit: https://www.glassdoor.com/Award/Best-Places-to-Work-LST_KQ0,19.htm.
About ThoughtSpot
The world's most innovative enterprises use ThoughtSpot to empower every person in their organization, from C-suite executive to front-line employee, with the ability to quickly uncover data-driven insights. With ThoughtSpot, business people can type a simple Google-like search to instantly analyze billions of rows of data, and leverage artificial intelligence to get trusted, relevant insights pushed to them as answers to thousands of questions they might not have thought to ask. ThoughtSpot is simple enough for any business person to use, yet powerful enough to handle even the largest, most complex enterprise data without sacrificing speed, security, or governance. That's why customers like Walmart, 7-11, BT, Celebrity Cruises, Daimler, De Beers, Hulu, Miami Children's Health System, Nationwide Building Society, and Scotiabank have turned to ThoughtSpot to transform their decision-making cultures. By making insights a part of every conversation and every decision, ThoughtSpot is reimagining the role of data in creating a more fact-driven world. For more information, please visit www.thoughtspot.com.
About Glassdoor
Glassdoor combines all the latest jobs with millions of reviews and insights to make it easy for people to find a job that is uniquely right for them. As a result, Glassdoor helps employers hire truly informed candidates at scale through effective recruiting solutions like job advertising and employer branding products. Launched in 2008, Glassdoor now has reviews and insights for over one million companies located in more than 190 countries. For more information, visit glassdoor.com.
Glassdoor® is a registered trademark of Glassdoor, Inc.
Media Contact: 
Ryan Mattison
[email protected]
Amelia Green-Vamos
[email protected]