The last year has been tough for everyone, on so many levels. It's been especially challenging for those in the healthcare industry, as they grapple with the greatest global crisis in modern history. Hospitals have been pushed to the brink, scientists have been working around the clock on vaccines, and public health officials have worked tirelessly to put guidelines and plans into action. 
One group that has been particularly hit hard, out on the frontlines of the pandemic, have been emergency departments. While these teams are used to high pressure and intense situations, the outbreak of COVID-19 has pushed them - and our entire healthcare system - to the limits, forcing us to have a real conversation about what needs to change in order to more effectively address future crises. 
An untenable situation
In my work with d2i, I've seen just how radically the work has changed for emergency departments through the lens of data. d2i helps emergency departments capture, clean, and integrate data from multiple sources, including operations, clinical, financial, patient feedback, and regulatory data sources, through a 360 degree view needed to run their practice and remain financially viable. 
During the pandemic, this rich data could be put to good use to keep all of us safe, revealing critical insights for emergency departments to help guide them through uncharted waters. By partnering with ThoughtSpot, we were able to build hypotheses, test them against the data, and identity trends and correlations between emergency department data and later COVID diagnoses more quickly than ever. <br>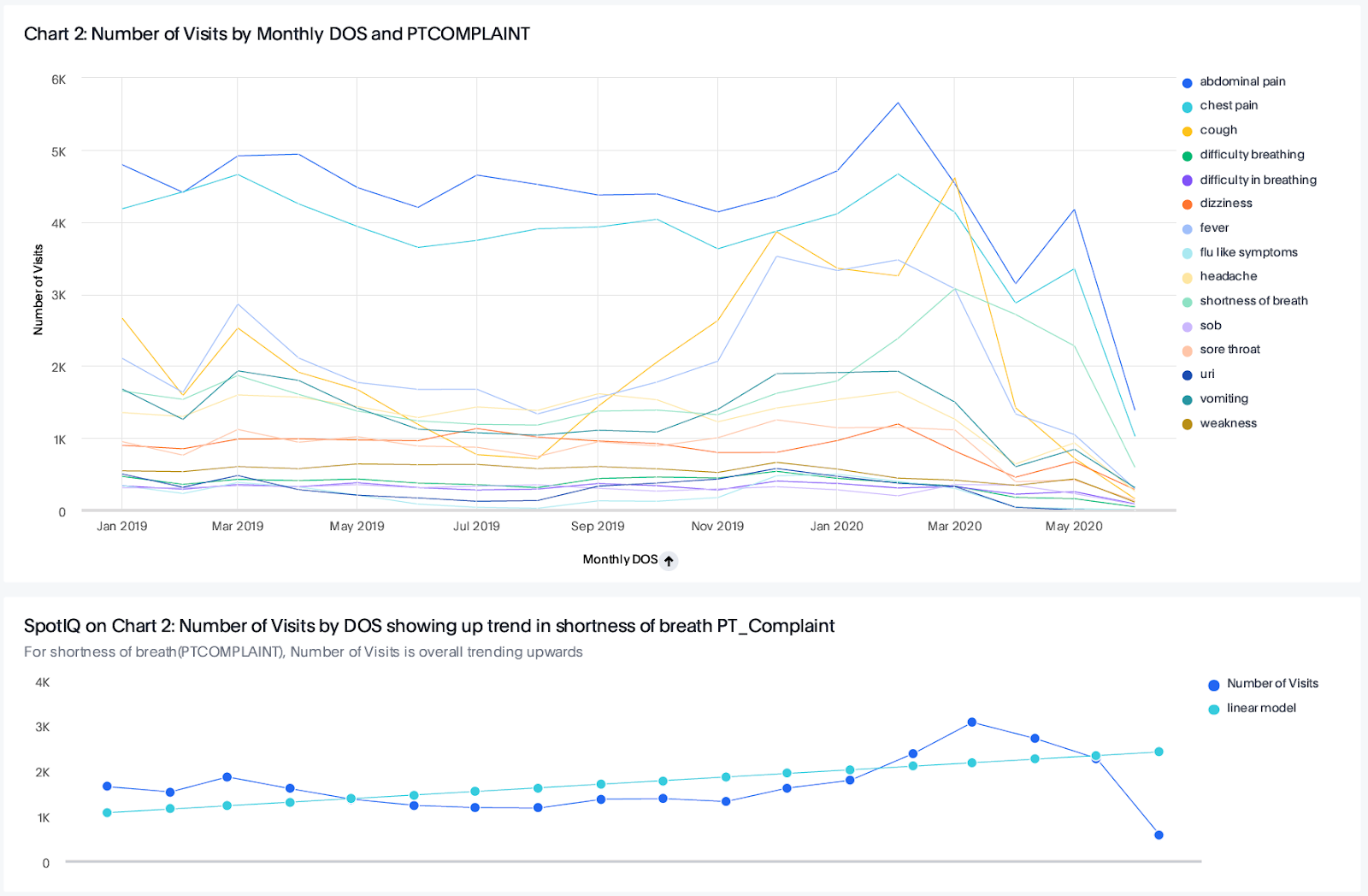 The data, however, has also revealed more than just how best to approach the pandemic. Sadly, it's clear to me just how unsustainable the current situation is for emergency departments. Despite being busier than ever acting as frontline testing centers, emergency departments are facing the greatest financial peril in years as service volumes are actually decreasing. Insolvency is a real threat to those on the frontlines fighting the virus. 
More importantly, on a human level, the pandemic has taken a brutal toll. Fatigue, burnout, and suicide rates are at an all time high among phsyicians and healthcare professionals as they face such devastation day in, and day out. Not only are physicians dealing with COVID but diseases of despair, drug addiction, alocholic liver disease and suicide are increasing. Opioid addiction is on the rise again after several years of decline. Inevitably many afflicted also end up in the ED.
From the broader healthcare system to society at large, we need to work with emergency departments - and their data - differently to prevent and better address future crises.
Getting a glimpse of the future - today
Emergency departments capture broad sets of data. Often, this data is ahead of clinical diagnoses or test returns. Historically, however, this data - and the signals we can extract from it - hasn't been utilized enough to identify leading indicators. 
As an industry, we need to use this data to get early warnings of potential crises, develop a holistic view, and adapt our responses. Using our data and ThoughtSpot, for example, we were able to find a strong correlation between the pattern of specific symptoms and later COVID diagnoses that could give us intel on where the virus is spreading, even before official tests have been uncovered, and intervene.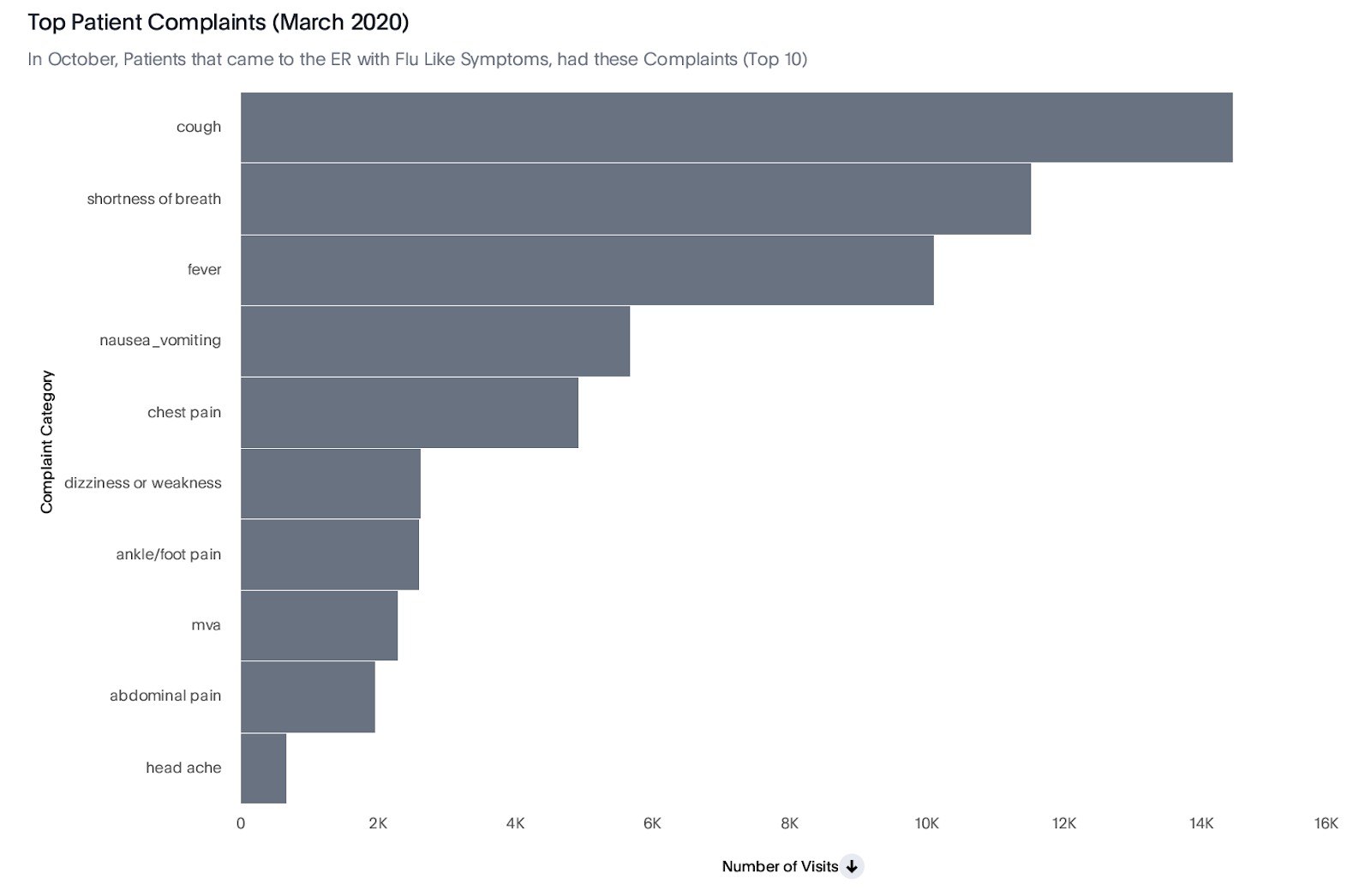 Top patient complains in March 2020, when COVID transmissions were increasing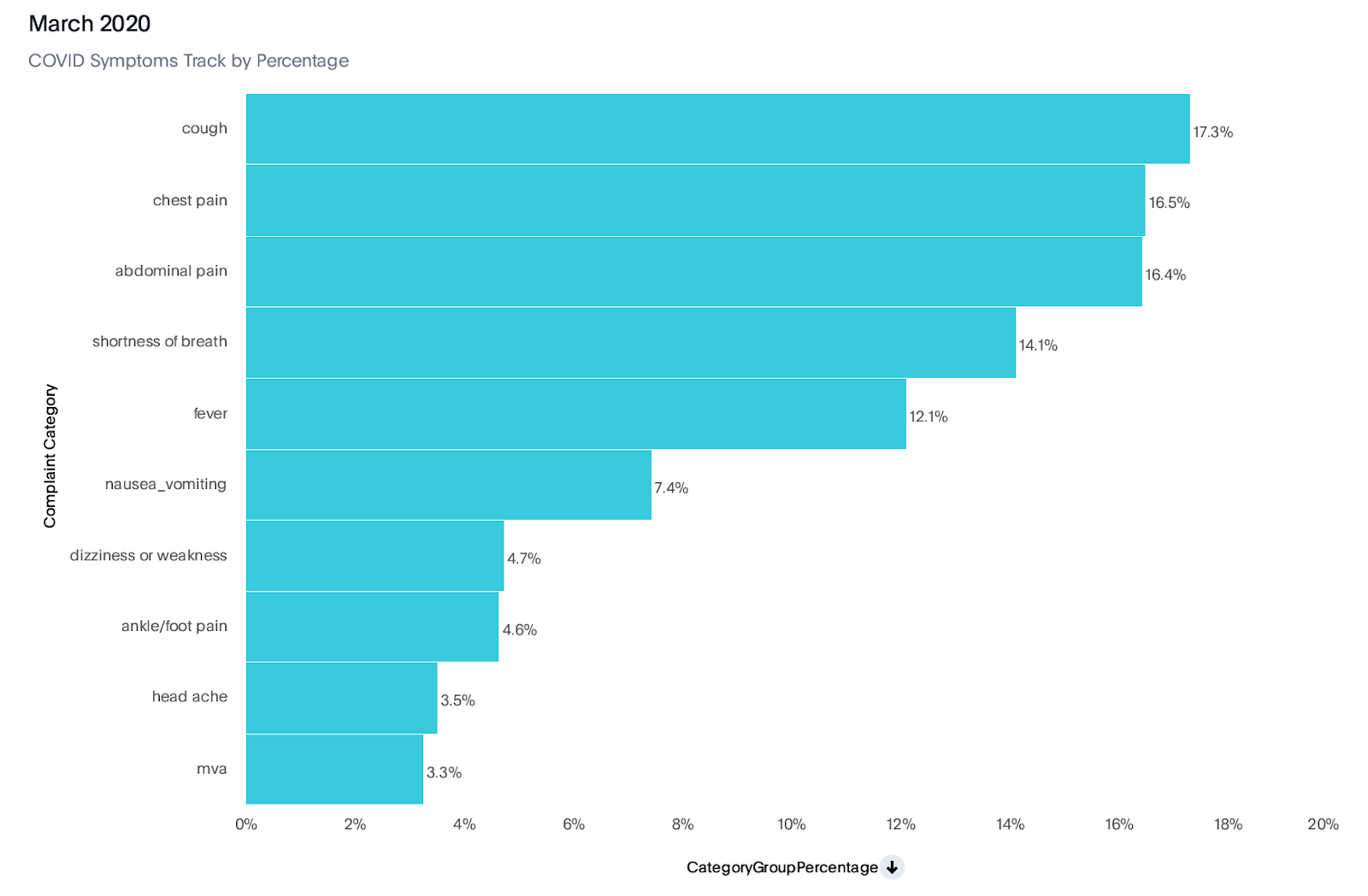 Different symptoms of COVID
 The value of this approach goes beyond the current pandemic, and should be part of our ongoing public health surveillance. Whether we're tracking endemic disease transmission in specific communities or observing a novel disease, the earlier we spot a trend and intervene, the greater impact we can have.  
This is especially critical when it comes to ensuring care for underserved populations and communities, who often rely on emergency departments. Emergency departments are the only channel of care that is open 24/7, can treat any and all conditions, and is committed to treating all patients, regardless of their ability to pay. With better foresight into where resources are needed most, we can alleviate some of the financial and human strain emergency departments face today and let them focus on doing the work that matters most - saving lives. 
Healthcare thought leaders like Dr. Stephen Klasko, CEO of Jefferson Health System have recognized the ED as a place for innovation. "When it comes to information to base innovation on, nowhere is there more volume, variety, and atomic-level operational data collected than in the Emergency Department. Emergency Medicine can provide answers and solutions for healthcare's Triple Aim of better health, better care and lower costs based on the ED serving as a nexus for care coordination," said Dr. Klasko.
Driving better outcomes with richer data
More effective use of data from emergency departments is a critical step in planning for the future of public health. But it's not enough. Emergency department data, as rich as it is, isn't a complete picture. 
The most profound improvement to our ability to intervene on a public health crisis will come when we bring truly diverse datasets together. The more data, the better. 
During the pandemic, for example, urgent care facilities became another frontline, handling diagnosis all the way through to treatment. Urgent care clinics, like EDs, can leverage their convenience to go beyond simply treating the illness to becoming a nexus for care coordination. Leveraging urgent care data in conjunction with emergency department data could help healthcare professionals develop an even more comprehensive  picture of the disease, how it spreads, where resources are needed, and how best we can combat it. 
This burgeoning data, however, will create new challenges. Domain and healthcare experts will need new kinds of tools that make it possible to access all this data in one place. Perhaps more importantly, they'll need technology that makes it simple to answer questions simply and quickly, without days or weeks of training, or special programming. A crisis won't wait that long, and getting answers from our data shouldn't either. And it will all have to happen in a secure, compliant fashion to ensure we meet regulatory requirements for this valuable healthcare data. 
The pandemic has forced change in so many areas of our lives. I hope it pushes change in how data is used in the the healthcare industry, too. Reevaluating how we better leverage the data at our fingertips can literally help us save lives.