This blog is part of our ongoing 'Why I joined ThoughtSpot' series, where we profile Spotters from around the world to learn who they are and why they chose a career at ThoughtSpot.
Rajesh Dhiman recently joined ThoughtSpot as Senior Director, Global Systems Integrators, and is based out of Delhi, India. He's a fitness enthusiast and dabbles with all sorts of fitness programs, from strength training to cross fitness and running. He spends most of his weekends with his family and especially his twin daughters.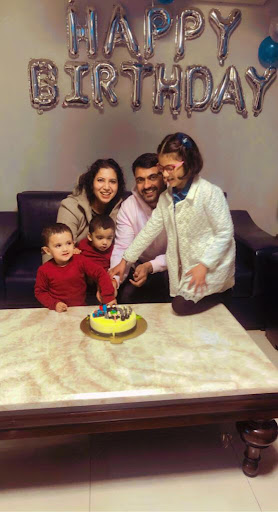 At ThoughtSpot, he is responsible for developing relationships with global strategic partners and creating a unified plan for building competencies, offering joint solutions, and delivering capabilities at scale to drive Modern Analytics Cloud adoption. 
Here's what he has to say about #LifeAtThoughtSpot.
How did you hear about ThoughtSpot?
I first heard about ThoughtSpot when some acquaintances of mine from Nutanix joined the company. When the recruiting team approached me, I was curious right away. I developed a greater interest in the company after learning about ThoughtSpot's transformational journey over the past two years from being an on-prem to a cloud-first organization, delivering the only real self-service BI platform for actual business users.. And the rest is history, as they say. 
Why did you join ThoughtSpot?
Honestly, I was considering a few possibilities that coincided with what I had in mind for my next challenge. In order to make that choice, I had to consider three factors: the company's vision, commitment to developing a partner ecosystem, and its culture.
I was excited about this opportunity because I admired ThoughtSpot's mission to democratize data and create a more fact-driven world. 
When I first met the management team during the interview process, I was impressed by their credentials and consistent commitment to building a partner ecosystem.  
Finally, ThoughtSpot's culture of Selfless Excellence, where each person puts customers, partners, company and team above their own personal glory, is incredibly powerful.
How is working at ThoughtSpot different from your past roles or teams?
Throughout my professional life, I have always been one to create something from scratch in order to achieve non-linear growth, whether it be through a new collaboration, building a high-performing team, or new revenue stream. 
After my last stint at NetApp, I was looking for a challenge where I could build a thriving partner ecosystem again and contribute to the growth of a company. ThoughtSpot provided this opportunity and I am very excited to be chosen as the first leader in India to build this business from the ground up. Finally, I've been impressed with how swiftly we execute our plans and how well the business is positioned for long-term success given our excellent market fit, alignment between strategy and execution, and very collaborative work environment.
How do you plan to use ThoughtSpot in your day-to-day work? 
With ThoughtSpot, using analytics to manage your business is straightforward. In order to encourage growth within our expanding partner system, I'm working with our key partners to select a few well-defined, accepted metrics that allow us to track the progress against agreed KPIs as part of the joint multi-year business plan.
What advice do you have for new Spotters joining the team?
ThoughtSpot is a fantastic place to work if you are passionate about data-driven change and we are very keen to hire people who are very passionate, go-getters and innovative in their approach.
Want to join Rajesh and work at one of the best companies in data?  Check out the open opportunities on our careers page today.