ThoughtSpot users can easily create content with data using our intuitive, AI-powered search experience. However, business users sometimes find themselves asking a critical question: which content should I trust and use for my specific business use case? 
For example, if there are ten "Sales Performance" Liveboards created by different authors, you may wonder which is the golden version—the Liveboard that is reviewed, approved, and consistently maintained. To help your team reach these trusted insights faster, we're excited to announce the ability to mark Liveboards as verified. 
Introducing Verified Liveboards
Over the past year, Verified Liveboards was one of the top-requested features in our ThoughtSpot Community, a dynamic and collaborative space where users can freely share their ideas, perspectives, and suggestions.
This feature empowers organizations and teams to find trusted, verified insights that inform real-time business decisions. By infusing confidence into the business user workflow, you can encourage data-driven decision making and data fluency across your organization.
💡 Learn more about our commitment to customer-focused innovation.
Begin verifying Liveboards with a few clicks 
It's easy to start utilizing Verified Liveboards. Here's a quick guide showing how to get started for each user permission.
Admin: Has the ability to assign the new "Can verify Liveboard" privilege to specific users.

Data Stewards: Have the "Can verify Liveboard" privilege—meaning they can mark a Liveboard as verified, and/or approve or reject Liveboard verification requests.

Liveboard creators: These users are the Liveboard authors or editors who can modify permissions of the Liveboard and can request Liveboard verification.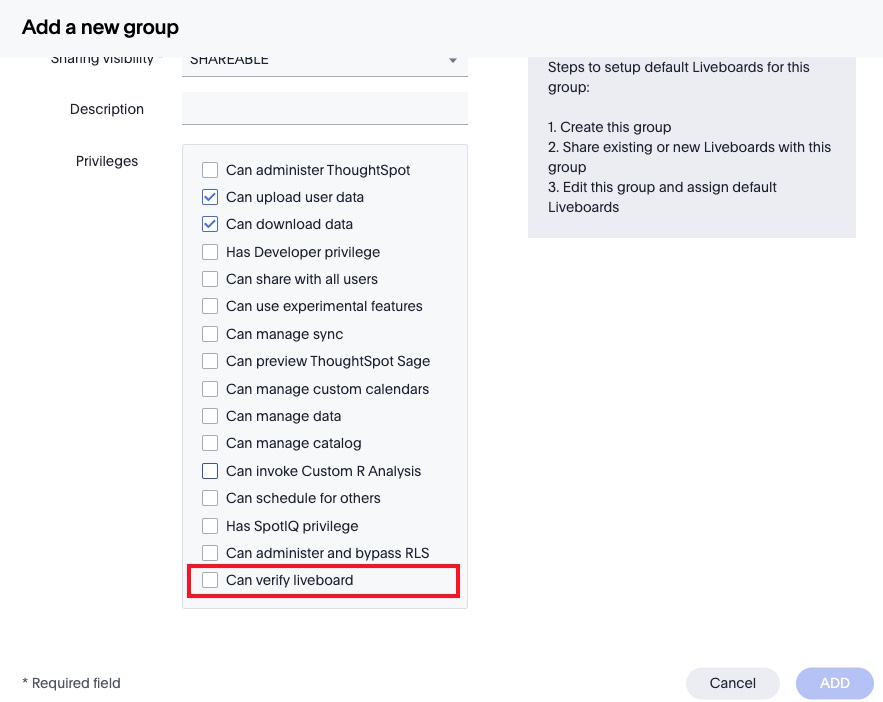 Verified Liveboards built for your use case
We understand that every team has a unique workflow for building and maintaining Liveboards. The Verified Liveboards feature was designed with flexibility in mind to work with your unique use case. Consider the two cases outlined below.
1. Data Stewards can create and own Verified Liveboards.
In this workflow, the Data Steward can visit any Liveboard they have created, click on the ellipses menu, and select the new "Mark as verified" option. Once this simple action is completed, a blue verified label will be added to the top left of the Liveboard. 
2. Data Stewards are only responsible for verifying Liveboards: 
Explanation: In this workflow, Data Stewards are not Liveboard creators. Liveboard creators (authors and editors) can request verification by clicking the ellipses menu and selecting the new "Request verification" option. Here, the Liveboard creator has the option to include a note for additional context.
Next, the Liveboard creator will select which Data Stewards the request should be sent to. By default, all Data Stewards will be selected provided the requester has the "Can share with all users" privilege; otherwise, Data Stewards only within the same user group as the requester will appear. The requester can also select view and edit Liveboard permissions for each Data Steward. They can also grant the Data Stewards view access to the underlying data sources provided the requester also has access to the underlying data sources. 
Once the requester clicks "Share and request verification" all selected Data Stewards will receive an email notification with a direct link to the Liveboard verification request. There, the Data Stewards can review available context and approve or reject the verification request accordingly. 
What happens if a Liveboard is edited after verification?
If a Liveboard creator is editing a verified Liveboard—for instance, clicking on edit or pinning a new answer—they will receive a warning label to discourage unfettered editing of verified content. Any saved edit on a verified Liveboard will result in the addition of a yellow warning banner on top of the Liveboard indicating it has been edited after verification.
To remove the yellow warning banner, the Liveboard creator should  re-request verification via the ellipses menu. By default, only the original Data Steward will receive the re-verification request. The Data Steward can now approve or deny the request. If they approve, the yellow banner will be removed. 
How can I manage my verified content and requests?
In the Data workspace page, there is a new "Liveboard verification" section which will only be visible to Data Stewards. From this view, they can see all verified Liveboards, pending requests, and rejections in order to centralize Verified Liveboard management. 
Building trusted insights with future features 
In the near future, the verified label will be visible throughout the product—on the Homepage, Liveboards page, and search results pages. You will also be able to filter for verified content. 
At ThoughtSpot, we believe building data transparency and trust is paramount to data literacy and democratization. That's why we're investing significant resources to explore and develop features that further your trust in business insights. 
Here are a few innovative solutions we're exploring today:
AI-assisted Liveboard verification

Visibility into verification and data quality markers from data catalogs

End-to-end data tracking for lineage, dependency, and data quality
This is just the beginning. We invite you to co-innovate with us by joining the ThoughtSpot Community. Already a member? Start engaging with our Product Ideas forum today. 
And if you've never tried ThoughtSpot, start your 30-day free trial to see the value of trusted, secure, AI-Powered Analytics for yourself.