Active listening is an admired and sought after skill in both the professional and personal sphere. After all, who doesn't love to be heard? But what happens when we apply that mindset to the way our organizations solicit feedback and interact with our customers?
We don't have to make any assumptions to answer this question, because we have the data. A report by the Aberdeen Group found that organizations actively listening to and seeking customer feedback have a 55% greater client retention rate. But the benefits don't stop there. By bringing the voice of the customer (VoC) into the mix, businesses can improve customer referrals, decrease customer service costs, grow their net promoter score (NPS), and more.
At ThoughtSpot, we firmly believe in customer-focused innovation. By harnessing the power that converges at the intersection of our grand vision and your tangible experiences, we're able to grow our businesses alongside each other. Your passion continually shapes and inspires us on our journey to make a more accessible ThoughtSpot that empowers everyone to derive valuable insights from their data.
Celebrating a year of Product Ideas
It has been an exciting year since we introduced the Product Ideas feature in our online ThoughtSpot Community. We are thrilled to share that over 180 ThoughtSpot users from 128 companies have actively participated in this program, submitting more than 480 ideas!
The best part? The impact of this program is tangible and ongoing. Currently, 36% of ideas are under consideration by our product team, 10% of ideas are already planned on our roadmap, and 7% have been successfully implemented since last May! This vibrant space has become one of the most active and engaging areas within our ThoughtSpot Community.
The Product Ideas section in our community replaced the previous process, which encouraged our customers to submit feature requests through our support portal. Our new approach enhances customers ability to see other suggested ideas, empowers user collaboration, and provides a comprehensive view of all open feedback requests—streamlining our ability to action these requests. 
A look into this thriving ThoughtSpot community
Today, our Product Ideas is a dynamic and collaborative space where community members can freely share their ideas, perspectives, and suggestions. It's your opportunity to share your unique perspectives, vote on other submissions, and engage in two-way conversations with our product development team. This space is brimming with the passion and creativity of ThoughtSpot enthusiasts, welcoming both seasoned experts and newcomers to contribute and participate.
Unleashing the power of data
One of my favorite aspects of the Product Ideas is that we've integrated its data into our internal instance of ThoughtSpot, called Champagne! This interactive Liveboard allows us to get a glance at all community ideas submitted and is how our Product team easily digests this data on a quarterly basis.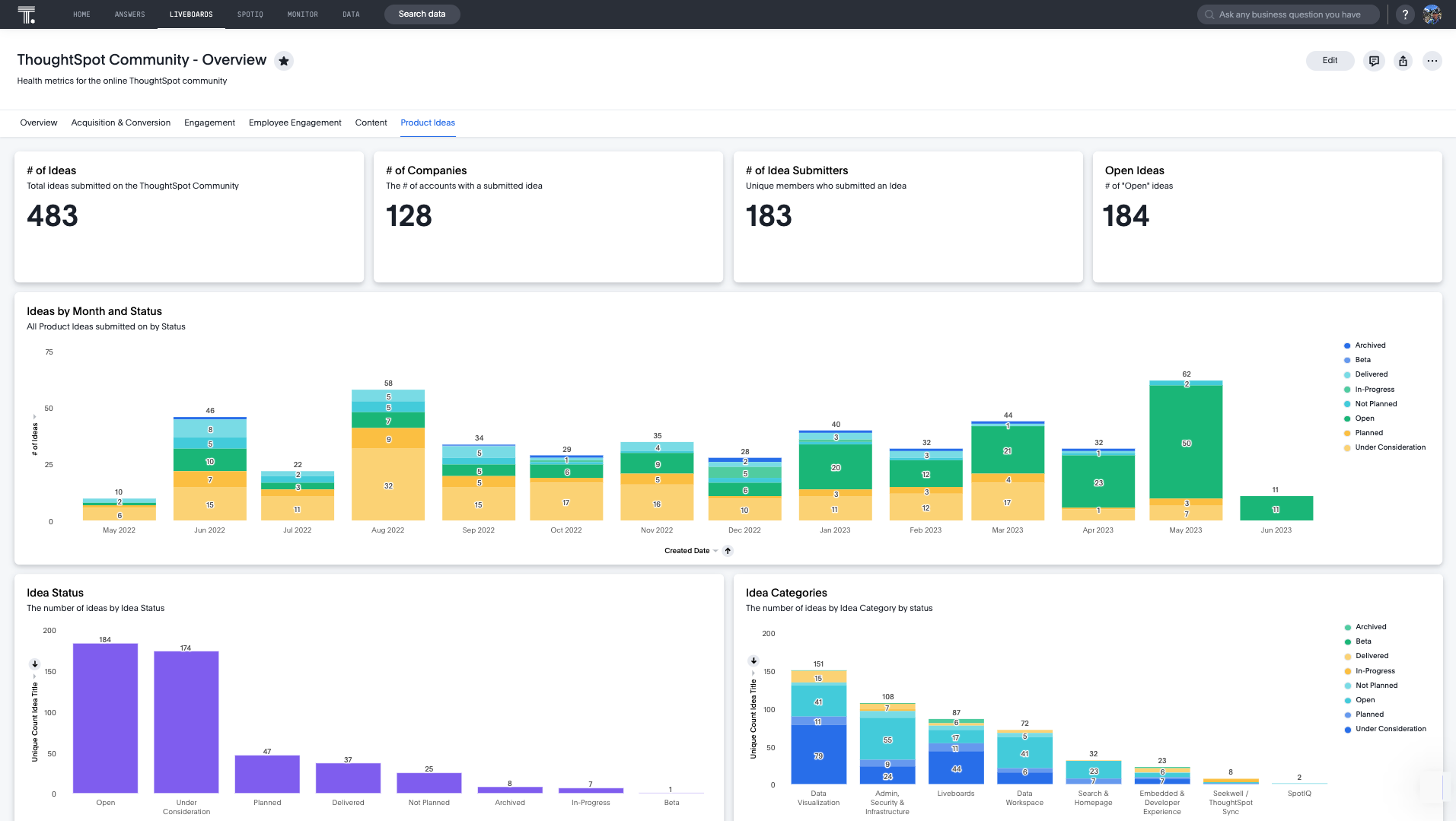 Turning ideas into reality
Over the past year, nearly 40 community ideas have been delivered into actual features within the ThoughtSpot platform. This means someone's idea resonated with us and the wider ThoughtSpot Community. From there, our dedicated development team meticulously planned and built the idea, ultimately becoming tangible features in our product.
Some ideas are relatively quick to implement, such as Robert Curtis' suggestion on adjusting the legend position on a Liveboard, which made it into our June 2023 9.3.0cl release. 
On the other hand, certain ideas require significant engineering investment, like the suggestion by Kelly Burdine, Director of Data Science and Analytics at Wellthy, regarding Verified Liveboards. With 19 supporters backing this idea, it sparked an insightful back-and-forth discussion between our customers and our product team. Now, this release is slated for our 9.4.0cl release next month, even earning a spot on the Beyond 2023 big stage.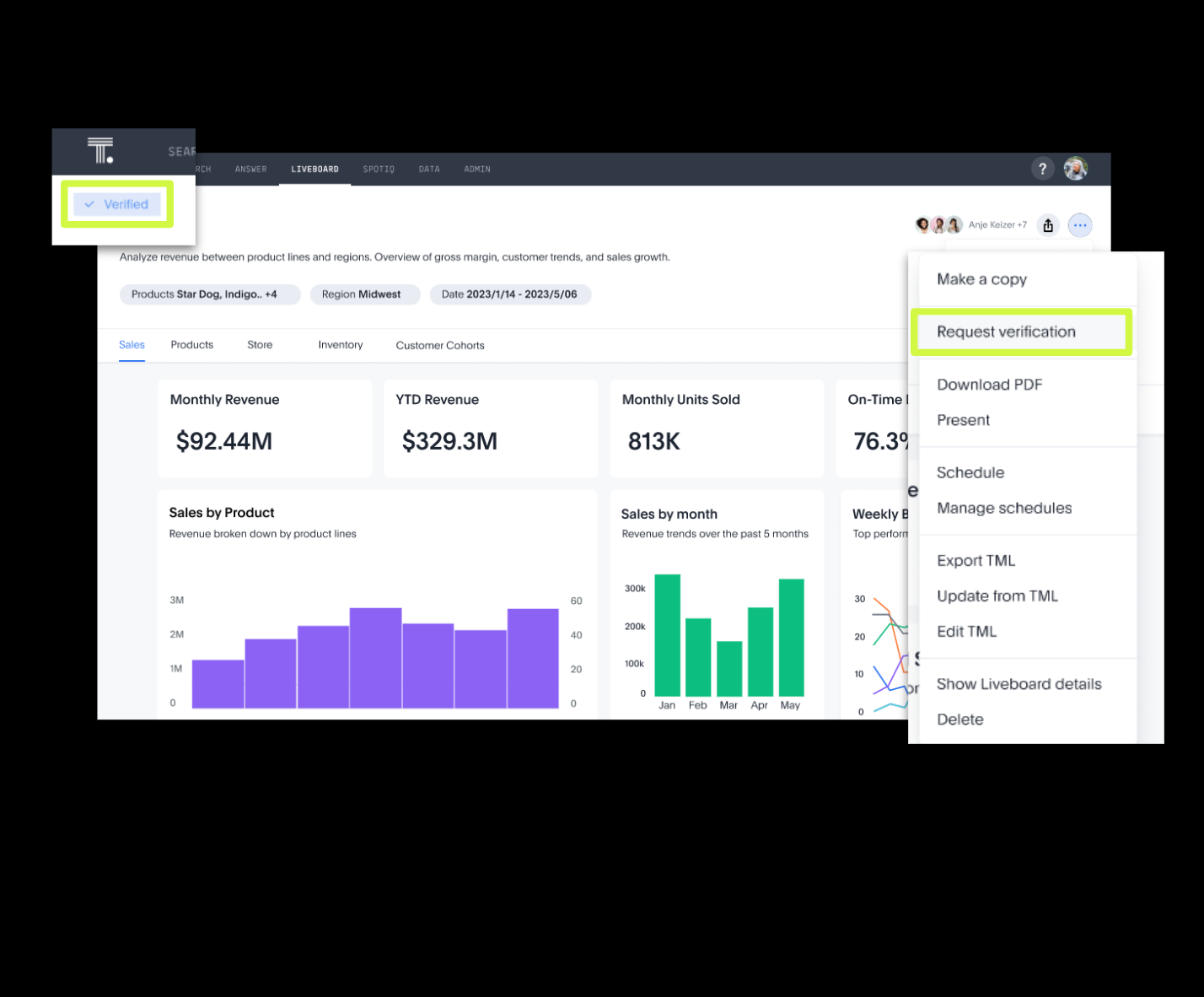 Looking forward to another year of community
As we embark on the second year of this incredible journey, we remain committed to striking a balance between the needs of our community and our broader company mission. We invite you to be part of this transformative process. Here's how you can get started:
Join the ThoughtSpot Community: The first step toward influencing the ThoughtSpot product roadmap is to become a member of our vibrant community. By joining, you gain the power to submit and vote on ideas while providing feedback on existing features. Your participation allows you to shape the direction of the product, learn from fellow users, and engage in discussions surrounding data analytics. Join the ThoughtSpot community today!

Vote and comment: When you come across an idea that aligns with your needs or interests, it's important to cast your vote and provide concise, clear comments explaining why you believe the idea should be incorporated into the product. Voting and commenting helps our product team understand which features our users desire and how they can add value to their work.

Be specific: When submitting a new idea, it's essential to provide specific details. A vague suggestion may not receive the attention it deserves or provide our product team with enough information to act upon. Be thorough in describing the desired feature's functionality, its importance to your work, and the value it would bring. This specificity empowers our team to prioritize the most relevant and impactful features for incorporation.

Exercise patience: Developing and integrating new features into a product is a time-consuming process. While we prioritize features based on community relevance, numerous factors influence decision-making. Therefore, it's important to be patient and continue engaging in the discussion. Your feedback and active participation help us understand our users' needs, and we genuinely value your input.
By joining this dynamic community, you become an indispensable part of the conversation and have a genuine say in the product's direction. Your votes, comments, and participation are invaluable in influencing the ThoughtSpot product roadmap. As we embark on year two of this remarkable journey, we encourage all our users to actively participate, share their ideas, and be an instrumental part of making ThoughtSpot the best it can be.
Ready to make a difference? Check out our ThoughtSpot Product Idea Guide and head to the Product Ideas space in our ThoughtSpot Community!