In a world where user experience and IT support can mean the difference between hitting or missing your ARR marks, businesses have to find smarter ways to build workflows and support their IT departments. That's where companies like ServiceNow come into play. 
A few years back, we created our ServiceNow SpotApp, a pre-built analytics template to help companies analyze and understand their data—so they can increase efficiencies across their complex IT environments. You can find a full list of ThoughtSpot for ServiceNow benefits and use cases here. 
And now, Snowflake made it even easier to analyze your ServiceNow data in ThoughtSpot with their new ServiceNow connector. In this article, we'll show you how to get started with ThoughtSpot for ServiceNow analytics, providing detailed instructions on how to use the new Snowflake connector.
Step 1: Connect ServiceNow data to Snowflake
To get the most out of our ServiceNow data, you first need to move it into Snowflake, where it can be analyzed in context with the rest of your business or IT Ops data. For those unfamiliar, Snowflake Data Cloud allows you to store and analyze large amounts of data, and they just released a ServiceNow Connector that makes it easy to replicate ServiceNow data in Snowflake. To get started, follow these steps:
Create a Snowflake account if you don't already have one

In the Snowflake web interface, create a new database and schema for your ServiceNow data

Install the ServiceNow connector from the Snowflake marketplace

Configure the connector by providing your ServiceNow credentials

Then, select the tables you want to import into Snowflake

Run the import to finish bringing your ServiceNow data into Snowflake
Access additional documentation from Snowflake here
Step 2: Connect ServiceNow data in Snowflake to ThoughtSpot
Now that your ServiceNow data is stored in Snowflake, you can quickly connect your data to ThoughtSpot, and start experiencing the value of AI-Powered Analytics on your ServiceNow data. Before you begin, ensure that the following prerequisites are met. Then, follow the instructions below:
In the ThoughtSpot user interface, navigate to the Data tab

Select ServiceNow in the SpotApp Library

Connect to your Snowflake account by providing your credentials

Select the database and schema where your ServiceNow data is stored

Choose the tables you want to import into ThoughtSpot
Once the import is complete, you can start analyzing your ServiceNow data in ThoughtSpot. 📈
Step 3: Analyze your ServiceNow data in ThoughtSpot
ThoughtSpot provides an AI-powered, search-based analytics interface that allows any user to ask questions in natural language and get answers from your data. Here are some examples of the types of questions you can ask:
How many incidents were opened last month?

What is the average resolution time for incidents?

Which teams are resolving incidents the fastest?
With ThoughtSpot's ServiceNow SpotApp, you can easily analyze your ServiceNow data and gain insights that will help you make smarter decisions in real time. Don't just take our word for it. Read how Snowflake used Thoughtspot to decrease their IT backlog by 20%, making more time for transformational IT Initiatives.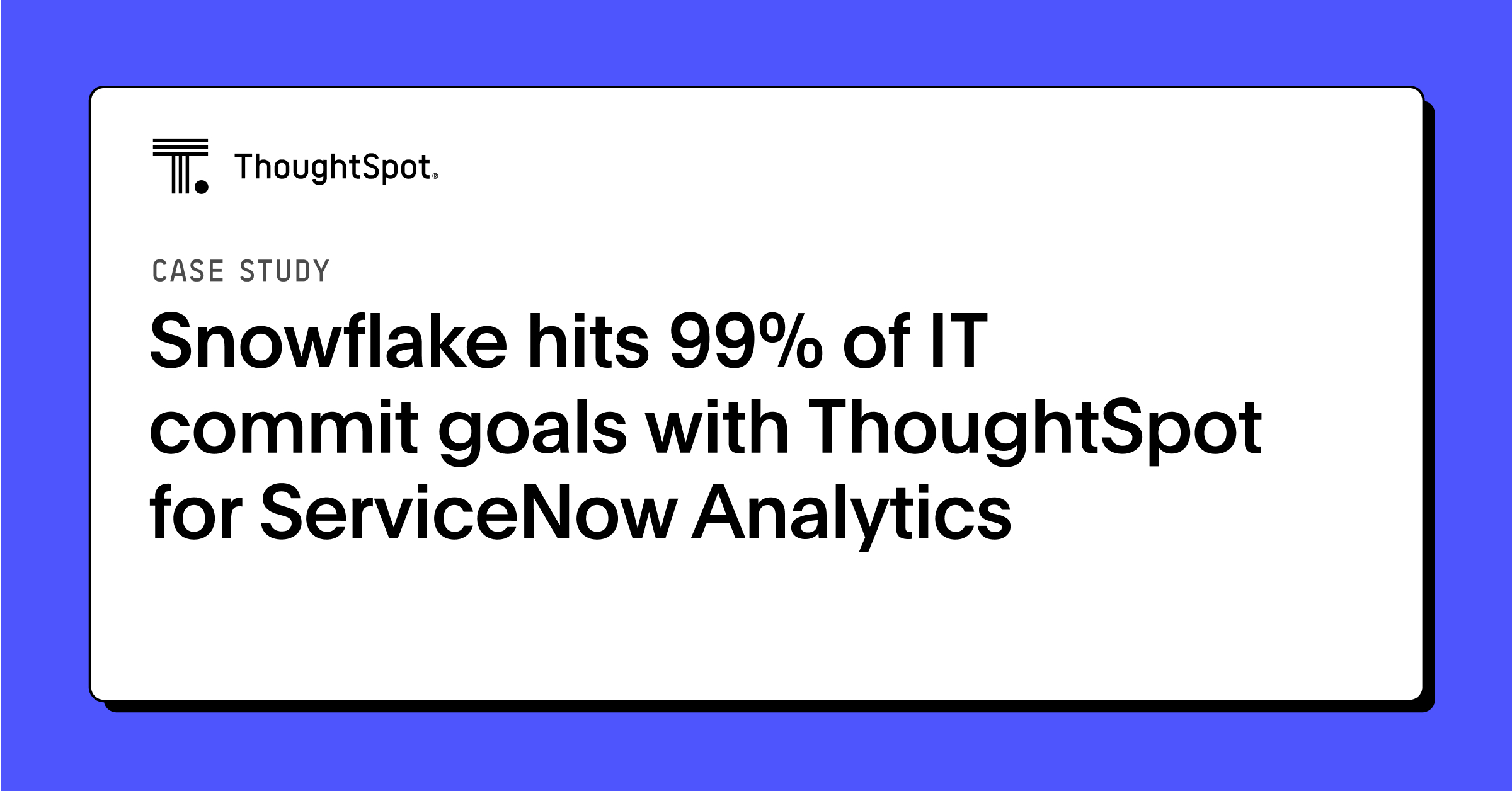 Snowflake's new ServiceNow connector makes it even easier to connect your ServiceNow data with ThoughtSpot. If you're new to ThoughtSpot, sign up for your free trial to get the most out of your ServiceNow data.