As ThoughtSpot's SVP of Corporate Marketing I oversee a field marketing team that acts as the glue between our Marketing and Field Sales teams. When people talk about field marketing, they're often just thinking of events — but we have a far broader remit than that. 
Each member of the Field Marketing team sits within a specific sales region, acting as a kind of regional CMO. We partner with our field Account Executives and demand generation team to create targeted marketing campaigns that provide steady interest in our product in the form of marketing qualified leads. 
Essentially, we're here to make sure our Sales team is well equipped to have meaningful conversations with prospects, and ultimately turn these conversations into happy and successful customers.
How do we know what they need? You guessed it: we look at the data. As a data-driven organization, every marketing decision we make is driven by Live Analytics. 
Here's how we get it done.
Leverage Liveboards to get the big picture
To keep an eye on the big picture, we use Liveboards. These are customizable visualizations that track all the information we need: MQLs by geographical region, sales segment, number of meetings scheduled, meetings held, and so on.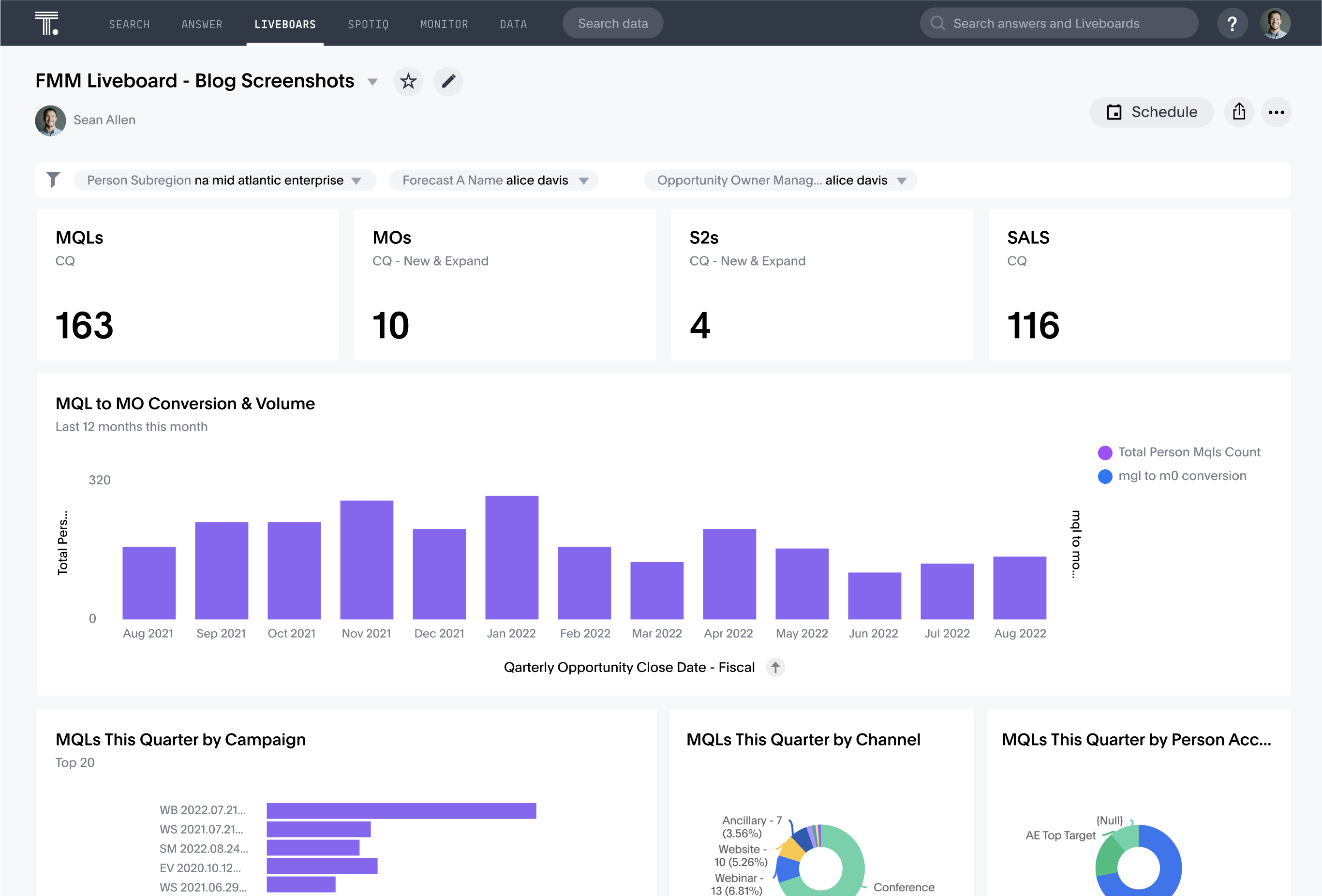 Since we are a B2B SaaS company, I like to keep close tabs on our top of funnel overview, so I can understand what's happening across the entire business, including our direct and self-service leads. I'm watching out for key strategic insights: 
Are we meeting our weekly, monthly, and quarterly targets for building interest and acceleration in the sales cycle?

Which stage of the funnel are we having slower growth? Or conversely, a higher propensity to win?

Where the pipeline is breaking down—say, if a rep is scheduling a ton of meetings but they aren't converting 

What marketing content is accelerating sales conversations?

Which events are generating the most registrations and attendees—and which marketing channels are most likely to result in sales? 
With these essential business questions in mind, I can set up my Liveboards to view the data in whichever way makes the most sense to me, so it's really easy to gauge how our campaigns are working out, or take action quickly if I see a region is struggling to meet their pipeline goals. Crucially, the data we're working from really is live; I get information pulled directly from our customer data platform Snowflake into ThoughtSpot so I can make decisions on the fly. 
Before joining ThoughtSpot, getting hold of this kind of data was a huge deal. It meant juggling static dashboards in Salesforce, nagging busy analysts for spreadsheets, and then playing the frustrating waiting game. These days, I'm so used to having the live insights at my fingertips that I can't imagine doing this job without it.  
The upshot is that we haven't had an analyst on our Field Marketing team for almost the entire time I've worked here. We create all of our Liveboards ourselves without needing a data expert involved. We're all enabled to answer our own questions and validate what we're doing in the field. The resource investments we have recouped have gone into other areas of marketing, so we can continue to create and develop world-class creative marketing campaigns. 
Drill down to see the full story 
This was another revelation to me when I started using ThoughtSpot. I don't have to try and figure out why something is happening — the option to dig further into the data insight is right there in front of me. Using the drill-down function, I can get more granular information  and answer questions like: 
Which Account Executive is gaining the most traction with the marketing programs they are provided?

Who will struggle to meet their quota next quarter? 

Which region has the largest gaps in pipeline coverage?

Where should we increase our spend? 

Which events performed the best when it came to generating sales meetings? 
You can slice the data by account owner, region, account, campaign — any way you want for any information you need. This way, you can make informed spend and program decisions and adjust our strategy immediately. 
Then you get to pull it out in conversations with Account Executives. What can we do to make their lives easier? What are we seeing working well in another region that might help them out? How can we improve on what we're currently doing? 
My team is goaled on performance measurements just like the sales team—so it's our role to figure out how we can give everyone a lift to all achieve shared success. 
Plan campaigns and get a detailed postmortem 
It helps to get super specific about your targets when creating campaigns that deliver results. 
We work closely with the Sales team to figure out who we want at a particular event, and we'll have specific targets for audience acquisition (after all, our events only work if people actually show up.) We use our data to give our sales team a road map: the accounts they should be targeting and what actions they should take next.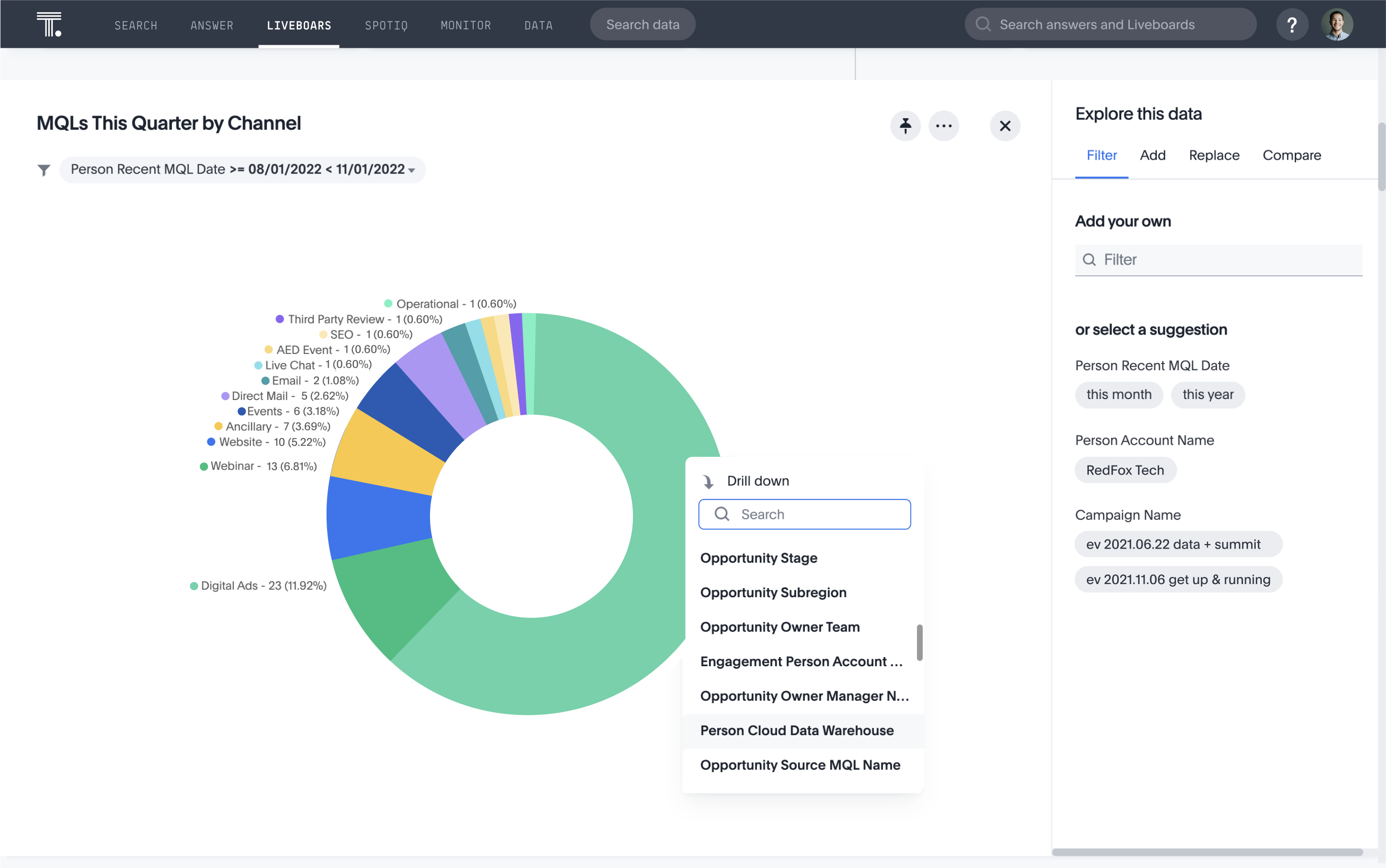 We have Liveboards for each specific campaign, to give us a 360-degree view of key metrics: 
Targeted account data and the people we want to engage (our Ideal Customer Profile)

Updates on registration or attendee numbers 

Revenue targets by sales segment 

Channel conversion metrics by % and stage over time
This way, we all have shared, live information in front of us at all times, meaning that we can work with our account execs and other marketing teams to drive the highest ROI possible before the event even starts. 
Once the event has taken place, I'll walk through the results with the team to understand what worked and how we could do even better next time. With ThoughtSpot, you can:
See if you got any meetings booked from a specific event

Track whether those meetings convert into highly qualified deals

Establish detailed ROI—not just in terms of revenue, but also qualified leads, pipeline, pipeline influence, and (most importantly) closed business 
This level of detail is critical to understanding how to optimize our campaigns.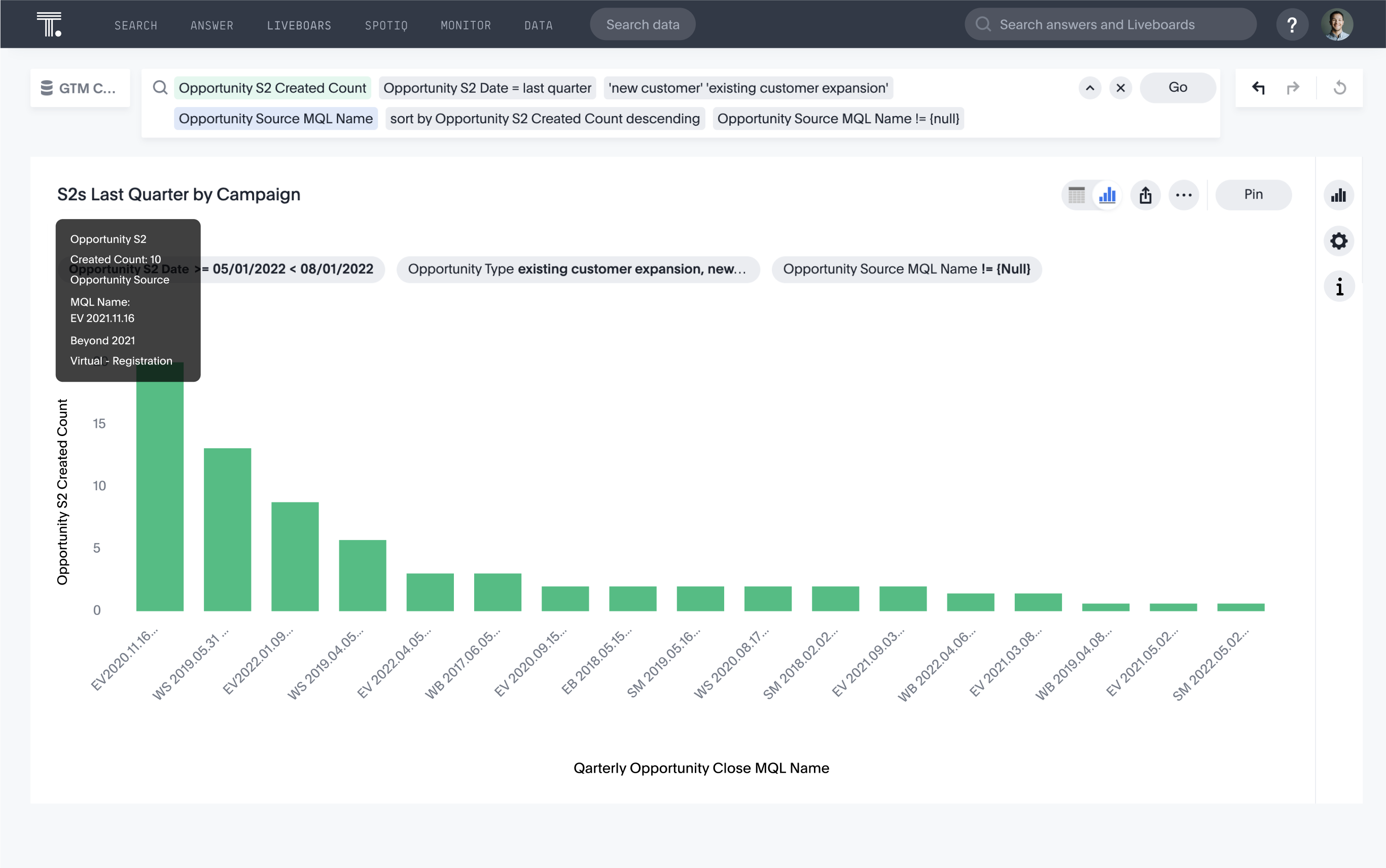 Pull data for talk tracks and internal presentations 
In Field Marketing, we need to know what's actually happening in the field if we want to be a valued partner to our Field Sales team. I'll use the ThoughtSpot's search function to quickly pull up the exact information I need into a Liveboard. With natural language search, it's just like looking something up on Google. No memorizing exact column names, here. 
Marketing attribution is as simple as typing a specific campaign name into search, filtering by opportunity stage, and getting a full list for meetings sourced from each campaign. 
This isn't just handy for decision-making. It makes it really easy to put together a data story to share with other teams. I can quickly customize the narrative depending who I'm talking to. For example, you can:
Pull up success metrics to report in the weekly executive meeting

Determine whether marketing budget does or doesn't get allocated to fund an activity

Create a talk track to align with  the sales and marketing leaders on pipeline performance

Drill down into the results of an individual Account Executive to help with training and enablement
Instead of pulling data into static slides, I can work from the live data and drill into specific data points if I need to. 
Ready to get data fresh from the field? 
If you want to provide real support to your field sales team, you need to know what you're talking about. And that takes data. Real, up-to-the-minute, actionable data, that's quick and easy to get hold of. Once you've tried doing your job with ThoughtSpot, you won't be able to imagine managing without it. 
But don't take my word for it. You can read more about how field marketers are using ThoughtSpot here, or sign up for a free trial and see for yourself.