Tech has a diversity problem. As a veteran People leader, I see and hear about it all the time — in media, in the board room, and in my daily work. And yet, as much as our industry is known for solving large-scale problems and disrupting the status quo, improvement in this area doesn't seem to be happening fast enough. Why not?
When I look at companies leading our industry in DEI, there's one thing that stands out: data. These companies aren't just talking about the problem, they're measuring it, remeasuring it, setting goals, and reporting progress publicly to hold themselves accountable. It sounds simple but the reality is many organizations don't capture such granular employee demographic data, and if they do, they might not have the technical resources to analyze it regularly. It is also commonly the case that organizations focus on the wrong metrics or vanity metrics in order to paint a rosier picture of what's happening in their business. Fortunately, this is just the kind of challenge we love solving at ThoughtSpot. It's my pleasure to introduce our first-ever diversity, equity, and inclusion analysis SpotApp.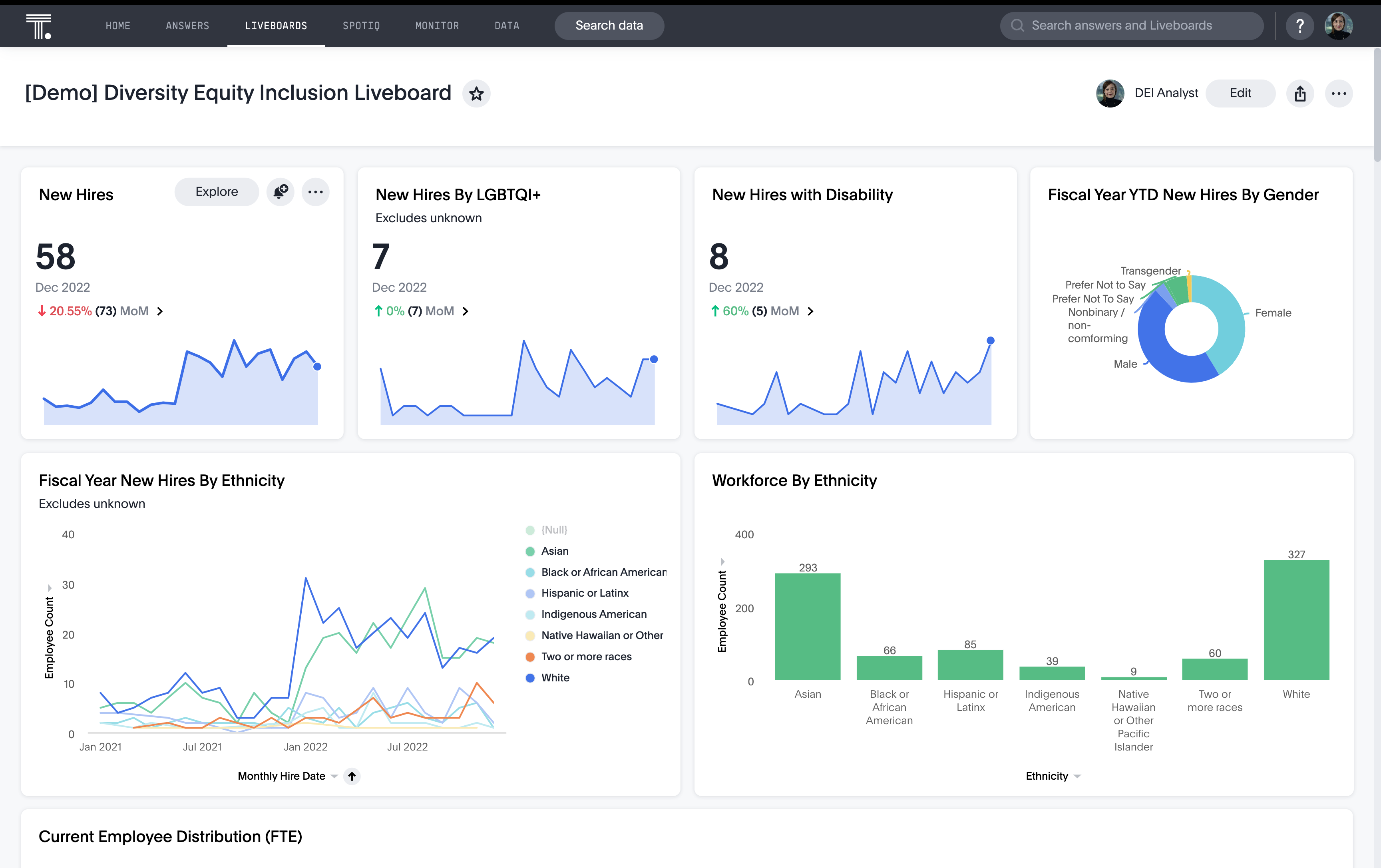 What is the diversity, equity, and inclusion analysis SpotApp?
This SpotApp empowers People teams to generate insights from the workforce diversity data already housed in their HR application. Just plug it in, run the script, and go. You don't need any technical boolean query skills or prior analytics experience to start analyzing the data. In fact, if you know how to search for something on Google then you know how to search for insights with ThoughtSpot.  
How can the diversity, equity, and inclusion analysis SpotApp help improve diversity?
As we hear from our customers all the time: you can't improve what you don't measure. DEI is no exception. When we looked internally at our own DEI practices, we knew there was work to do. We started developing the SpotApp with three internal objectives in mind, knowing that the final product would also help our customers do the same: 
Start measuring diversity metrics such as gender, ethnicity, sexual orientation, veteran status, and disability status. Bonus: Discover the HR metrics and KPIs you should track in your real-time dashboard.

Make it easy to share insights, see trends in the data, and set goals around these metrics.

Build trust and transparency with employees by showing how demographic data is being used and what progress has been made.
The diversity, equity, and inclusion analysis SpotApp makes it easy for any business to measure and share insights around diversity, equity, and inclusion. And what's even more powerful is that you can drill into your overall diversity dataset to see breakdowns by department, job level, geography, and more to ensure change is happening equitably across your organization. It's a really exciting capability, especially for People leaders who haven't had this kind of access to real-time demographic data before. 
To give a personal example, when I joined ThoughtSpot two years ago we were barely capturing any data about our employees. We had a sense that we could improve gender diversity across the company but it was unclear whether the problem was in hiring or retention. By digging into gender diversity by job level, we found that we were specifically losing women in the jump from individual contributor to mid-manager. It's a common problem that many of my fellow People leaders have shared their experiences with. But without the data to back it up, we could have never made the business case to launch a new mentorship program in the company to help bridge that gap for our future women leaders.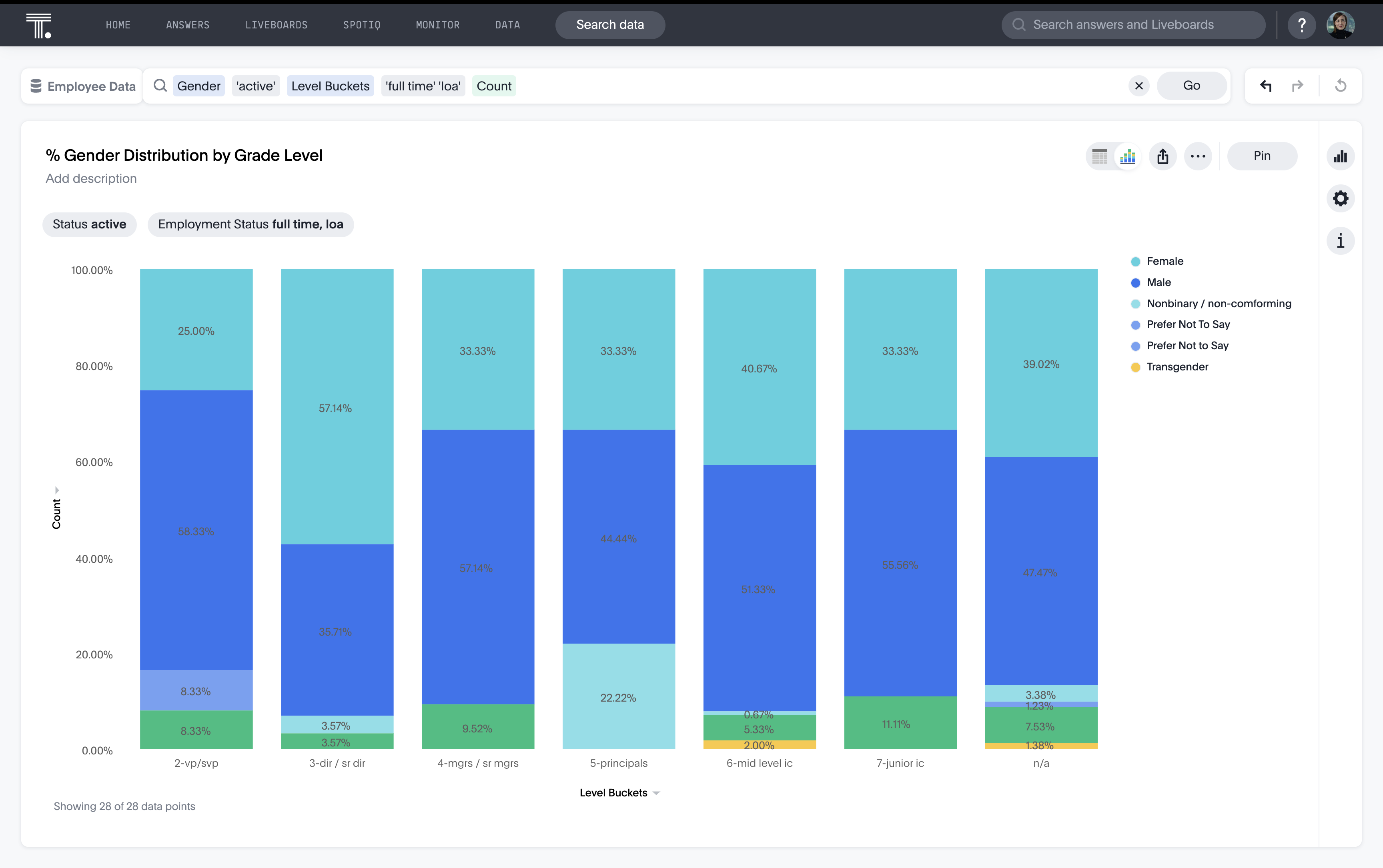 And the use cases don't stop there. Many of the world's most innovative businesses use ThoughtSpot to support their DEI efforts. Take Schneider Electric for example. A huge priority for all business leaders at Schneider Electric is to ensure a diverse, equitable, and inclusive organization. The team leverages ThoughtSpot as a critical tool for comprehensive insights into diversity and inclusion KPIs in order to improve recruiting and retention processes across the organization.
"With ThoughtSpot, users can uncover real insights from data like, "what areas of the business are thriving with the diverse hiring practices" and evaluate further to boost these best practices across all of Schneider." - Alanna Roesler, People Analytics Change Leader, Schneider Electric
Or Kraft Heinz, whose former Head of People Analytics, Serena Huang shared on The Data Chief how measuring exit interview and engagement survey data helped the team create a more holistic view of the employee experience. These insights were critical to the company winning the war on talent during the height of the pandemic and the great resignation.
"The pandemic has accelerated the progress in people analytics in many companies. It's become more important to stay connected with employees and to know how they're doing. That has really accelerated the importance across many organizations." – Serena Huang, Global Head of People Analytics, Visualization & HR Technology at PayPal  
Start improving your DEI metrics with ThoughtSpot
If there's one thing I hope you take away from this announcement is that our industry has work to do. We can and must improve diversity, equity, and inclusion wherever possible in order to build the kinds of products and be the kinds of companies that will change the world for the better. With the launch of this new SpotApp, the only thing standing between you and progress is the decision to start. So why not make 2023 the year your business gets serious about DEI? Start measuring and improving your DEI metrics by starting a free trial of ThoughtSpot today. And if you're already a customer, head over to the SpotApps library in your Data Workspace to launch the SpotApp for yourself.