Last week ThoughtSpot took big steps toward further focusing our pricing on a single metric: customer value. 
In the course of my career, I've worked at many companies, and seen countless products, packages, and editions launched. Often, these initiatives are guided by what's in it for the company: how do we get better margins, cross or upsell products together, or maximize revenue?
Editions, pricing, and packaging become transformational, however, when companies have a different true north driving these decisions. Instead of asking how we can get more from our customers, transformation is unlocked when companies ask how we can create more value for our customers.
And that's exactly what we did. 
Customer value is the northstar.
Prior to joining ThoughtSpot, I had the opportunity to lead a multi-billion dollar business at a large technology company. When I took the role, the industry had been conducting its business in a particular manner for nearly four decades. And it showed no signs of changing. Companies were selling, seeing success - why change anything. 
Because it was the right thing to do for our customers. So, we took a risk. We completely reimagined the monetization model with the sole goal of bringing more lasting value to our customers for their investment. There was no looking back. 
Was it controversial? Of course! The financial analysts wrote epitaphs for our position in the industry. None of that happened. 
Customers won. And, we did, too. 
Of course, every industry is different, and how you keep customer value center stage differs, too. Here are six customer values that shaped our new pricing and packaging.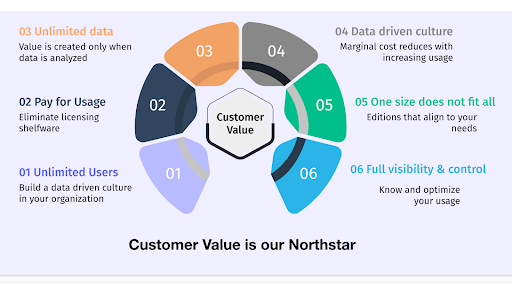 Customer value #1: Unlimited Users - Build a data driven culture in your organization
The founders of ThoughtSpot started the company with a mission to create a more fact-driven world by making insights from data available to everyone. It was a need I knew well. At my previous job, each business unit had a dedicated team of analysts that created static dashboards – mostly used during QBR (Quarterly Business Review). These reports were, as their name implied, used once a quarter – usually by a few leaders and almost no one else. When we wanted to answer a question with data, it had to go through the chain of command. Only a chosen few could make the ask to the analysts. Within a few days, we would get an answer… until we had the next question. Then it was back to square one. 
At ThoughtSpot and many of our customers' entire teams use ThoughtSpot on a regular basis to better run their functions – engineering, support, product, HR, finance, sales – all employees within all functions have access to Live Analytics at any time. 
Having a per user license stands in direct opposition to our goal of everyone being empowered to take actions based on data and insights. This is why ThoughtSpot has never had a per user tax. 
Customer value #2: Pay for usage - Eliminate licensing shelfware
In the world of software licenses, your dollars are not always going the farthest. There are a lot less active users when compared with the total number of provisioned users. Active users can be as low as 30% of licensed users in an organization. This is more pronounced in analytics applications where data readiness, modeling, and fluency are areas of friction. Even within active users, not all use the product equally. There are typically a small number of power users and then a long tail of users, each with much smaller usage. 
Paying the same amount for each user may appear simple, but does not mean your spending is optimized. Usage based pricing accounts for these nuances; you pay only for actuals. 
Customer value #3: Unlimited data - Value is created only when data is analyzed
Data volumes are exploding and data silos need to be busted. While pricing models that are based on the capacity of data connected avoid the disadvantages of user pricing discussed above, they create barriers to connecting all data within and across organizations. Value is created when data is analyzed, decisions are made, and actions are taken. Data sitting in storage is not useful. 
With usage based pricing, our customers with large data volumes can purchase the Enterprise edition and connect to unlimited data. You pay only when data is analyzed and put to work. 
ThoughtSpot's cloud scale architecture ensures you can connect to as much data as you have. With Live Analytics, you can enjoy high performance and interactive analytics that help you and your entire organization search, navigate, and analyze data – even with millions of unique values and trillions of rows. 
Customer value #4: Data driven culture: Marginal cost reduces with increasing usage
There's no shortage of stats on how companies building data-driven cultures are winning. Often, data and analytics teams are the evangelists championing this culture to fully capitalize on the value of data.
With unlimited users and unlimited data, we took some hurdles down. But there is more. As a data driven culture takes root in your organization, you will undoubtedly see more usage as more and more people find value from data. And you shouldn't be penalized for it. Our usage based pricing comes with volume discounts, which means that the more you use, the lower the marginal cost of usage is. New use cases, new users, or increasing usage all benefit from a lower barrier of entry. 
Customer value #5: One size does not fit all – Editions that align to your needs
For our customers, we know you're all in different stages of your journey with data. You may be an individual or on a small team checking out the latest analytics software for the modern data stack. Team edition helps you get started with a low entry point. For startups, SMB, mid-market, or even departments within large organizations, Pro edition is tailored to help you meet your business needs with an affordable starting point that includes all features and capabilities and is supported by our world class team. As you grow larger, our Enterprise edition offers unlimited data and enhanced security controls in addition to enhanced SLAs for support. All editions come backed with world class security and the ability to add unlimited users. 
Customer value #6: Full visibility and control - Know and optimize your usage
We know that the more an organization uses data to make decisions and take actions, the more successful they are. We also know managing and optimizing this usage is essential. That's why we intend to provide data to our customers on their usage. With calculators, alerts, and budget management capabilities, you'll be able to plan and optimize your spend on analytics like never before. 
ThoughtSpot is making the same bet as our customers 
We understand that usage based pricing can feel uncertain, especially at the beginning of the journey. It's a risk - and one we're taking with you. Rather than trying to sell you per user shelfware upfront, we are betting our business on creating value for you. We will be paid if and only when you analyze data using our product. 
Today's organizations need to work with lots of data. With unlimited users, unlimited data, and self-service analytics, we are not only being true to our mission of helping build a more fact driven world, but helping our customers dominate the decade of data in the process. 
Learn more about our new pricing, or try ThoughtSpot for yourself.