It's that time of year again. Conference season is upon us! And, for the first time in what feels like a lifetime, the data ecosystem is getting back together in person. 
It couldn't come at a more important time. The decade of data is upon us, as we unveiled at our own customer conference Beyond 2022. The opportunity is greater than ever before. So, too, is the need to change. The decisions leaders make today when it comes to their data strategy will set the trajectory for their businesses for years to come. Those willing to throw out the old playbook and embrace the new rules of data are already pulling ahead of the pack and reaping the rewards. 
Nowhere was this more on display than at last week's Snowflake Summit. There were so many exciting highlights from the event for companies looking to get the most from their cloud data. It was hard to choose, but here are five of our favorite moments.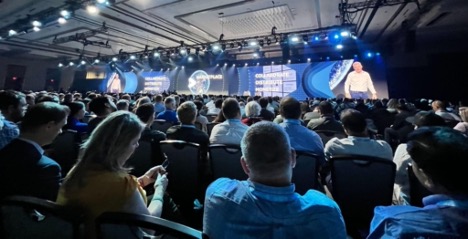 ThoughtSpot named to the inaugural Snowflake Partner Network Competency Program
One of the most exciting announcements from Snowflake Summit was the launch of the Snowflake Partner Network (SPN) Competency Program, with ThoughtSpot as an integral partner for healthcare and life sciences. The program recognizes and validates partners for their expertise, value creation, and commitment to customer impact across the Data Cloud ecosystem. 
It's clear that companies recognize the power of the modern data stack, where best of breed tools can be used in concert to deliver exceptional impact. It was an honor to be recognized as one of these core technologies alongside so many of our partners as part of the SPN Competency Program. 
The ecosystem was front and center
The importance of the broader data ecosystem can't be understated. We heard loud and clear from attendees that they are looking to companies across this space to work together to solve the most important analytics challenges and thrive in the decade of data.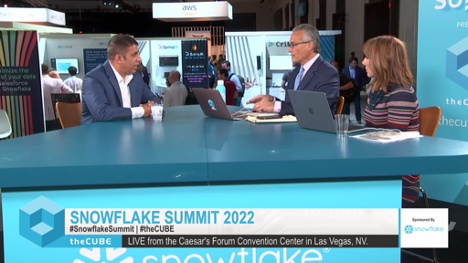 It's a sentiment Kuntal Vahalia, our SVP of Worldwide Channels & Alliances, expressed so eloquently during his appearance on theCUBE. When the ecosystem comes together with a singular mission to help customers, we all win. 
Our new partnership with Matillion
Speaking of our partners, we also loved sharing our own new partnership with Matillion to help any company accelerate time to value for analytics projects. We're making it incredibly easy for you to turn data into insights, and those insights into action with new SpotApps, prebuilt templates for specific analytics use cases, that leverage Matillion's cloud data integration platform. 
Instead of painstakingly building data pipelines that are brittle, customers can simply find the SpotApp that addresses their use case, and in minutes, their data is extracted, transformed, and ready for exploration through search and AI. You can learn more about the new partnership here. 
Guidewire shares their journey to true self-service analytics 
Don't get me wrong, I love when our partners and peers talk about the value of the Modern Analytics Cloud. But seeing real customers share their story about the impact they are creating with ThoughtSpot is even better.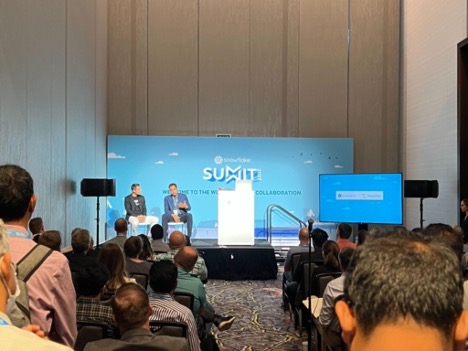 No where was this more on display than in Guidewire's session Analytics for All: Guidewire's journey to self-service analytics with ThoughtSpot. In this engaging session, Guidewire CIO Chet Mandair shared with our CMO Scott Holden how Guidewire has broken free from dead dashboards, embraced Live Analytics, and truly democratized data. 
Getting hands on with ThoughtSpot
Last, certainly not least, and my personal favorite moment from Snowflake Summit has to be meeting so many of our customers and Snowflakes at the ThoughtSpot booth. There is nothing like seeing the look on people's faces when they're able to get their hands on a keyboard and experience ThoughtSpot for themselves. That's what they call an "ah-ha moment"!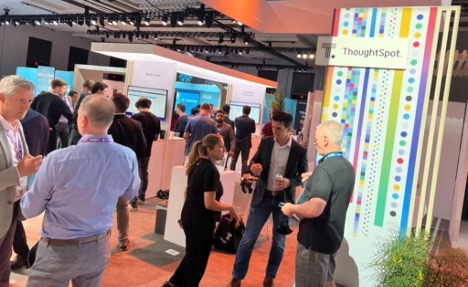 We had business leaders from Fortune 500, chief data officers at disruptive brands, developers, and analytics engineers stop by. They all shared the excitement that comes when people realize the revolutionary power ThoughtSpot and Snowflake deliver together. If you missed out during the show, you can always try ThoughtSpot for free and get started for as little as $95 a month.
Snowflake Summit may be over, but the decade of data has just begun. If this experience was any indication, it's a decade with unprecedented opportunity. And we're here to help you dominate it.