Since day one, ThoughtSpot has been focused on bringing the power of search and AI-driven analytics to every business professional, regardless of their analytics skill level, so anyone can find insights and make decisions. But the nature of decision making continues to change. Now, more than ever, decisions are made on the go. That's why we've made your data available anytime, anyplace through the ThoughtSpot app on the App Store for iPhone and iPad with the launch of ThoughtSpot mobile.
While you'll have to check out the app yourself to see all the new capabilities, here are 5 key features we think our users will love.
1. One Tap Answers on the Home Pinboard
The Home Pinboard is your command center for your most important data. It's always one tap away, since it's the first thing that you will see when you open the app. Now, getting answers to your business is as fast and easy as checking stock prices or the weather. Simply choose your Home Pinboard from a list of all the Pinboards in your organization, or craft one just for yourself by pinning visualizations to your Home. All of this can be done while still inside the app.
Whether you are a CEO tracking KPIs from each of your departments or a sales rep on the road tracking performance data for your top customers, you can get the answers you need in seconds.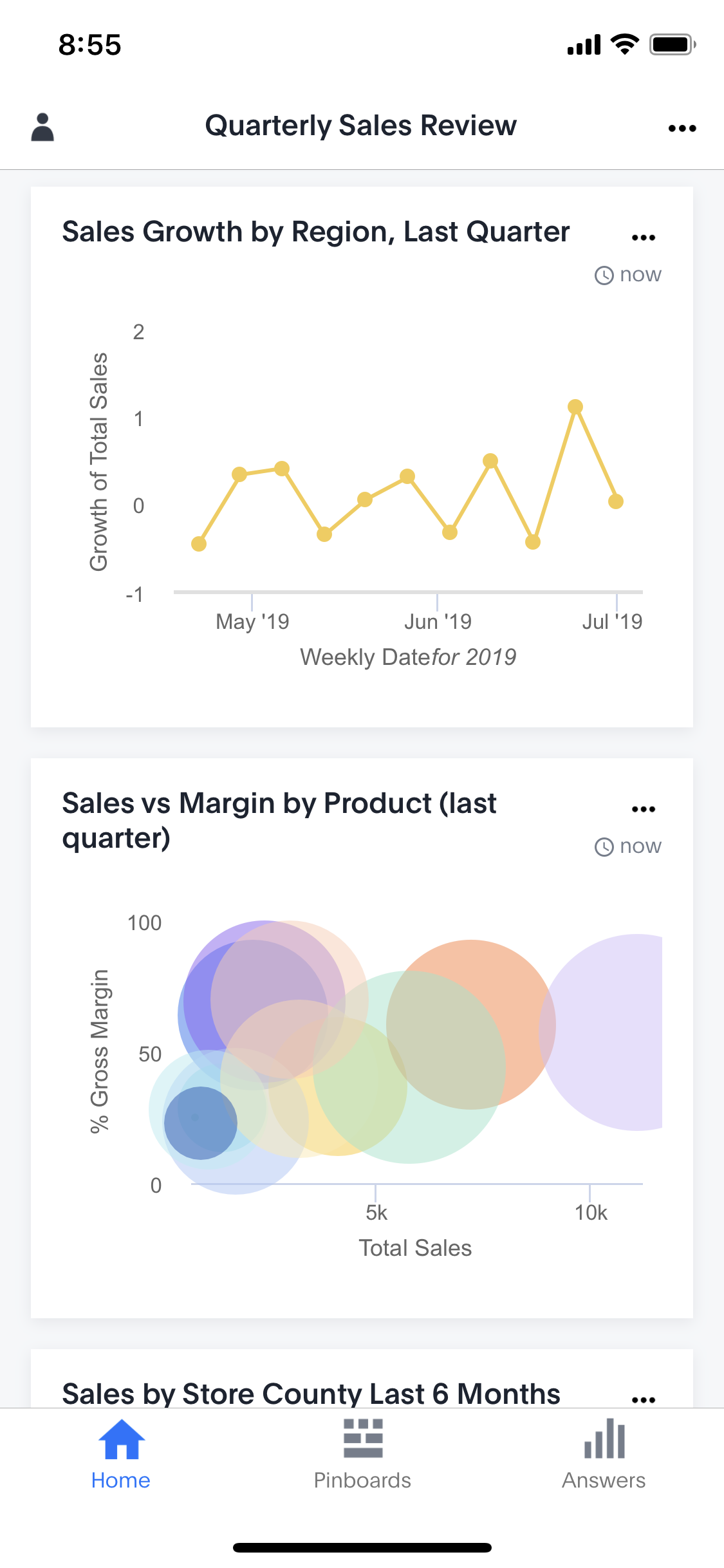 2. Available Offline
The Internet is everywhere these days, except, somehow, when and where you need it most. That's why we made sure the Home Pinboard is available - whether you have data connectivity or not.
Are you a pharma rep deep inside a hospital pitching a physician on your latest products? With the ThoughtSpot mobile app, it doesn't matter how many bars you have - you always have your data. Does connectivity to your company's corporate network sometimes go down during crunch time? Get ready to stop caring. And let's not forget, when the data is available offline, that means slow data speeds won't get in your way either. Your answers will come in an instant, no matter your connection speed.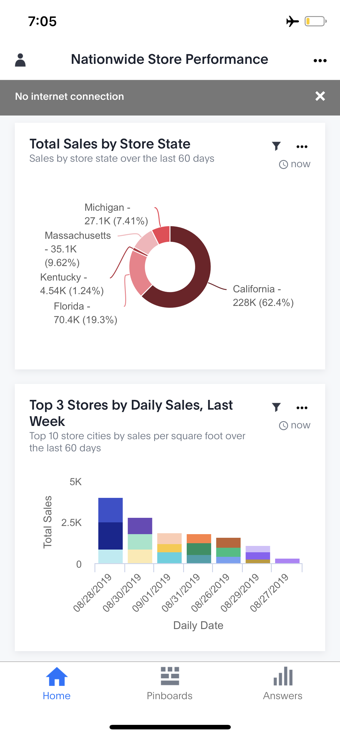 3. Pinboard Filters
Pinboard filters are an incredibly powerful feature of ThoughtSpot that we are thrilled to bring to our mobile app. They allow the same Pinboard to simultaneously give a 50,000 foot view of the whole company to an executive, while giving  a procurement or customer support manager the zoomed in view of a particular product or account they need to do their job. 
Leaders can create Pinboards with the KPIs and charts that matter for the company and add filters for regions, sub-regions, customers, or individual SKUs that the front line team are focused on. Getting your entire team on the same page with the data in ThoughtSpot will drive alignment and effectiveness throughout your company.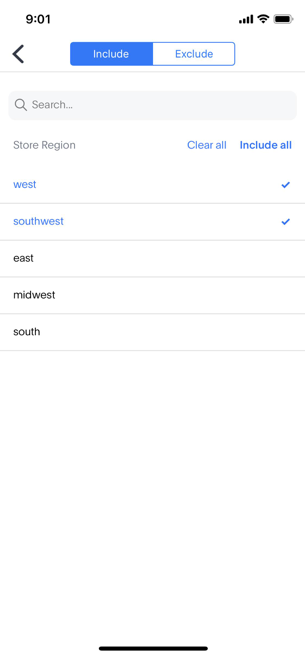 4. Sharing
ThoughtSpot is all about action. We're always asking how can we help our users make an impact on their organization. That's why we built sharing into our mobile app. The moment someone sees something, they can share it with their colleagues.
How can they share it? However they want. Since ThoughtSpot is integrated with the native share sheet on iOS, users can post to iMessage, Email, Slack, Microsoft Teams, or any other app that supports sharing on their iPhone or iPad.
Are you an e-commerce leader with a quarter that's coming down to the wire? You need to squeeze out all the revenue you can, and that means updating prices now, not tomorrow. That's why when you see a key SKU with sales trending down in the last few hours, you can share a ThoughtSpot data visualization with a team member via iMessage and they can quickly act on the insight. And because ThoughtSpot shares both a link to the chart and an image of it, you know your message will get through whether your teammates are already on ThoughtSpot or not.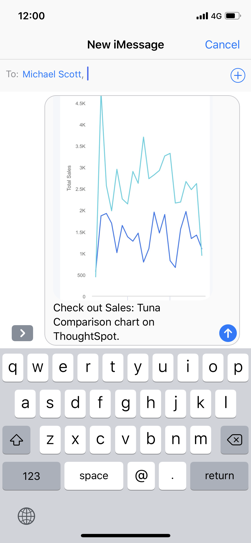 5. Favorites
Suppose you are on the receiving end of the message above, and many others like it? You will need to keep track of all those insights, and that's why we brought Favorites to the mobile app. Now you can find all your favorite Pinboards and Answers in one place, as well as favorite and unfavorite new ones as needed.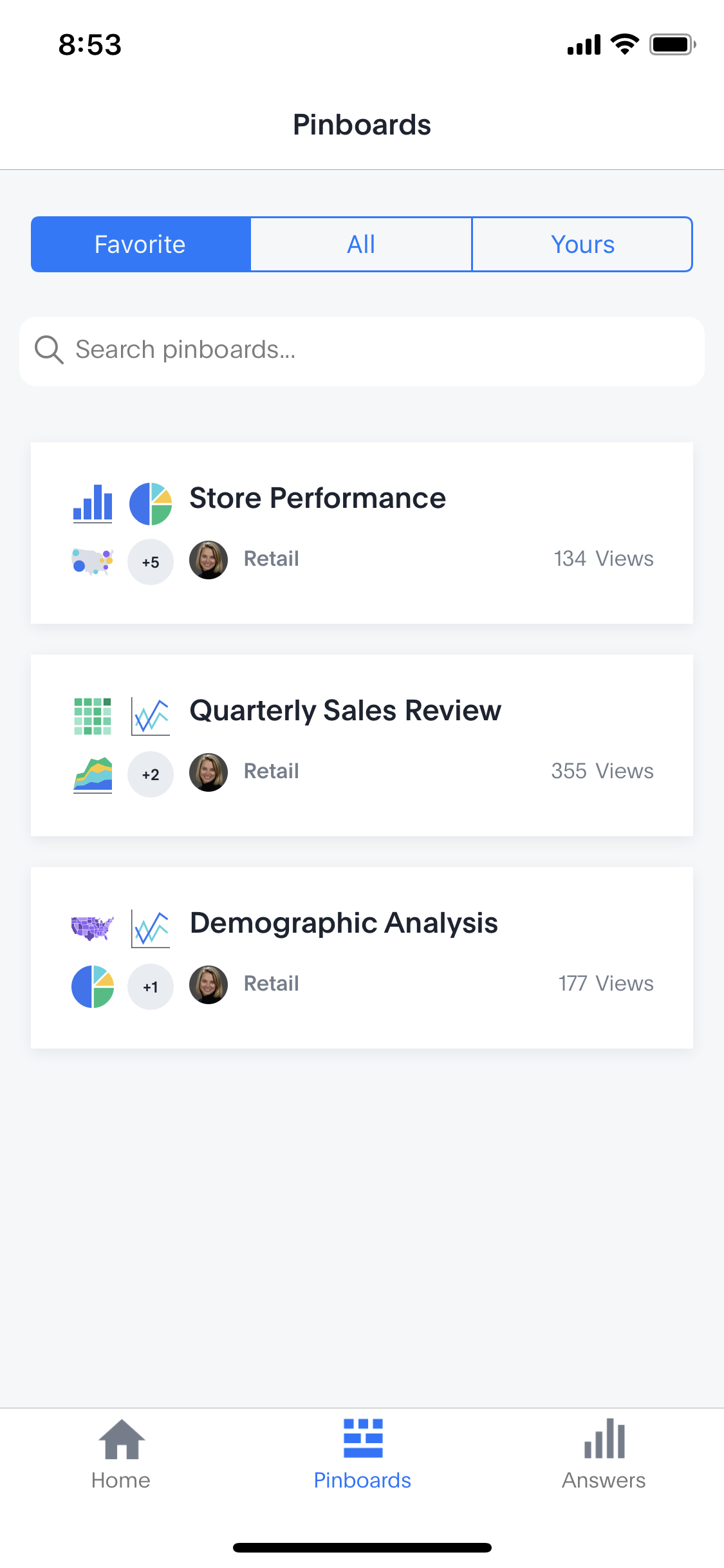 These are just a taste of what's available in the new ThoughtSpot mobile app. Download it today to see everything in the new app and let us know your feedback!