It's hard to believe that this year marks the fourth anniversary of ThoughtSpot India. We began our journey with the opening of the India Engineering Center in 2017 to bring together some of the finest minds in this part of the world and disrupt how the world interacts with data. Over the last four years, we've grown rapidly and fundamentally shaped our product and business while working with customers and partners around the globe. What enabled us to get here? Without a doubt, our incredible people and unique culture.
The ThoughtSpot India story
The team in India has been a key strategic bet for ThoughtSpot from Day 1. From having just one employee at our India office to over 200 Spotters spread across Bangalore and Hyderabad, we've come a long way. Starting with our first engineer, we've now grown to 'full-stack' teams of Product Managers, UX Designers, and Engineers collaborating to build all parts of our product and user experience. 
Our teams work across the length and breadth of our product and technology stack, impacting almost everything that our customers around the world love. From creating our mobile app and our data connectivity platform to building the intelligence behind our auto-analysis capability widely known as SpotIQ as well as our latest visualization capabilities, our engineering teams have been at the very forefront of building a more fact-driven world.

How a No-HQ policy paved the way for our success
When our co-founders Ajeet and Amit started ThoughtSpot, they had a unique vision for what they described as a 'No-HQ' environment — one where people from all locations and backgrounds can come together to do the best work of their lives and know that their voice counts. This would help create disproportionate value for all our customers globally, without being held back by proximity to any perceived center of power. A few years later, it's remarkable to know that we have made incredible strides towards this founding vision.
At ThoughSpot India, Spotters are surrounded by a world-class team of some of the smartest, yet most humble engineers in the business. We also live, breathe, and act as one team globally and continue to treat deep collaboration as a cornerstone of our growth and impact today. We work hard and play harder!

Four of our favourite moments from the last four years
This wouldn't be a proper anniversary blog post without taking a walk down memory lane. When I look back on our journey over the last four years in India, here are some memories that stand out. 
Kicking off Codex: Codex is our semi-annual hackathon where we celebrate the beauty and power of innovation by hacking away at our biggest ideas for three consecutive days. Over the years, many Codex projects from our teams have resulted in key innovations that our customers love, such as our redesigned app experience. And we've had an incredible amount of fun doing so!
Cricketing Insights: Many of us at ThoughtSpot India are crazy cricket fans. During the 2019 World Cup, we decided to partner with two of the world's leading cricket experts, Nasser Hussain and Harsha Bhogle, to uncover cricket insights and predict match outcomes with ThoughtSpot. We analyzed data from past cricket matches, discussed them with experts, and ultimately published our findings in a series of blogs! And of course, we had a great time watching some of the matches live together.
Paving the way to the cloud: With enterprise data accelerating in the cloud, we challenged ourselves to build a whole new data connectivity platform, fit for the world's leading cloud data warehouses, in a single quarter. Not only did this accelerate many of our customers' journeys to the cloud, it also paved the way for the Modern Analytics Cloud that launched this year and has been adopted by 100+ customers. Our team loves working closely with our users at places like Walmart, Hindustan Unilever, Nasdaq, and RBL Bank to name a few, accelerating their path to insights from all their data in the cloud.

Welcoming Diyotta: We were incredibly lucky to partner with Diyotta in the past to make data integrations seamless for our customers. Through this partnership it was clear that we could do a lot more together and truly redefine how enterprises all over the world access and analyse their data in the cloud. With this shared vision and builder's mindset, we were thrilled to join hands with Diyotta earlier this year and grow our footprint in Hyderabad.

Looking ahead to the next four years, and beyond
As much as we've built over the last four years, it is really still day one. As businesses continue to collect oceans of data in the cloud, how can we uncover relevant hidden insights and bring them to our users, when and where they need it? How can we help our users complete the loop from data to insights and then immediately, to informed actions that impact their business? Our focus on building the Modern Analytics Cloud for the world has never been sharper, and as our Co-founder and Executive Chairman Ajeet aptly says, 'we're only 2% done!' 
None of this would have been possible without our incredible customers and partners. This is as much your celebration as it is ours. Congratulations ThoughtSpot and Team India for four glorious years of building. Here's to many more!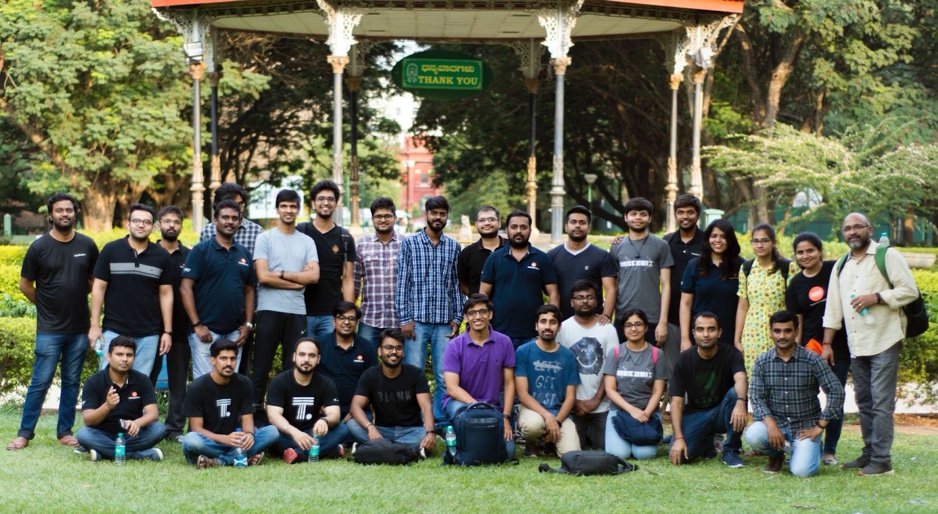 As we continue to scale rapidly, we invite the most passionate builders to join us in our journey ahead.