This blog is part of our monthly release series which highlights ThoughtSpot Cloud's latest features and updates. Sign up for a free trial today to experience the power of ThoughtSpot Cloud for yourself.
At ThoughtSpot, we're all about building powerful, enterprise-grade analytics tools that shine like consumer apps. It's what sets us apart from competitors and keeps customers like you coming back to answer your most important business questions with data. For this month's cloud release, we added a ton of shine to Pinboards, made table joins and user experiences more customizable, and launched a preview of our brand new developer portal. Read on for more details.
Keep your team on the same page by bulk sharing pinboards and answers
You know the feeling you get when you create the perfect pinboard to solve a business problem? Now you can multiply that feeling across your entire team by selecting and sharing pinboards and answers in bulk, directly from your home page feed. Not only does this allow you to grow your team's topic expertise, it also cuts down on time wasted searching for valuable information or rebuilding the same pinboard from scratch. 
Build data fluency by automatically surfacing frequently used metrics
Speaking of saving time, now when you use Search Answers you'll automatically see frequently used metrics and attributes related to each pinboard in the details panel. These additional details help you understand how data sets are being used in an analytical context so you and other business users can strengthen your data fluency over time.
Keep track of usage with the new performance tracking pinboard
If you've ever wanted to monitor ThoughtSpot usage and performance to forecast future scale, this one's for you. The performance tracking pinboard serves up essential information about your cluster's performance such as query latency, user traffic, how users are interacting with ThoughtSpot, most frequently loaded tables, and more.
Build scriptable table joins with ThoughtSpot Modeling Language (TML)
Since ThoughtSpot introduced ThoughtSpot Modeling Language last year, customers around the world have used TML to manage complex data schemas in a scriptable, portable way that makes sense for their business. Now analysts can also use TML to create, edit, and define table-level joins.
Personalize user experience with new settings in the Admin Console
Some say employee experience is the new customer experience. The better you equip teams to do their best work, the better they can serve your customers. Part of making sure teams are set up for success is customizing their experience with business-critical software like ThoughtSpot. Now, ThoughtSpot administrators can configure and manage the following settings in the Admin Console to personalize user experiences:
Advanced search and SpotIQ settings: Set how frequently content is indexed, whether table summaries should be calculated and presented, whether to enable SpotIQ automated insights, and more

Onboarding settings: Customize welcome emails, scheduled emails and related settings for your user communications.
ThoughtSpot for Developers BETA
ThoughtSpot has always been a champion of building immersive search-driven analytics experiences in customer applications. Now, we're introducing a new developer hub in ThoughtSpot Everywhere to make learning, exploring, and building engaging data-driven applications even easier for product leaders and developers. 
Starting today, ThoughtSpot administrators will have beta access to the developer portal in ThoughtSpot. Once inside, you'll be able to download ThoughtSpot's software development kit (SDK), view API documentation, and tinker with code in an interactive playground  to see the resulting application changes in real time. Stay tuned for more information as we continue to expand the developer experience to thoughtspot.com later this spring.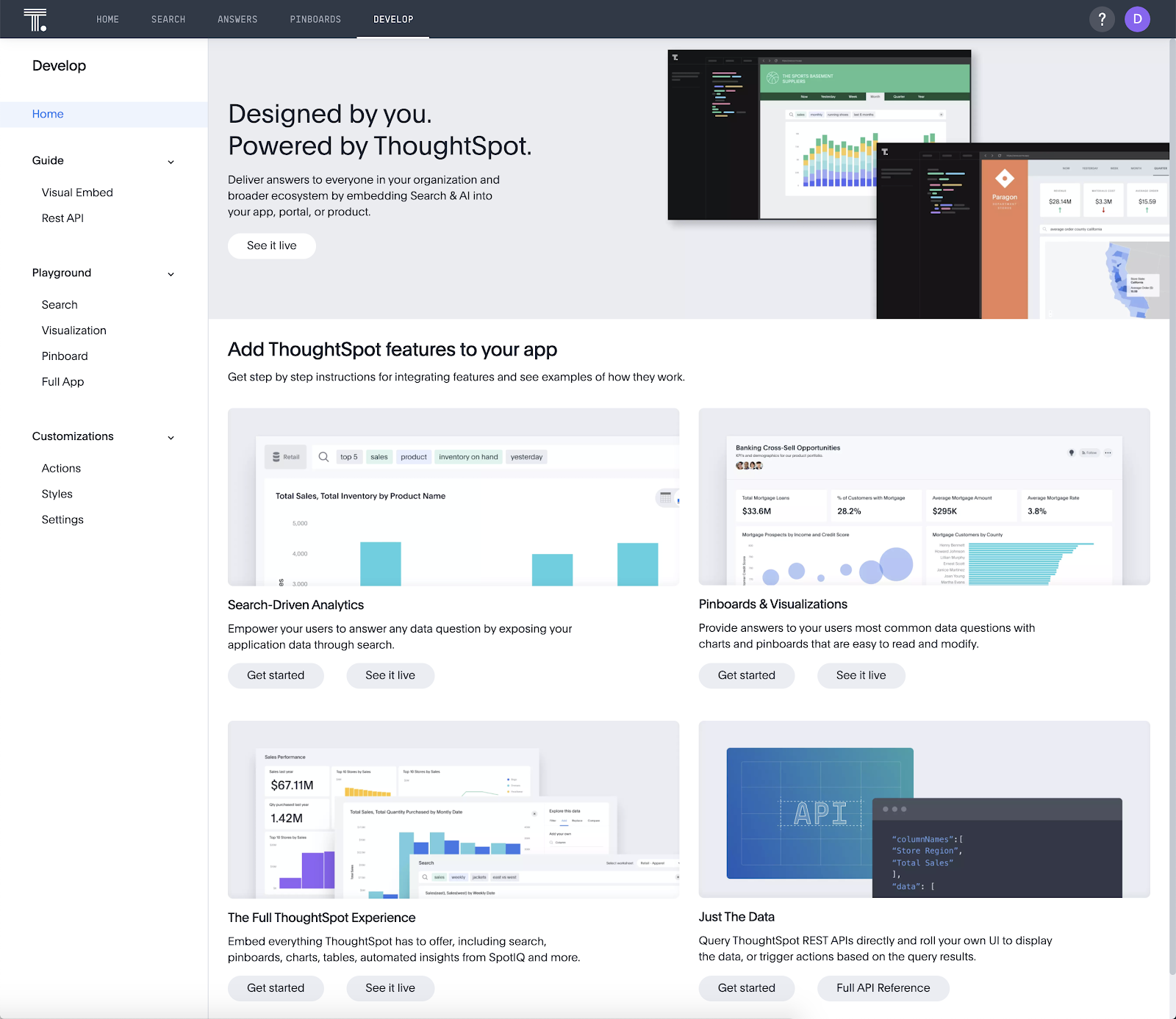 We can't wait for you to get your hands on all these new features! Drop a comment below to tell us which one you're most excited for and why.