Learn how the death of the dashboard has given rise to the modern analytics cloud of the future. Download our new ebook today. 
For more than 20 years, dashboards served as a foundational element of business intelligence, helping leaders visualize and share valuable data across their organization. At inception, dashboards were the perfect vehicle for delivering key report KPIs without data workers needing a background in coding or IT. But much has changed over the last two decades, including the appetite and needs of your business users. 
In 2020, COVID-19 made it painfully clear that dashboards lacked the speed, scale, and granularity to make real-time decisions with data. While dashboard use was already waning, the pandemic drove the nail in the proverbial coffin. Overnight thousands of dashboards and years of analytics efforts became obsolete. Pixel-perfect charts became costly, high-maintenance works of static data art instead of useful views into the real-time health and status of your business. Your demand for new, unforseen analytics use-cases skyrocketed, dashboards were sidelined for manual data extracts and daily reports. Day-old data was useless, and only in-the-moment-insights became relevant, pushing analytics teams to their breaking point. 
But we don't have to tell you this. You were there.
Dashboards weren't built for business users
Today, only 10% of executives believe their company is analytics mature. That is to say, only 10% of executives believe their employees can effectively leverage data for decision making— and they're absolutely right. Analytics adoption rates have stagnated at around 30% across the board, despite two decades of tremendous investment by the organizations that use them. Why is that? The problem isn't inadequate training or lack of motivation on the part of business users. On the contrary, traditional BI tools just weren't built for them.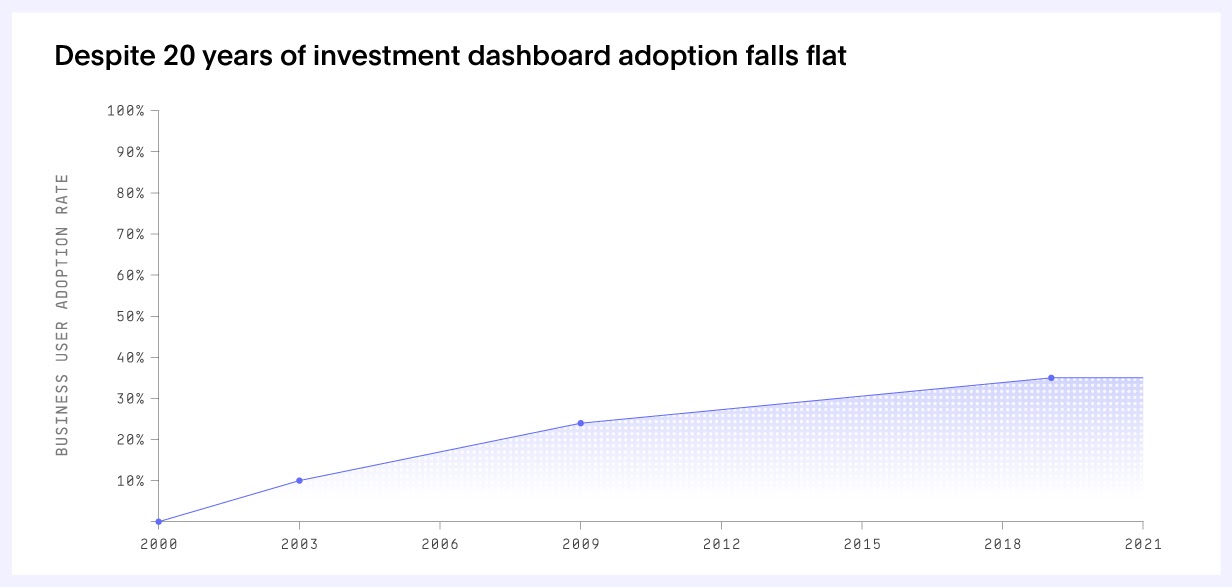 Further, 84% of frontline workers report a poor experience with analytics solutions and difficulty accessing data and insights, and an additional 86% report a need for better insights technology. Even executives aren't satisfied with current solutions. A whopping 67% admit to not being comfortable accessing or using data from their existing tools and resources. This is because BI tools were always intended to be used by highly specialized data analysts. Imagine being dropped into the cockpit of a Formula 1 car and told to race in a grand prix when you've only barely earned a driving permit. It would be a disaster. You might know where the gas pedal is, but would you really know how to drive it? 
Expecting your business users to engage with highly complex and technical analytics tools poses the same challenges. They've been set up for failure through no fault of their own, and the consequences for your business are dire.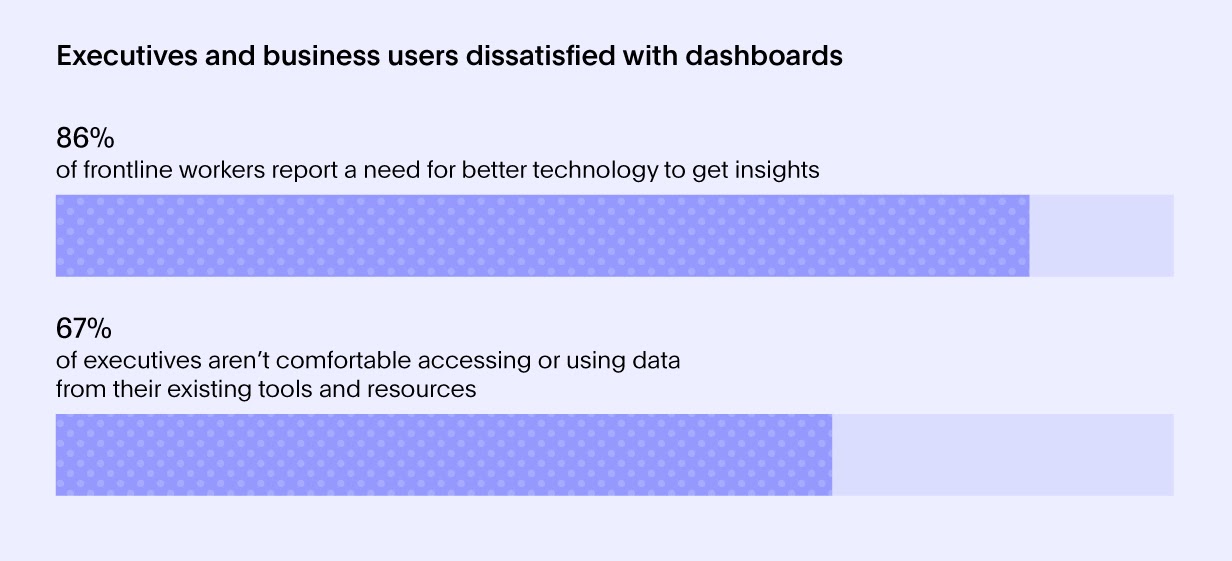 It's time to put data directly into the hands of your business users
The fact is, insights and analytics can no longer be reserved for the highest levels of leadership. They can't be gate kept by overworked analytics teams. Your frontline employees need unfettered access to insights so they can make smarter, data-driven decisions and respond to changing business conditions while they're happening.
In today's always-on, always-changing world, modern businesses can't afford to wait an average of five working days for a trained analyst to produce a dashboard. Every second lost is a hit to both your brand reputation and your bottom line. Dashboards are dead. And there's no bringing them back.