Gaining an accurate view of revenue intelligence for B2B markers is challenging.  With disconnected and dirty data residing in many systems, customers need a solution that collects, normalizes, and aggregates information into reports that answer the questions B2B marketers should have a handle on.
And let's face it, no matter how great a set of standard reports might be, every customer wants to see their data a little differently.
In the B2B revenue intelligence space, legacy vendors sought to create a one size fits all data architecture and one size fits all out of the box set of reports.  As VP of Product at Ledger Bennett, I wanted to create a solution to give business leaders the real-time insights they desire that can be customized to enable agile decision-making based on their current and evolving specific needs.
A new analytics solution checklist
Before building any solution, be it an internal or external customer-facing product with analytics in it, there are critical questions to ask. What is it going to cost to build? How will you anticipate the reporting requirements that will accompany each different customer? What will it cost to respond to those, and what will it cost to maintain those features? Can I get there cheaper and faster by integrating an already established product?
As I dreamed up Cortex, it was clear. Building a managed service platform for revenue intelligence that actually works for the client would require two things—speed and ability to customize—and integrating cloud-powered capabilities was essential to making this happen.
Why build when you can buy?
I knew right off the bat that we needed the facility to collect our customer data and integrate it into our system as quickly as possible. We also wanted the capacity to turn around and rapidly provide an intuitive and personalized way to interact with that information. To best serve our clients, we needed to partner with a business already established in analytic visualization for our solution.
ThoughtSpot Everywhere was an obvious choice to augment the Cortex tech stack. Instead of wasting time and money to build the components to visualize complex business intelligence data, we got up and running quickly with a partner already on the cutting-edge of these capabilities.  
As far as a business case for build versus buy—it is not even close. You want to choose ThoughtSpot Everywhere. 
Best practices and happier customers
The key to leveraging business intelligence solutions lies in how quickly you can gather your analytics, explore and report on the data, and act based on the insights. 
Now, with the push of a button, ThoughtSpot Everywhere enables us to access our customer data and surface it into a set of best practice reports that answer the key questions B2B marketers need to have answers to, but customized in a way that makes sense for each unique use case. It's a key part of Cortex, and our customers can use this tool to create and share their own custom dashboards and reports.
At setup, every new client receives a pre-configured best practices report from ThoughtSpot Everywhere.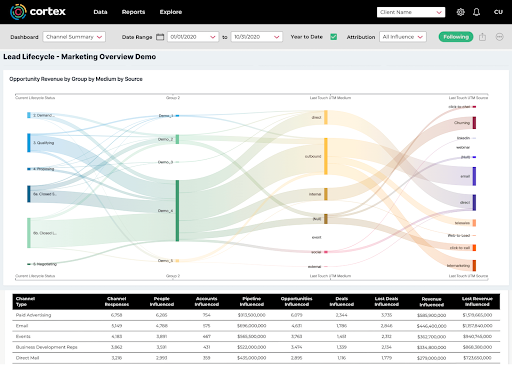 At Cortex, I can say "yes" to client reporting needs. I can turn those requests around quickly. With ThoughtSpot Everywhere, I have an embedded analytics product that lets us move rapidly to execute against our ongoing product roadmap. Now, I have happier customers getting more business results, which is what this is all about.