Last week, we hosted the inaugural Analytics ThoughtLeaders event at the Conrad Hotel in NYC, bringing together over 200 data disruptors and industry visionaries on the cutting edge of analytics innovation to discuss anything and everything related to the future of data. 
<br>Packed house at Analytics ThoughtLeaders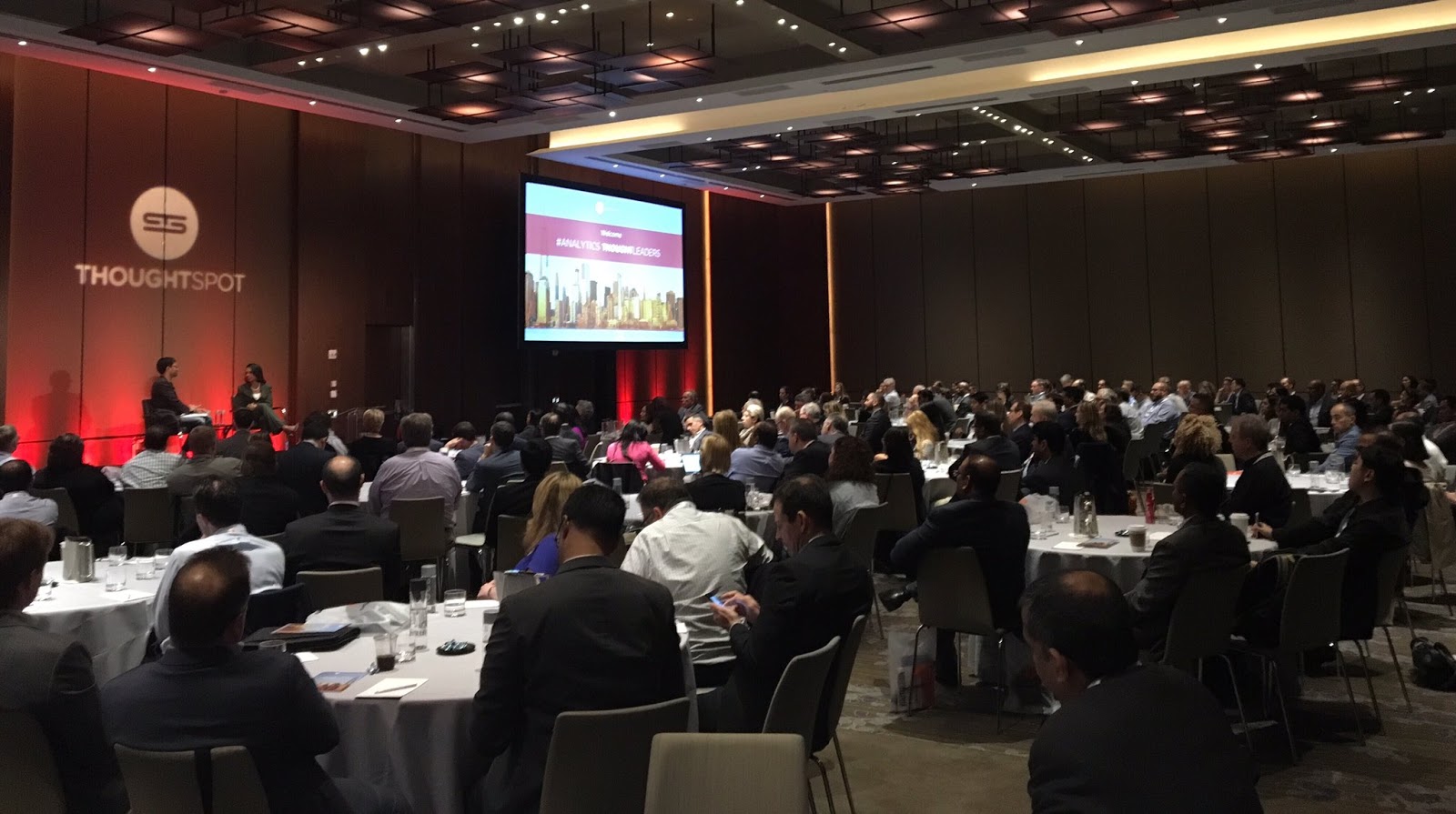 With attendance from folks like Condoleezza Rice, Tiki Barber, Nasdaq CIO Brad Peterson, Gartner VP Cindi Howson, and former Google VP of Search Engineering Amit Singhal, the conference was packed with thought leaders with diverse backgrounds from a multitude of industries. Each shared their unique perspective on leveraging data and analytics to successfully navigate change while simultaneously staying one step ahead of the competition.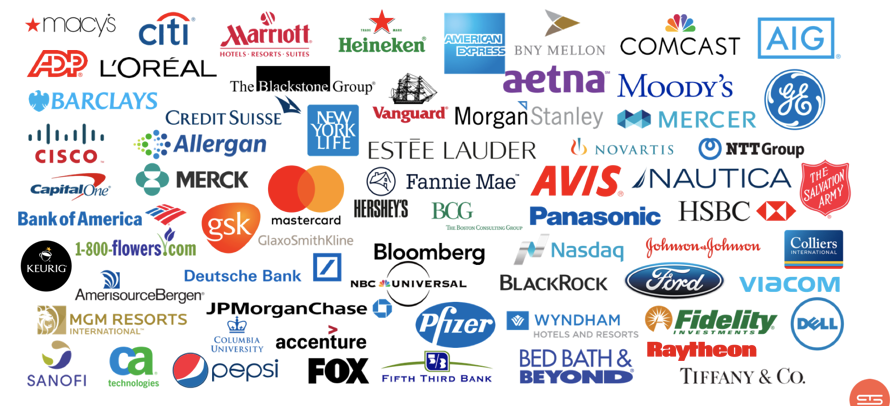 Companies attending Analytics ThoughtLeaders
Dr. Rice kicked off the event with an interactive Q&A session, hosted by ThoughtSpot Co-founder and CEO Ajeet Singh, covering the topic "Leading with Diplomacy in Times of Change " Drawing on her own experience, both as Secretary of State and a professor at Stanford, Dr. Rice explained disruption is everywhere, going so far as to say "everyone is being disrupted. There are two categories. Either you know it or you don't." Many view this as a disrupt or be disrupted world, with competitors operating with a strict zero-sum game mentality. 
Not so fast, says Dr. Rice. 
While it's true technology has accelerated the pace of businesses, making competition even fiercer, Dr. Rice explained that nearly all businesses, even those squaring off for customers, have some common ground or goals they would be more successful achieving together, rather than in isolation. At the heart of building these competitive coalitions? Diplomacy. Take, for example, social media giants Facebook and Twitter. While both networks may be vying for social supremacy, they have a shared interest in ensuring any forthcoming regulation or standard makes sense for the social media industry at large. The best way to do that isn't to work with government regulators and lawmakers independently, but rather cooperatively. And you guessed it; that requires diplomacy. 
<br>ThoughtSpot Co-founder and CEO Ajeet Singh and Condoleezza Rice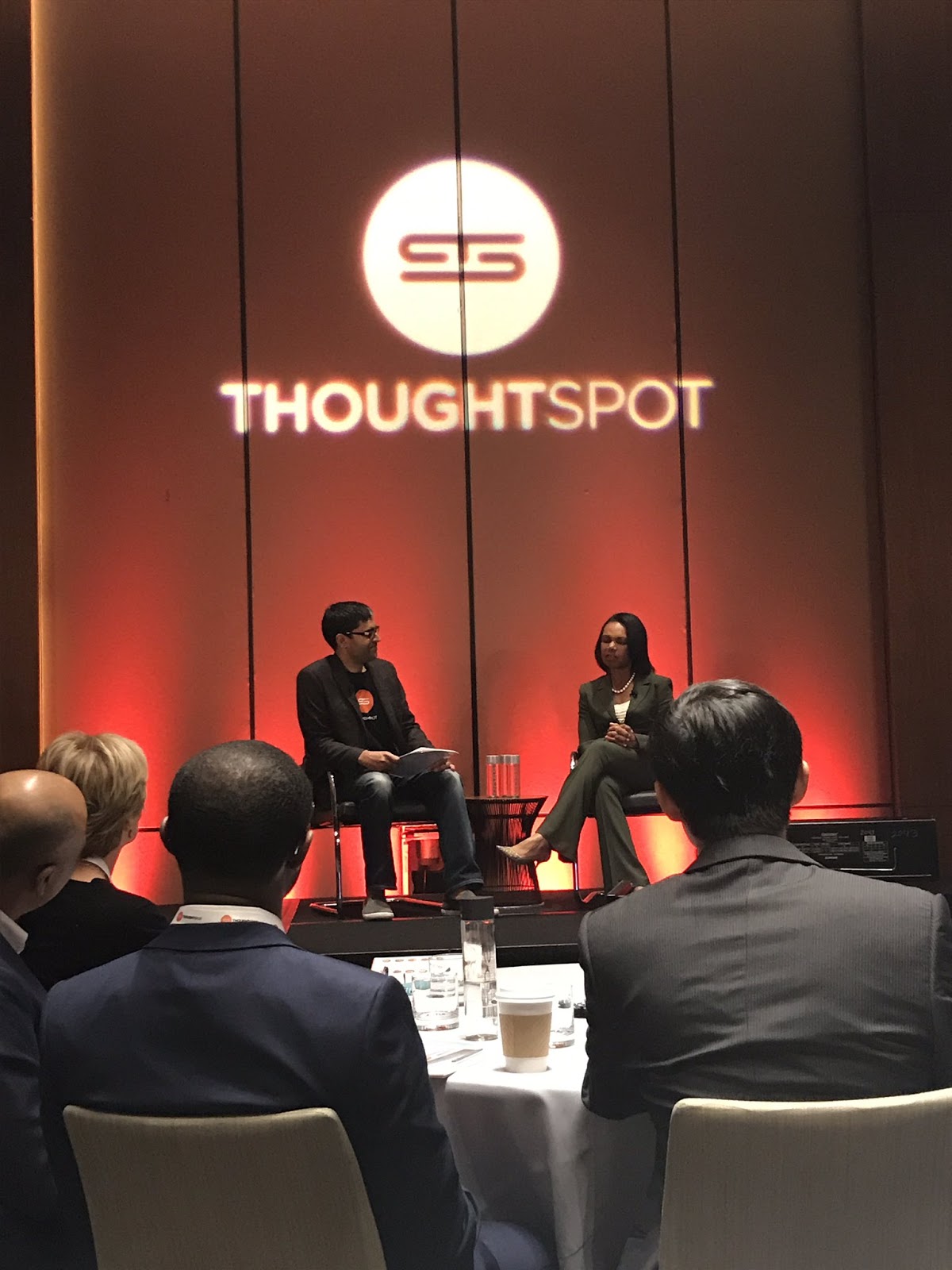 Next up, Nasdaq CIO Brad Peterson recounted how two tectonic tech trends - the cloud and machine learning - are the twin pillars underpinning the massive, systemic disruption characterizing business in the last two decades. The premise is deceptively simple. As the cloud made collecting and storing unprecedented amounts of data feasible, it created fundamentally new opportunities to actually use these huge datasets. Simultaneously, machine learning has allowed companies to create software that leverages all this data to learn and optimize over time. Coupled together, it was a match made in tech heaven. The reality, though, is the greatest disruption the business world has ever seen. And with more than half of the Fortune 500 from 2000 already gone, the pace of disruption isn't slowing down.
<br>Nasdaq CIO Brad Peterson talking about the impact of the cloud and machine learning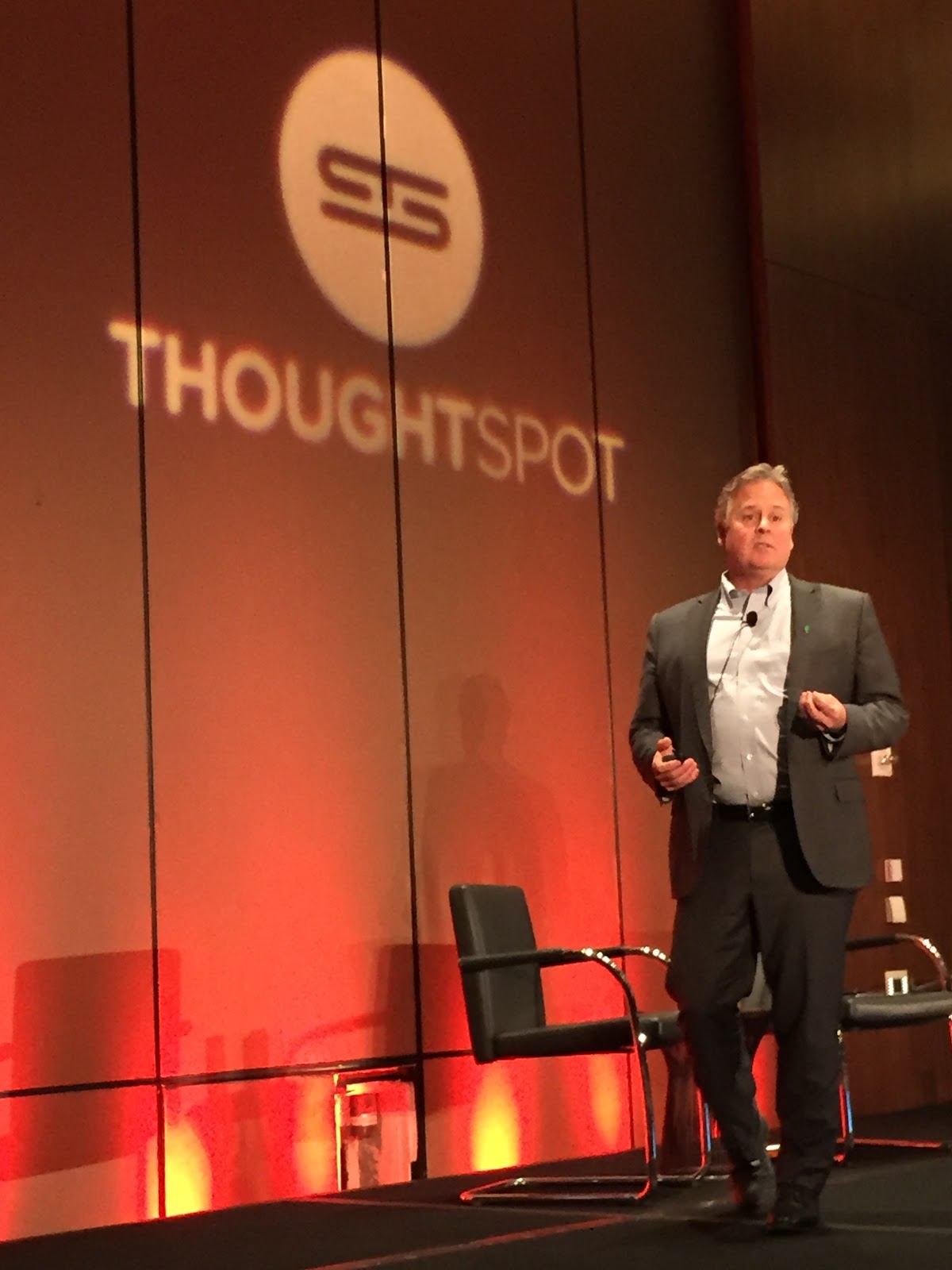 Regardless of company, function, or industry, the ubiquity of data was a theme we heard throughout the event. Former NY Giants Running Back Tiki Barber nailed the pervasiveness of data in his discussion. From his time on the field, where competitive data came in the form of player stats, to his role as the co-founder and co-chairman of influencer marketing platform Thuzio, where data drives the business, Tiki explained that data is everywhere in our lives. It's those that learn to harness data, in all it's diversity, to make decisions and chart the path forward, though, that will be the real champions. 
<br>Tiki Barber explains data is everywhere, for every business and every industry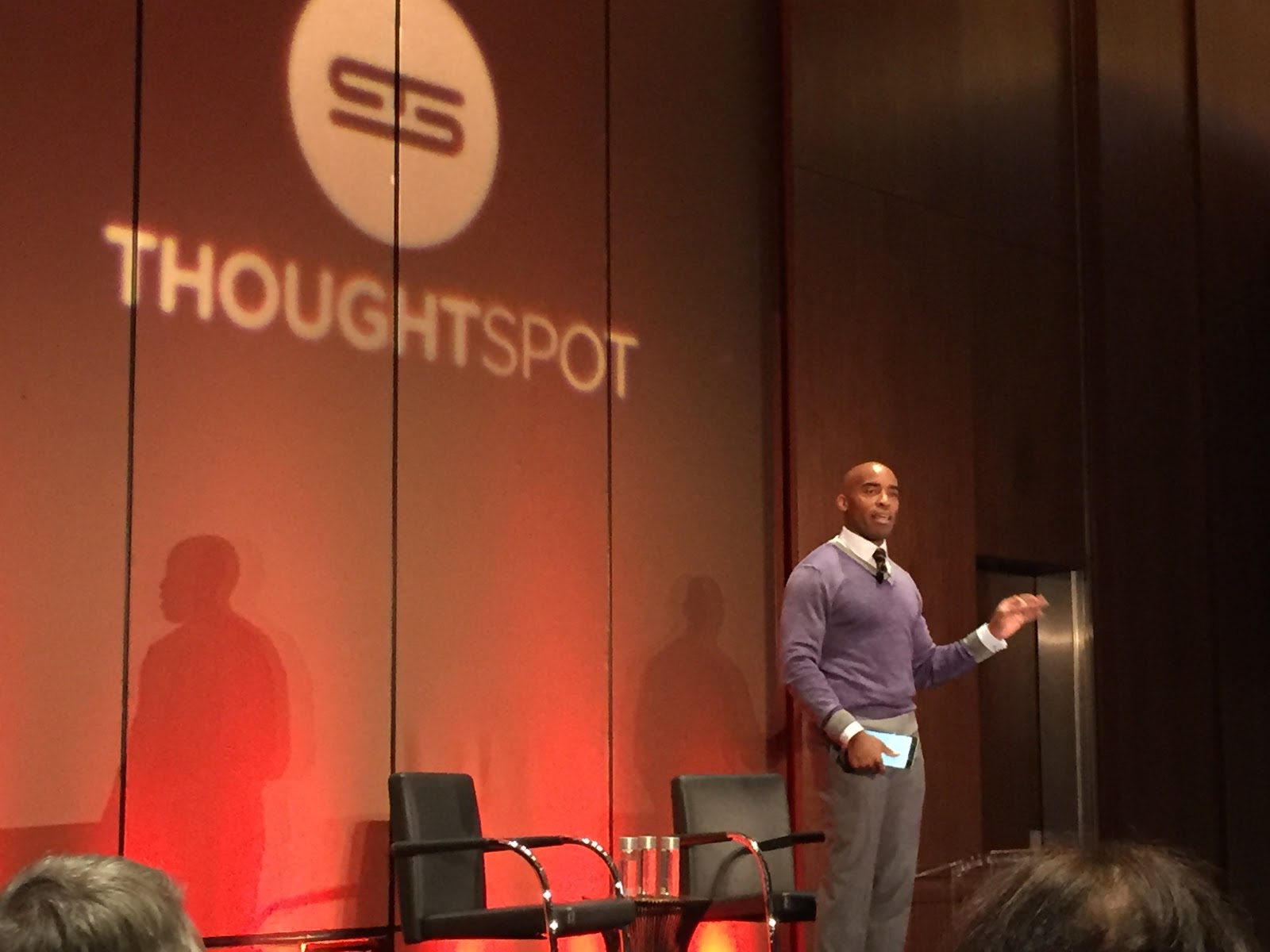 Though much of the day's conversation focused on the possibilities engendered by the latest innovations in technology and data, ThoughtSpot Co-founder and CEO Ajeet Singh brought the conversation back to making an actual impact, which requires tech to leave the science lab and get adopted in the real world. The greatest hurdle to this adoption? Trust. Just think to the latest headlines swirling around Equifax after the breach to the misgivings around autonomous vehicles in light of recent crashes. Despite the ability of technology, particularly AI, to improve our lives in areas ranging from healthcare to education to finance, if users don't trust the underlying tech, they'll never adopt it.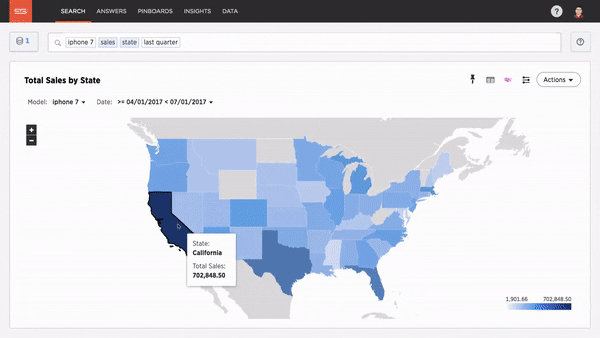 Demo of SpotIQ, ThoughtSpot's AI-driven analytics engine
The day concluded with a series of real world applications of search, AI, and analytics from across different industries and sectors that democratized data access, while improving the bottom line. Fannie Mae Director of Analytics John Coaster, Sterling Talent Solutions Manager of Data Strategy Cindy Villamil, Caterpillar Dealer Analytics Manager Will Scheck and Tracfone Director of Analytics and BI Ramesh Vanapalli joined a panel hosted by ThoughtSpot VP, Tim O'Neil to share the positive impact democratizing data with search-driven analytics has had on their businesses, and why companies of all sizes and industries should utilize search to put data in the hands of the users who need it most if they want to see the same gains.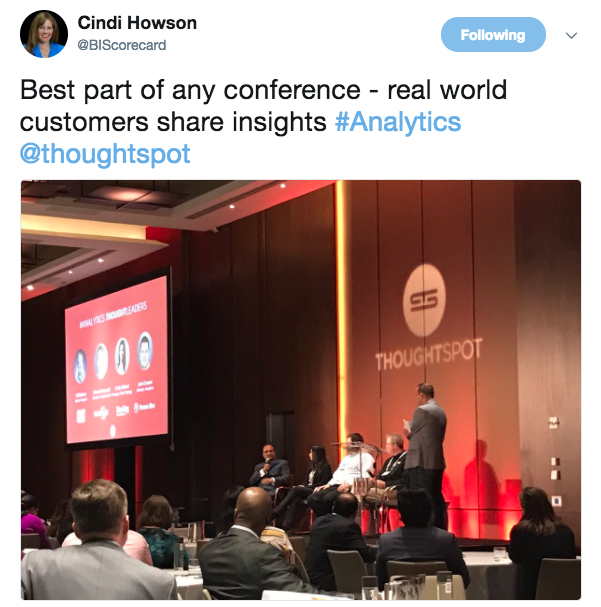 Customers sharing insights on their experience using ThoughtSpot
Next up was a session on AI, hosted by ThoughtSpot CMO, Scott Holden.  He first invited former Google VP of Engineering Amit Singhal to the stage. Singhal, an early architect of the search technology we all use in our personal lives, argued using search to deliver analytics isn't just breaking the BI bottlenecks every businessperson knows and loathes. Rather, it's allowing analytics to keep up with the speed of thought, critical for the one billion and counting knowledge workers at the heart of the global economy. Next up was Vinod Ravi, Professor and Oncologist and Director of Big Data Platform at the MD Anderson Cancer Research Center.  Dr Ravi,articulated the power of AI and analytics in his role helping the center improve diagnoses and treatments with the goal of extending longevity and quality of life for cancer patients. After a quick look at ThoughtSpot's new AI engine SpotIQ, Fannie Mae VP of Data Strategy Kevin Bates came to the stage to explain his company's vision for the future. In addition to embracing AI and other big data technologies, Bates closed the day by explaining how it is critical to change your process and team structure to complement the latest tech innovations - making the case for data teams to go on offense vs defense. 
From the conversation at Analytics ThoughtLeaders, it's clear we've only scratched the surface of the data revolution's impact on both our professional and personal lives. It will take a combination of new solutions, approaches, and philosophies to not just ride, but drive, this new data future. We'll continue sharing more insights from the event on how to just that, as well as ways for you to get involved in the next conference and add your voice to the future of analytics conversation. It's the one conversation no one can afford to left out of.