No matter what industry or role you're in, everyone is talking about data. It's become the most important asset for companies. Those using it effectively are growing and thriving. Those that aren't are dying on the vine.
With technologies like IoT, cloud, and AI taking off, the digital revolution is just beginning. Taking the leap into the future is never easy, but no one can afford to maintain the status quo.
Take control of your digital destiny at Beyond, the can't miss data and AI conference of the year. From leading innovators to real world case studies to inspiring keynotes, Beyond is the show of the year to attend if you want to charge into the future.
While there's something for everyone at Beyond, here are six of the top reasons (though we could keep going!) to head to Dallas October 15-17th.
1. INCREDIBLE SPEAKERS
There's a stellar lineup of speakers, changemakers, and innovators guaranteed to supercharge your time in Dallas, such as:
Changemaker Mick Ebeling's keynote pushes you to a whole new stratosphere of thinking, sharing how leveraging digital platforms and data can help you out-innovate your competitors. Check out the 2011 TED Talk on his first project: The Eyewriter, named by Time Magazine as one of the "Top 50 Inventions of 2010".
Shawn Achor, best-selling author of The Happiness Advantage and Big Potential, joins our keynote speakers to share the connection between happiness and success. And what success he's had! In 2014 Oprah did a two-hour interview on his research, which has made the cover of Harvard Business Review.

You'll also hear how business leaders at forward-thinking companies including Walmart, BT, 7-11, Suncorp, and more are using search & AI to supercharge their analytics strategy. See the full list of speakers here.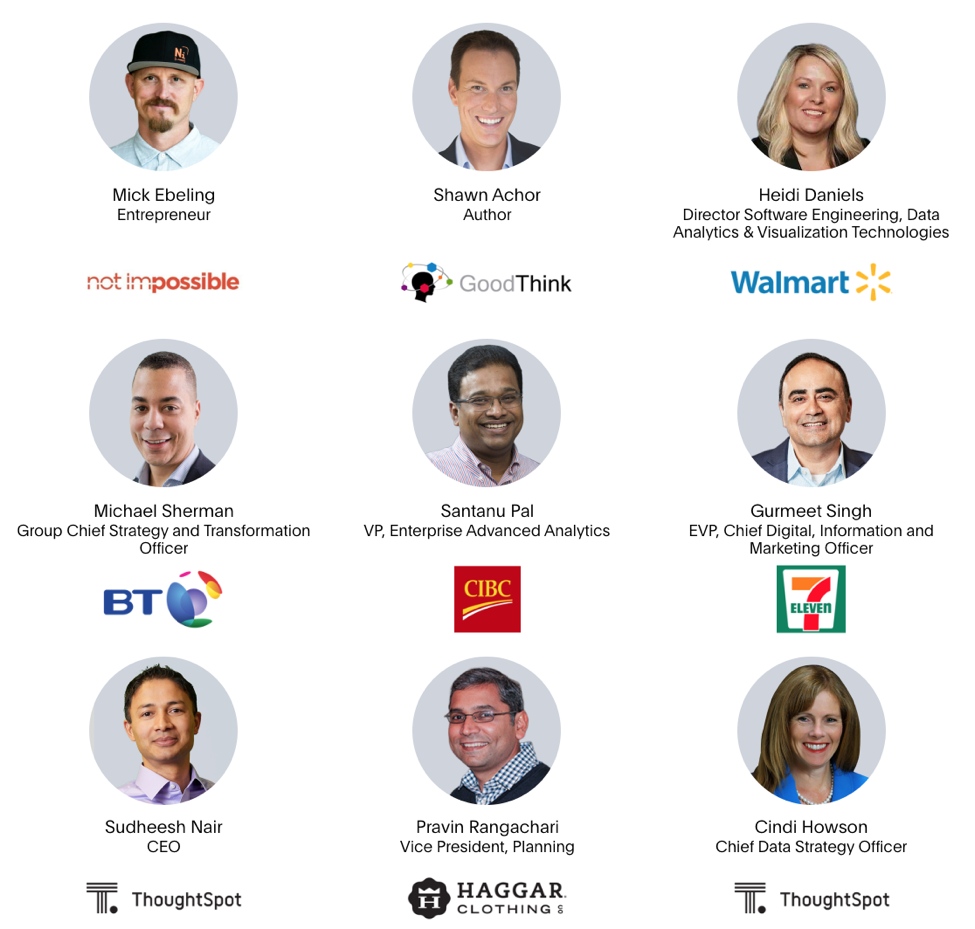 2. IMMERSIVE TRACKS
With sessions featuring some of the world's most iconic brands like Honeywell, Vanguard, Cisco, CIBC, Accenture and Comcast, it's going to be hard to narrow down your schedule.
To help you navigate, breakouts are simplified into three core tracks.
Analytics Strategies for the Modern Enterprise: Go beyond the technology, and see the human side of analytics and how to transform the modern enterprise. You'll hear from the most successful Chief Data Officers and find out how they've created data-driven cultures to unlock the value of analytics. The track will also include a look at the latest trends in AI, while making the case for diversity in data. 
The Business Value of Search & AI-Driven Analytics: Join us for this track and get everything you need to build a solid business case for search and AI-driven analytics. With a focus on how you can use analytics to increase customer loyalty and unlock new revenue streams, you'll walk away with knowledge of the latest use cases and best practices. Go back to the office with ways to communicate the value of analytics to the rest of your business, drive adoption, and lead the way in digital transformation initiatives.
ThoughtSpot in Action: Go under the hood with our most accomplished technical users and get ready to rethink how you're analysing and visualizing your data. This track will lead you through a series of technical explorations covering in-depth functionality of ThoughtSpot. Learn how it can help you have a conversation with your data and get faster insights -- on the spot.  
3. NETWORKING DONE RIGHT
Directly interact with the data leaders from the brands you admire. And expand your network of peers through events designed just for you, like the Beyond19 party at an iconic Texas venue and a Diversity in Data networking opportunity. Start by getting in on the Twitter conversation using #Beyond2019.
4. GET HANDS-ON WITH IN-DEPTH TRAINING
Looking to get the most out of search & AI-driven analytics? Learn tips and tricks for maximizing the value of your data with three pre-and post-conference training offerings.
Intro: A 1-hour course for anyone new to ThoughtSpot and would like to get the basics of how to use search and AI to analyze your data. The best part? It's free!

Advanced: A 4-hour course for those already familiar with ThoughtSpot yet are interested in exploring functionality beyond the basics.

Admin: Designed for administrators, this 4-hour course covers more technical training around data modeling, data loading, and other advanced platform configuration topics.
5. ACCELERATE YOUR ANALYTICS JOURNEY
No matter where you are in your analytics journey, Beyond has the content for you. You'll have the chance to meet with experts from ThoughtSpot, our partner community, and the industry at large in 1-on-1 sessions to develop a game plan for the obstacles you're facing. Get ready  to take your organization's data strategy to the next level in 2020.
6. TURN INNOVATION INTO IMPACT
Get a first look at what's to come for search & AI-driven analytics as you experience the latest innovations up close. You'll not only hear about these new solutions, but learn how your organization can begin leveraging them to impact your business and drive the bottom line.
GO BEYOND DATA
Come to Beyond'19 to make a significant, positive contribution to your organization. Don't leave your team out! Check out the great group rates here.
Do you need to convince your boss? Use this customizable letter to make the case for attending Beyond19.
See you in October!