Much has been written about the diversity problem prevalent in the tech industry, especially when it comes to gender diversity. Competent women continue to drop out of the industry due to lack of inclusion, gratification, support and/or career growth. Not only that, societal influences and industry perceptions often discourage young women from even pursuing a career in STEM in the first place.
As a thriving global tech company, we at ThoughtSpot remain continuously committed to keeping our culture diverse and inclusive. Not just because it's the right thing to do, but because, as the data shows, it seriously contributes to a company's chances for success.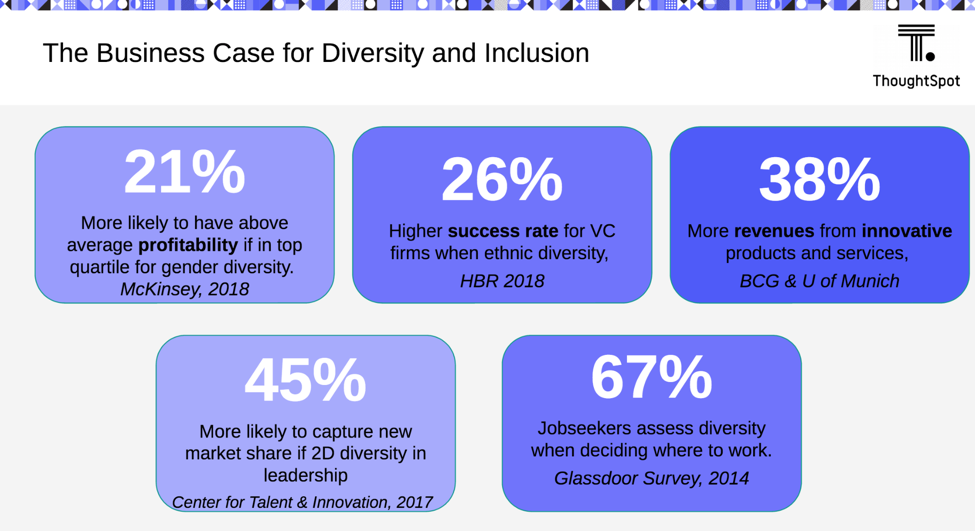 We truly strive to create an environment where all perspectives are included and where people of all ethnicities, backgrounds, and genders feel safe to do their best work. Creating such an environment requires action from an entire organization, where men and women can work together to combat the "women in tech" problem.
That's why it was such a pleasure having Erica Lockheimer, VP of Engineering at LinkedIn, for our "Thoughtful Speaker Series". Erica has been running WomenInTech at LinkedIn for the past 5 years, and is an advocate for the role of male allies in successfully addressing the gender diversity problems in technology. In her own words: "It truly takes a village and the more we can talk about the importance of allyship, the more impact we have and the more we can scale our mission. This truly is a movement and we need everybody #InItTogether."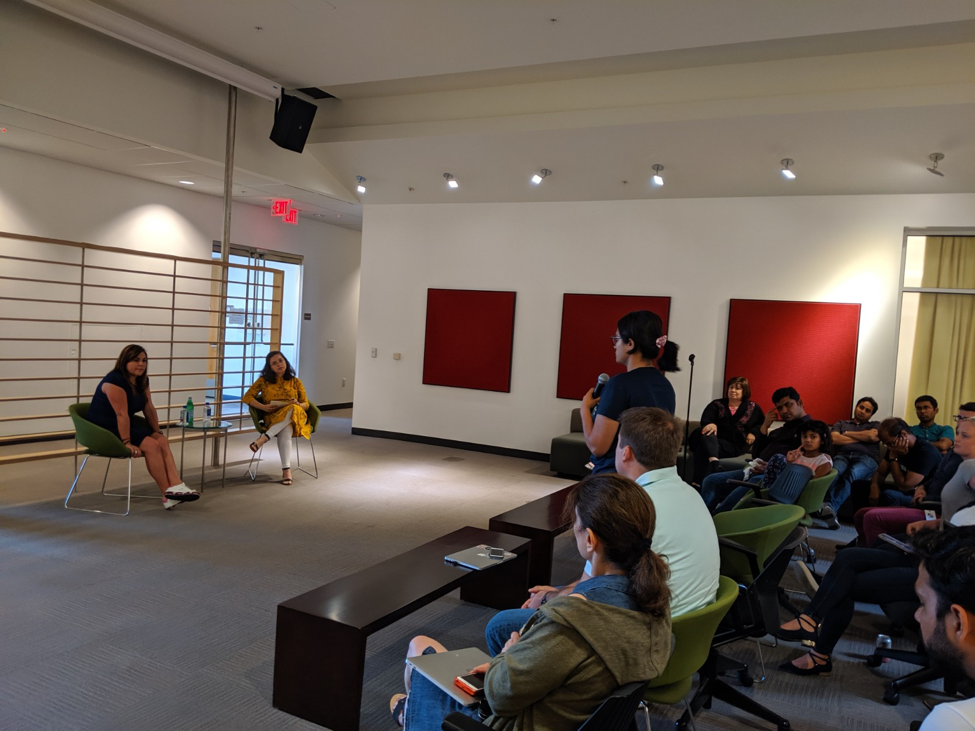 While it's hard to capture all the great insights Erica shared, here are five of the most important highlights:
1. How can one be an ally?
The first step is to build a relationship. Listen and get to know your team. True allies are mentors, and such relationships do not develop overnight. They happen when we lower our guard and share our vulnerabilities. Just like any other relationship, you need to nurture it, build a foundation, and develop trust.
2. What can an ally do on a day-to-day basis?
Adopt a push vs pull mindset. There will always be different personalities in a room. Do not assume that people will speak up if they have something to say. Make an intentional effort to call on the quieter voices around you and include their opinions.

Make meetings inclusive. Make a conscious effort to bring diverse people in all kinds of meetings - Review meetings, Decision making meetings, Project meetings.

Unbiased decisions. We tend to make decisions based on our past experiences, exposures, and our own inherent biases. Start with having a diverse and inclusive dataset and then look through different lenses to make a truly informed and unbiased decision.
3. Active vs passive allies - what's the difference?
The scope of an ally does not begin and end within the walls of a meeting. Passive allies might hear you out when you reach out to them, but active allies are the ones who champion for you - even when you are not in the room.
4. How can we strengthen relationships within the team?
Enable. "Own the room" style coaching to enable effective communication.

Encourage. Team building exercises like chalk talks giving equal opportunity to all team members to showcase their work and accomplishments.

Evaluate. Bring in help from external agencies and moderators to observe and improve dynamics of the team with targeted activities.
5. How can we hire keeping diversity in mind?
Start at the source. Apart from your familiar sources of talent, diversify the hiring funnel by participating and hosting tech meetups, women in tech groups, and other tech networking events to gain access to candidates with varied experiences and backgrounds.
There is a dire need to even the playing field within the tech industry between men and women; however, the fight for women's empowerment will never be truly won until we have male allies on our side.
We at ThoughtSpot believe that our culture is a foundational block in the success of our company. To enrich the product experience for our users, diverse teams are crucial. We know, if we want to change the outcome and build these teams, we will have to be creative and smart about our actions.
There's so much each of us can do, and then so much MORE we can all do together as #allies. The onus is now on us. Such an exciting time to be in tech!