Business analytics tools make a lot of promises, but how can you be sure it's the right fit for your business? 
As data leaders, it is your job to find an analytics solution that empowers your team to access actionable insights. If your current tools aren't cutting it, it's time to search for other alternatives. To help you compare features and make an informed decision, we've created a short list of the best business analytics tools. 
Table of contents:
Traditional business analytics tools serve stale insights and create data silos, leading to delays in decision-making. Their more modern counterparts are designed to help users unlock value and tap into new growth opportunities. When evaluating a new business analytics solution, organizations should look beyond pricing and focus on features that add value and drive adoption. 
1. Scalability and performance
As the volume of data grows exponentially, you need a scalable business analytics solution that can handle complex queries. This tool should seamlessly integrate with fragmented data sources and cloud warehouses, providing a unified view of your operations. Look for solutions that offer data preparation and integration capabilities so that you improve your data quality and make timely, accurate decisions—without compromising on speed and performance. 
2. User-friendly interface 
Opt for a solution that has an intuitive, user-friendly interface with a pre-built visualization library so that everyone can gain context and extract valuable insights. Look for features like drag-and-drop interfaces, customizable filters and widgets, and intelligent query builders to empower everyone, regardless of their skills, build real-time dashboards, and create compelling data stories. 
Let's take ThoughtSpot's sleek, modern Liveboards, for instance. It allows business users to create dynamic visualizations, apply filters, drill down, and explore different aspects to gain deeper insights. Here's what one of the ThoughtSpot users has to say about its user-friendly interface.
3. AI-powered solution
With the AI market exploding, businesses are using open-source AI tools to unlock new waves of productivity. Modern business analytics tools offer compatibility with AI-driven technologies that assist users in data modeling, natural language search, predictive analytics, and anomaly detection. With AI-Powered Analytics, you can speed up innovation and minimize the amount of time required to move from data to insights to impact.   
We may be biased, but we're confident that ThoughtSpot is the best analytics solution, and we're willing to go head-to-head with any other tool on the market.  By harnessing the power of Large Language Models (LLMs) like GPT and Google PaLM, ThoughtSpot's AI-powered, search-based interface empowers business users to build interactive visualizations, uncover anomalies, and explore easy-to-understand summaries that help you tell compelling data stories. Whether you are from marketing, sales, or operations, ThoughtSpot makes tracking critical KPIs and exploring data a whole lot easier—without compromising on security or compliance. 
Want to know how ThoughtSpot supports self-service analytics? Hear it from one of our trusted customers - Matthew Day, former CIO at Langs Building Supplies:
"Our users know how to Google search and ask questions in plain language to find something. ThoughtSpot simulates that same style of interaction between users and data."
Core features: 
Connectivity with multiple data sources

Interactive data visualizations

Mobile BI

Search-based interface

Embedded analytics

AI-generated answers and recommendations

AI-assisted data modeling
See how ThoughtSpot can drive data fluency across your organization—sign up for a 30-day free trial. 
Mode is a business analytics software that offers a drag-and-drop interface to help users explore complex datasets and find granular insights. Seamlessly connect data from multiple sources and build dashboards that help you keep track of real-time KPIs. With Mode, business users create insightful reports and share their data stories with the team to drive better understanding. Meanwhile, power users can dig deeper with advanced analytics capabilities to illuminate hidden trends. 
Here's what Alex Netsch, VP of Revenue Operations at Rippling, has to say about Mode helping the company build a single, company-wide source of truth:
"Once you build the infrastructure, you can create a self-serve data culture by educating teams on how to ask a good question and answer it themselves. It's critical to not just rely on the data team to do the work. We use Mode as the source of truth for general BI - things like how many customers we have, how much ARR, what we closed this month vs. last month, etc."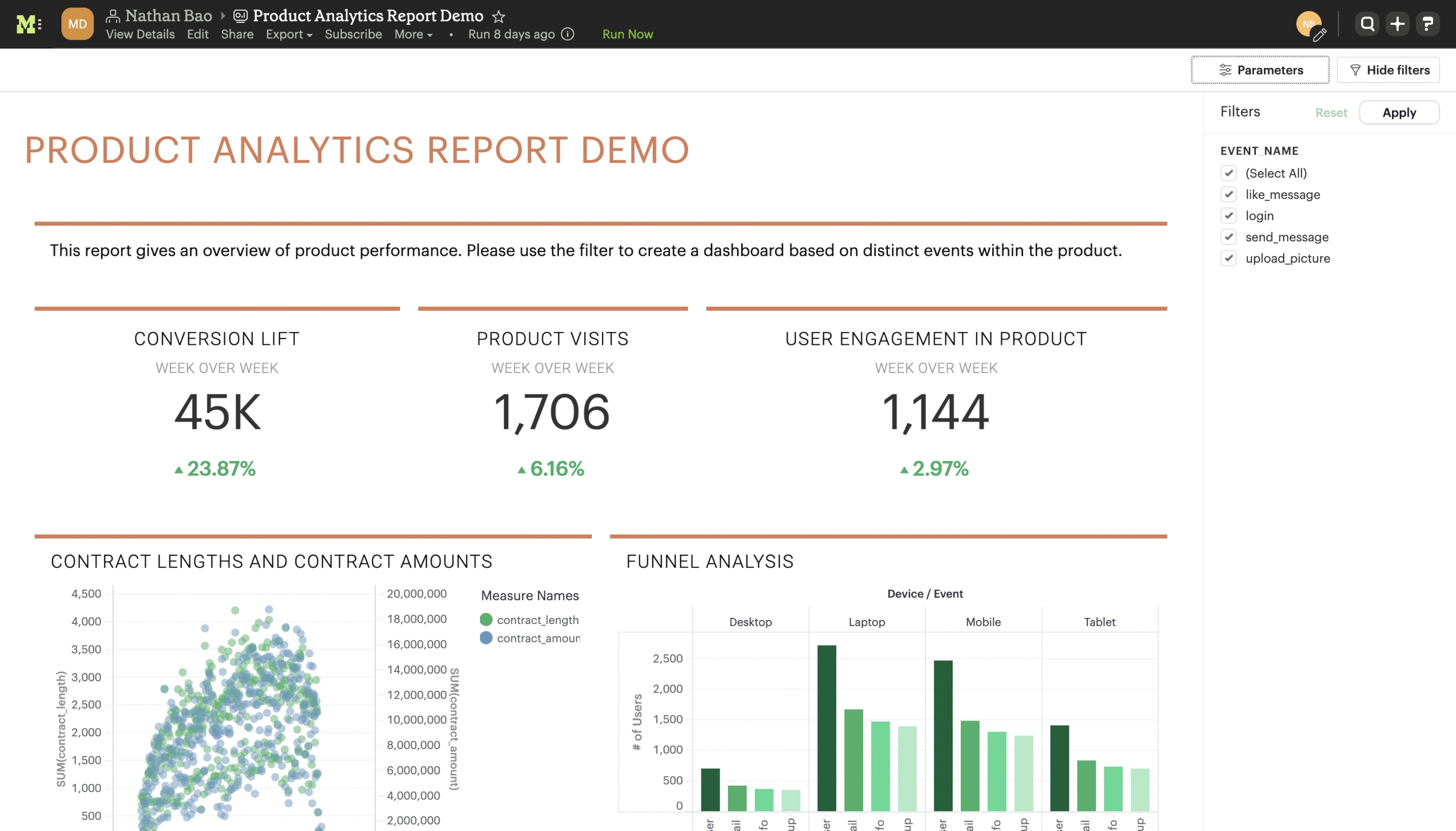 Core features: 
SQL editor

Real-time dashboard and reporting

Visual explorer

Integrated notebook

Embedded analytics

Integration with multiple databases. 
Build interactive visualizations with an intuitive interface by signing up for Mode's free 30-day trial!
Tableau is a legacy business intelligence and analytics tool launched in 2003 and then acquired by Salesforce in 2019. Known for its advanced analytical capabilities, Tableau allows analysts to prep data and organize it for visualization with a drag-and-drop interface. The company also has AI tools that help users in data preparation and analysis. 
Core features: 
Dashboard creation

Advanced visualizations

Report sharing

Trend analysis and report sharing

Viewing on different devices

Data integration
Qlik Sense is a unified BI platform that helps users explore and analyze data. The platform is known for its data modeling capabilities and flexible deployment options. Users can deploy it on-premise or in the cloud and connect it to multiple sources for data-driven decision-making. This business analytics software equipped with ML capabilities, users can get recommendations, build visualizations, and gain access to insights. 
Core features: 
Flexible deployment options

Intuitive interface for reporting and dashboard creation

ML capabilities 

Real-time data monitoring

Mobility 

Predictive analytics
Domo is a cloud-based business analytics platform that lets you transform raw data into interactive visualizations. With AI capabilities, the platform allows you to ask complex questions, make future predictions, and perform what-if scenarios. The low-code interface allows users to connect data from multiple databases, build dashboards, and embed analytics. 
Core features: 
Data preparation

Low-code interface for creating dashboards and reports

AI-assisted insights

Live data analysis

Embed analytics

Desktop and mobile support
Power BI is Microsoft's data visualization and business analytics tool that comes with a drag-and-drop interface to allow users to extract insights and gain data context. It connects with all Microsoft products and offers AI capabilities to help users with dashboard building. Power BI users can clean data, define relationships, and create dimensions for better exploration. 
Core features: 
Interactive dashboards 

Change analysis and data modeling

Data connectors

Report sharing

Microsoft Copilot (AI feature)

Mobile and desktop connectivity
MicroStrategy is another business analytics software that offers compatibility with multiple data sources. Users can connect to cloud warehouses, build dashboards, share reports, and embed analytics in apps to streamline workflows and analyze large datasets. Microstrategy recently announced a set of AI features powered by OpenAI that helps users get more insights about their existing KPIs. 
Core features: 
Multi-cloud connectivity 

AI/ML features

Interactive dashboards and reporting

Embedded analytics

Augmented analytics

Available on desktop and mobile devices
Metabase is an open-source business analytics tool that lets users write queries, build visualizations, and embed analytics into applications or websites. With features like drill-throughs, filters, and custom clicks, you can spot anomalies, analyze trends, and get insights. The platform also offers an SQL query builder and editor that allows power users to run multiple queries and generate reports. 
Core features: 
Query builder 

SQL editor

Live dashboards and reports

Data modeling

Sandboxing

Embedded analytics
While the business analytics solutions we have explored above offer unique capabilities, only one solution supports a true self-service analytics use case. ThoughtSpot's AI-Powered Analytics solution lets everyone leverage data and build successful strategies. Sign up for our no-commitment, 30-day trial and usher in a new era of data analytics.