If you aren't familiar with Amazon Ads, pay attention next time you are shopping for your next must-have, impulse buy. Look at the small print, and find the sponsored listings. This is just one example of the Amazon advertising machine—a darling of Amazon's digital portfolio. 
Amazon's fourth-quarter earnings report highlighted $11.6 billion in advertising revenue, representing a 19% year-over-year increase. While they currently only hold 7.3% of the overall online advertising market, the high-intent searches make Amazon advertising a high-conversion opportunity for sellers who know how to leverage this tool. 
Over the years, surveys have shown that nearly 50% - 75% of Amazon sellers are using some kind of pay-per-click (PPC) advertising to promote their products. With so much sponsored content, it can be difficult to stand out from your competition. That is, unless you know how to build a successful amazon advertising strategy.
5 steps to developing a successful Amazon advertising strategy
1. Set strategic goals
If you're a marketing and advertising pro, this step seems like a no-brainer. But you'd be surprised just how many people skip straight to set up. This misstep isn't likely to be profitable in the long run—leaving you paying for clicks that aren't actually converting into sales and carrying a customer acquisition cost that's impossible to scale. 
Instead, you'll want to think strategically about your desired outcomes and set advertising goals that are going to continue fueling your success—even after the ads are turned off. For example, if you have a new brand or product line, you might consider running an awareness campaign so that users become more familiar with your brand, story, or quality. If you already have a well-known brand, perhaps you want to run a consideration or loyalty campaign to keep customers coming back to your product. 
A conversion-focused campaign will be the right choice for many, but it's still important to set key metrics and benchmarks so you can ensure the profitability of this strategy. Once you've set your goals, decided which products you want to advertise, and set measurable objectives, it's time to build your strategy.
2. Select the best type of ad for your product
Amazon offers a number of advertising opportunities including: 
Sponsored Products

Sponsored Brands

Sponsored Display

Stores

Audio Ads

Video Ads

Custom Advertising

Amazon DSP (demand-side platform)
With all of these options, it can be challenging to know where to start—this is when your goals act as a handy guide. Here's a few examples: 
Looking to build brand awareness? Consider creating a free brand store and investing in Sponsored Brand ads. 

Looking to sell more products? Consider Sponsored-Product or -Display ads. 

If your product performs an action or has features that are hard to articulate through a photo and/or description, you might consider an eye-catching video ad to set you apart from the competition.
3. Get strategic with targeting
Targeting is your opportunity to optimize your ad so it gets in front of the right audience. This requires a good understanding of your buyer persona. 
Some key components to think about include: 
Demographics: Is there a particular age group, geographic location, gender, or other aspect that makes a user more likely to buy my product?

Keywords: What terms are those users likely searching in order to find my product? Example: Couch, sofa, loveseat, ottoman, seating, living room furniture, family room, etc.

Competitive: are there other products that share similar characteristics to yours? It could be cost, quality, style, usability, color, delivery time, etc.
4. Build strong product pages
You've come this far, don't forget to go the last mile. Creating a positive on-page shopping experience will help the customer feel more confident in the product and complete the purchase. Even if a user clicks through, an untrustworthy or incomplete product page may cause you to lose a sale—and you're stuck paying for the click either way. 
Here are a few optimizations you can make to your product page: 
Strategically include related keywords in the title and description

Ensure all specifications are correct and properly entered

Use correct spelling, punctuation, grammar, and formatting 

Include FAQs to help users find questions to answers

Ensure product photos and videos are high quality and accurately display your product
5. Use data to iterate
Once you've set up and launched your strategy, it's important to keep a close eye on the results. The biggest benefit of retail analytics is the ability to regularly measure the success of your campaign against the goals and KPIs that you initially set. 
Without consistent monitoring of your marketing analytics, ad spend can quickly get away from you could end up overspending without seeing the expected results. By using data to regularly monitor your campaign, you have the opportunity to iterate and adjust course based on the performance you are seeing. 
Here are some key metrics to track: 
Click-through rate (CTR): How many people see your ad vs how many people click

Conversions: Customer completion of the desired action (e.g. completed product purchase) 

Return on ad spend (ROAS): How many dollars you spend on advertising vs how many dollars you make from the resulting sales

Impressions: How many times the ad was rendered on a web page or screen

Reach: How many unique users saw your ad on a specific device

Cost-per click (CPC): the cost you pay each time a user clicks your ad (this might change as demand for the advertising parameters fluctuate) 
Find a full list of data-driven KPIs and metrics for retail decision makers.
4 ways to upgrade your Amazon advertising strategy with data
As with any paid advertising strategy, the investment only adds up if the sales are rolling in. Here are a four ways you can use data to help level up your amazon advertising strategy: 
1. Keyword analysis
Search to uncover key trends across ad groups and campaigns. These keywords will help you optimize your product listings to receive optimal organic and paid traffic.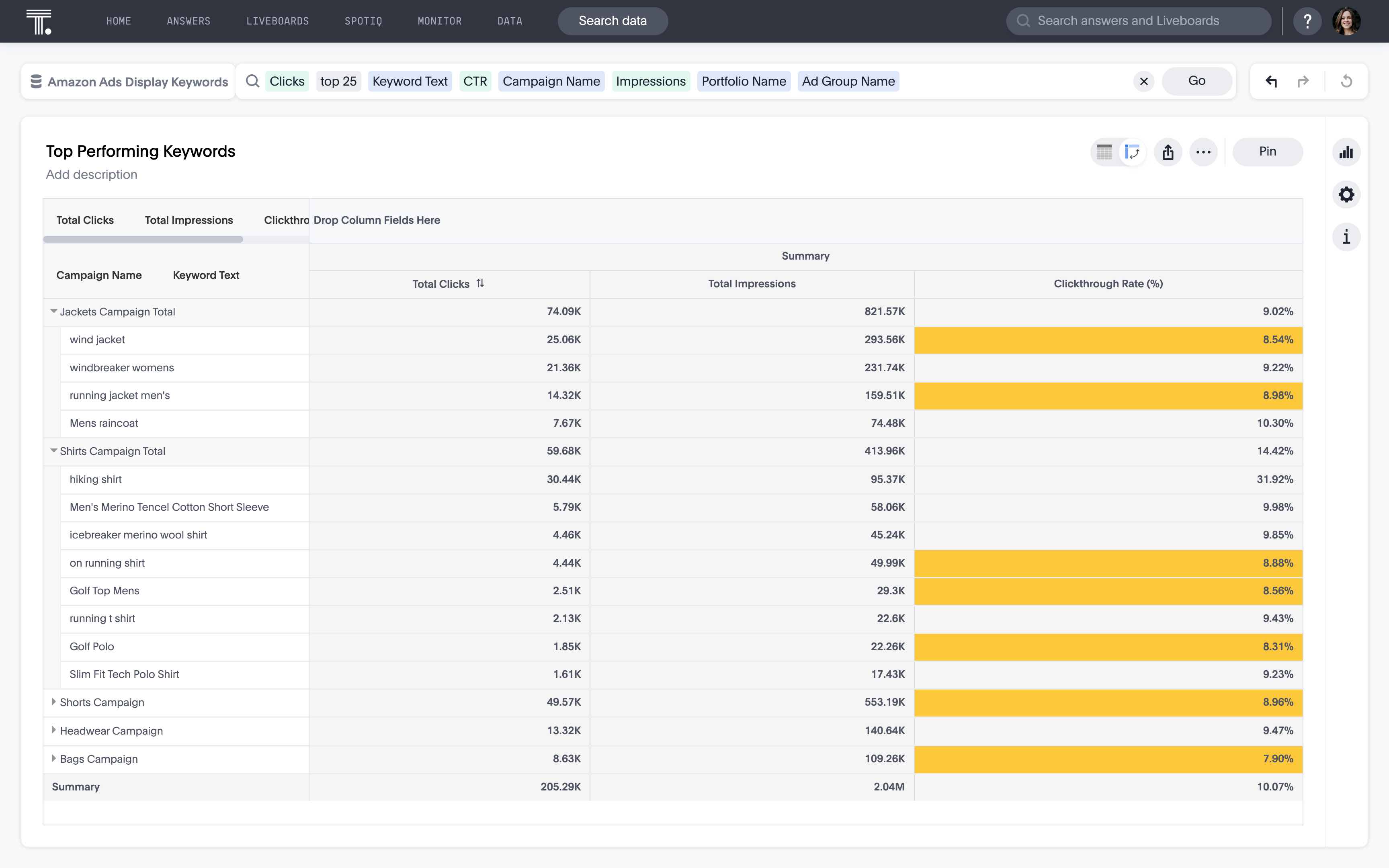 2. KPI monitoring
Pinpoint customer purchasing behavior in real-time and connect these insights to your email, Slack, or other web-based tools to stay up to date on campaign performance even when you aren't near your analytics tool.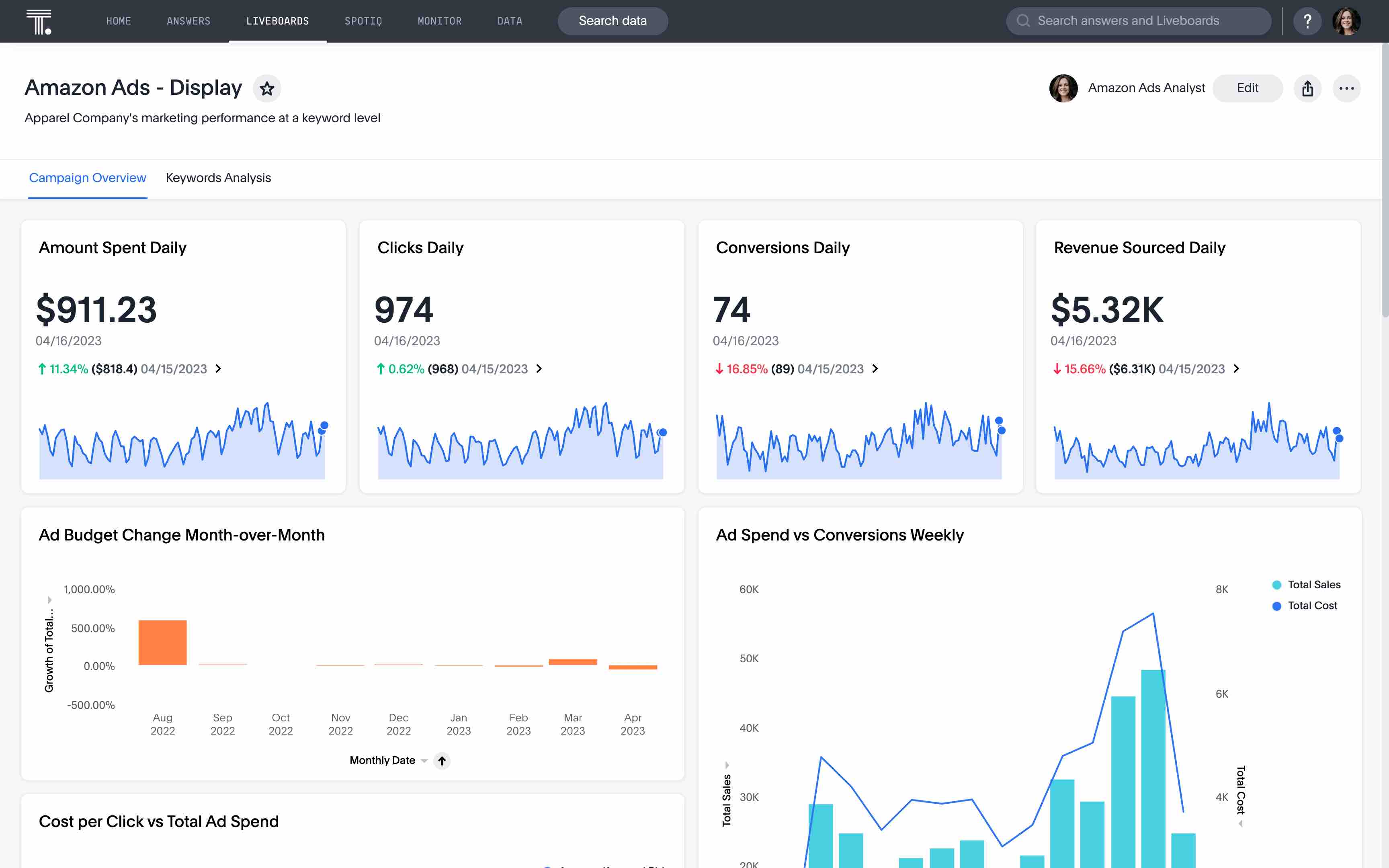 3. Ad testing
Easily and limitlessly drill into granular insights of individual ad performance to optimize audience, messaging, and more.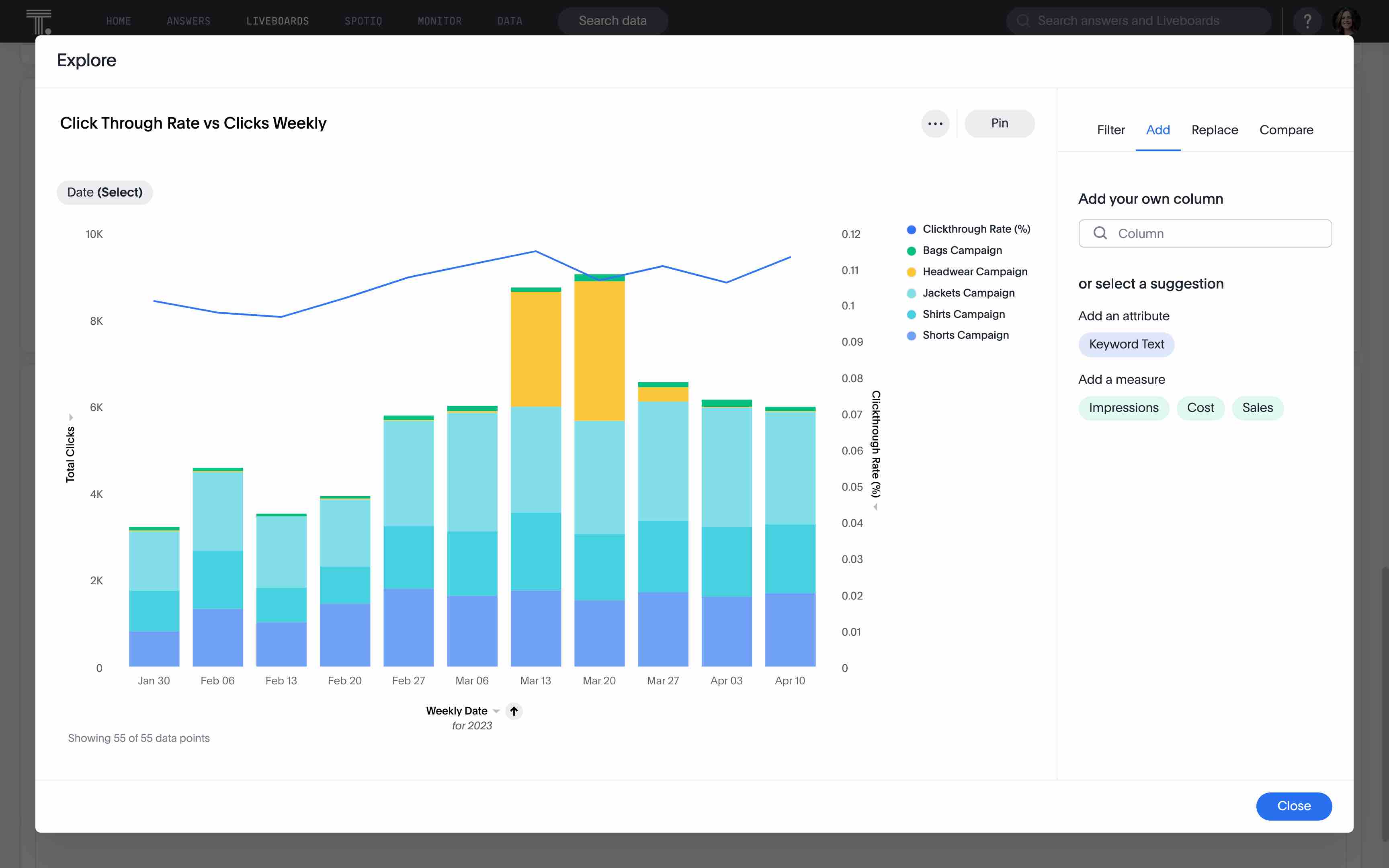 4. Spot trends using AI
Uncover hidden insights, trends, and anomalies in your data, such as why an ad is gaining traction or how spend is changing month over month.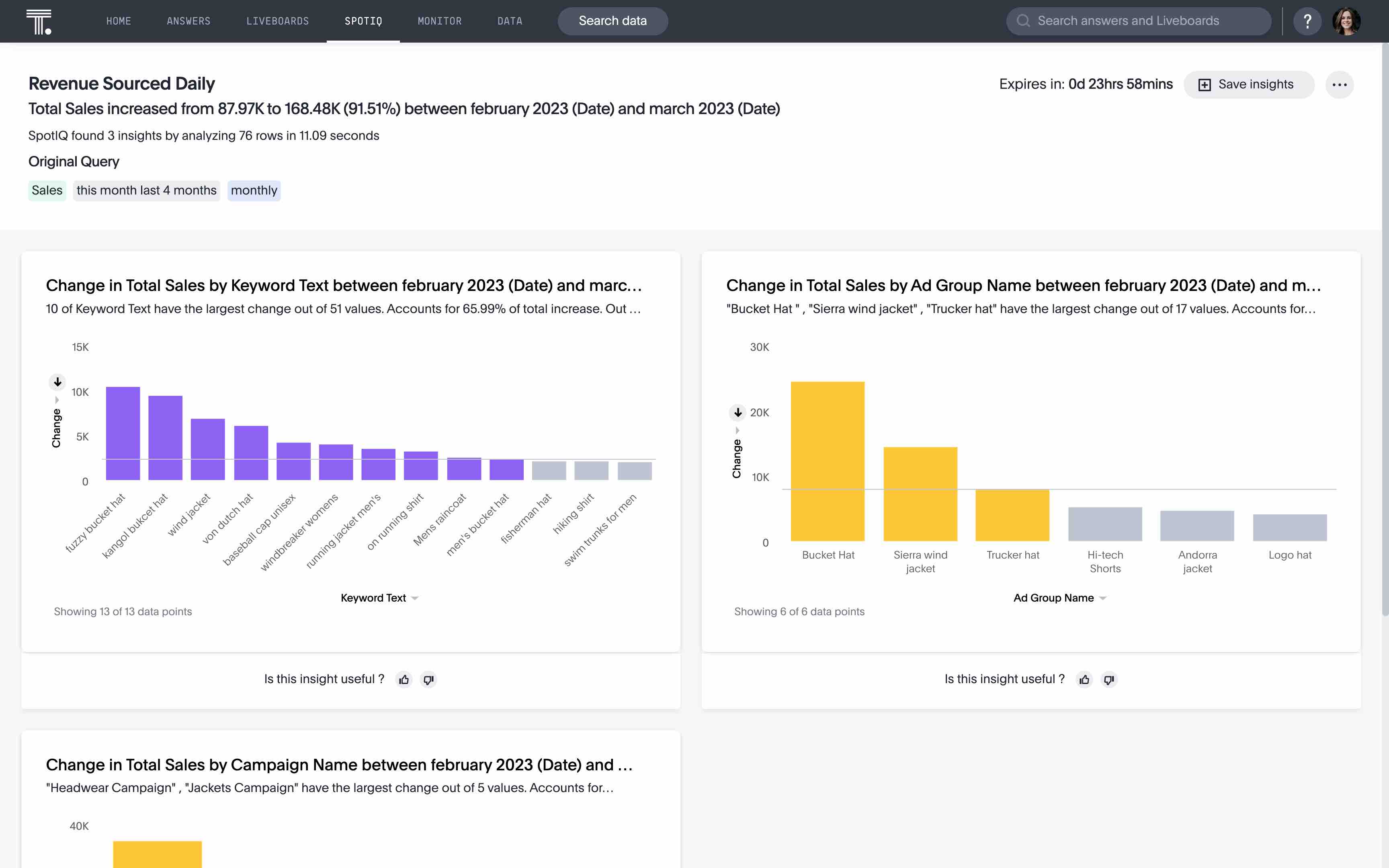 ThoughtSpot for Amazon Ads
Retail analytics for marketing and advertising—analyzing keywords, testing, and monitoring—can be time consuming processes if you don't have the right tools. That's where ThoughtSpot can help. 
Our newest partnership with Amazon ads helps you get the most out of your Amazon data. Now, you can use self-service, AI-Powered Analytics to uncover insights that will help you optimize performance, spend, and ROI. See the benefits in real time—start your 30-day free trial today.