This past month was incredibly exciting for us here at ThoughtSpot. Not because we won an award or were recognized by influencers as a leader in the market, but because our customer Fannie Mae won a prestigious development award at DevWeek NYC for The Exchange™. The Exchange is an embedded analytics portal that gives developers, data professionals, and the public at large access to Fannie Mae's industry-leading data, and data from other sources.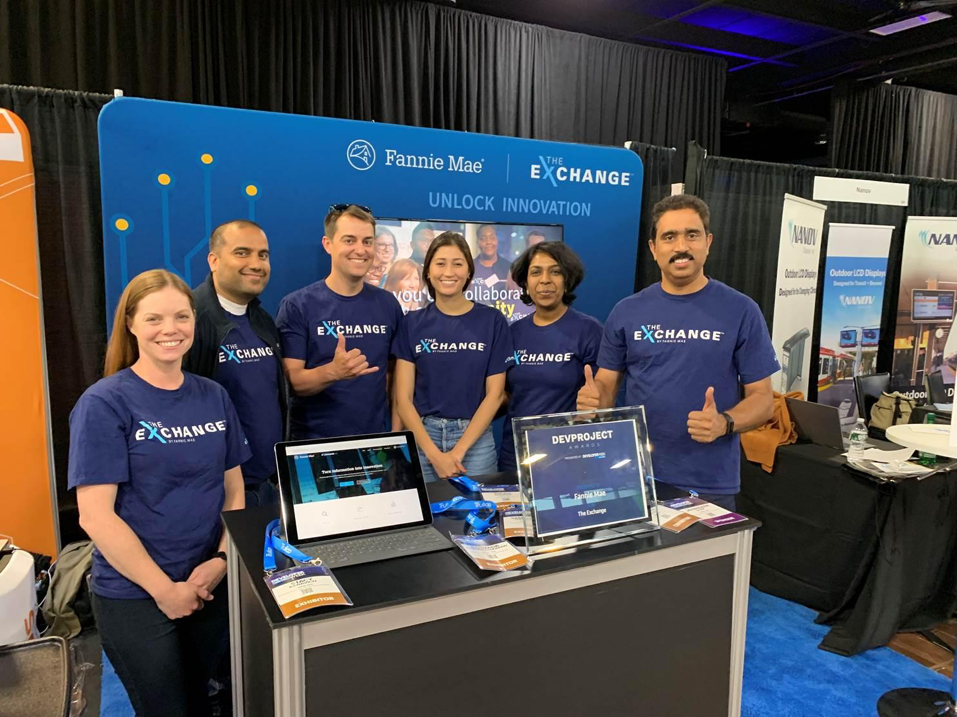 Can analytics help solve the housing crisis?
Anyone who has purchased or rented a home in the United States has engaged with Fannie Mae's data in some capacity. As one of the most important, trusted institutions in the housing market, Fannie Mae shapes the market, influences housing and rent prices, and provides a look into the overall health of the economy. It's an important goal they've been tasked with for nearly a century.
But at the core, Fannie Mae does so much more - their mission is increasing access to affordable housing for Americans. While this has been their north star since their inception, the world - and housing - has changed dramatically in the last few decades. Consumers increasingly expect a simpler, easier, and digitally driven mortgage process. Concurrently, these same consumers are facing a national housing crisis, where costs and inventory provide a real barrier. It's clear America's affordability and accessibility challenges cannot be met with status quo solutions.
Bringing data to developers and domain experts.
Fannie Mae recognized early on that technology and innovation represented the greatest opportunity to drive down costs - and by extension, increase access - in the housing market. At the heart of these efforts? Data. To help the community utilize this critical asset, Fannie Mae has made economic strategic research data available to the public, while also publishing quarterly reports covering specific topics in the housing market.
While these efforts have led to some shifts, serious issues remain in the housing market. Fannie Mae knew a broader community of knowledge workers and domain experts would be critical to innovating real solutions that address the housing crisis. They saw the need to empower these individuals with the ability to access, analyze, and utilize data on their own if they were to develop these solutions. And thus, the idea for The Exchange was born.
The Exchange comes to life.
The Exchange from Fannie Mae leverages cutting edge technology and large, nuanced datasets to equip anyone with the ability to understand the housing market and contribute solutions to the space. The Exchange leverages APIs to connect data together into a secure cloud database, which the public can explore using our search and AI analytics interface to create charts and pinboards to showcase their findings.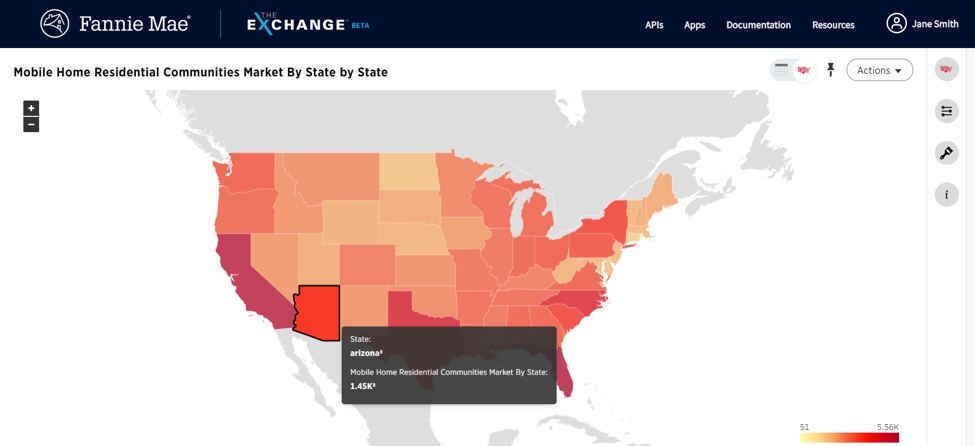 Example of visualization created by ThoughtSpot in The Exchange
Today, The Exchange provides access to rich datasets, such as:
Manufactured Housing (MH) - quickly and easily access housing and economic data to drive transparency and confidence in MH-backed products; increase market liquidity; and identify partnership opportunities with others in pursuit of affordable housing.

Loan Limits – access real time county-specific loan limits that refresh automatically with the latest FHFA data.

Housing Pulse – access Fannie Mae's economic and strategic research data to explore key housing topics; understand trends; and identify opportunities for new products and services.
End users start the innovation.
Through The Exchange, anyone can generate insights to help expand affordable housing options across the nation. When these new insights are generated, and new questions can be asked instantly, Fannie Mae can affect measurable change in US housing. The platform is especially useful for industry partners who have expertise in the housing industry, but lack in-house resources to perform research and analytics.
Close to 800 users have registered for The Exchange as of June 2019, up 200% since its beta launch in October 2018. These users make close to 80,000 API calls per month, demonstrating the traction the solution is gaining.
Sample insight gleaned from The Exchange
For example, conventional loan limits data for general and high cost users is primarily available in spreadsheets and proprietary systems. Through The Exchange Loan Limits API, lenders are accessing real-time, county-specific loan limit that automatically refresh with the latest FHFA data. The result is reduced manual processes and increased efficiency.
In another instance, a large bank focused on affordable lending, wanted to expand into new markets, but lacked the data required to inform their go-to-market decisions. With The Exchange, the bank can access manufactured housing data to understand the market size of MH communities by state. Now, the bank has the insights to responsibly expand into new markets, while providing affordable lending to their customers.
The opportunities are endless – and sometimes instant. At Developer Week, a neighboring exhibitor stopped by Fannie Mae's booth to get the scoop, and within 15 minutes had created a new app targeted to lenders using Fannie Mae data. The company is also currently in talks with an analytics platform provider hoping to leverage their data.
But wait, there's more.
While these early efforts have already led to increasing success for their customers and the housing industry at large, Fannie Mae is just getting started with The Exchange. They plan to incorporate more datasets to make the platform a more nuanced experience and offer users the ability to find more powerful insights.<br>It's only by working with innovators, developers, economists, and academics that Fannie Mae and the industry can create data-driven solutions to address the housing crisis and improve the lives of all Americans. It's a worthwhile mission and a journey we're thrilled to be on with Fannie Mae.