Earlier this month, I got to start my new year with one of my favorite events, one that sets the stage for the year ahead for the entire retail market.
I'm talking about the National Retail Federation's big show.
Over the past few years, NRF has evolved dramatically. While it may have started out focused on the obvious players in retail, in recent years, it's become more like CES. Everything from the topics and trends dominating conversation to the sponsors and vendors has seen a transformation mirroring the broader transformation underway across the retail landscape.
What strikes me most is just how big the opportunity is for retailers who can not only adapt, but embrace, this evolution. At NRF, I got to see up close and personal the trends and changes that matter the most for retailers looking to seize these opportunities.
Here are my takeaways.
Tech Was Front and Center
Surprising to no one, technology took center stage at NRF. Vendors from all over the technology ecosystem were present, showcasing their solutions.
A key theme tying all of these companies together? The impact of the cloud. From increased agility to more flexible operations, it's clear retailers are starting to see the benefit of moving to the cloud. And they're pulling the entire technology industry with them in that direction.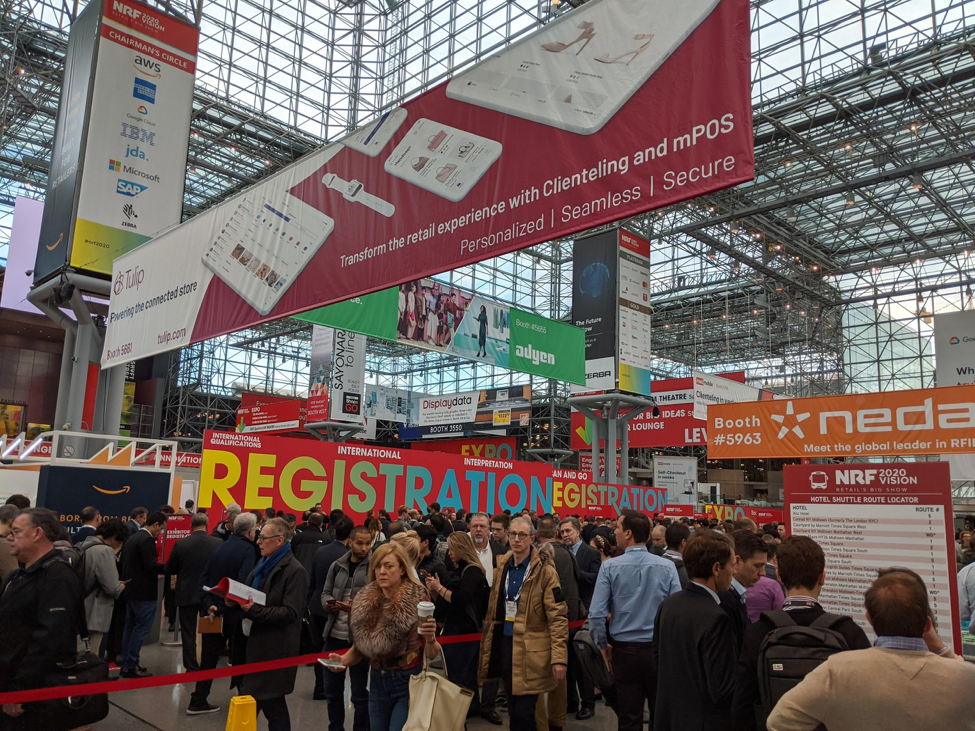 In particular, I saw more activity from the major cloud vendors at NRF than ever before. Of course, market leader AWS was well represented, but Google was there in a major way, signaling Alphabet's continued efforts to supplant Amazon as king of the cloud. One surprise for me, however, was the tempered presence from Azure, AWS's biggest competitor. Does this indicate a shift in Microsoft's target markets when it comes to the cloud? Something to look for at NRF next year.
There's a Serious Data Gap
Despite tech's primacy at NRF, there was a major gap from technology vendors big and small when it comes to retail analytics. Everyone from Google to IBM to Amazon to smaller players like CloudFlare and SellerCloud focused their efforts on highlighting their infrastructure solutions. But where was the focus on using that data?
I was shocked by the number of people who were unfamiliar with any analytics or BI tools their organization utilized. This may seem biased coming from someone in analytics, but it's clear to me the retail industry in particular needs new ways to leverage their data if they want to truly transform. It's the only way to deliver the bespoke, personalized customer experiences consumers have come to expect at every interaction with a brand.
It's why we saw such massive interest in our solution for campaign spend analysis with Wipro. Retailers know they need to empower their teams with insights if they want to transform, and are hungry for solutions to help them do so.
But that's only half the battle. In order to truly transform, the industry needs to both adopt new technologies, while also developing their employees' data literacy so they actually understand how to use the data exposed by these new technologies.
Brick and Mortar Isn't Going Anywhere
So what about technology's impact on business models? Last year, headlines about the demise of brick and mortar continued to swirl, driven in part by the fates of companies like Sears.
At NRF, however, it was clear stories of the death of brick and mortar are greatly exaggerated. This isn't to say ecommerce isn't growing at an astounding clip. Rather, the most effective retailers are bringing together their offline and online activities to create a single, cohesive experience for customers.
Did you attend NRF? What did you think? I'd love to hear your perspective on the show and what you see coming next for retail. Drop me a line at [email protected].